January 10, 2023
How PeopleForBikes Encourages Staff to Ride More
By: Ryan Birkicht, PeopleForBikes' director of enterprise partnerships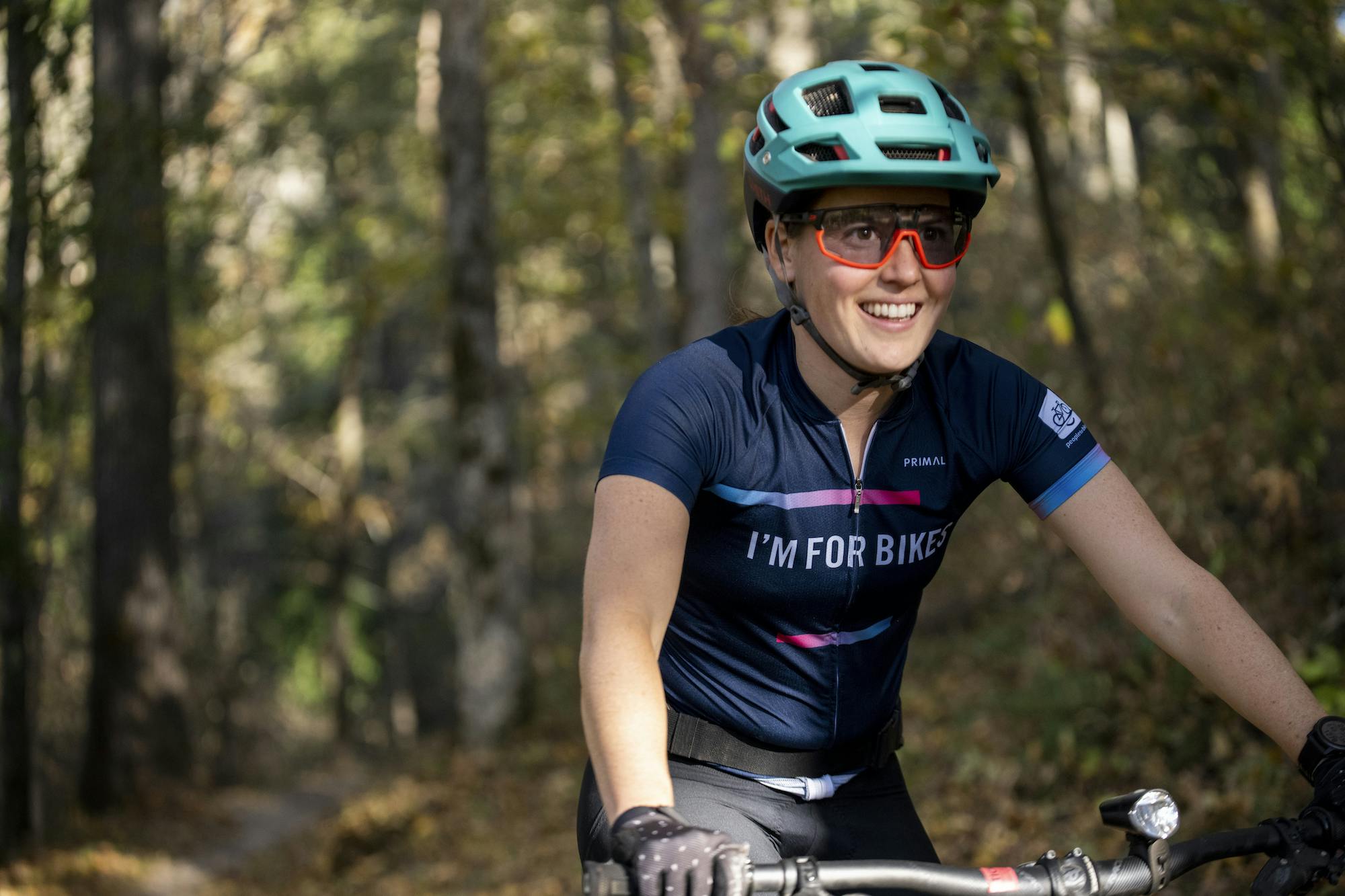 Rachel Fussell, eMTB policy and program manager at PeopleForBikes, rides during an all-staff retreat in Bentonville, Arkansas.
Last year, we debuted our "Bike Perks" program, which pays employees to get out and ride.
Even at a bike organization, not everyone bikes all the time, especially in the winter. When I started as PeopleForBikes' director of enterprise partnerships in 2021, I knew part of my role would be helping companies across the country find ways to engage and support more employees in bicycling. Thankfully, PeopleForBikes' own staff felt like the perfect testing ground for this work. 
In December of 2021, we circulated a survey to better understand existing bike riding habits. Based on those survey results, a new employee benefit was developed, focused on encouraging more time spent on the bicycle. Dubbed "Bike Perks," the ride encouragement program launched in January 2022.
The idea behind Bike Perks isn't a new concept. Organizations have incentivized bike riding habits for decades. Historically, these programs focused on reducing car-based commutes for businesses with limited parking capacity. With some of PeopleForBikes staff working in different states, however, parking wasn't a motivator and we developed our program with new goals in mind. 
Goal 1: Live out our mission to get more people biking more often. 
Goal 2: Encourage investment in the industry we serve.
Using the PeopleForBikes ride-recording and sharing platform, Ride Spot, internal ride challenges were created each month encouraging staff to bike 25 times. Those rides could be of any variety (i.e., exercise, transportation, leisure) and of any distance. Reducing the parameters on what type of rides count toward the monthly challenges not only made the program more inclusive but it also helped increase participation. For those unable to bike, for whatever reason, we offered alternative participation activities like yoga, physical therapy, or walking.
As an additional incentive, PeopleForBikes staff earned $4 for every ride logged using Ride Spot (up to $100/month). Staff could also double that incentive by submitting bike industry purchase receipts up to the amount they earned from riding — meaning an employee taking full advantage of the program could earn $2,400/year. Soon, staff were reaching for their bikes first when going to work out or running to the grocery store.
With a full year of Bike Perks behind us, we're happy to report how the program has fared thus far. PeopleForBikes' 2022 Bike Perks by the numbers:

92.7% of staff participated
7,050 bike trips recorded 
361 alternative activities recorded
31,940 miles ridden 
7 staff members completed 100% of the 2022 challenges (a minimum of 300 trips)
83% of EOY survey respondents said the program changed their bike riding habits
At a glance, it would be easy to say the cash benefit is what motivated staff to participate in the program, and for a lot of people, it definitely played a role. However, we found there were many low and no-cost measures that also contributed to the success of the Bike Perks program. Here are a few key takeaways: 
Senior leadership should show support, promote, and participate in the program. Devoting a Slack channel to sharing ride stories can also help engage employees. 
Having a dedicated point person to answer questions and/or offer low-cost prizes can help keep staff informed and involved. 
Keep the challenges fun and topical. It's important to change challenge parameters to fit the season.
If a formal ride encouragement program is something that would benefit your organization, you're in luck! PeopleForBikes is ready to provide the software and programming to launch Bike Perks at your organization at no charge. Schedule a demo today to see how the program can improve the bike culture within your team.