February 26, 2018
Five Tips from SF's Lightning-Fast, Dirt-Cheap Protected Bike Lane Projects
By: Michael Andersen, PlacesForBikes staff writer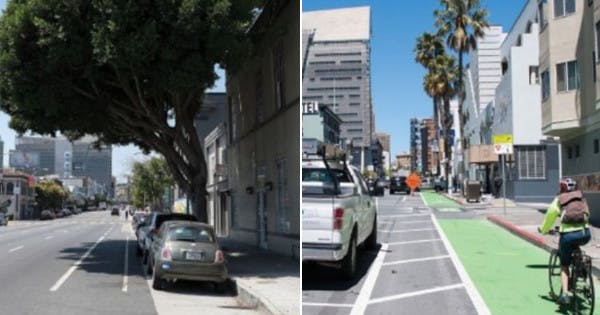 Before/after cross-sections of 7th Street, San Francisco.
If you'd like to cut the project time of a new protected bike lane by 90 percent and the cost by 75 percent, Mike Sallaberry has some advice.
A senior transportation engineer for the San Francisco Municipal Transportation Agency, Sallaberry has a short piece in the new issue of ITE Journal that goes into excellent levels of detail on three projects in 2016 and 2017 that used the "quick-build" method. Instead of spending two years getting every detail right and then pouring permanent curbs, SFMTA built first (using paint, plastic and removable concrete islands) and asked questions both before and after.
The result, as Sallaberry explains, is a potentially more inclusive public process and a project that's far more efficient.
"Common practice in San Francisco has been to identify the ideal result then wait for design, funding, contracting and construction to deliver the design," he recounts. "While this makes sense for many situations, a new approach was used recently where intermediate designs were implemented in the near term to act as 'stepping stones' to a longer term design."
Maybe most importantly, the inherent flexibility and fixability of the quick-build approach makes it institutionally easier for a public agency to innovate. Without so much "fear of installing something that does not work," he explains, city staff feel freer "to try new ideas to solve challenging issues."
The agile process recalls modern software engineering, so it's fitting that San Francisco is among the first cities embracing it. Here are five lessons we saw in Sallaberry's piece for other cities interested in becoming fast followers.
1) If possible, make sure your city has policies that will help resolve difficult tradeoffs.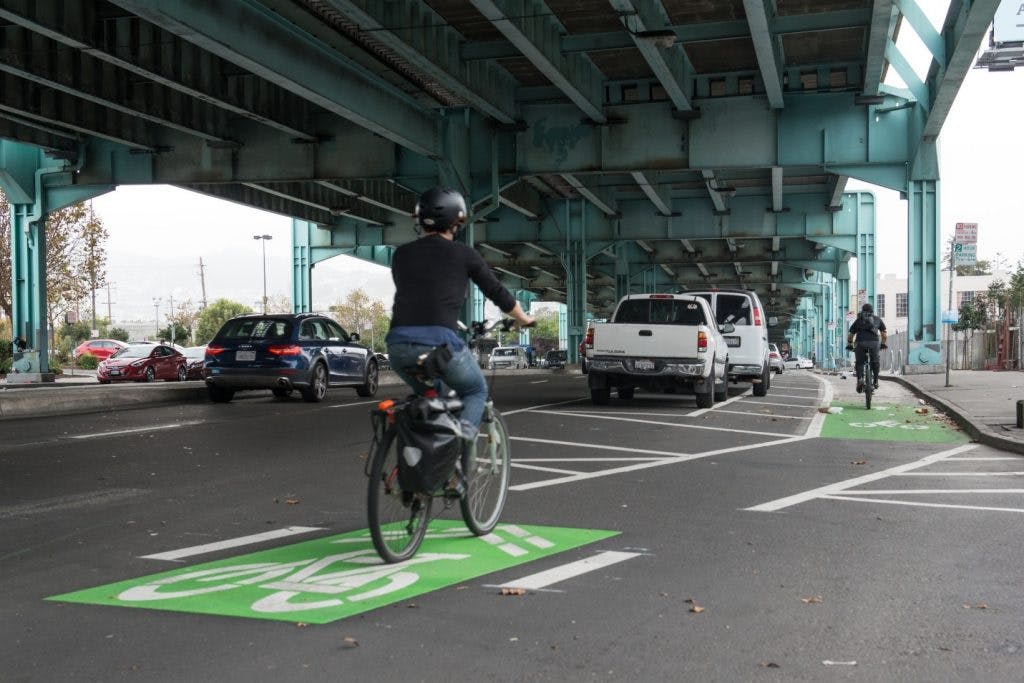 Sometimes you simply have to choose: should a project prioritize walking safety or automotive speed? Project timeline or stakeholder consensus? Sallaberry attributes some of his team's success to a city that had preemptively agreed on some of its key values.
He mentions San Francisco's "long-standing 'Transit First' policy that prioritizes transit, pedestrian and bicycle elements over the accomodation of single occupant vehicles"; "a Vision Zero policy signed off by key city agencies to work toward a goal of zero traffic fatalities by 2024"; and "an executive directive by the mayor spelling out near term deliverables and timelines for agencies like the SFMTA to complete street safety improvements."
2) Get the whole team to sign a prenup.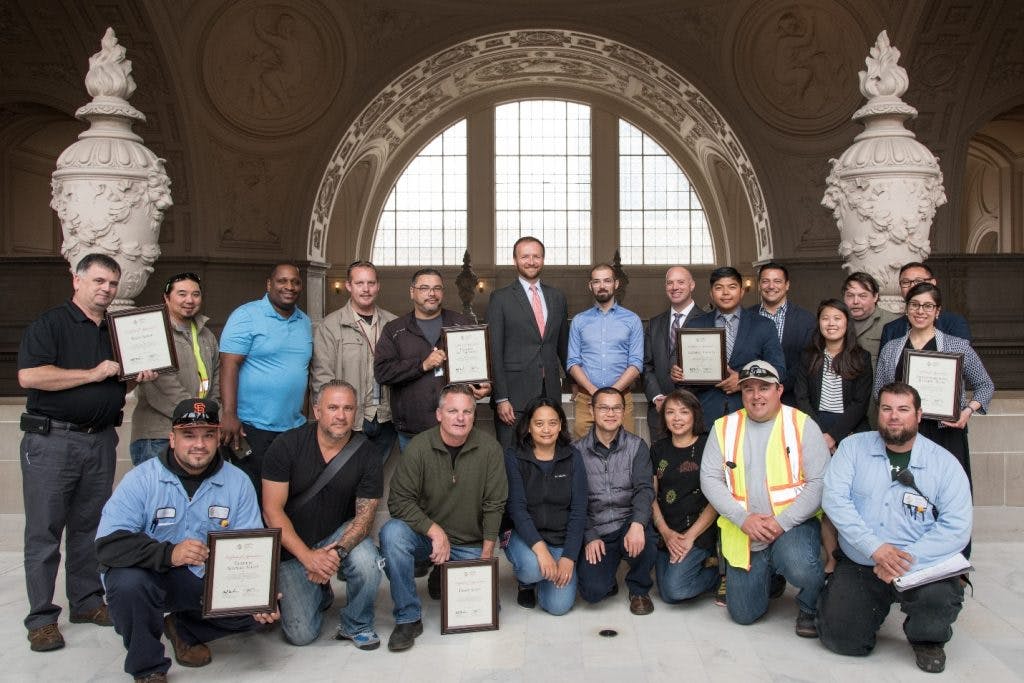 Not a literal premarital agreement, of course, but the day-job equivalent of one. Sallaberry refers to the document his team used as "a project charter with roles and responsibilities, along with other key project details, clearly spelled out and signed off on by all pertinent staff."
The point of the "project charter," in Sallaberry's description, isn't so much to tie people's hands as to make it easier for people to improvise effectively during a fast-moving process.
"Just as one would not put five players on a basketball court without assigning positions, identifying their responsibilities, or having any plays in mind and expect much success, all players on the project team should know their roles and responsibilities from the start so that no tasks fall through the cracks or are replicated by more than one person," he writes.
3) The question to ask stakeholders isn't "should we do this or not?" – it's "how should we do this?"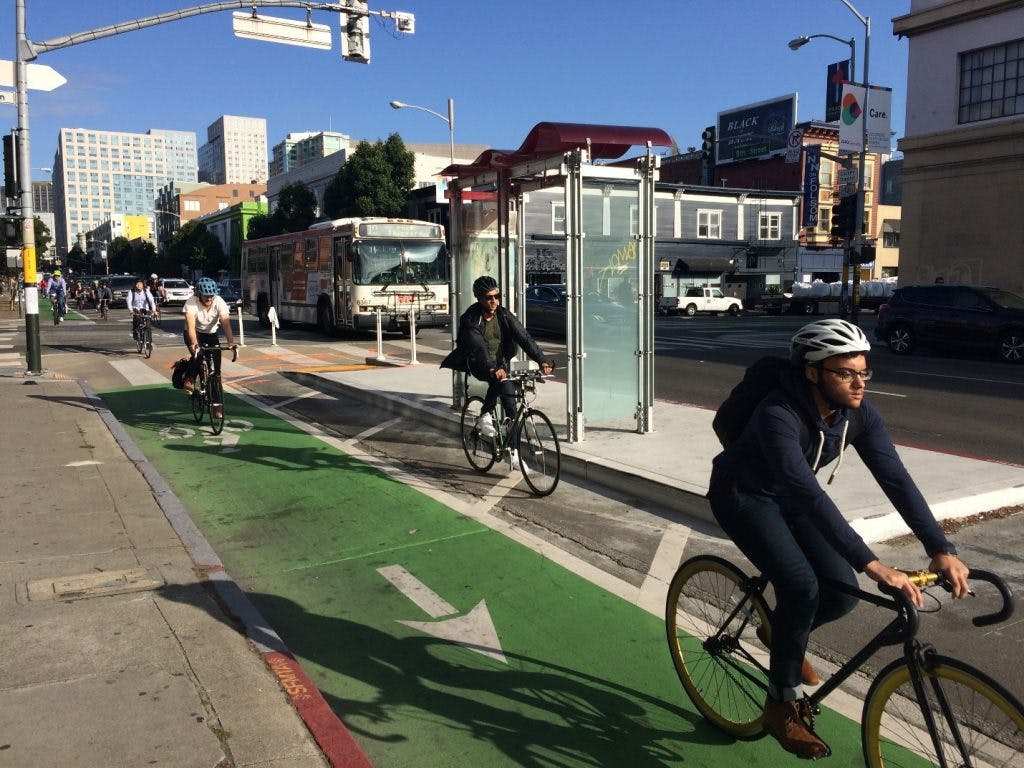 Like a parent asking if a child prefers peas or broccoli, it's sometimes best for a city to pose its outreach questions in a way that doesn't let people retreat into the false security of the status quo.
Sallaberry: "The narrative for the public outreach was (basically) 'these projects will be delivered, here are details about the projects and their schedule, here are aspects of the project that are undetermined where we could use your feedback, and here is how we will evaluate and adjust the projects as needed.'"
4) Keep preliminary public input quick.
This isn't because you want to short-change public input. It's because you want to respect the vast majority of the public who don't have time or interest in every detail.
"To have an open-ended outreach process that can stretch to a year or more and potentially involve a large number of public meetings and hearings without a clear roadmap is confusing and frustrating to the public and can easily waste their time," Sallaberry writes. "To expect the average person to attend multiple meetings, each lasting 2 or more hours, is disrespectful of their time and can easily alienate people who are interested in the project outcome but have busy schedules. A short but pithy outreach period is more efficient for everyone involved."
5) Don't underestimate your colleagues in the field.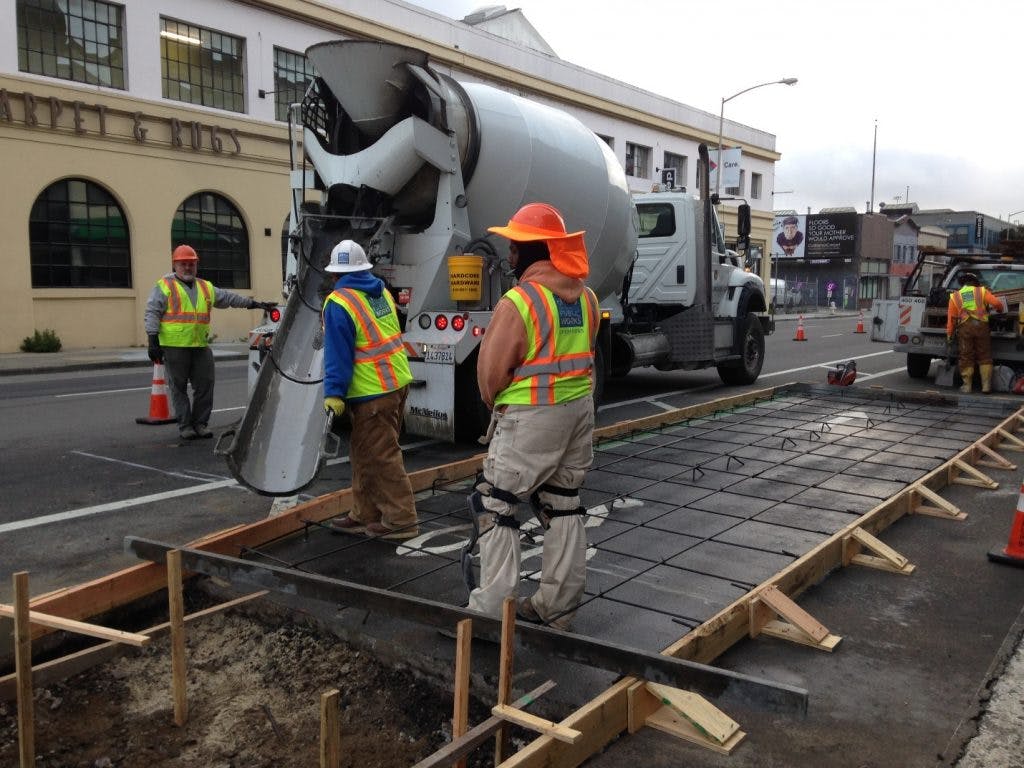 In skipping its usual external bid process to save time and money, San Francisco was asking its in-house maintenance staff to do tasks they weren't familiar with. Sallaberry says some office workers thought the new process would meet resistance from the garage and street crew.
Just the opposite.
"Initially some office staff assumed that new or unusual designs were a burden to our field crews, but talking with various city crews responsible for installing and constructing projects, we have found that they enjoy new projects and see them as challenges that keep their work interesting," Sallaberry writes. "The same can be said for planning and engineering staff. … Even the public outreach aspect of the work becomes more interesting and engaging to all involved."
We've said it before and we'll say it again: U.S. cities are entering a new golden age of civil engineering. Now that the work to be done has advanced from the vast to the precise, creativity reigns. If you'd like to learn more about the exciting new style of project delivery Sallaberry describes, we interviewed some of its pioneers around the country to write a whole report about it.