February 16th, 2021
Electric Bicycles Can Play a Big Role in Combating Climate Change
By: Kimberly Kinchen, contributing writer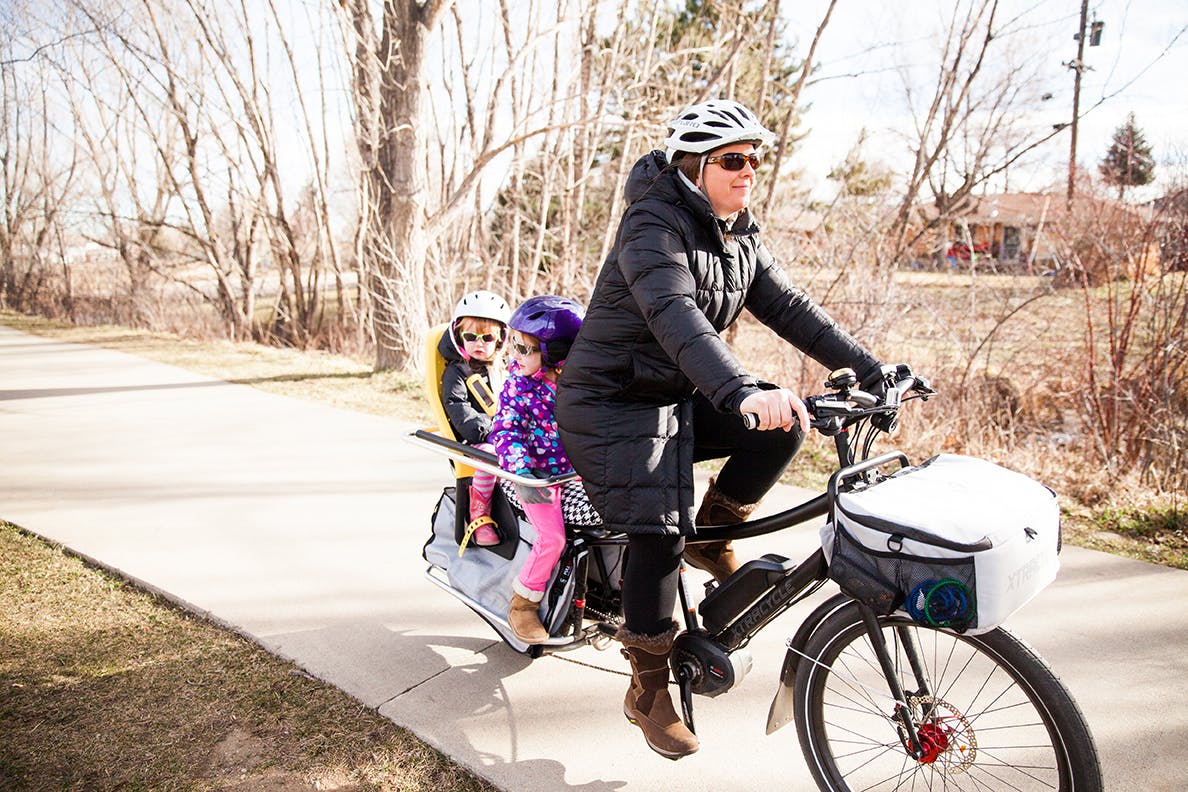 Transportation is responsible for 37.8% of all carbon emissions in the United States. Just under 60% of that transportation-related CO2 is generated by passenger cars, SUVs and minivans. Electrification and clean, renewable power are critical tools to reduce transportation emissions in the long run, but the above figures show that to reduce the worst effects of climate change, we must grow active transportation options that help reduce car trips. 
Electric bicycles have a unique capacity to help in this effort. A 2019 study from the Transportation Research and Education Center found that if electric bicycle usage increased by 15% across the U.S., we could reduce an estimated 11% of transportation-related CO2 emissions. The authors found that of every 100 utilitarian miles traveled by electric bicycle (trips made for purposes other than recreation or exercise), 72.4 of those miles would have been traveled by car. In other words, electric bicycles replaced 72.4% of car miles that would have been taken for strictly practical purposes.
Public interest in electric bicycles is at an all-time high — both electric and traditional bicycle use skyrocketed during the COVID-19 pandemic as people sought ways to safely get outside for exercise and social time, and electric bicycle sales have seen notable increases in recent years. How can we leverage this popularity and get even more people out of their cars and onto electric bicycles more often? Research suggests that electric bicycle purchase subsidies or tax credits, like those proposed in the E-BIKE Act, alongside bike parking and charging stations designed for electric bicycles, moderate changes to street designs that calm traffic, protected bike lanes to increase real and perceived safety and a boost in municipal electric bicycle share programs all encourage more people to take more trips by bike and fewer by car, as well as help legitimize bikes as a practical form of transportation. 
President Biden's recent far-reaching executive order to combat climate change mandates an all-government approach that engages all federal agencies in an effort to mitigate climate change and requires all federal infrastructure investments to reduce climate pollution. The order also directs federal agencies to accelerate near-term efforts to quickly reduce emissions and emphasizes the opportunities that climate mitigation efforts offer for economic stimulus. 
Both traditional bikes and electric bicycles in particular are highly effective tools that can be deployed across many sectors to address related and overlapping climate and economic issues now and in the future. Estimates show that active transportation infrastructure creates 17 jobs per $1 million dollars spent — more jobs than for other transportation projects, including roads. That means we can create jobs for economic recovery while at the same time creating facilities that are, by their nature, green and sustainable, serving both practical and recreational needs. Getting outdoors and moving on a bicycle boosts physical well-being and mental health. At the same time, even small shifts in bicycling rates can improve air quality, helping to offset and reduce rates of chronic conditions related to poor air quality, like asthma. Protected infrastructure and updated road design yield dramatic increases in safety in the form of fewer serious injuries and fatalities for people who bike, walk and occupy vehicles. 
There's also a recreational aspect. President Biden's executive order includes a 30x30 plan to conserve and restore 30% of U.S. land and water by 2030 to protect biodiversity and slow extinction rates. The order establishes a Civilian Climate Corps to do the work. As with its New Deal-era predecessor, the Civilian Conservation Corps, the work of expanding and protecting our natural resources can easily go hand-in-hand with creating more opportunities for outdoor recreation, spurring low-carbon economic development like bike tourism when we give Americans more places to ride. 
We have reached a critical all-hands-on-deck moment when it comes to climate change, and we need to move fast. Electric bicycles are not the only solution to slow and reverse climate change, but they are one of our best bets to jumpstart important work to curb carbon emissions quickly and effectively.