April 5, 2023
Creating a Better World for Adaptive Cyclists
By: Nick Aguilera, PeopleForBikes' youth and community partnerships manager
Washington's AIROW Project shares challenges, opportunities, and successes as it works to make bicycling and the outdoors accessible for people of all abilities.
How do we make sure all people can enjoy the benefits of bicycles and the outdoors? One way is to listen to and learn from leaders who create welcoming, inclusive spaces for people with disabilities. April Katz is one of those people. 
Katz is the founder of the Adaptive and Inclusive Recreation Opportunities of Whatcom County (AIROW) Project, which ensures people of all ability levels are able to enjoy outdoor recreation and bicycling in Whatcom County, Washington. AIROW creates inclusive outdoor opportunities for people with disabilities through a range of low-cost or free programming and gear for adaptive sports, from aquatic sports to hikes and adaptive bicycling.
"Every day I wake up and feel very blessed that I'm doing what I love: building community and breaking down barriers [for people with disabilities]," says Katz.  
This spring, the AIROW Project is excited to launch Riding For Focus, a middle school cycling education program from the nonprofit Outride. Unlike many middle schools teaching Riding For Focus throughout the country, which focus on the general population of a single school, AIROW is catering the program to all middle schoolers in Bellingham, Washington, who are neurodivergent, have autism, ADHD, and/or other cognitive challenges. 
"My vision went broad," says Katz. "Why just do one school when Bellingham has three middle schools that each have life skills classes [or other programs for neurodivergent students]?" 
In order to better suit the youth they work with, Katz and the AIROW team made modifications to Outride's programming. 
"My coaches and I are taking Outride's student handbook and adding more visual pictures instead of words so that it gets straight to the point," says Katz, who's also completing her Adaptive Level One Instructor Certification from the Bike Instructor Certification Program (BICP). "You have to grab students' attention immediately if they have ADD or ADHD. I know — I have a learning disability, Dyslexia and Dysgraphia, which are both neurological disorders like Autism and ADHD."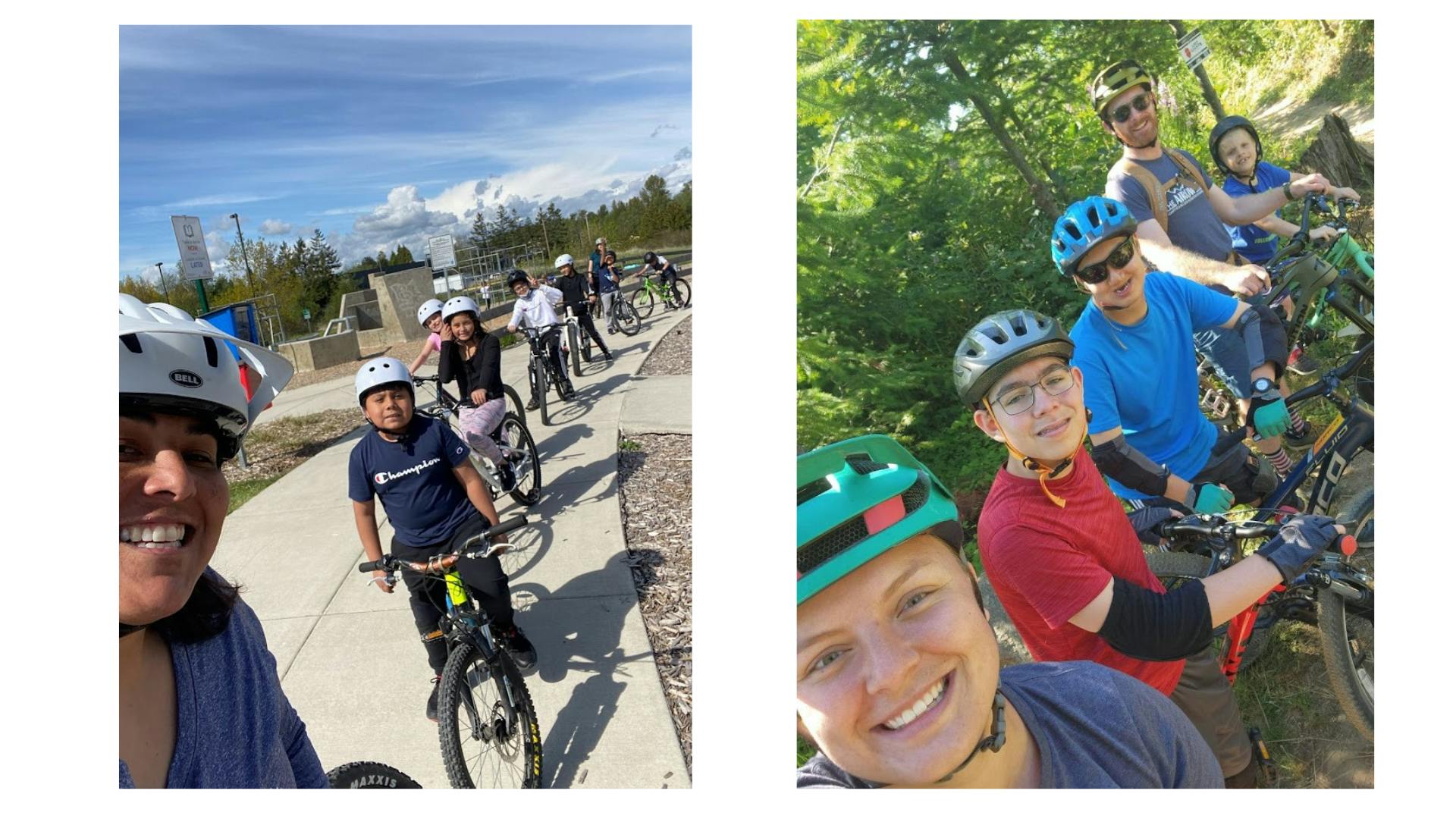 As they begin teaching Riding For Focus programming this spring, AIROW is prepared to stay flexible and adapt programming to meet student needs. "Will these teenagers need to start off with balance bikes? We're ready to take off the pedals," says Katz. "We're excited to see what it's going to look like — I already have two girls signed up and it hasn't been advertised yet."
In addition to working with middle school teachers and the Bellingham Parks and Recreation Department to implement Riding For Focus, AIROW is collaborating with the health department to reach people who can directly benefit from its programming. "Department of health case managers are helping us really branch out," says Katz. AIROW has also attended health and outdoor recreation expositions throughout the state at the request of other counties, speaking to the unmet demand for adaptive outdoor sports opportunities throughout the state and the country. 
"[Acquiring adaptive bikes] continues to be one of our biggest barriers," says Katz. "I found a recumbent bike for $500 on Craigslist and immediately went to meet the lady selling it." Although AIROW has a small fleet that includes a handful of adult recumbent bikes and one handcycle, youth bicycling equipment has been even more challenging to acquire. After raising $10,000 at a fundraiser last year, AIROW considered spending it on just one youth handcycle (the cheapest one they could find was $4,500). Ultimately, they decided to instead pay coaches and staff, as well as fund other program needs.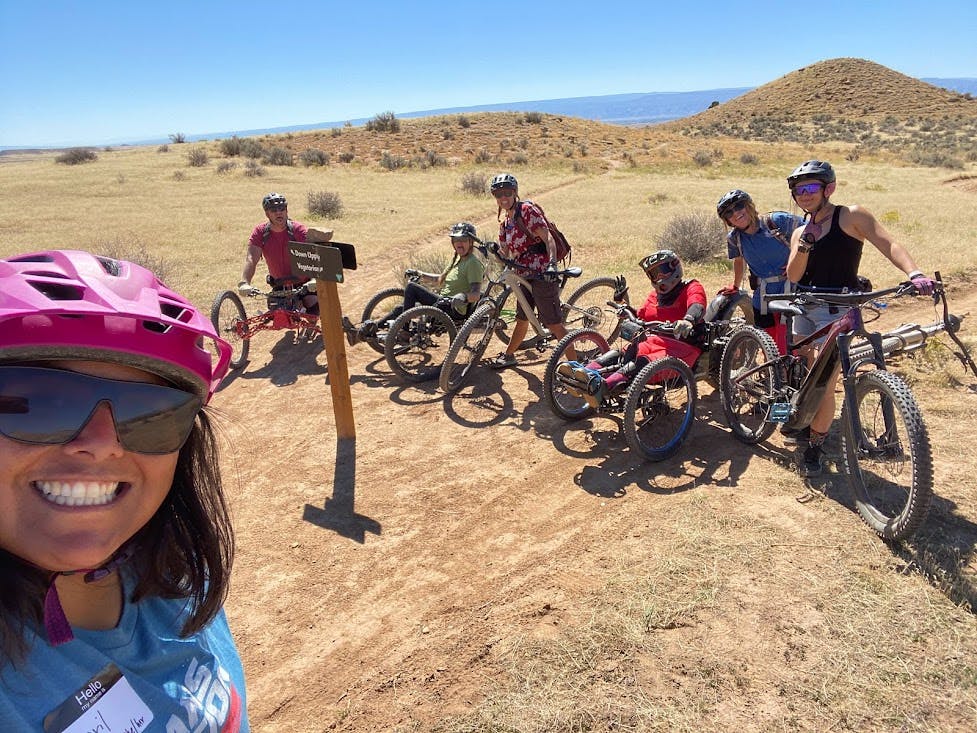 Collaboration with Outdoors For All, a Seattle-based adaptive sports organization with a fleet of more than 200 adaptive bikes, has been central to AIROW's work. Occasionally, Outdoors For All will lend AIROW handcycles to support youth — it's a mutually beneficial arrangement, as AIROW is helping reach a new community outside of Seattle. As the years go on, Katz hopes to continue building AIROW's fleet of adaptive equipment. "Our goal is to have a fleet of bikes just like Outdoors For All," she says. "As a very small nonprofit, this is something we're trying to bring awareness to and would love some help." 
AIROW is actively working with the nearby Whatcom Mountain Bike Coalition (WMBC) to identify, advocate for, and improve trail accessibility for adaptive cyclists. Katz and AIROW coaches have worked with the local parks and recreation department to share places where there is limited passing distance or impassable entrance ramps through otherwise locked gates. Together, the AIROW, the WMBC, and the Western Outdoors Center are hosting a Community Accessibility Trail Day on May 21 to continue making Mt. Galbraith, a wildly popular local trail destination, better for all users. 
Interested in getting more kids on bikes in your community? The 2023 Riding For Focus application cycle is accepting applications through April 28, 2023. Click here to learn more.