October 23, 2018
Cities on the Rise
By: Allegra Abramo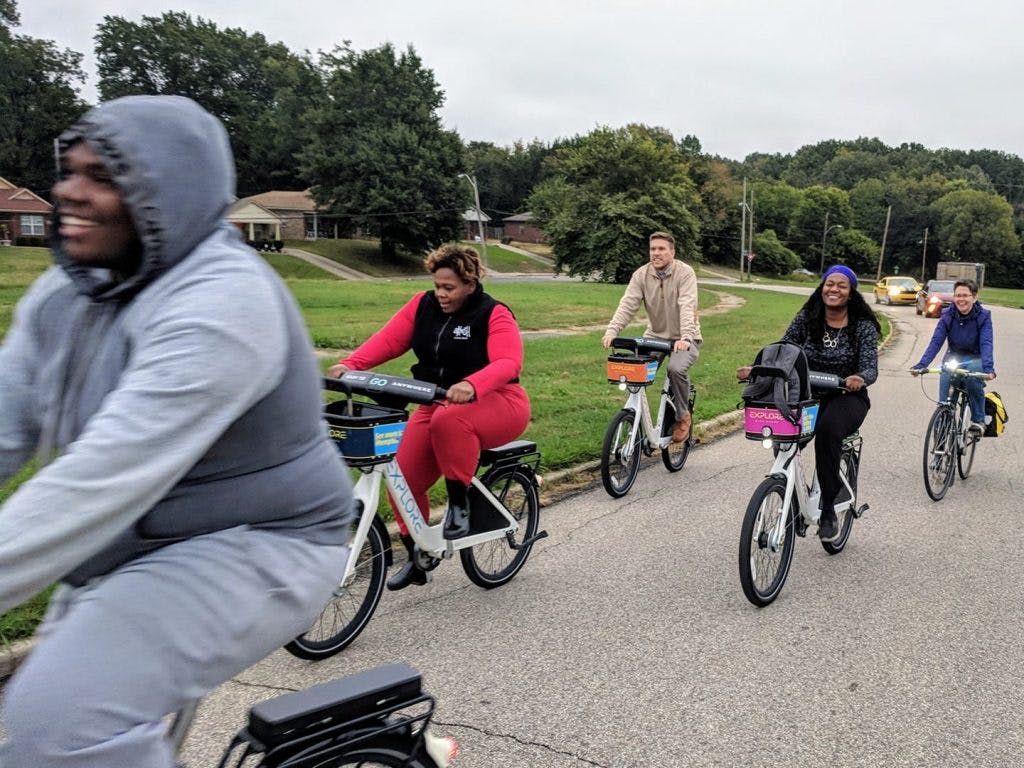 Biking in Memphis.
A handful of U.S. cities consistently top the bike-friendly rankings, but some unexpected places are also rising through the ranks. A pack of upstart cities — including Memphis, Tennessee; Las Vegas, Nevada; and Ferndale, Michigan — are speeding toward better biking futures and could challenge better-known biking destinations for top accolades.
These movers and shakers are identified by their acceleration score in the PeopleForBikes City Ratings. This score accounts for both recent bike infrastructure improvements and projects in the pipeline, as well as the increase in bicycle events and the community's perception of progress. PeopleForBikes designed the acceleration metric to capture not just what cities have done already to strengthen biking in their communities, but where they are headed — and how quickly.
Memphis: From "worst" bike city to top accelerator
A decade ago, when Memphis had just two miles of bike lanes and had been named America's worst city for biking, few would have predicted such rapid progress. Today, Memphis scores 4.5 out of 5 on acceleration — the second-highest score in the nation after New Orleans (another city not usually associated with great biking).
Memphis is on track to have more than 300 miles of on-street bike lanes, according to Bikeway and Pedestrian Program Manager Nicholas Oyler. By next summer, the long-awaited Hampline trail will connect two of Memphis's largest parks via the city's first median-separated cycle track.
Memphians are also signing up for the city's new bikeshare program at a rapid clip, Oyler says. Launched in May with 600 bikes, the program will grow to 900 bikes next year.
The large, diverse area of South Memphis is another major focus for bicycle network improvements and public outreach. With technical support from PeopleForBikes' Big Jump Project, the city is asking residents to prioritize streets for improvements. Work will begin next year.
With the bikeshare on the ground and a growing network of places to ride, Oyler says,
"We are going to see more and more people out on the streets riding bikes and taking advantage of all of the investment we have been doing as a community."
Las Vegas: Miles of progress, miles more to go
Similar to Memphis, the city of Las Vegas has also transformed dramatically over the last decade. The city now boasts nearly 500 miles of on-street bike lanes, a feat accomplished in conjunction with repaving projects. Las Vegas is now upgrading some of its lanes to buffered facilities, improving crossings at major intersections, and adding hundreds of bike racks.
Recruiting bike commuters remains a tough sell due to high summer temperatures and the city's sprawling layout, says the Marco Velotta of the Las Vegas Planning Department. But recreational riding is growing in popularity, and local jurisdictions are collaborating to continue building the region's trail network. An avid mountain-biking community supported the recent installation of two bike parks and continues to advocate for more amenities.
"We've had a lot of good momentum over the past couple years," Velotta says. "People don't connect Las Vegas with bicycling, but you just have to know where to look."
Ferndale: The little city that could
At barely four square miles, Ferndale, Michigan, has been able to install bike lanes on most of its major streets, according to planning manager Justin Lyons. Now the city is focused on upgrading more of those to buffered and protected bike lanes.
"When you provide infrastructure that's comfortable and gives people a safer feel," Lyons says, "they are more willing to get out and ride their bikes to dinner, or to go shopping, or run errands around town."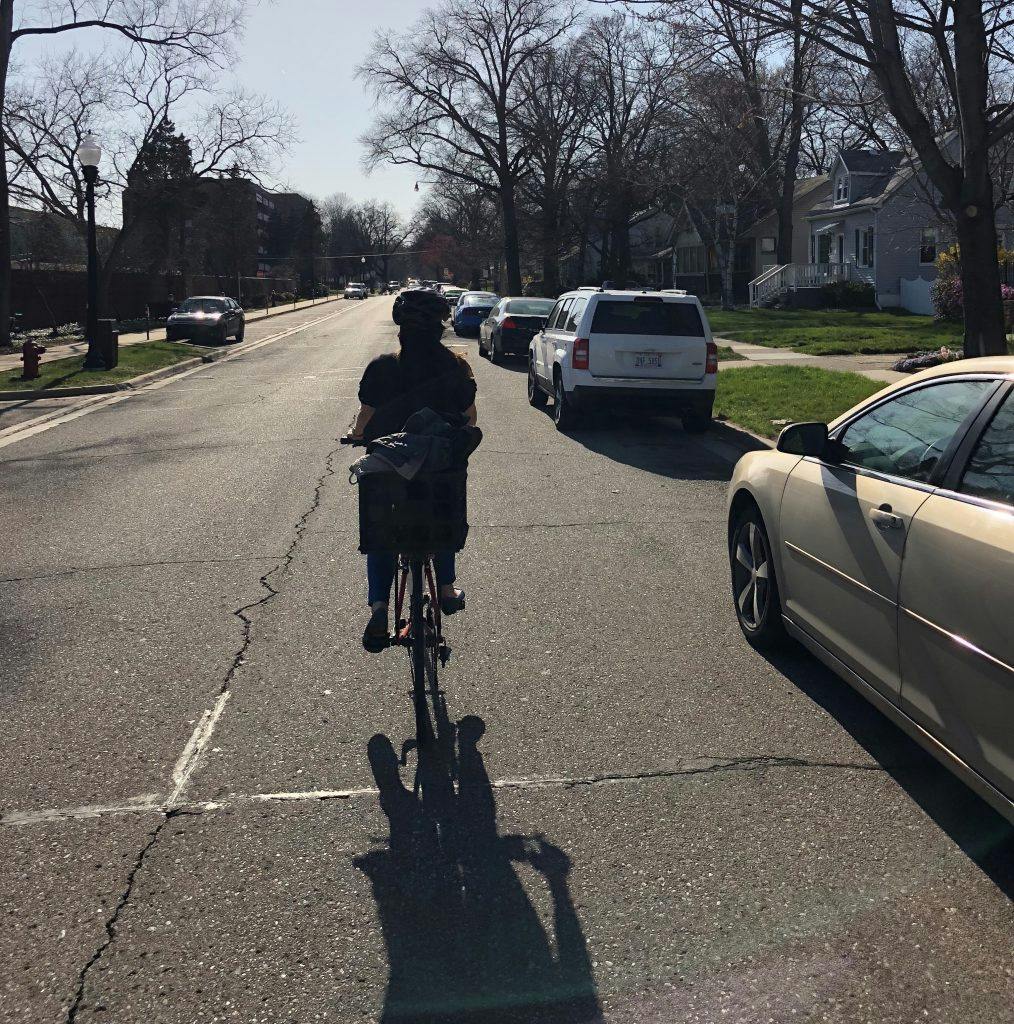 Ferndale is a Detroit suburb, so improving connections with surrounding communities is an essential component to making biking convenient. By November, people will be able to bike into Detroit along the city's first fully protected lane.
Other recent efforts to make Ferndale more welcoming for people on bikes include requiring bike parking as part of new developments, adding protections at intersections, and installing bike repair stations.
Lyons says he's excited to see how their work is reflected in the next City Ratings, and especially in Ferndale's Bike Network Analysis (BNA) which helps communities measure the quality of their low-stress network. City staff spent a lot of time updating Ferndale's OpenStreetMap, which informs the BNA, because they wanted to establish a benchmark, Lyons said. "The next time [we get our rating,]I think we'll see an increase in score."
Sustaining progress
Whether these cities fulfill their promise remains to be seen, says Kyle Wagenschutz, PeopleForBikes' director of local innovation. "We'll be able to see in three to five years, do the acceleration scores accurately predict cities working to make changes on the ground?"
The other challenge is sustaining momentum. Some cities that already boast extensive networks tend to slow their efforts after reaching a certain point. Others, such as Fort Collins, Colorado, show determination to keep improving. The city won the country's No. 1 overall City Rating, yet it still placed in the top 20 for acceleration based on efforts to continue connecting and upgrading its network and encouraging more people to ride.