April 26, 2022
Asphalt Art Can Save Lives
By: Kiran Herbert, PeopleForBikes' content manager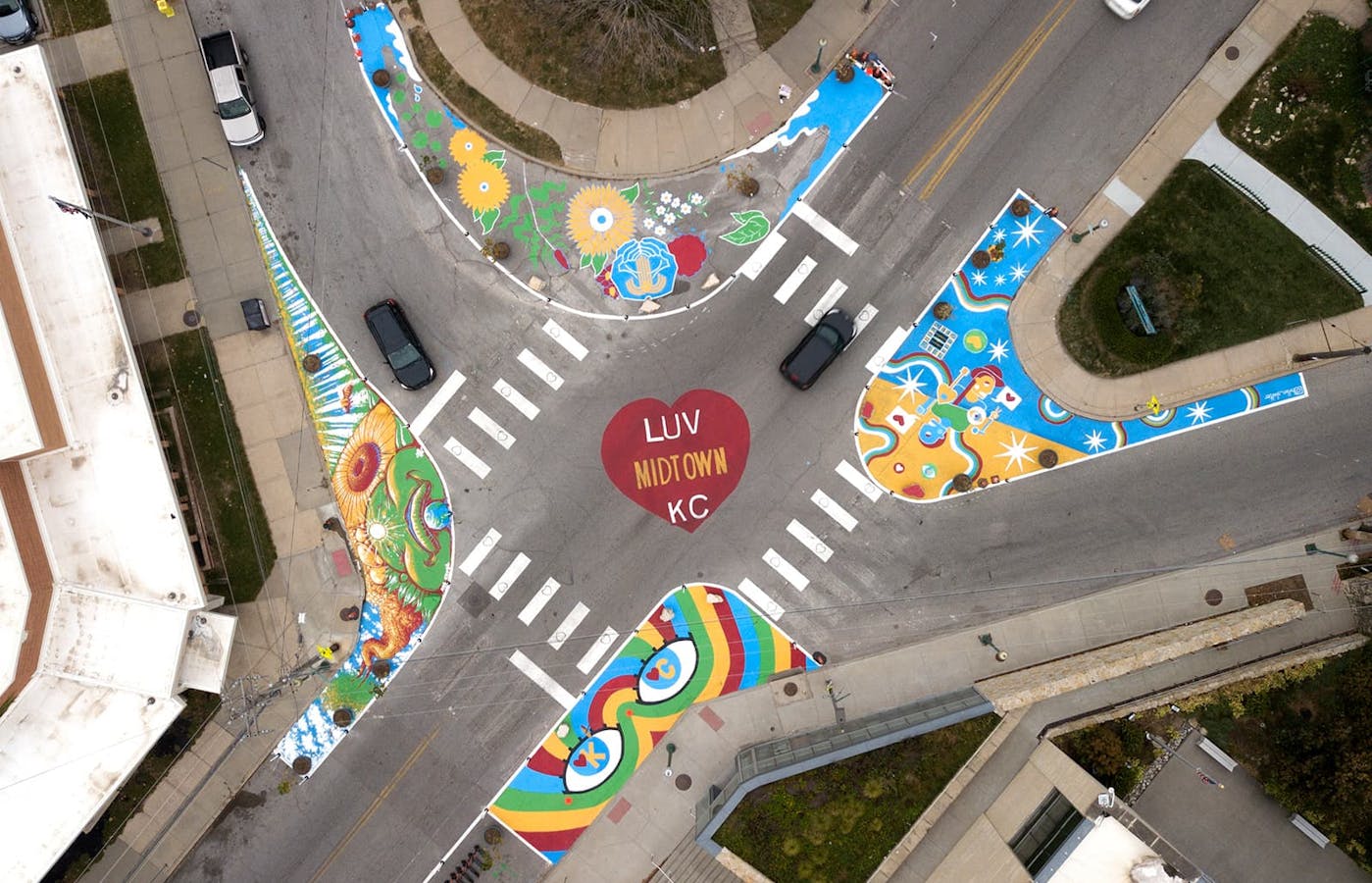 A street mural in Kansas City, MO, helped cut driver speeds by 45% and inspire the "Asphalt Art Safety Study." (Photos courtesy of Bloomberg Philanthropies)
A new study found that installing road murals at intersections can cut down on crashes by a whopping 50%.
"Paint won't save a life," is a line popular with bicycle advocates and for good reason — a stripped lane does little to protect a bicyclist in the event of a vehicle collision. It's the reason why we believe protected bike lanes should be the default for roadways with speed limits above 30 mph. A new study from Bloomberg Philanthropies, however, suggests that when deployed correctly, paint can in fact offer protection.
Researchers examined 17 diverse study sites, comparing Historial Crash Analysis data before and after the introduction of art projects, including intersection murals, crosswalk art, painted plazas or sidewalk extensions. Notably, none of these designs included any other built infrastructure improvements at the time they were painted. The study also took into account an Observational Behavior Assessment, which compared before and after video footage of motorist and pedestrian behavior at five U.S. locations with asphalt art projects installed in 2021 as part of Bloomberg Philanthropies' Asphalt Art Initiative. 
Through analyzing crash data, the "Asphalt Art Safety Study" found significantly improved safety performance across a variety of measures after the installation of asphalt art:
50% decrease in the rate of crashes involving pedestrians or other vulnerable road users
37% decrease in the rate of crashes leading to injuries

17% decrease in the total crash rate
Similarly, the observational assessment found the art installations resulted in:
25% decrease in pedestrian crossings involving a conflict with drivers
27% increase in the frequency of drivers immediately yielding to pedestrians with the right of way

38% decrease in pedestrians crossing against the walk signal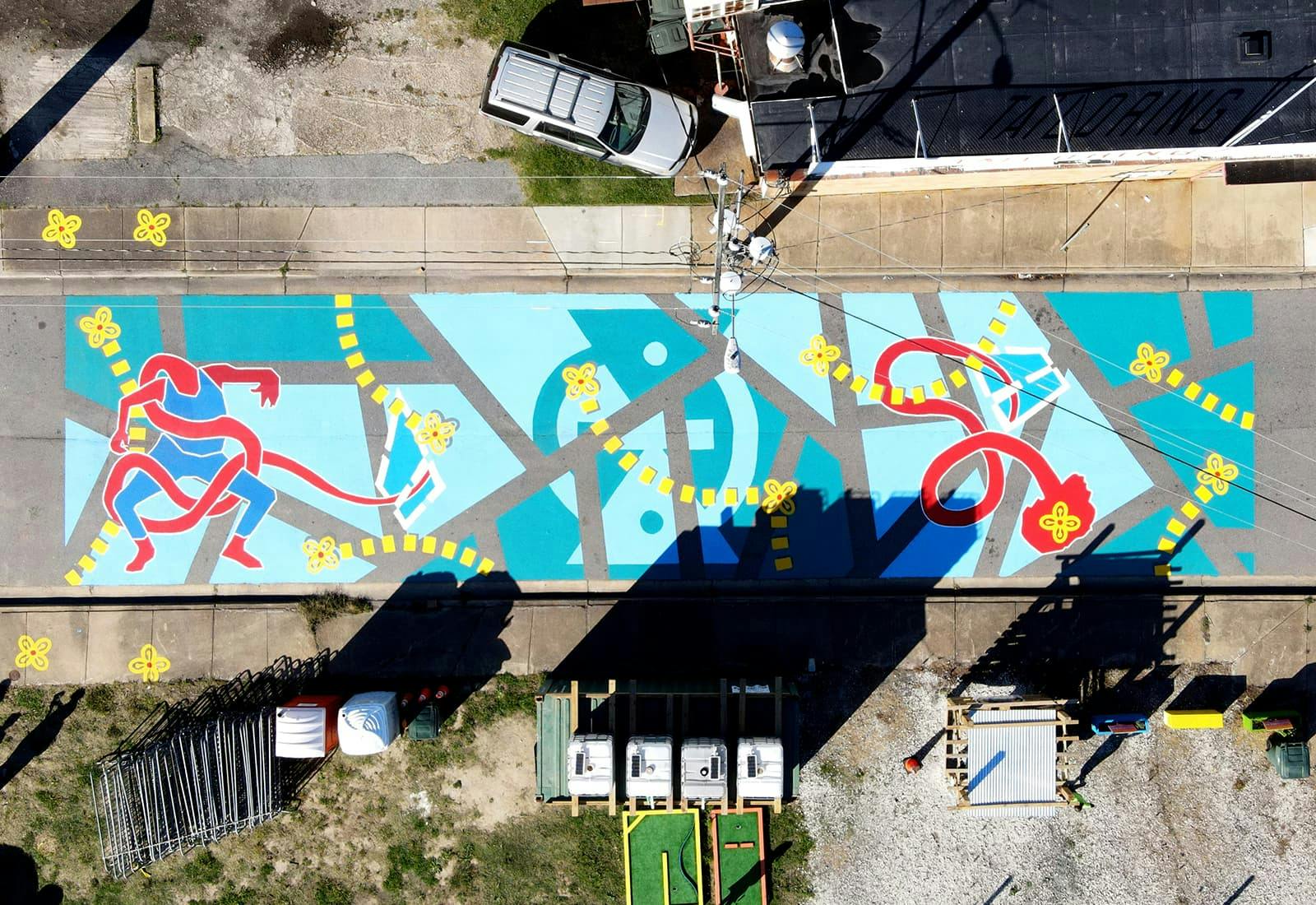 Artist Mensah Bey drew inspiration from West African symbolism for this Norfolk, VA, mural.
These findings confirm what many involved in such interventions anecdotally know to be true: Art-driven transportation projects can help improve safety for our most vulnerable road users, all while beautifying our communities. Despite broad public support, however, art in the public right of way has consistently faced hurdles at the regulatory level. In fact, the Manual on Uniform Traffic Control Devices (MUTCD), which dictates U.S. regulations when it comes to street markings and design, currently bans colorfully painted crosswalks due to questionable safety concerns. 
In Washington, D.C., transportation planners for the District Department of Transportation (DDOT) found a workaround to the draconian MUTCD guidelines through the beautification of bike racks, utility boxes, curb bump-outs and pedestrian zones. Launched in 2019, DDOT's Arts in the Right-of-Way (AROW) program has developed a handful of art guides geared toward sharing out best practices and empowering residents to take an active role in creating more colorful neighborhoods. Not only have residents responded positively to the art but city officials believe they've made the streets safer for the most vulnerable road users among us.
A series of murals at three prominent intersections in the riverfront area of Saginaw, MI.
Much of the current pushback against asphalt art, however, is due to a fear that Automated Vehicle technology will fail to recognize pedestrians amidst all the colors and designs. This logic implies that technology should be the priority — in order to create spaces where folks feel comfortable walking and bicycling, we need to prioritize them, and not the machines that pollute our cities and kill Americans in large numbers every year (not to mention the accompanying highways that bisect our neighborhoods and do little to alleviate congestion). All of these issues disproportionately affect low-income and/or BIPOC communities, which bear the brunt of the physical and mental harm a car-centric culture has created.
Another criticism levied against asphalt art, albeit to a lesser extent, is the need to repaint it at regular intervals. Considering the relative affordability of paint though and the positive safety effects the Bloomberg study showcases, asphalt art is arguably one of the most affordable traffic interventions available. Plus — as the AROW program in Washington D.C. demonstrates — when done properly, creating and maintaining murals can become a community event.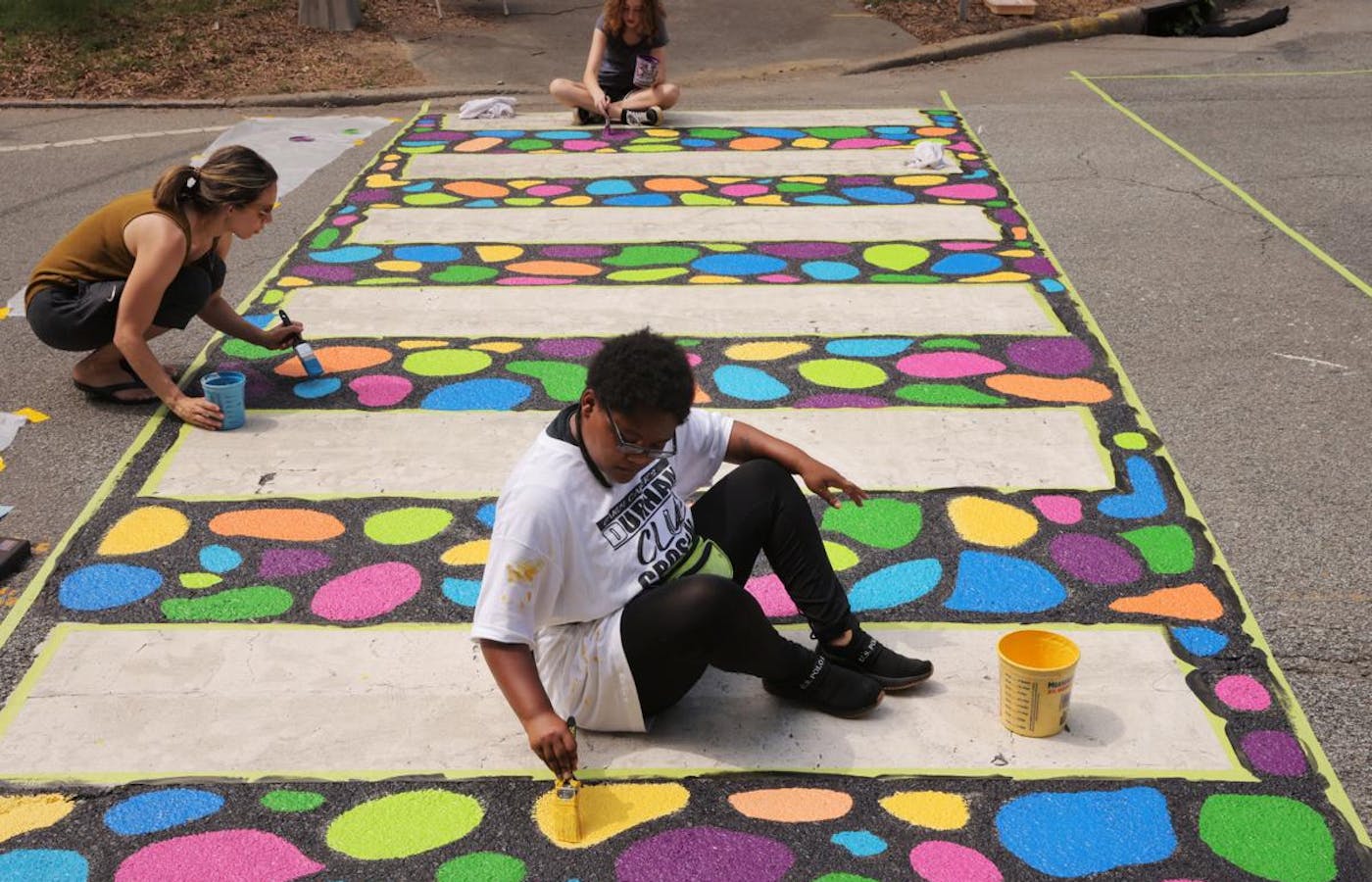 Volunteers help paint the design of local artist Candy Carver in Durham, NC.
To date, Bloomberg's Asphalt Art Initiative has led to the installation of 42 separate street murals throughout the U.S., costing $25,000 each, which have brought joy alongside safer streets. In order to help other cities facilitate a more colorful transition, Bloomberg has developed an Asphalt Art Guide and is currently accepting grant applications from European cities.