May 31, 2022
An Electric Bicycle Battery Recycling Program Takes Off
By: Kiran Herbert, PeopleForBikes' content manager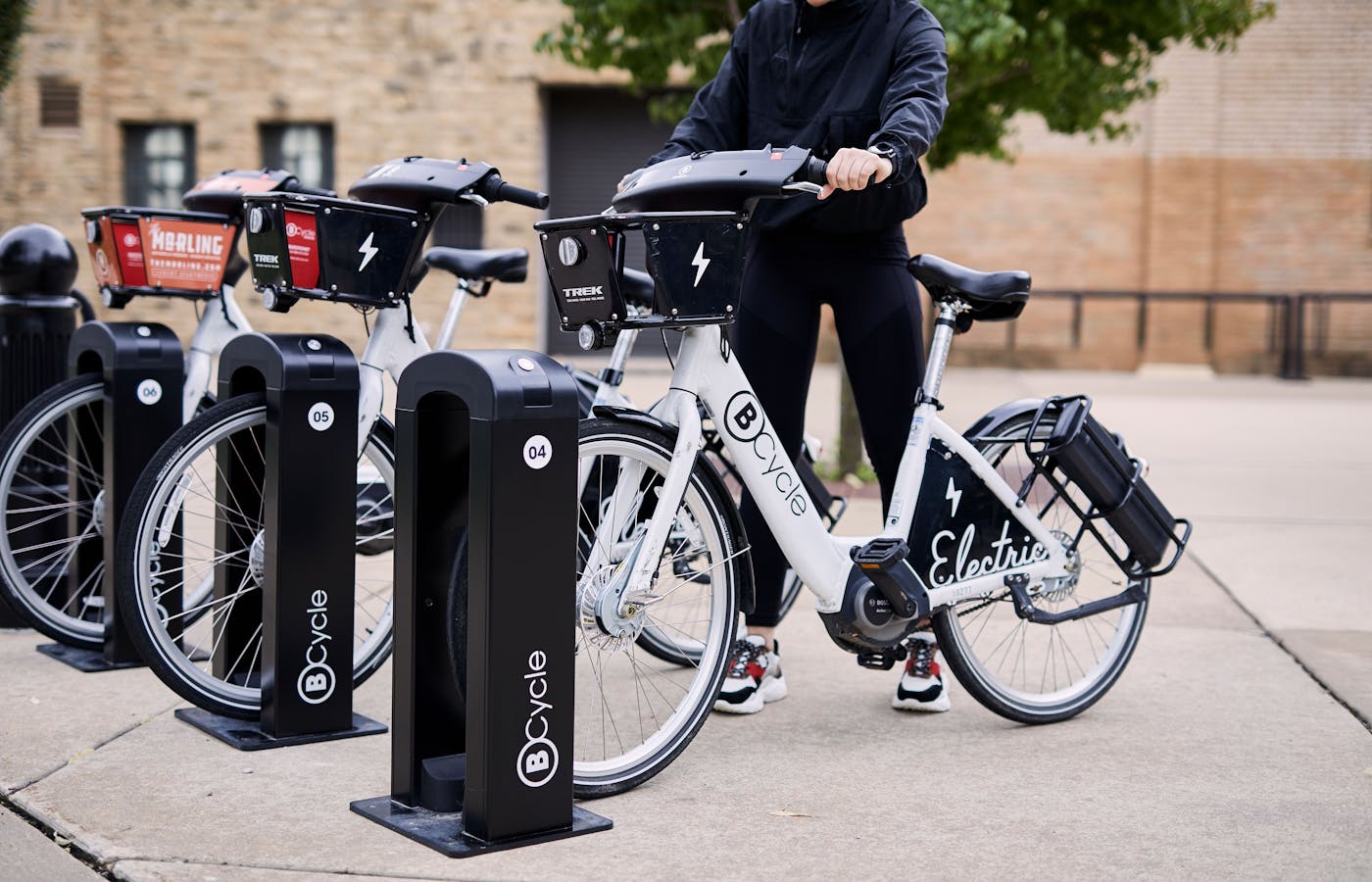 BCycle is the first bike share company to participate in Call2Recycle's landmark, industrywide battery recycling initiative.
When it comes to the electric bike craze, bike share is just as susceptible to the allure of pedal-assist riding. Systems from Charlotte, North Carolina (Joy Rides), to Portland, Oregon (Biketown), adopted all-electric fleets, while others — including Bublr Bikes in Milwaukee and the new Pogoh system in Pittsburgh — recently created hybrid systems with the introduction of electric-assist bikes. Chicago's Divvy system, among the largest in the country, first added 3,500 e-bikes in 2020 and plans to have some 10,000 by the end of 2022. 
According to the 2020 NABSA State of the Industry report, 44% of cities with bike share systems have fleets that include e-bikes. That percentage is all but guaranteed to grow within the next few years.
If you've ever ridden an e-bike, it'll come as no surprise that bike share systems that go electric consistently bring in more users. After all, electric bikes make bicycling more attractive to people of all abilities and allow folks to bike longer distances with less physical effort. In 2019, when the Madison BCycle fleet in Madison, Wisconsin, went electric, usage more than doubled, and in New York City, electric-assist Citi Bikes see more than twice as many rides per day than their traditional counterparts. Despite their popularity, however, electric bikes pose two issues for bike share systems: they must be charged and they require lithium-ion batteries, complicating the environmental benefits of bicycling.
To solve the charging issue, operators often have to collect e-bikes and take them elsewhere to recharge, although some systems — including Divvy, Pogoh and WeCycle in Aspen and Basalt, Colorado — have gotten more creative, developing solutions for charging bikes on-site at station docks. The issue of lithium-ion batteries is more problematic. While research shows that e-bikes are more likely to replace short car trips (resulting in significant CO2 savings), the social and environmental impact of the batteries remains notable.
Lithium-ion batteries, though smaller than those used to power electric vehicles, are still a necessary component of all e-bikes. Lithium is a metal and the process of mining and extracting it from ore is devastating for our natural ecosystems. There are only a handful of lithium deposits around the world, many of which are located in indigenous communities that bear the brunt of environmental destruction. The International Energy Agency estimates that the demand for lithium will increase almost 90% over the next two decades if countries meet their ambitious vehicle electrification goals, and continuing to mine is simply isn't a sustainable solution. Recycling lithium-ion batteries is currently our best option. 
In November 2021, PeopleForBikes partnered with Call2Recycle to debut a first-of-its-kind, industrywide electric bicycle battery recycling program. For participating companies, the E-Bike Battery Recycling Program is a safe and reliable way to keep electric bicycle batteries out of landfills. Some 27 bike suppliers and manufacturers have already signed on to support and fully fund the initiative, which began enrolling retail sites in February. 
The voluntary program uses an extended producer responsibility (EPR) model, which essentially puts the onus of recycling batteries on the manufacturer. Once a company enrolls in the program, every battery it sells into the market is tracked on a monthly basis. That number is then assessed with a per battery fee (currently $15) and the bike battery manufacturer is presented with a bill, which once paid helps Call2Recycle fund the full life of its battery recycling operation, including the cost of materials, containers and shipping.
"The biggest cost out of everything by far is the shipping," said Rob Latham, the e-bike program manager at Call2Recycle, explaining that there are only a couple of places in the U.S. that have the capability to recover 95% of the metals in e-bike batteries, which allows them to be put back into the supply chain as new products.
The program was designed to be customer-facing, so when an e-bike battery reaches its end of life or is damaged, riders are able to take it to a participating retail store, where staff is trained on how to properly handle and package hazardous material before it's safely shipped to one of Call2Recycle's partner facilities (the company works with one facility on the west coast and one on the east). There are currently 1,127 U.S. retail locations currently participating in the program and more are expected to finish training and come on board in the coming months, including all of REI's 174 locations nationwide.
Trek Bicycle Corporation, one of the founding members of the E-Bike Battery Recycling Program, owns BCycle, which operates eight bike share systems in the U.S. (and supplies e-bikes and equipment to another 28). By nature of that connection, BCycle is currently the sole shared micromobility participant currently enrolled in the program. Now, when an e-bike battery on any of BCycle's 3,500 bikes is no longer operable, there's a sustainable solution on hand.
"At the center of everything we do in bike share is sustainability," said Tyler Britz, the bike share marketing manager at Trek. "Before and after our bikes are on the ground and being used, we want to make sure that we're creating sustainable habits throughout the entire life cycle of our products and our bikes."
Since BCycle first launched e-bikes in Madison in 2019, the need to recycle the batteries has been front-of-mind. All lithium-ion batteries have a lifespan and depending on how often a bike is ridden, they'll last anywhere from two to five years. From the outset, BCycle has communicated to its operators that they should hold on to end-of-life batteries while the company researches a sustainable solution. With the launch of the Call2Recycle program, BCycle operators can now sign up on the Call2Recycle website, take a short video training and request recycling kits for any batteries they have collected.
"The cost of the program is covered by the cost of the e-bikes BCycle supplies," said Britz. "So it's built right in, making things even easier."
For bike share operators that are not affiliated with BCycle, there's a regularly updated list of participating manufacturers on Call2Recycle's website. If a bike share system's equipment is manufactured by one of the participating companies, getting enrolled in the program is as easy as taking the training and sending old batteries in for recycling. For systems whose manufacturers aren't yet participating in the program, there are still ways to get involved, including lobbying the original manufacturer to join. Latham says interested parties can reach out through the Call2Recycle website to inquire about options for bike share, including a possible pay-as-you-go model.
BCycle's e-bikes make up just a small fraction of the total number of electric bike share bikes in the country. For some of the industry's biggest players — the Lyfts and Limes of the world — who are not yet enrolled in the program, Latham sees an opportunity for them to join or to contract their recycling out to Call2Recycle.
"Given their footprint, they probably have a solution in place for their batteries," said Latham, adding that it wouldn't prevent Call2Recycle from being able to serve as a partner. "We look forward to welcoming additional rideshares to help broaden the industry-supported program."
Environmental sustainability is a focus for all operators, who do everything from paying to offset all of their greenhouse gas emissions to using recycled rubber in docking stations to launching creative campaigns that encourage behavioral change. When it comes to keeping batteries out of landfills, though, things can get complicated and expensive. The benefit of an industrywide program is that at scale, everything is made more affordable and the logistics are easier to manage.
"The barriers to entry are low for taking advantage of this program," said Britz. "We hope that BCycle's involvement as currently the only micromobility operator sets a standard for other micromobility operators to take advantage."