August 31, 2020
Safe Routes Partnership Centers Equity and Adaptability in Getting Back to School in 2020
By: PeopleForBikes Staff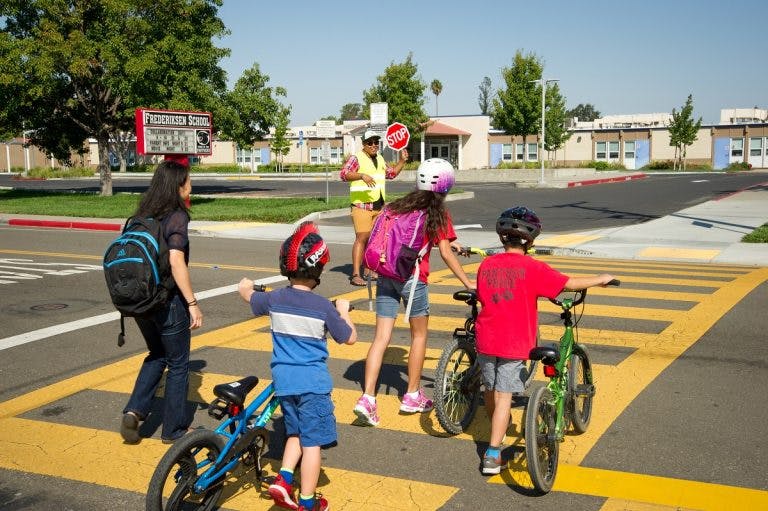 As public transportation options diminish, more families will consider biking to school.
While everyone is talking about kids returning to school this fall in the midst of a pandemic, there needs to be more discussions on the topic of how they will get there. Addressing increased and complicated transportation needs is necessary for a safe return to school in 2020. Many school districts across the U.S. are facing a reduction in bus routes which shoulders families with the task of coordinating transportation to and from school for their children. Some students will be on staggered schedules, requiring them to get themselves to and from school while their parents may be working. Other families are asking themselves how they will remain active and healthy as they settle into remote learning from home. 
Luckily, Safe Routes Partnership (SRP) has some solutions. "At the start of COVID-19, we created a resource spreadsheet on our Safe Routes to School listserv which we used to collect and share ideas about how to keep programs going during the pandemic," said Kori Johnson, program support manager for SRP. "We recognized the need to provide more support in the field and the need for a resource that was accessible, actionable and tailored to different learning scenarios."  
Safe Routes Partnership, funded in part by PeopleForBikes, works with community stakeholders all across the U.S. to support and promote safe walking and biking to and from school and beyond. After starting in the '90s in a few school districts, Safe Routes to School programs became more established with federal funding in 2005. Safe Routes Partnership now helps with Safe Routes programming in rural, urban and suburban communities in all 50 states. Engaging local leaders through a variety of strategies and tools, they work to build communities that are safer, more active and more equitable. 
Faced with the daunting task of developing a comprehensive set of recommendations to meet the transportation needs of communities nationwide as students return to school, the SRP team decided on a collaborative approach. The result is a comprehensive guide to Back to School 2020-21 which addresses remote, hybrid and in-person learning scenarios and leaves enough room for families to adapt to whatever local COVID-19 safety measures may be in place. SRP's website offers numerous links to downloadable, step-by-step resources for meeting the transportation needs of your community in creative and healthy ways. 
"The guide is designed to be used by anyone with a stake in getting students to and from school, but it extends beyond that as well," said Margaux Mennesson, communications and marketing director for SRP. "The resources are 'plug and play' and provide a variety of short-term, actionable items that can be easily and quickly implemented." 
"We decided the best way to go was to engage the people on the ground who are the experts and we ended up with over 180 responses to incorporate as we developed the resource," said Becky Gilliam, Pacific Northwest regional policy manager at SRP and one of the authors of the resource guide. "We asked participants to center their lived experiences and provide detail as to how that affected their recommendations. We ended up with a female/BIPOC lead group spanning five time zones."
This representation was key in developing recommendations that meet the needs of communities facing the highest barriers to transportation equity and access. "It was clear from the feedback of the working group that transportation is an essential need," said Johnson. "In order to achieve true equity, we have to assess the needs of those whose ability to move have been most affected by the pandemic. You have to consider things like, if your neighborhood has no sidewalks, how do you simply go out for a stroll?"
Above all, the Safe Routes Partnership team is hopeful that local leaders and stakeholders will feel encouraged and emboldened by this resource guide and they maintain an overwhelmingly optimistic outlook about this collectively challenging time.
"This is a unique opportunity for communities to step back and explore safer and healthier alternative modes of transportation and ways to stay active during a global pandemic," Gilliam said. "Recognizing existing and exacerbated challenges while leaning into difficulties we have presents us with an opportunity to honor the moment we are in and stick through the more challenging conversations as we come together. There are opportunities to develop ways of supporting each other beyond getting to and from school such as partnering with local agencies for meal drop offs or connecting to mutual aid groups"
"The message we want to get across with this guide is really that no matter who or where you are, you can have the confidence and courage to do what you need to do," Johnson emphasized. "Don't be afraid to try something different. Everything is going to be different this year and that is fine."
Back to school 2020-21 provides us with another chance to think beyond the car as we re-examine how we move and put into place healthy, accessible, fun and community centered modes of transportation.  
Learn more about the Safe Routes Partnership and access their Back to School 2020 Guide.