February 22, 2022
A Call to End Support for Pretextual Policing
By: Kiran Herbert, PeopleForBikes' local programs writer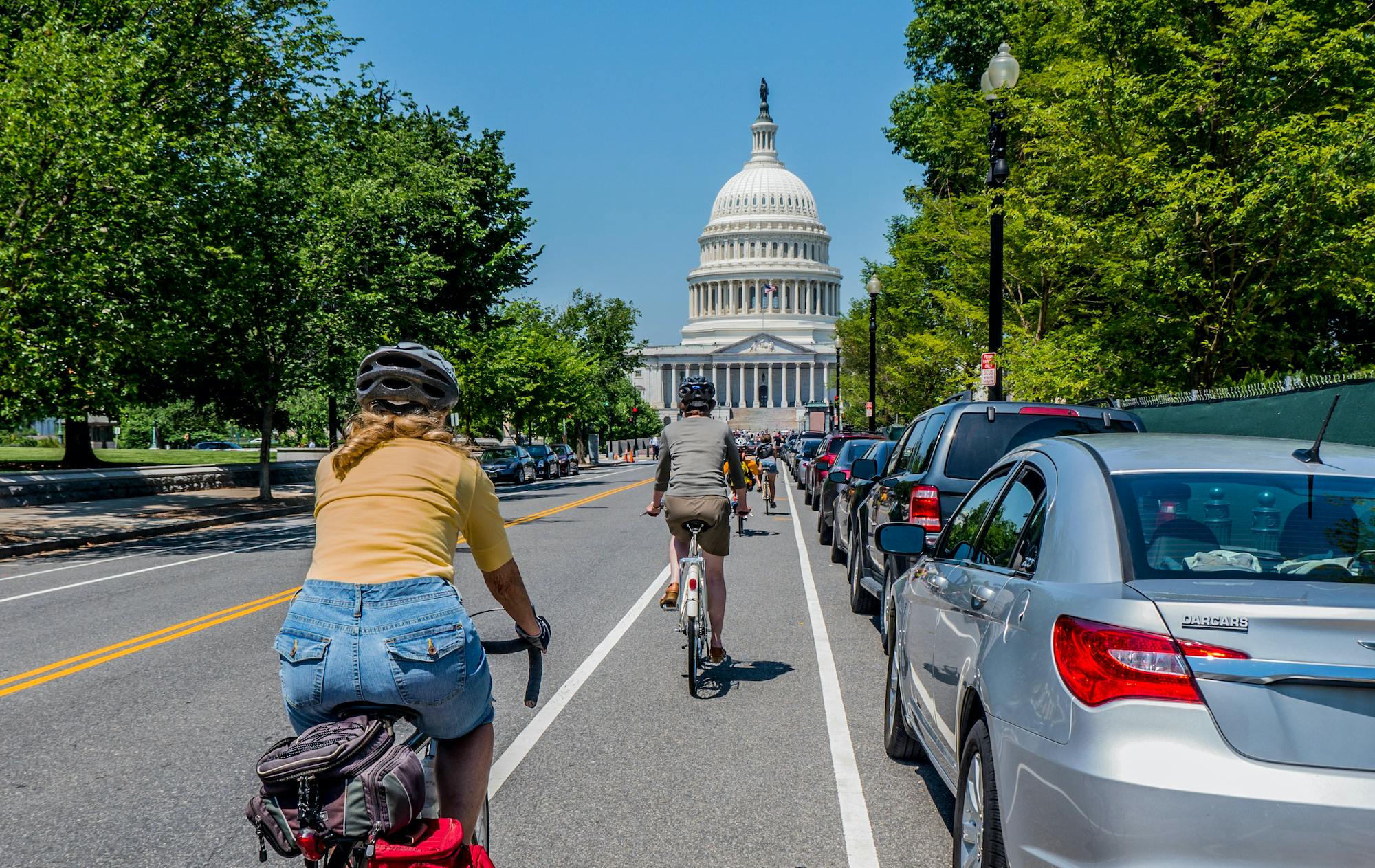 PeopleForBikes and 70 other organizations signed a letter asking the DOT and DOJ to reconsider policies that undermine public safety and racial equity.
In the spring of 2021, PeopleForBikes signed on as a member of the Transportation Equity Caucus, a diverse coalition of organizations promoting policies that ensure access, mobility and opportunity for all. Coordinated by the nonprofits PolicyLink and the Center for Disability Rights, the caucus sees transportation as a crucial way to connect individuals to essential services like jobs, schools, housing, health care, and grocery stores. But millions of low-income people and people of color live in communities where quality transportation options are unaffordable, unreliable or nonexistent and federal transportation policy choices — what we build, where we put it, who builds it, how we operate it, what energy powers it — have long contributed to this inequity.
We believe bicycling and safe bike infrastructure is key to building a country where all people can participate and prosper. In addition to supporting policies that make bicycling more inclusive and helping cities build safe, accessible bike infrastructure in all communities, we understand that rethinking how we enforce traffic is key to making mobility accessible to everyone. Many bike laws have unintended consequences for BIPOC and low-income communities, and research shows that areas with less bike infrastructure experience disproportionate ticketing, compounding the effects of racially biased policing and transportation policies. The Transportation Equity Caucus is working to solve these issues by hosting educational webinars and lobbying government officials to reconsider inequitable policies.
On February 14, 2022, the Transportation Equity Caucus sent a letter to the Department of Transportation (DOT) and Department of Justice (DOJ) on behalf of 71 organizations, including PeopleForBikes, asking for officials to reevaluate support for certain programs that encourage law enforcement reliance on pretextual traffic stops, or the practice of using a minor traffic stop to investigate a more serious crime. The coalition believes that these programs require attention because they fail to promote public safety and jeopardize racial equity. The letter requests a meeting with policymakers from both agencies to discuss the coalition's concerns and to explore ways to address them, both retrospectively and going forward.
Our support for the letter is based on well-documented research, including work done by researcher Charles T. Brown and others that specifically examine the bike space. Pretextual traffic stops are not limited to people in cars and have been shown to disproportionately affect BIPOC and unhoused bike riders. In a recent study from the League of American Bicyclists, potential interactions with police were identified as a deterrent to participating in more bicycling by Black, Hispanic and younger populations at a significantly higher rate than by older and white populations. And according to an investigation from The Los Angeles Times, L.A. police have been stopping an irregular number of minority bicyclists without cause (and rarely finding anything illegal). In Seattle, a helmet law was recently dropped after being used as a pretense to disproportionately stop homeless and BIPOC riders.
These stops bring with them a myriad of risks: the disruption of a person's daily affairs, policing for profit, overcriminalization of already marginalized groups and, in extreme scenarios, even policing killings. Importantly, they also serve to gatekeep bicycling, ensuring that certain populations feel less safe traveling on two wheels, which hurts all of us working in the bike space. There is also evidence that a crime-fighting approach based on traffic stops is largely ineffective.
Halting pretextual traffic stop programs is an important first step that will not only improve transportation safety, but also center and advance racial equity nationwide.