September 20, 2023
5 Ways to Boost Community Engagement in Bike Advocacy
By: Nick Aguilera, youth and community partnerships manager, and Martina Haggerty, senior director of local innovation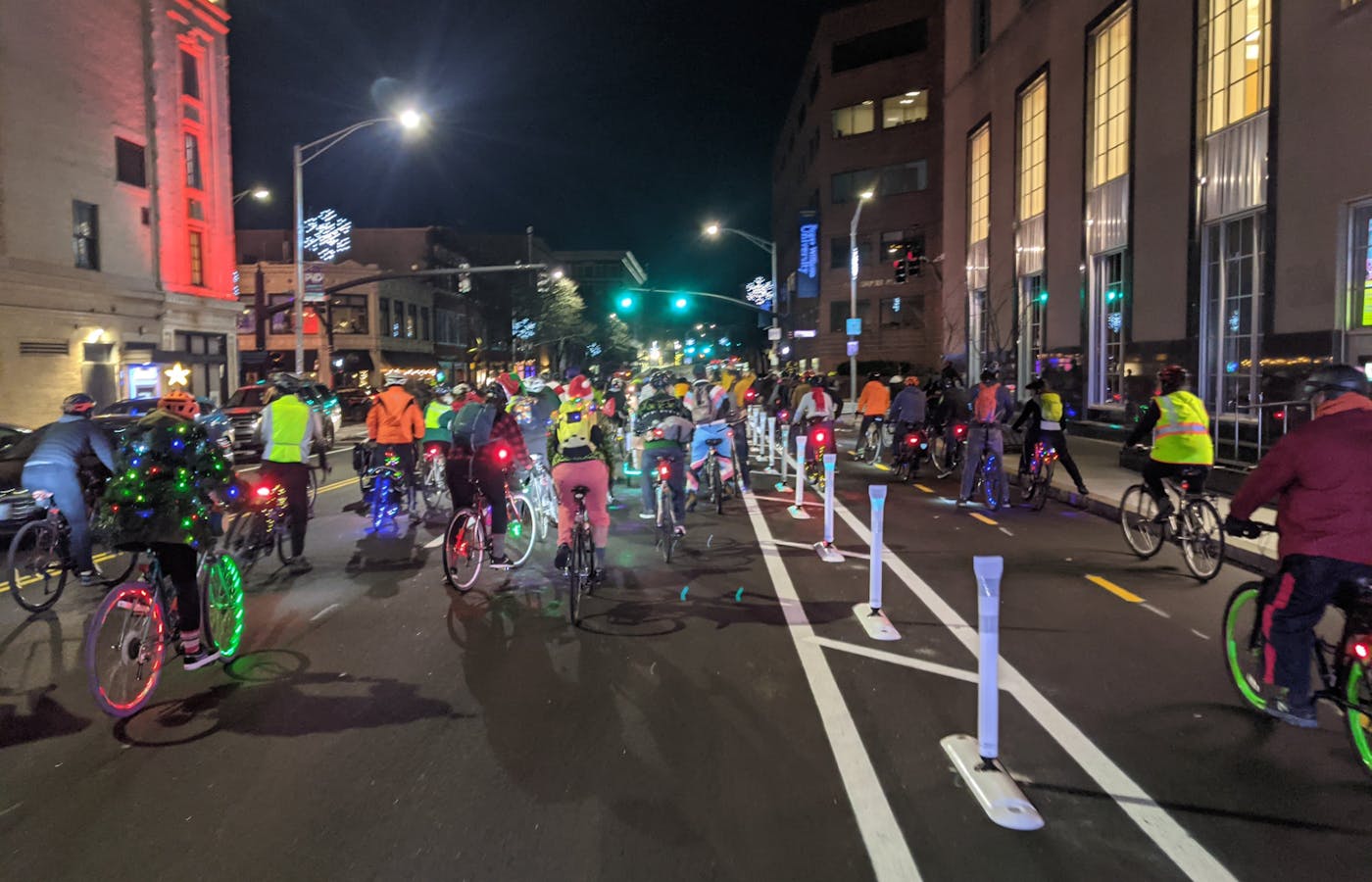 Community rides like Providence Bike Jam allow people of all ages and abilities to come together and support local bike advocacy efforts. (Photo credit: Providence Bike Jam)
These techniques will help you go beyond traditional engagement methods to reach a broader, more diverse audience.
In city council and town hall meetings across the country, there are often the same handful of people who show up for decision-making processes and bike advocacy efforts time and time again. They're committed and reliable, but they don't often represent a broad coalition of stakeholders. In fact, it's often hard to engage a variety of different voices, whether you're looking for support for your own organization or to drive community engagement around a specific infrastructure project.
These five techniques will help you go beyond traditional engagement methods to reach a broader, more diverse audience:
1. Start a monthly community bike ride
Organizing community bike rides is an effective and enjoyable way to engage new people in bike advocacy, raise awareness about the benefits of bicycling, and create opportunities for community members to get involved. Providence Bike Jam, a monthly themed bike ride in Providence, Rhode Island, is a prime example of this strategy. Thanks to a winning combination of bikes, music, lights, and effective promotion, Bike Jam has become what one of its organizers, Liza Burkin, describes as "a monthly dance party on wheels."
Run by a dedicated team of 15 volunteers, Providence Bike Jam has experienced significant growth since its inception in 2019. Initially attracting around 50-75 participants, the rides now draw up to 400 people. Growth is largely the result of word-of-mouth promotion from the Bike Jam community, which affectionately refers to itself as the Jam Fam. 
"We always tell people, 'the first rule of Bike Jam is that you have to tell all your friends about Bike Jam' — it's the opposite of Fight Club, we want everyone to come," says Bike Jam organizer John Deignan. "A lot of folks will find it themselves, then next month, they're back with three or four friends. It's a great way to grow a movement."
Beyond being a joyous celebration of biking, Bike Jam raises awareness around the need to advocate for improved bike infrastructure by strategically including new and proposed bike lanes and trails on their rides. The group also organizes "Bikes Mean Business!" rides that include visits to shops and restaurants along those routes. Elected officials are often invited to join the slow-paced rides, providing them with firsthand exposure to the joy of biking and the community's dedication to the cause.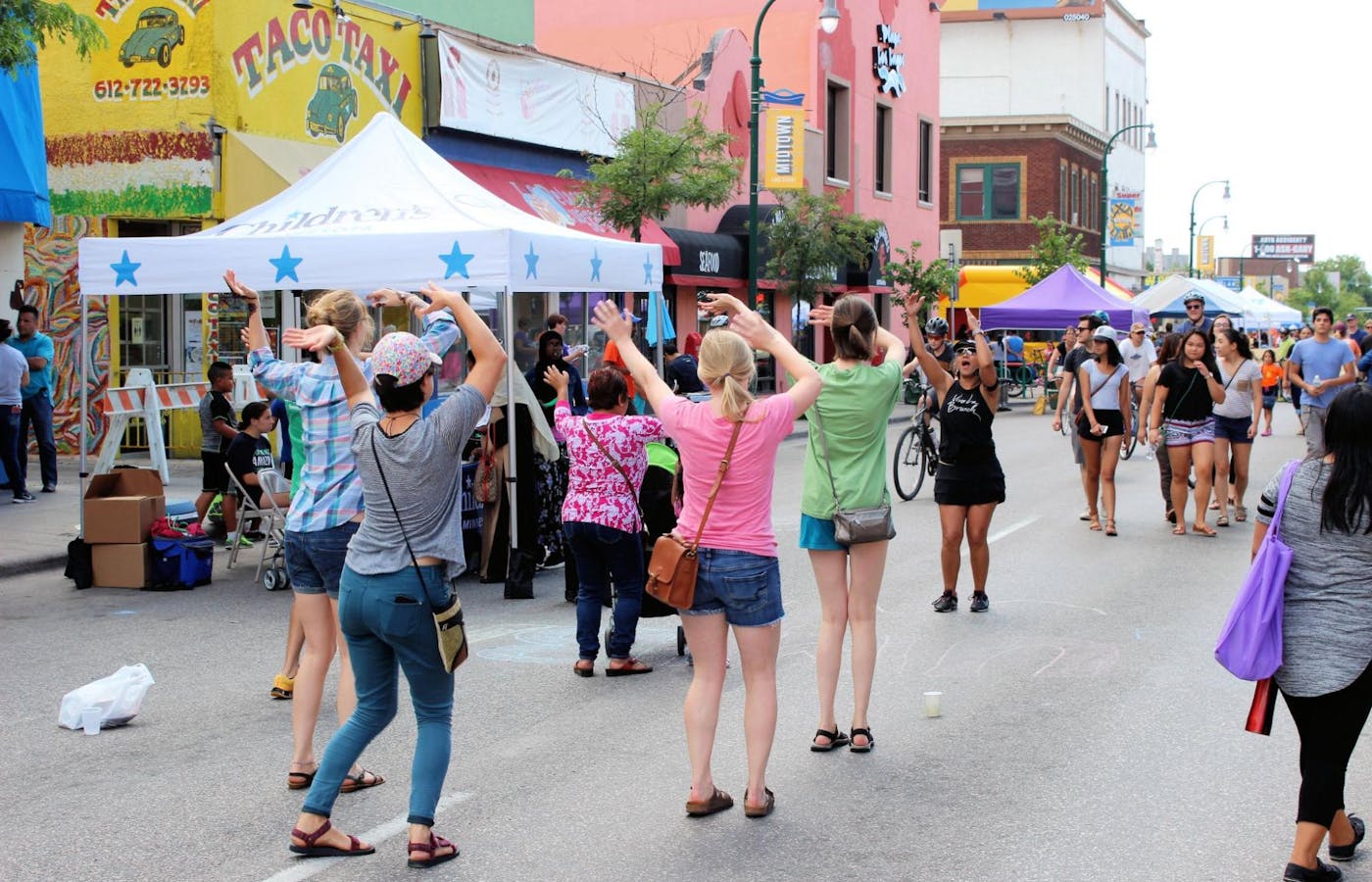 Minneapolis is just one of the hundreds of communities worldwide where local advocacy organizations host Open Streets events to get community members involved in their work. (Photo credit: Mike Beck)
2. Develop an Open Streets program
From Mexico City to Lincoln, Nebraska, hundreds of cities worldwide are embracing Open Streets events, promoting active transportation and people-centered spaces. One of the most renowned examples is Bogota's Cicolvia, which began in 1974 and continues to transform more than 70 miles of streets every Sunday, welcoming cyclists, pedestrians, and rollers alike.
In the U.S., Minneapolis' event opens major thoroughfares to people by closing streets to vehicular traffic and encouraging free, family-friendly events. The aim is to help people imagine city streets as vibrant, bike- and pedestrian-friendly places. Since 2011, Our Streets Minneapolis (formerly the Minneapolis Bicycle Coalition) has hosted more than 50 volunteer-run Open Streets events. In 2023, five different events were organized and attracted some 90,000 people. 
Through strategic partnerships, the events engage community members, raise awareness for bike infrastructure, and advocate for improved transportation systems in Minneapolis. With event funding raised solely through sponsorships, participant fees, and individual donations, each Open Streets Minneapolis event showcases relevant advocacy campaigns, emphasizing the expansion of community imagination and the transformative potential of streets designed for people. According to Carly Ellefsen, communications manager for Our Streets Minneapolis, these events are a critical way to engage community members new to transportation and climate advocacy and help ensure that related campaigns are informed by community needs.
One such partnership with the University of Minnesota Heritage Studies and Public History program resulted in the creation of the Mobile History Museum. This traveling interactive exhibit told the story of the destruction of the city's Old 6th Avenue North neighborhood during the construction of the Olson Memorial Highway. The exhibit directly connected community members attending Open Streets events to the ongoing campaign to Bring Back 6th and restore the historic neighborhood. Building on this success, the organization plans to use the Mobile History Museum in future campaigns to improve local infrastructure to reconnect neighborhoods. 
TIP: The Alliance for Biking and Walking and Street Plans offer a helpful guide for communities or organizations interested in hosting their own Open Streets programs.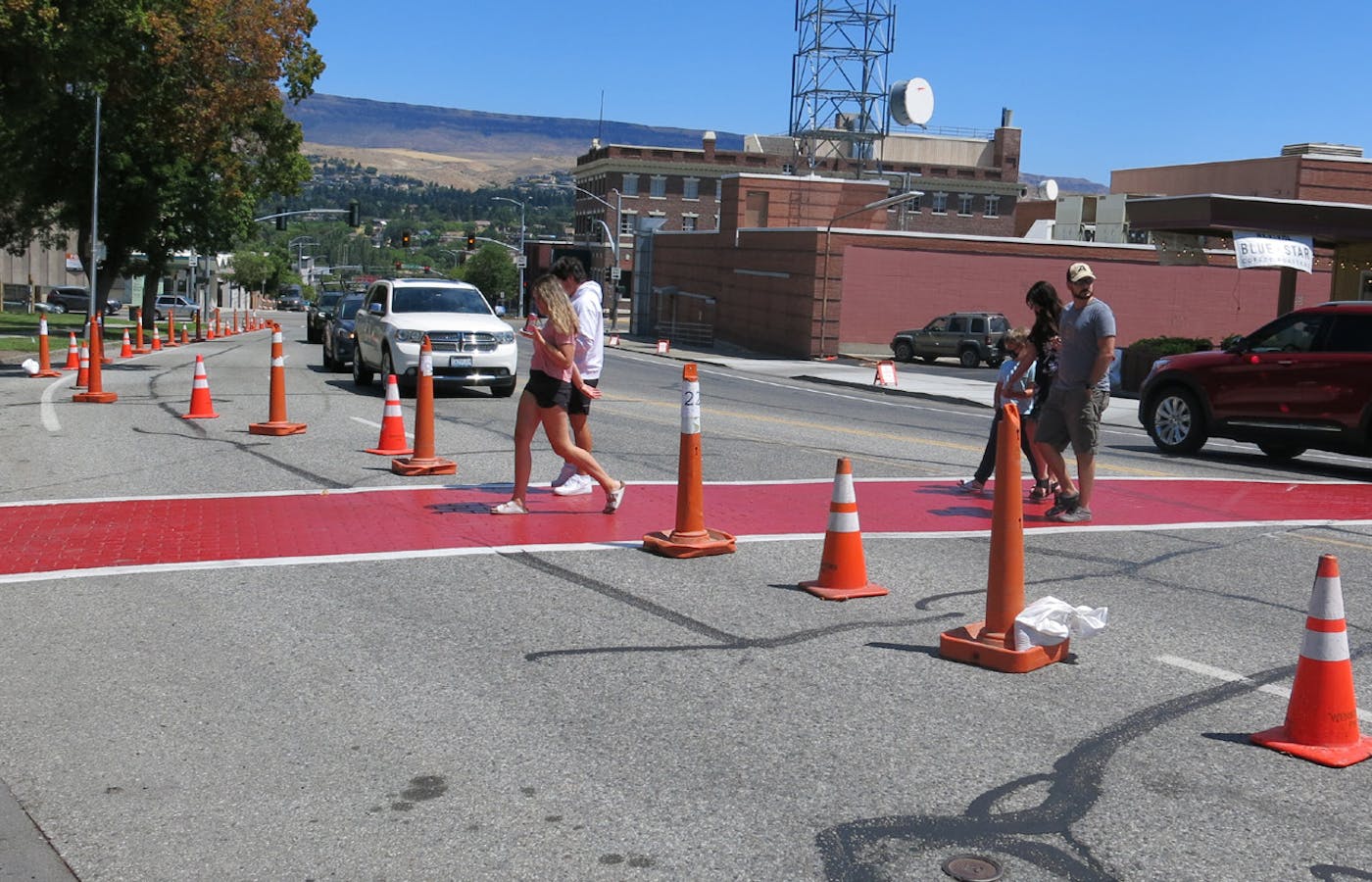 Wenatchee's demonstration event and pop-up market helped planners and advocates engage the community in a bike lane project. (Photo credit: Smart Growth America Safety Demonstration Projects Report)
3. Build a community-led demonstration project
Demonstration projects engage and educate community members in planning and constructing projects, helping foster a sense of ownership over local projects. They can also expand support for bikes by actively showcasing the benefits and possibilities of bike-centric infrastructure. These projects — everything from temporary protected bike lanes to traffic calming projects — give local advocacy organizations and city planners a sense of what works and allow them to gather feedback along the way.
Wenatchee, a small city in Washington, successfully engaged residents around better infrastructure through a demonstration project near the busy intersection of Orondo Avenue, Methow Street, and Okanogan Avenue. With funding from Smart Growth America and the Center for Disease Control and Prevention's Active People, Healthy Nation Initiative, Wenatchee created protected bike lanes and improved pedestrian crossings with temporary materials like cones and paint. 
The project's engagement plan, which was crafted to ensure the inclusion of the neighborhood's predominantly Spanish-speaking population, included a pop-up market event and local food vendors and artisans. The team's efforts to involve the community in the project helped them expand engagement to include more voices.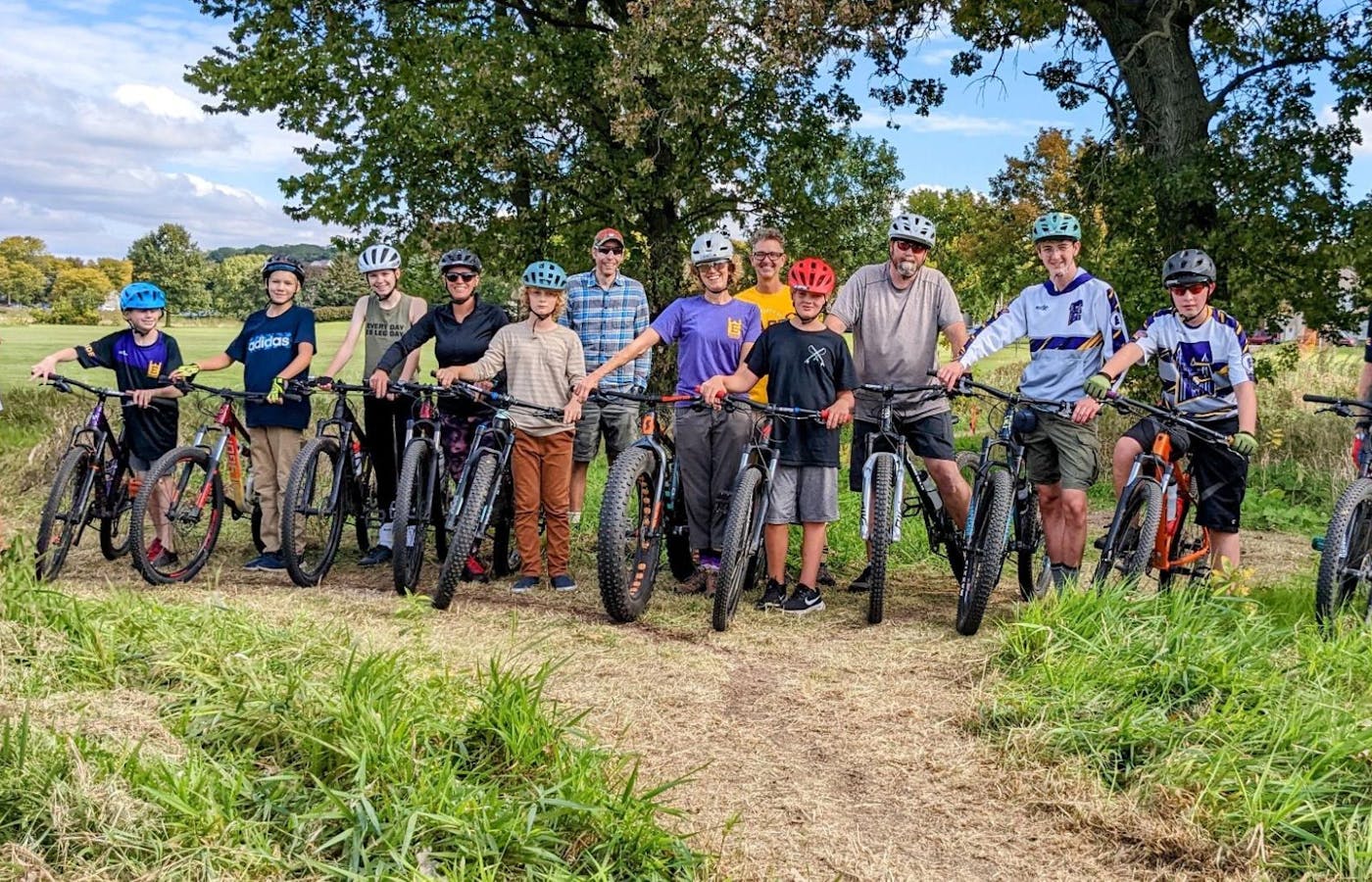 In lieu of a typical practice, NICA coaches in Madison, WI, organized a tailgate around a parks and recreation public meeting, inviting youth to speak to local leadership. (Photo credit: Mike McGarry)
4. Host a tailgate party or barbeque before or after a public meeting
Public meetings can be intimidating and unfortunately don't have a great reputation for being entertaining. To help counteract these less-fun aspects, local organizations can encourage attendance and participation by creating fun events before or after the meetings. 
To get student-athletes involved in local bike advocacy efforts in Madison, Wisconsin, the National Interscholastic Cycling Association (NICA) organized a tailgate party with food, snacks, and games before and after a public meeting of the Madison Parks Board. Coaches asked students to participate in the tailgate party and public meeting instead of attending their typical practice session that evening and even helped students register to speak and organize their thoughts. Although no big decisions were being made at the meeting, NICA wanted to show youth how to speak to local leaders and maintain a presence in public. As people left the meeting, many stopped to express thanks for the students' participation. 
"Bikes are fun, so let's make advocacy fun," says Mike McGarry, director of coaching and education at NICA. "We filled the room with youthful energy, which is not typical for these types of meetings. It helped our athletes to see themselves as advocates." 
In 2015, NYC DOT introduced a Street Ambassador Program where paid community members engage with people to gather feedback on projects and share upcoming initiatives. (Photo credit: EquityNYC)
5. Create a field ambassador program 
In St. Louis, Missouri, Trailnet, a local active transportation organization, maintains a Street Team, which educates the community about its mission through one-on-one conversations. This approach helps the organization foster new connections while advocating for a more walkable, bike-friendly, and public-transit-accessible region. Additionally, volunteers play a vital role in recruiting others to support Trailnet's initiatives, whether by joining the organization's email list, becoming members, or volunteering their time. Through tabling at community events and similar strategies, these volunteers help the organization engage with people from diverse backgrounds and expand its impact. 
Tip: Many other communities and organizations use this approach to boost engagement, including New York City's Department of Transportation, New Orleans' Bike Easy, and the Providence Streets Coalition, as well as Philadelphia Vision Zero and Hoboken Vision Zero.