May 30, 2022
2022's Best College Towns for Biking
By: Sasha Miller, contributing writer
Supported by quality bike networks, high ridership among students and campus-led initiatives to increase bicycling safety, many university towns rated highly in this year's City Ratings.
Whether it's to reduce their carbon footprint, for exercise, to save money or just for fun, more and more college students across the United States are choosing to get around by bike. As a result, many colleges and universities are putting in extensive time and resources to make biking more accessible and safe on campuses nationwide.
In this year's City Ratings, PeopleForBikes' annual program to evaluate, identify, and compare the best cities and towns for bicycling, many college towns ranked in the top 50 out of more than 1,000 U.S. cities for bicycling. Read on to learn what these places are doing to become great places to bike.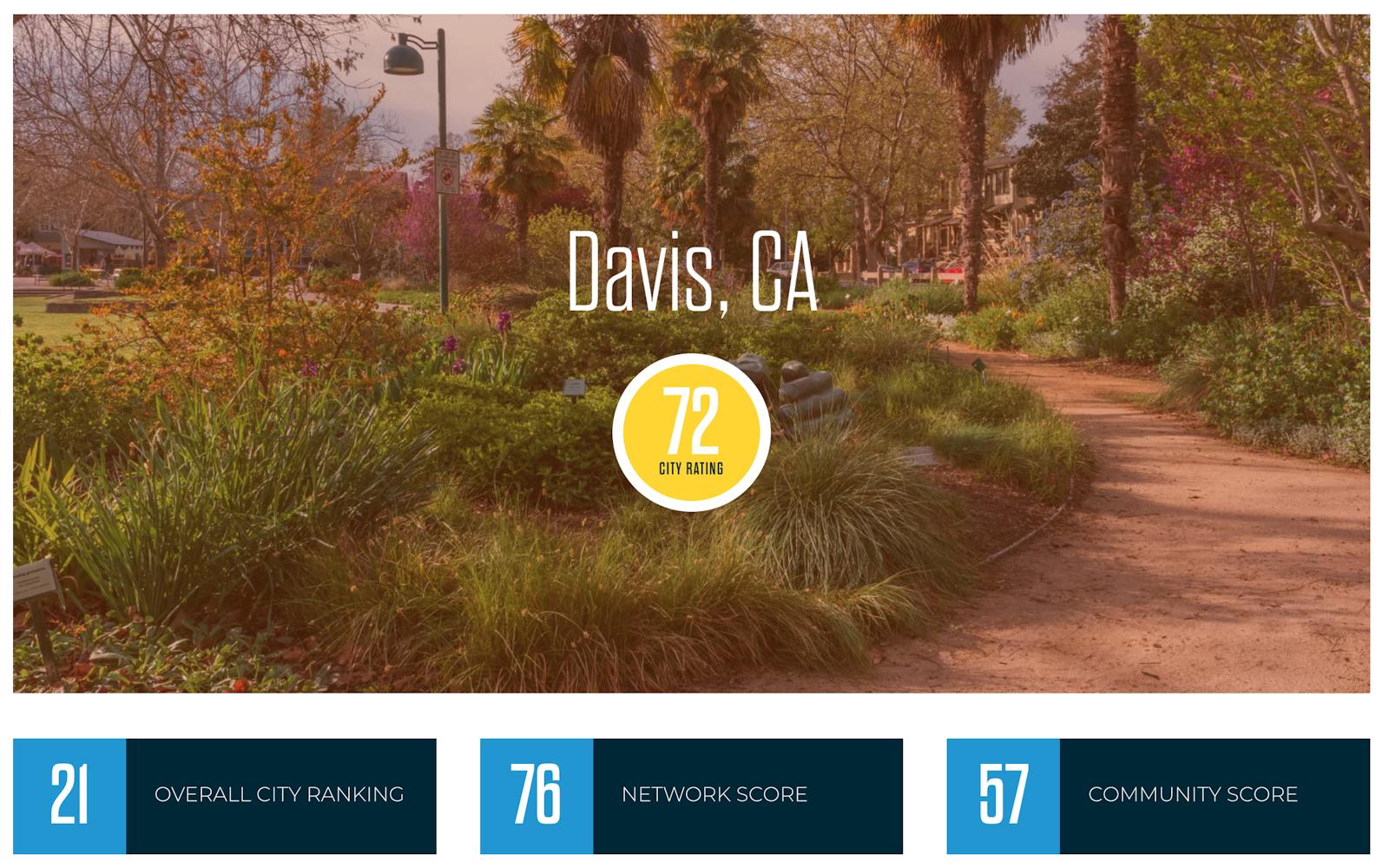 Coming in at number two overall in this year's City Ratings with a score of 72 (out of a possible 100) is Davis, California. A hip college town 11 miles west of Sacramento, Davis is home to the University of California at Davis, a large public university with 31,000 students spread across its 5,300-acre campus. Known for being one of the best places for bicycling in the United States, it's hard to ignore the city's incessant love for biking when riding around Davis. Davis has a myriad of different bike share options, including e-bikes and long-term rentals, so it's never difficult to find a way to get around town by bike.
Davis was an early pioneer in bicycle mobility, constructing their first bike lanes in 1967, which have since expanded to include 50 miles of on-street bike lanes and 50 miles of off-street shared paths. Close to 98% of the streets in Davis have some sort of bicycling provision and the city is also home to the Bicycling Hall of Fame, built in 1987. Cycling through the college campus, you'll see both staff and students alike commuting on their bikes. An estimated 47% of staff use bikes to get to work every day and about 20% of all trips in Davis include a bike.
As a town, Davis has fostered a shared sense of mutual respect between motorists and pedestrians and created a strong sense of biking culture. Davis' compact city size, flat topography, access to bike rental services and relatively mild climate make it an ideal place to get around on two wheels!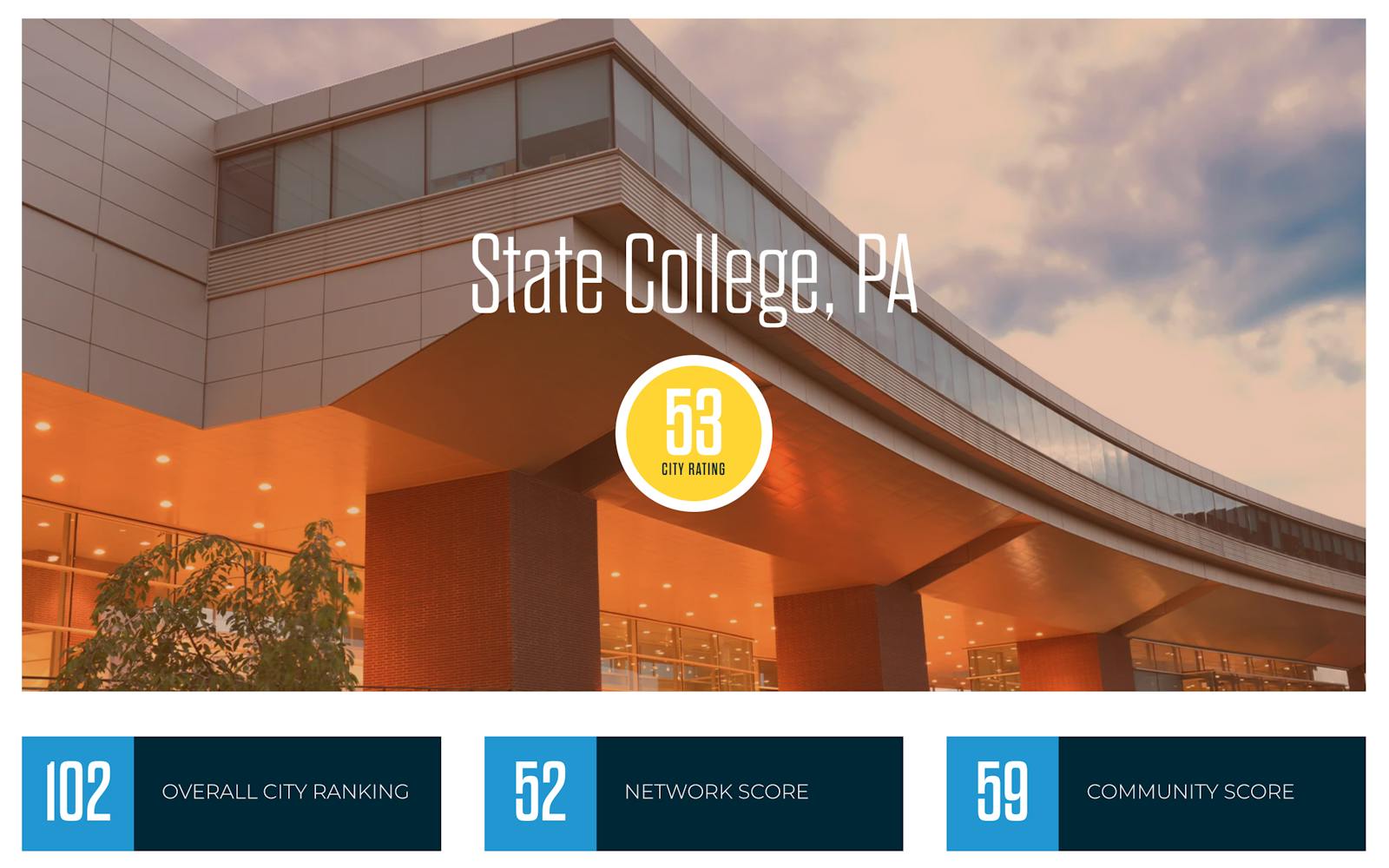 Home of Penn State University, State College, Pennsylvania, ranked 35th overall with a City Ratings score of 53. A majority of Penn State's 40,000 students use cycling as their main form of transportation due to its massive sprawling campus, but up until 2008, cycling was not very accessible.
In 2008, Penn State's Transportation Services proposed a "Bicycle Master Plan," which not only added multiple bike lanes throughout campus but also included bike climbing lanes for steep uphill sections, showering and changing facilities, more bike racks, covered bike parking, more effective snow clearing for bike-heavy areas and a bicycle education program for all incoming freshman. Many of these facilities are located no more than a five-minute walk from any destination on campus and 21 bike share rental stations across campus provide more than 15,000 rides each year to students, faculty, and staff.
State College is especially unique from other cycling college towns because of its active efforts to create a culture of biking for everyday travel and recreational use by building a community around it. The "Bike Den" on Penn State's campus is a community-building space where cyclists can work on bike maintenance projects, attend bike workshops and connect with other local cyclists. State College's hilly topography, harsh winters, and large campus do not make being a bike-friendly college town easy, but the campus transportation services are continuously working harder to make cycling safer and more convenient for everyone.
Oregon is known as the most bicycle-friendly state on the West Coast, and Corvallis, home to Oregon State University, is certainly no exception. Corvallis' abundance of nature, compact size, mild summer temperatures, and network of bike lanes make it a dream to bike around! In fact, 97% of the city's streets are connected by bike lanes and shared-use paths, which means almost any trip can be made in 15 minutes or less by bicycle.
Corvallis has been promoting active recreation and transportation for decades. In 1971, the Citizens Advisory Commission on Bicycles was formed to create an advocacy group for bike infrastructure, safety, and culture. Oregon State University followed in Corvallis' steps, encouraging bicycling as an easy, healthy transportation option using a program called "ZAP," which rewards students and faculty for biking around campus. In 2019 alone, ZAP logged 54,337 trips!
OSU also provides amenities including bike parking, repair stands, bike share and bike loan options, bicycle safety training, and bicycle registration services. Oregon State's efforts for biking are paying off: In 2019, about 20% of students got to campus by bike, higher than other comparable universities by a whopping 10-15%! Corvallis is the perfect home base for anyone looking to explore the views of the Sunset State by bike.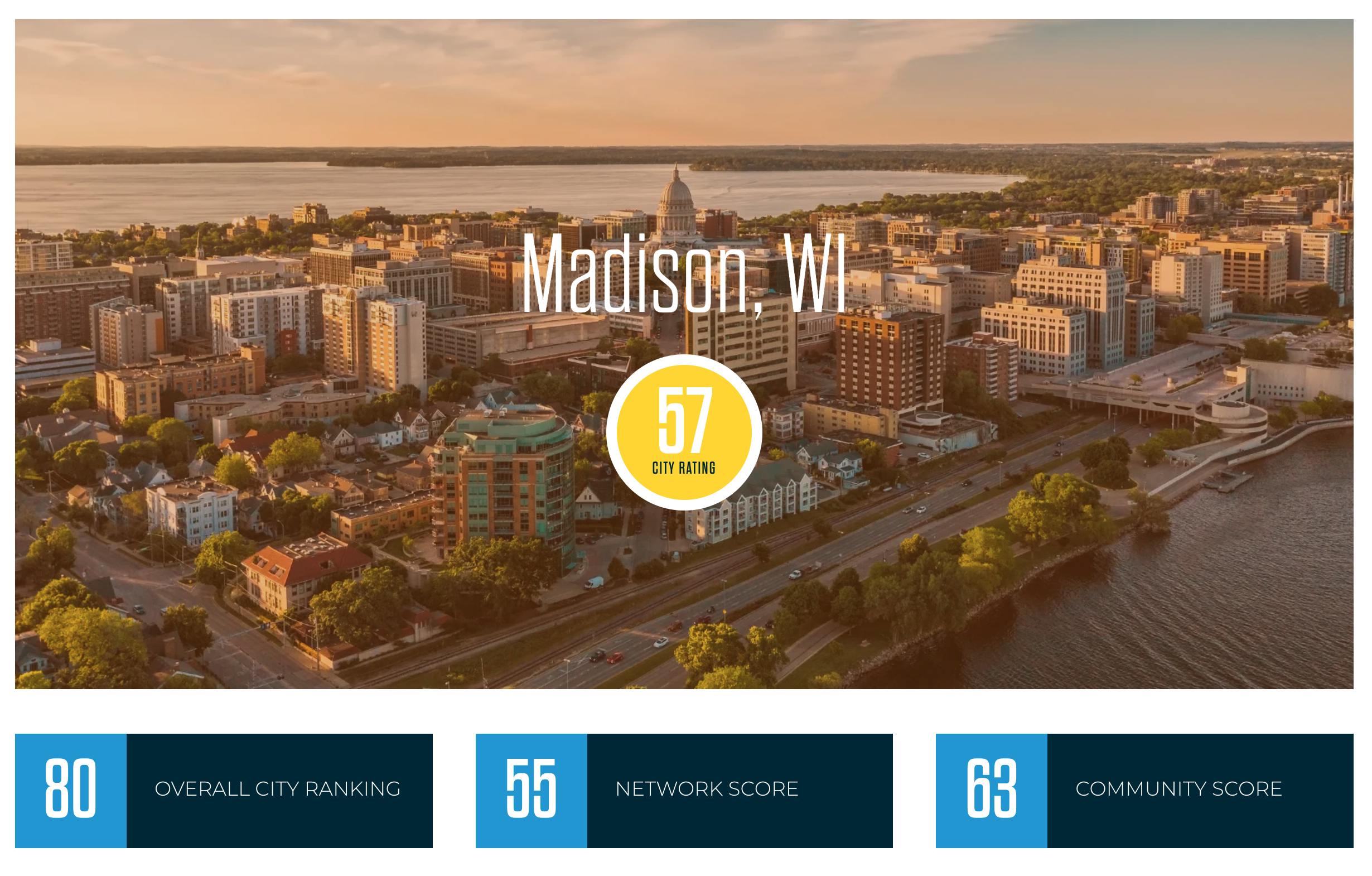 Madison, Wisconsin, or "Mad Town" as it is lovingly referred to, ranked 24th overall in this year's City Ratings with a score of 57. Known as the Bike Capital of the Midwest, biking is not only acceptable but accessible in the Wisconsin capital. The city's 295 miles of paths, routes, and streets were specifically designed to be accessible by bikers for a safe and convenient ride. These paths are well-utilized, with more than 2.9 million users being logged across Madison's state-of-the-art counting stations annually.
Madison is also home to the University of Wisconsin-Madison, one of eight universities in America named at the Platinum level by the League of American Bicyclists. UW Madison is home to a strong network of bicycle routes and is continuously adding more to make every destination on campus accessible by bike. Boasting many amenities including bicycle share programs, 40+ e-bike stations, bicycle parking, repair stations, and after-ride amenities, the city's biking success was almost inevitable. 25% of students and 18% of staff will bike to campus in good weather, with about 10% of students and 4% of staff still biking to campus in poor weather. Madison's efforts have not gone unnoticed, and the city has cultivated a strong, year-round culture of biking for active everyday travel and transportation.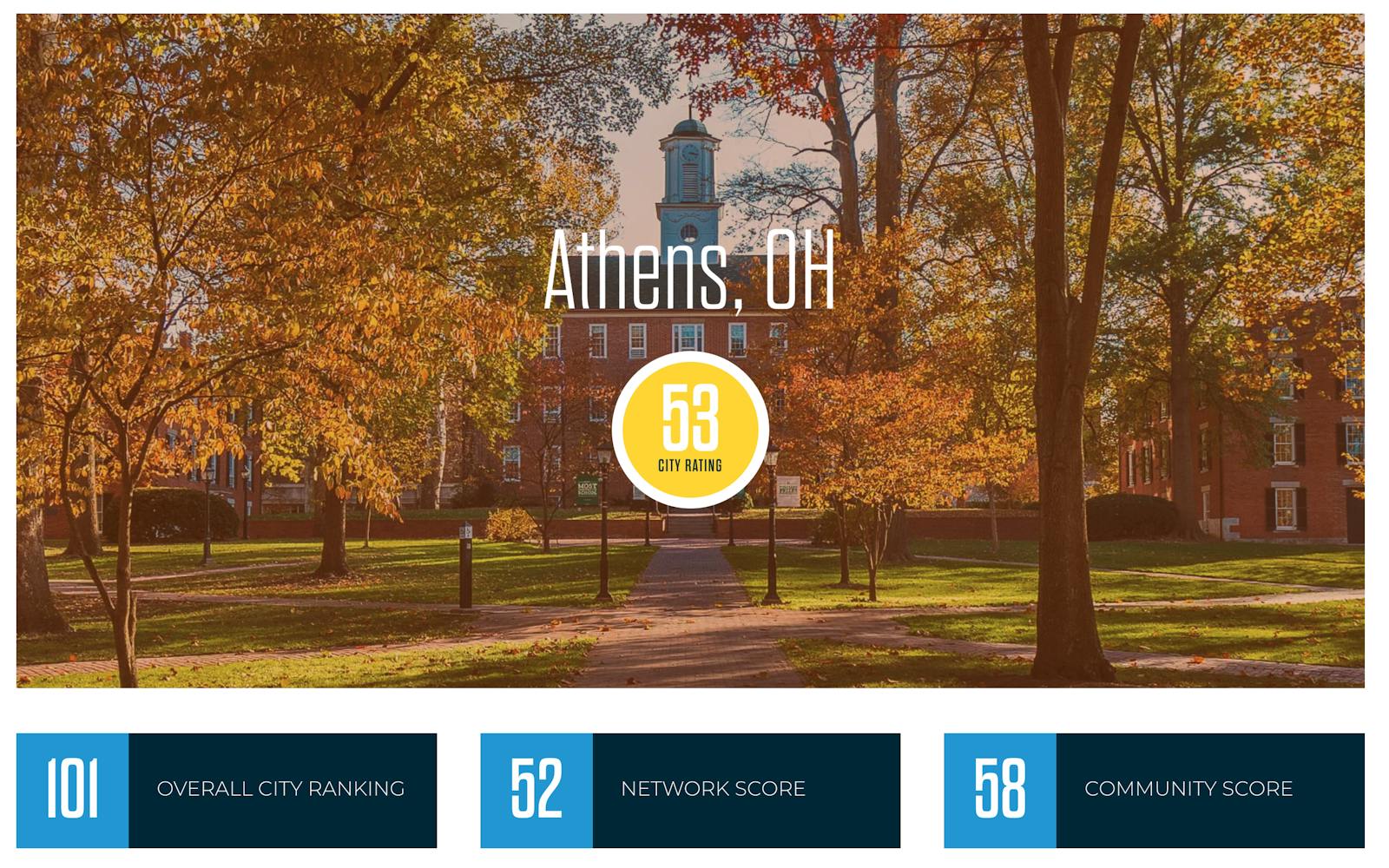 Nestled deep in the Appalachian foothills of gorgeous Southeastern Ohio is Athens, a lively college town that ranks number 36 on this year's list. Athens County is home to nearly 1,000 miles of paved and gravel roads open for cycling use, with world-class mountain biking trails just a short drive away. Residents of Athens take full advantage of these trails — 4% ride their bikes to work and even more ride their bikes recreationally. The state of Ohio recently published its Walk.Bike.Ohio policy plan and the city of Athens also established a Bike and Pedestrian Safety Plan intending to expand its current bicycle network by adding new bikeways, more bicycle parking, and other facilities as well as growing education and safety initiatives throughout the state and city.
Ohio University, located in Athens, has 21 miles of bike paths on campus for its 28,000 students, and much of the university's bikeways underwent major repairs in 2014 and 2015 to uphold OU's responsibility to provide safe transportation to their campus community. Their unwavering commitment to active transportation can be seen in the extensive network of bicycle parking, events, and resources for students and staff biking or walking to class.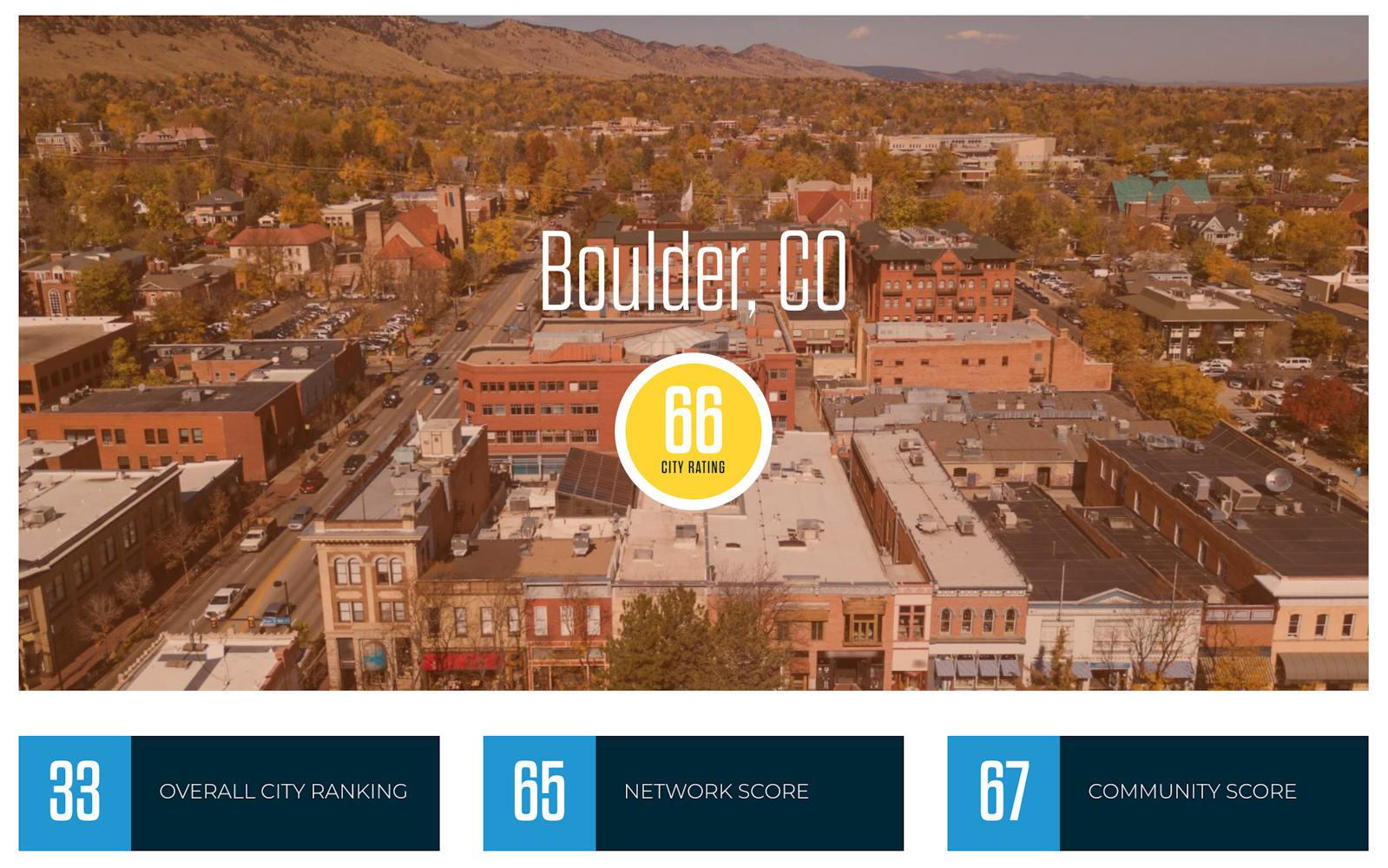 Boulder, Colorado, is the perfect combination of urban living and the wild outdoors. Resting right where the mighty Rocky Mountains meet the rolling plains in Colorado's Front Range, there is an abundance of food, breweries and live music to enjoy in the University of Colorado college town. The minute you set foot in Boulder, you'll be greeted by helmet-clad enthusiasts riding leisurely, perfect-for-kids bike paths like the Boulder Creek Path, adventure-seeking mountain bikers enjoying stunning views on the Canyon Loop in Betasso Preserve, and working professionals getting in a workout on two wheels during their lunch break.
Biking is core to Boulder culture, with an average of four bikes for every household and a myriad of different bike share services available across town. More than 300 miles of bikeways weave throughout Boulder, making it easy to get to the dentist, a Psychology 101 class, and a gorgeous state park all in the same day. Cyclists take advantage of every good-weather day, and with about 300 days of sun per year, the city is always bustling with bikes. 10.5% of residents bike to work in Boulder, significantly higher than the U.S. average of 0.6%.
The best day of the year on campus is CU Bike Fest Day — a day full of bike community, culture, and fun for CU Boulder students. The festivities and culture of biking in Boulder make it an obvious choice for any cycling fanatic.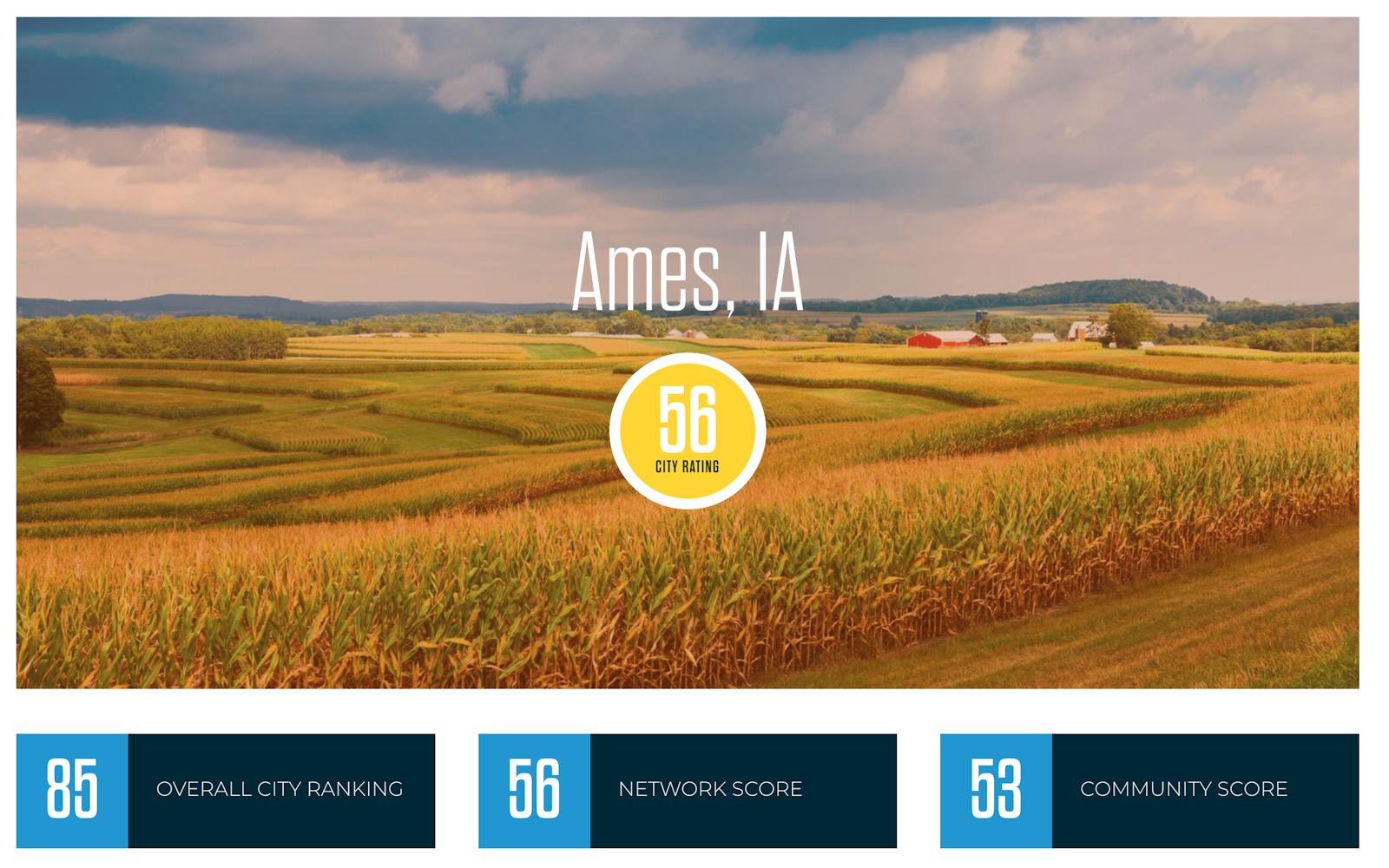 Ames, Iowa, has the quintessential college town experience, with an equal amount of big- and small-city feel in the town of 64,000. During the Iowa State University football season, the city is full of energy and excitement, and even when the students go home, the community finds other ways to stay active. In the 1970s and '80s, Ames was home to the Raleigh/Levi cycling team which produced big-name riders like Andy Hampsten and Connie Carpenter. Recently, a trail network of about 600 miles was built around central Iowa, with 52 of those miles directly in Ames! Any talk about cycling in Iowa must also include the Register's Annual Great Bicycle Ride Across Iowa, better known as RAGBRAI, which is an average 468-mile-long ride that has stopped in Ames four times during its tenure.
Biking is a great way to get around in Ames — in fact, about 15% of residents get to work by walking or biking! Iowa State University students are also big bikers — sitting on 1,800 acres and home to nearly 27,000 students, you can almost always find someone zipping around campus on a bike. ISU is looking to expand its infrastructure by connecting high-use trails like the High Trestle Trail to campus and bringing a bike share service on campus for students. Ames and ISU already have some fantastic bike infrastructure, and it certainly looks like the improvements won't be slowing down anytime soon.