June 21, 2022
2022 CityRatings: The Best Places to Bike in the U.S.
By: PeopleForBikes Staff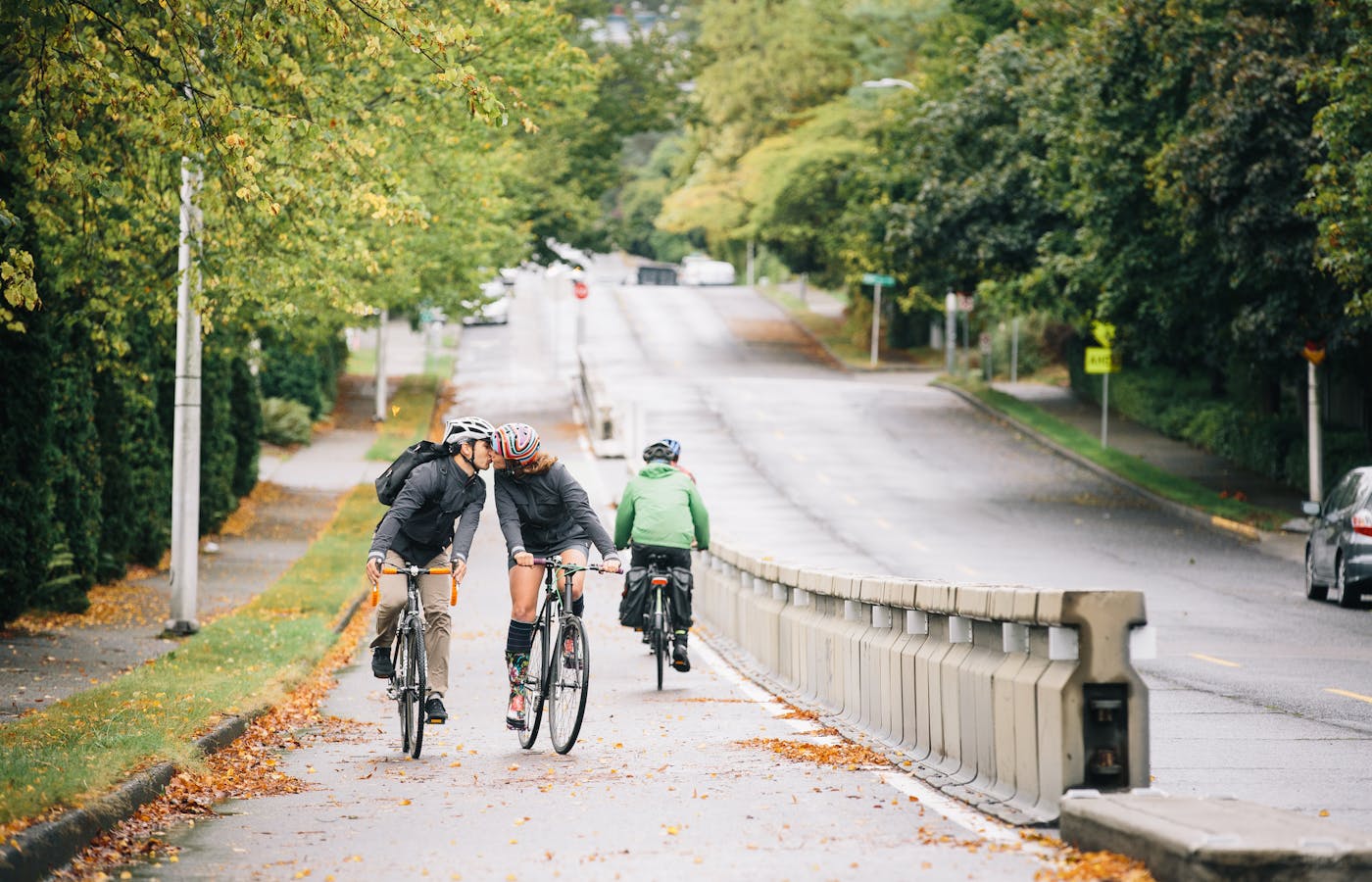 Using extensive research and data collection, PeopleForBikes' City Ratings program highlights communities that embrace the bicycle as a tool for mobility, economic growth and recreation.
For the sixth consecutive year, PeopleForBikes, in conjunction with Trek Bicycle, is proud to publish the findings from a year of research in a comprehensive guide to and ranking of 1,058 cities for biking in the United States. In 2022, the top three bikeable cities in the country are: Provincetown, Massachusetts; Davis, California; and Fayette, Missouri. 
PeopleForBikes' City Ratings program highlights communities that embrace the bicycle as a tool for mobility, economic growth and recreation, while also suggesting that the vast majority of American cities and towns have yet to implement relatively simple changes that make communities more bikeable.
These results are the culmination of extensive research and data collection, including factors such as cities' speed limits, existing infrastructure and overall safety, as well as community input on what people think about biking in their city. Cities are scored and ranked using a combination of PeopleForBikes' Bicycle Network Analysis and Community Survey, resulting in an overall score of 1-100. 
"The Bicycle Network Analysis (BNA) tool provides the basis for each city's score, demonstrating how easy it is for residents to get to key services like grocery stores, employment, healthcare and more," said Rebecca Davies, City Ratings program director. "Not only does the BNA highlight if riders can get to these places, it shows how safe it is to do so by ranking streets as high or low stress based on factors like the quality of bike infrastructure and street speed limits. When combined with our Community Survey, we are not only able to see what the maps of these cities tell us, but also what the people actually riding in these cities think about biking where they live, work and play." 
Also included alongside the ratings are PeopleForBikes' Best Places to Bike for 2022, 10 U.S. cities that all offer actionable lessons on improving bicycling locally. Focusing on youth engagement, connecting bike networks and building trails for all skill levels are just a few ways any city can become a best place to bike. 
"Our goal is to work with the bike industry, advocacy partners and elected leaders to make America the best place in the world to ride a bike," said Jenn Dice, president and CEO of PeopleForBikes. "One of our main strategies to achieve this vision is prioritizing the construction of safe, connected bike infrastructure. By evaluating and comparing cities' bike networks across the U.S., our City Ratings program helps benchmark progress and share lessons for success." 
Trek Bicycle has been a long-time Coalition member and partner of PeopleForBikes and the City Ratings program and has once again underwritten the project for 2022 through a donation based on a portion of sales from their Bontrager helmet line. 
"At Trek, our mission is to get more people on bikes. If that's going to happen, those people need great, safe places to ride in their community," said Trek Bicycle's VP of Advocacy, Bob Burns. "Our support of PeopleForBikes' City Ratings is long standing and we feel our commitment to the program will accelerate investment in cycling infrastructure and help build a future where everyone has access to great places to ride."
Not all cities in the United States were scored as favorable for biking, however, with Oak Park, Illinois; Mount Vernon, New York; and Pelham Manor, New York, rounding out the bottom three. Of the 1,058 American communities included in the survey, 95% garnered fewer than 50 points out of a possible 100 — a sign that the majority of U.S. cities have ample room for improvement in terms of bicycling infrastructure and safety. 
While these cities may currently lack the infrastructure and policies for excellent biking conditions, PeopleForBikes' research shows there are several easy ways for a city to improve its score — most notably, and perhaps most easily, is lowering speed limits. "Respected studies from groups like American Association of State Highway Transportation Officials (AASHTO) and the Lund Institute in Sweden highlight that just a 10% reduction in speed on streets results in 34% fewer fatal crashes," said Davies. "Not only can cities quickly improve their scores by reducing speeds, they create safer places to ride in the process."
Notable stats from this year's research include Seattle, Washington's five-point jump in score from 54 to 59, as well as consistent but smaller score increases from most large cities including: Brooklyn, New York; San Francisco, California; Philadelphia, Pennsylvania; Portland, Oregon; St. Paul, Minnesota; and Detroit, Michigan. The city with the highest Community Survey score (70) was Bentonville, Arkansas.
In addition to the 1,058 cities ranked in the United States, PeopleForBikes analyzed 47 cities in Canada. European and Australian results will be released later this year.