June 9, 2020
2020 City Ratings: Top 5 U.S. Cities for Bikes
By: PeopleForBikes Staff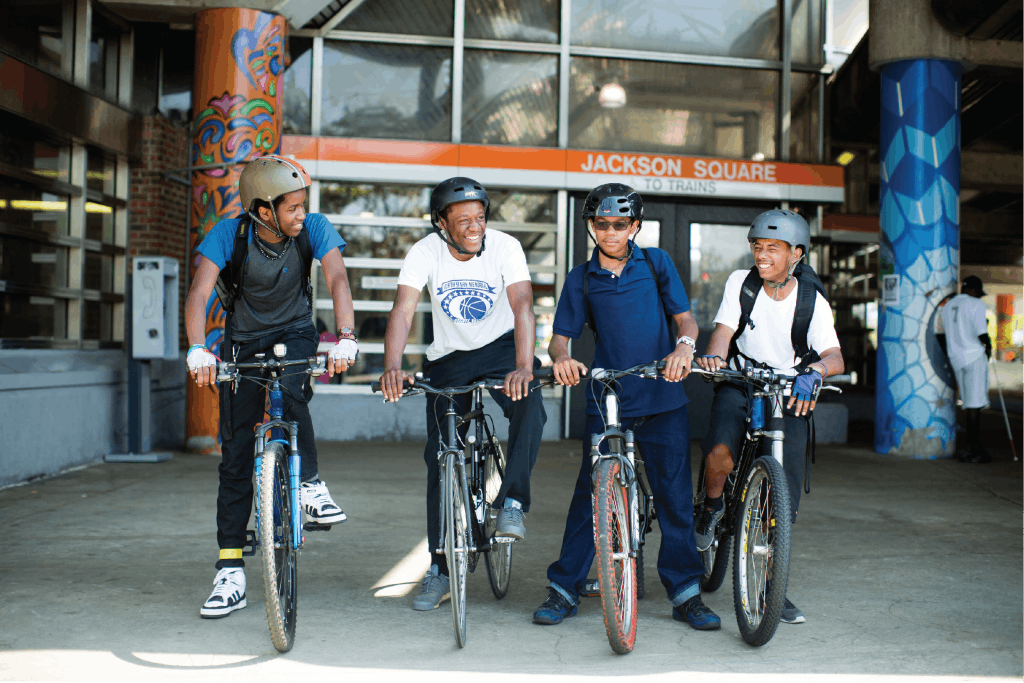 Bikers at Jackson Square in Jamaica Plain neighborhood of Boston.
Due to the constantly changing dimensions of the COVID-19 crisis, we encourage you to follow all current CDC guidelines as well as local travel advisories and recommendations. Take care of yourselves and loved ones. We're all in this together.
The results are in — how did your city rank?
PeopleForBikes is proud to announce the third annual PlacesForBikes City Ratings — a data-driven analysis evaluating and identifying the best U.S. cities for bicycling. This campaign not only helps showcase the cities leading the nation in making biking better for everyone, but also provides key insights on how other cities can work to do the same.
"Our City Ratings create a holistic picture of bicycling in cities based on measurable factors," says Rebecca Davies, PeopleForBikes' network + mapping specialist. "Top scorers are cities of all types and geographies who have succeeded in different ways, including cities with strong historical investments in active transportation as well as cities pursuing ambitious plans to rapidly implement high-quality bicycle networks."
Overall City Ratings are shaped by five key indicators: Ridership (how many people are riding bikes?), Safety (how safe is it to ride bikes?), Network (how easy is it for people to bike where they want to go?), Reach (how well does the network serve all members of the community?) and Acceleration (how fast is the bike network growing and/or improving?). These indicators are ranked on a scale of 1-5 and weighed equally to provide a city's comprehensive City Ratings score.
We rated 567 cities in 2020. Top overall performers were boosted by high Network and Acceleration scores. Here's how they ranked:

The 2020 PlacesForBikes City Ratings Top Five:
San Luis Obispo, CA (3.5)
Madison, WI (3.5)
Santa Barbara, CA (3.3)
Washington, DC (3.2)
Missoula, MT (3.2)

What makes these cities so great for biking?

San Luis Obispo, California
Since its early days as a California Mission town, San Luis Obispo (or SLO, for short) has worked hard to preserve a compact urban core with a greenbelt surrounding the city. "We've striven to avoid sprawl, foster a vibrant downtown and make sure that housing, jobs, schools, recreation and shopping are not too far apart from each other," says Adam Fukushima, SLO's active transportation manager. The first in his role, Fukushima works solely on bicycle and pedestrian improvements in the city. 
Since 2014, San Luis Obispo has had a policy in place to spend at least 20% of its transportation expenditures on bicycle improvements. One priority project has been the development of a backbone city bike path, reaching from north to south to connect the local university (California Polytechnic State University) with downtown and residential neighborhoods.
Cal Poly doesn't allow first and second year students to have cars on campus. This rule, plus the city's proximity to parks and open space, helps the city get more people on bikes, says Fukushima. "In contrast to many communities where you have to put your bike in the car to drive to a trail, we have many fabulous mountain biking trails and paths close to housing. This has been the jumping off point for many people to not only use a bike for recreation, but try it out for commuting as well."

Madison, Wisconsin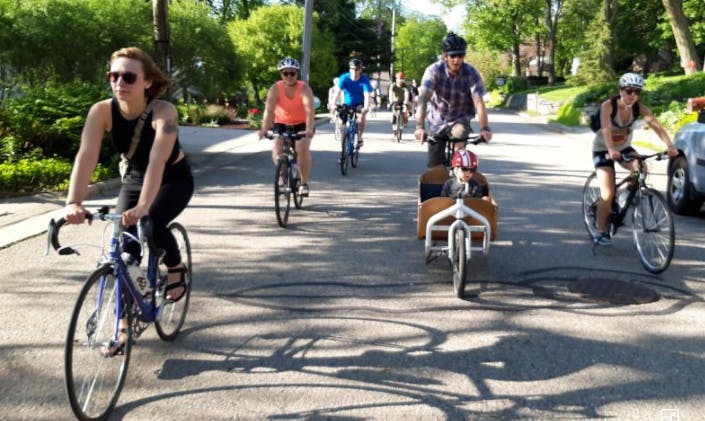 In Madison, the scenic bike route is often the fastest route. With a downtown located on a narrow isthmus between two lakes, getting where you need to go on time and enjoying the beauty of your ride aren't mutually exclusive. Several shared-use paths provide easy access throughout the city and the 936-acre University of Wisconsin campus.
"What really makes Madison a great place to ride is that there are lots of other people out riding all year round," says Madison's Pedestrian Bicycle Administrator Renee Callaway. "Commuters, recreational riders, errand runners, family bikers — you're never alone when you get out on your bike."
To continue making biking easier and safer, Madison invests in bike underpasses, rail-trail conversions and long-distance trail connections. As a city that sees nearly four feet of snow every winter, Madison is also heavily invested in year-round maintenance of their bike network and has designated primary routes across town that are cleared and ready-to-ride by 7 a.m. Monday-Friday. 

Santa Barbara, California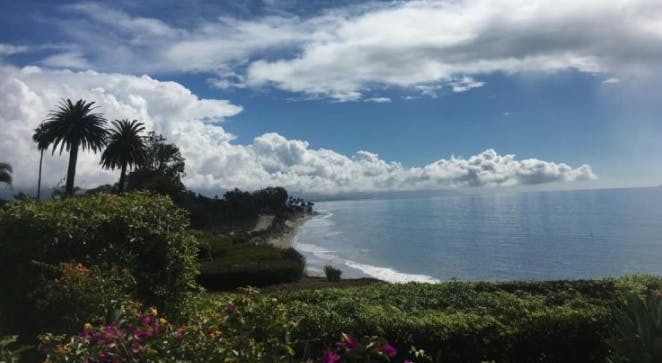 "Bicycling is in our DNA," says Rob Dayton, Santa Barbara's transportation planning and parking manager. "Before automobiles were around, it was the bicycle clubs that lobbied to pave streets for bicycling." Santa Barbara even had the first multimodal transportation in California — a mule-drawn trolley car that included a bike rack on the back for turn-of-the-century cyclists to hang their big-wheel Penny Farthing bikes. 
As early as the 1960s, the city recognized how heavy vehicle congestion and traffic plagued their southern coastal neighbor Los Angeles. This prompted Santa Barbara to take action to embrace the bicycle. More recently, some two lane roads in town were reduced to one lane for vehicle traffic, with the other dedicated to bike travel. Road repaving projects that included the addition of a bike lane quickly helped the size of Santa Barbara's bike network skyrocket. The addition of bike racks throughout the downtown also helped boost the embrace of bicycles. "No matter where you want to go, if you ride a bike, you have a front row parking spot," says Dayton. The implementation of bicycle boulevards, streets with low motorized traffic volumes and speeds, designated and designed to give bicycle travel priority, have also been a key part of Santa Barbara's embrace of bicycling.
Thanks to the growth of California's Active Transportation Planning grants program, Santa Barbara has invested $40 million in bike improvements across the city over the last five years, with many new projects, including a city-wide electric bike share program, on the horizon. "I think Santa Barbara really has something to offer everyone," says Sam Furtner, the city's mobility coordinator. "Whether you're learning to ride a bike or looking for world-class road rides overlooking the ocean, we've got you covered."

Washington, D.C.
The relatively dense and compact nature of our nation's capital makes biking one of the most convenient ways to traverse the city. 90 miles of bike lanes connect to 60 miles of trails, with D.C. serving as the regional hub of a 500-plus mile trail network that connects residents to jobs, neighborhoods and parks in the District, Maryland and Virginia. The city was an early adopter of protected bike lanes: 12 miles have been built since 2010 and a campaign continues to add 20 miles by the end of this year. The 5,000-bike strong regional bike share program Capital Bikeshare with more than 600 stations also allows D.C. residents to easily transition between biking, walking and transit.
When it comes to improving safety for cyclists, Washington D.C. recognized that education is key. "All D.C. Public School second graders are required to complete a fun, interactive course about how to safely ride a bike, including a supervised ride around their local neighborhood," says Mariam Nabizad, public affairs specialist for the District's Department of Transportation (DDOT). "In addition, the Washington Area Bicyclist Association educates kids and adults of every ability level in courses like Summer Bike Camp, Learn to Ride and Confident City Cycling."

Missoula, Montana
In 1976, a group of University of Montana students organized a ride across the U.S. to celebrate the bicentennial. They were eventually joined by more than  4,000 people in what became the first transAmerica group ride. After the ride, several organizers stayed in town and continued to promote bicycle travel, launching the national non-profit Bikecentennial (now Adventure Cycling). Missoula has had a soft spot for biking ever since. 
"Missoula's successes would not be possible without a comprehensive understanding of the benefits of biking that has been reached through decades of work, slowly creating the culture," says Ben Weiss, the city's bicycle/pedestrian program manager, referencing the groundbreaking efforts of his predecessors. "Over this time, we've worked hard to build the appropriate facilities to make biking safe, comfortable and convenient for people of all ages and abilities."
Despite not having the budget of larger cities, Missoula constructed one of the first modern protected bike lanes through their downtown over a decade ago, and continues to build and connect their network of bike trails. The backbone of the city's bike network is their commuter trail system, which traverses town east to west, easily connecting residents to work, school and play. Recent successes include the connection of a six-block gap in one of their main bike routes, the Bitterroot Trail, which included the implementation of the state of Montana's first designated bike traffic signal. Missoula recently adopted the city's first Bicycle Facilities Master Plan, which includes a comprehensive vision of a connected bike network accessible by riders of all ages and abilities.