December 29, 2017
2017: The Year America's Institutions Got Into All-Ages Bike Networks
By: Michael Andersen, PlacesForBikes staff writer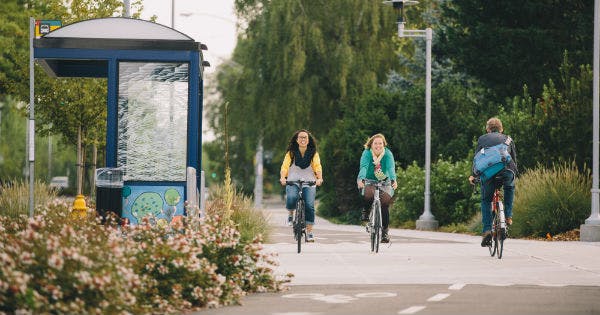 Riders in Seattle
Almost all cultural change relies on a three-step process:
a new idea spreads
the spread of that idea leads more people to adapt to take advantage of it
those adaptations lead the original idea to spread further
There's a word for the second step of that process: Institutionalization. Think of Disney making digital animation official when it bought Pixar, or Starbucks taking espresso mainstream when it mass-produced the neighborhood coffee shop.
Love it or hate it, institutionalization is the reason most lasting changes happen.
Looking back on the big trends in bike infrastructure in 2017, it's clear that this was a year for the institutionalization of a major idea: connected all-ages biking networks. Here are a few stories we reported this year that show how this is happening.
Jan. 12: The feds admit that "traffic" means people, not cars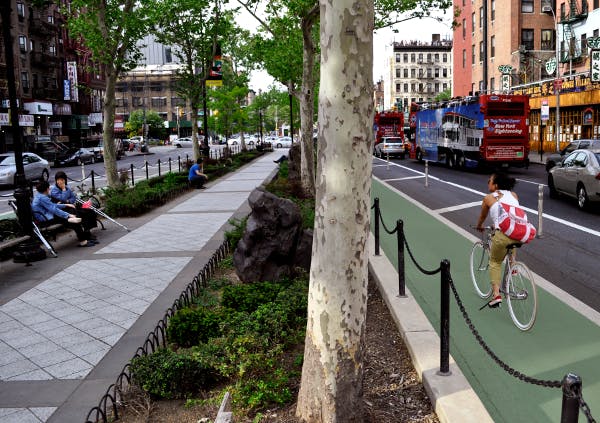 A bus with 30 passengers is 30 times more important than a car with one. A bike lane that carries 200 people per foot of lane-width during rush hour is a more efficient use of road space than a car lane that carries 167.
Most people find those ideas intuitive once they hear them. But when the federal government is evaluating road projects, intuition doesn't matter: regulations do. Thanks to a change that seems to have attracted more comments than any regulatory proposal in U.S. Department of Transportation history, federal officials (and the state and local agencies they influence) will now be guided by smarter regulations than they were in 2016.
March 10: Guerrilla bike lanes sweep the nation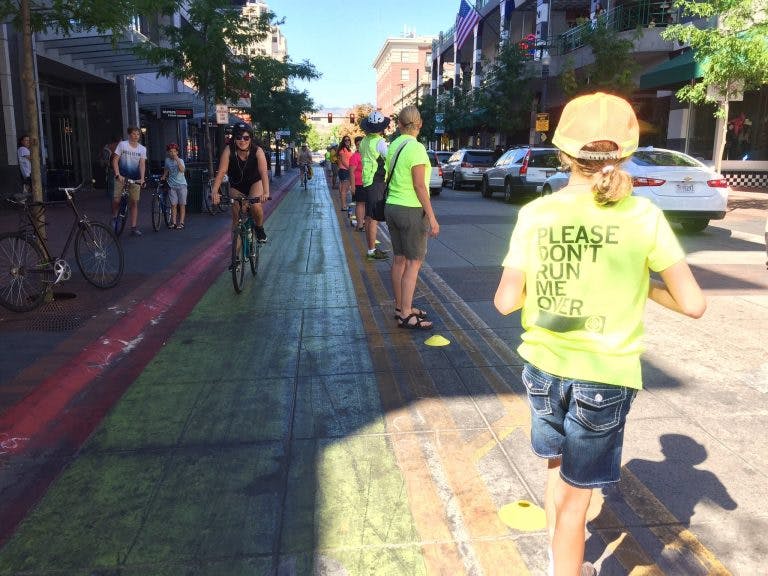 Institutionalization even happens in grassroots movements: for example, when an interesting experiment becomes a tried and true method that can be used again and again and again.
2017 saw not one but two such breakthroughs.
First, in March, a Wichita activism group called the Yellowbrick Street Team grabbed an idea from Texas-based planning firm The Better Block, anonymously installed a series of toilet plungers along an unprotected bike lane and tipped off the media. After a viral burst of media coverage and a few weeks of discussion, Wichita had installed permanent bollards. In June, almost the same thing happened in Providence, R.I.
Meanwhile, in San Francisco, a pair of activists organized a "person-protected bike lane" along Golden Gate Avenue, with dozens of participants donning matching t-shirts and holding hands to demonstrate the need to prevent people from stopping cars in the bike lane. The media-friendly stunt spread rapidly to Boise, New York City, Berlin, Lyon, Portland, Boston and Philadelphia, where the Bicycle Coalition of Greater Philadelphia organized one in response to a woman's death and won new infrastructure within two weeks. Last week, after another near-fatal crash in Philly, the Coalition immediately called for another and 100 people showed up. That's the power and promise of institutionalization in a nutshell.
June 2: A new system scores the bike networks in 299 cities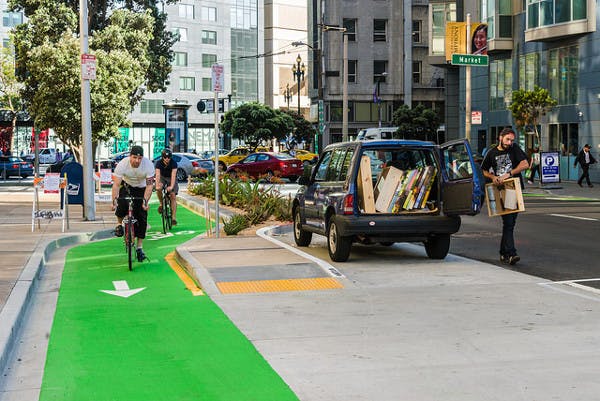 As part of our new PlacesForBikes initiative, the team here at PeopleForBikes teamed up with the national planning firm Toole Design Group to unveil the first iteration of the Bicycle Network Analysis, a service that can combine map and housing data to assign a numerical score to the usefulness and completeness of the low-stress bike network in any city or neighborhood. Eventually, it should be able to calculate the payoff of any potential bikeway project, giving cities and advocates a powerful new way to prioritize their work.
Aug. 25: Protected bike lane separators enter mass production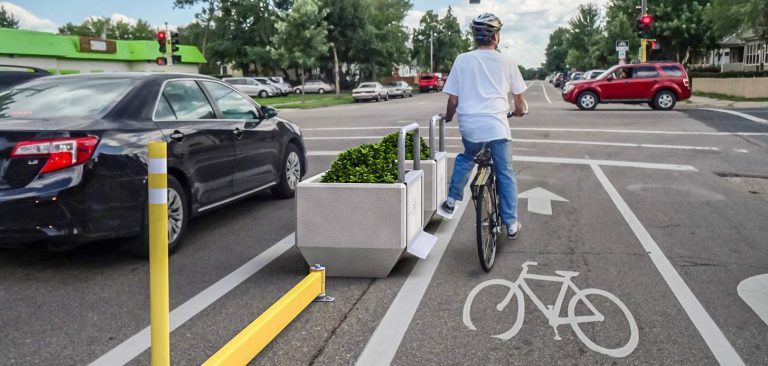 For 10 years, cities protecting their bike lanes have needed to improvise with whatever materials they had sitting around, resulting in protectors that were sometimes needlessly big, sometimes maddeningly flimsy. That changed this summer, when four separate companies unveiled mass-produced products designed to dramatically cut the cost of durable bike lane separation.
Sept. 19: Amazon says it'll want bike lanes leading to its new HQ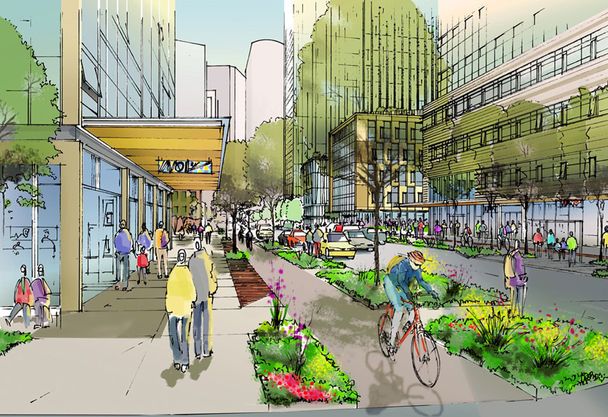 The retail giant has apparently learned this from its home base in central Seattle: well-connected bike lanes strengthen economies. More bike infrastructure means more biking, which means healthier, happier workers; salaries that go further, thanks to lower commuting costs; and millions of dollars that don't have to be spent on garage or surface parking. In its national request for proposals, Amazon asked cities to detail their plans for bike connections to any campus where they'd locate their proposed "second headquarters."
Oct. 31: Which bike lanes need protection? A national guide offers a formula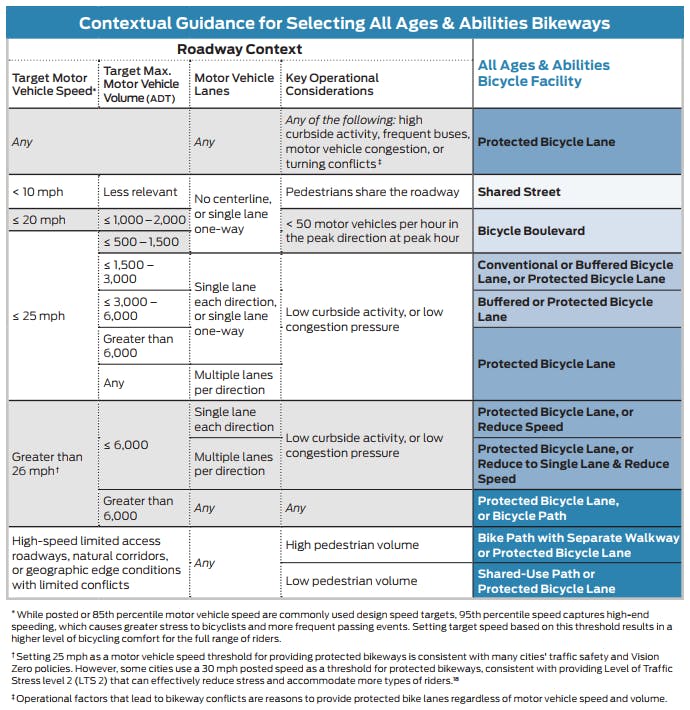 Should that particular street corner have a traffic signal? Should that particular redevelopment include a sidewalk? Should that particular light rail crossing have a traffic gate? A street designer assigned to answer any of those questions has an "easy button": gather the facts about the site (speed limit, traffic volume and so forth) and plug them into a generally accepted formula.
Until this year, no such easy button existed for U.S. bike lanes. Buffer, door zone, curb separation — the bureaucrats assigned to the job had to make the judgments themselves and hope elected officials would agree. The guidance for building all-ages bikeways issued in October by the National Association of City Transportation Officials isn't intended to tie anyone's hands, but it's solid ground on which to start any conversation. Do at least 5 percent of cars on the street travel faster than 30 mph? Protect that bike lane, NACTO says. Does the road carry more than 6,000 cars per day? Protect it. Does the street carry no more than 1,500 cars, almost all traveling 25 mph or less? Scrap the bike lane and make it a neighborhood bikeway instead.
Nov. 10: Low-stress bike networks seal their status as vote winners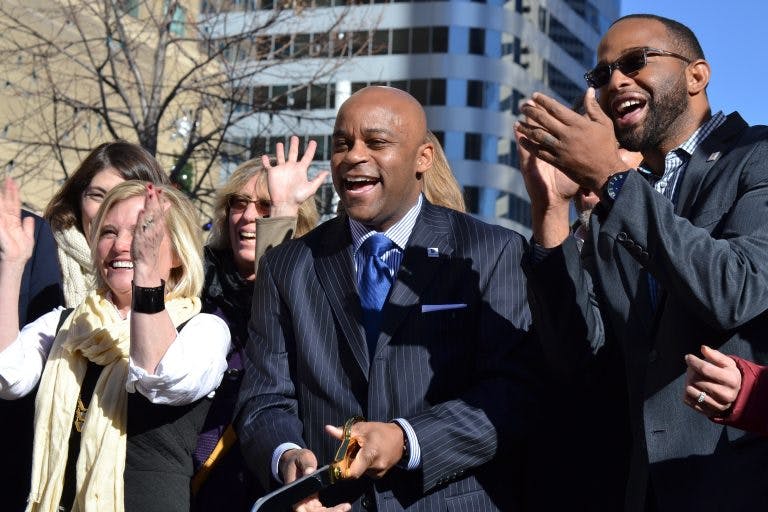 On Election Day 2017, a whopping 73 percent of Denver voters approved a big transportation bond renewal, the latest in a series of unabashedly bikey ballot measures that have also scored in Seattle, Los Angeles, Austin and Atlanta in the last few years.
And maybe that's a good way to end this tumultuous year of 2017: of all the country's institutions, none is ultimately more powerful than the American voter.