February 22, 2019
Wyoming Lawmakers Pass E-bike Bill
By: PeopleForBikes Staff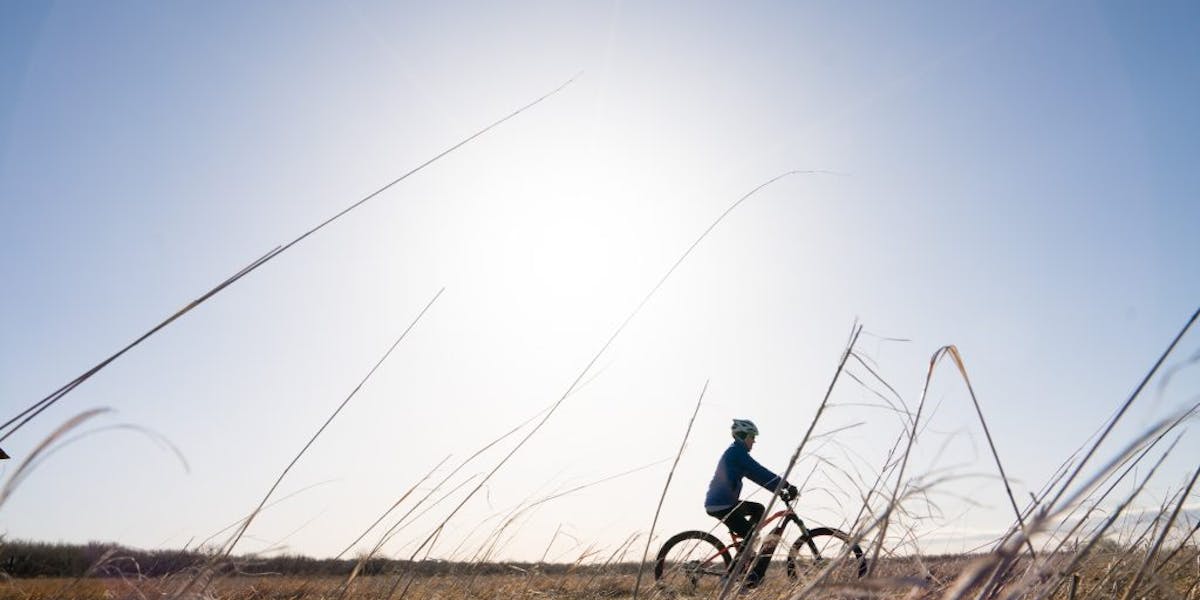 E-biker going across a field
UPDATE 2/26: On Tuesday, Feb. 26, Governor Gordon signed the e-bike bill into law. 
On Wednesday, Feb. 20, Wyoming lawmakers passed Senate File 81, a bill that introduces clear laws regarding electric bicycles (e-bikes) and where they can be ridden. This three-class system of e-bikes has been successfully advanced by the Bicycle Product Suppliers Association and PeopleForBikes in 11 other states.
Prior to Wednesday's decision, riding an e-bike in Wyoming without a driver's license was illegal. As bizarre as that may sound, the rapidly growing interest in e-bikes has outpaced efforts to modify state laws governing their use, leaving e-bikes to be regulated under the same rules as mopeds.
Confining e-bikes to moped laws legally limits their use to the road, since moped use on bike paths is prohibited. In Wyoming, moped users are also required to carry a vehicle operator's license. These rules make sense for mopeds, but not for e-bikes.
In 2015, the BPSA and PeopleForBikes began a national campaign to introduce e-bike legislation in all 50 states. This legislation organizes e-bikes into three distinct categories — based on design, top motor-assisted speed and how they are regulated at the federal level — and allows most e-bike riders to use the same infrastructure as other bicycle riders.
BPSA and PeopleForBikes carried their campaign to Wyoming thanks to leadership from Cheyenne retailer Patrick Collins. Collins has owned the Bicycle Station since 1982, and his resume also includes a stint as president of the Cheyenne City Council, as well as involvement in many other civic engagements.
Collins spent last fall laying the foundation to ensure a positive reception for the new e-bike legislation, securing a bill sponsor in state Senator Tara Nethercott of Laramie County, and dedicating numerous hours each week to meet with legislators and build a coalition of riders and retailers in support of these changes.
"I'm very pleased that Senate File 81 passed the Wyoming legislature," Collins said. "One gratifying byproduct of this effort was Wyoming bicycle dealers working together to educate our local legislators about the importance of this bill to our small businesses. The Wyoming Legislature and the transportation committees in both chambers understood our needs and voted to support our small businesses."
Wyoming Senate File 81 was introduced in early January, and passed the state Senate after just a few weeks. It's now on the governor's desk for a signature and, if signed, would become effective July 1.
The success of Wyoming's bike bill bodes well for similar legislation that has already passed the House of Representatives in Idaho. While constituents in both states are known to generally resist new government regulations, e-bike bills have been warmly received for their business benefits and bipartisan appeal.
With support from the Bicycle Product Suppliers Association and other bike advocates, e-bike bills are also successfully progressing in Georgia, Indiana, Maine, Maryland, Massachusetts, New Hampshire, New York, Oklahoma, South Dakota, Texas and Wisconsin. Read more about your state's laws here.