January 25, 2021
Winter Riding Tips
By: PeopleForBikes Staff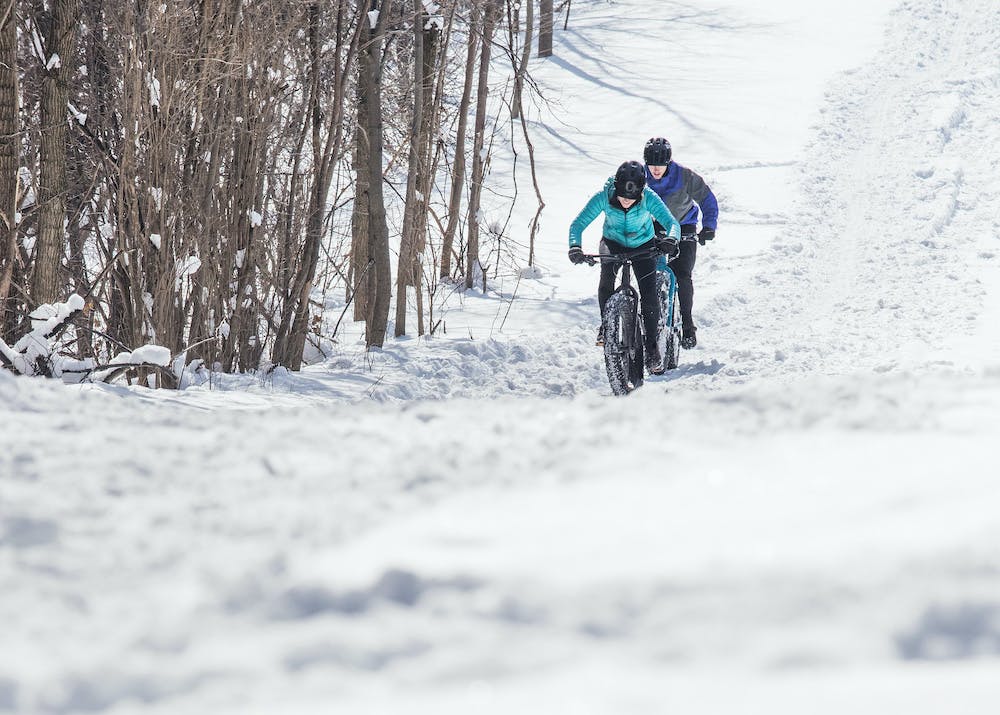 We know it can be pretty easy to hang up your helmet for the season once the snow starts falling, but we're here to tell you that just because winter is here, it doesn't mean you have to stop riding!
To help make sense of how to ride this time of year, we collected a few of our go-to tips to keep you riding this winter.
It's all about layers
When it comes to enjoying the perfect winter bike ride, having the right layers of clothing is key. Too few and you'll spend your whole ride shivering, but too many and you'll come back sweatier than a pedal in the heat of summer. Build your clothing choices around a warm base layer — something close to the skin and moisture wicking to keep your core temperature warm. 
After your base layer, some experimenting might be necessary to see what combination of mid layers and jackets or shells works best for you and where you ride. Precipitation in the forecast? Be sure to pack a water resistant outer layer to stay dry. Also, don't forget the gloves! Many companies offer cycling-specific winter gloves that keep your hands warm while still offering the proper mobility to shift and brake. No matter what, always pack an extra layer before heading out on your ride. Winter weather can change in a matter of minutes, and that extra layer could mean the difference between riding it out or coming home cold.
Want more tips on picking the right layers for your winter bike ride? Check out these tips from PeopleForBikes' own Jose Maldonado on Ride Spot!
Picking the right tire
While the shiny new fat bike in the shop window might look perfect for the ultimate winter adventure, investing in a new set of tires might be all you need to make your current ride more winter friendly.
Look for a wider, knobbier tire to help navigate the slush, snow and ice you might encounter on your ride. Pumping up your new tires to a slightly lower psi than you normally would can also help provide more traction on winter terrain. Not sure what tires are best? A stop by your local bike shop can help give you expert advice on the best winter tire choice for your bike and the conditions you'll most likely encounter on your winter rides.
Fenders are a must
Winter riding can get messy quickly, and that's why one of our biggest tips to keep riding this winter season is to pick up a pair of bike fenders. Just like the wheel wells on your car, bike fenders keep the mud, dirt, slush and snow on the road from spraying everywhere while you ride.
Not only will fenders keep yourself clean (we've all seen what the back of a shirt or jersey can look like after a mud-covered rear tire has time to start splashing), they will also keep your bike clean from the salt or sand many cities lay down on their roads during winter — particles that without proper cleaning will wreak havoc on the moving parts of your bike. 
Don't forget your lights
Arguably one of the worst parts of winter rides (even more than the cold temperatures) is the short amount of daylight available to enjoy them. Extend your bike-able hours (and safety!) by investing in a set of bike lights. Great for gloomy overcast days and riding once the sun goes down, a good pair of front and rear lights may cost you a little on the front end, but are well worth the investment to keep you riding year round.