November 26, 2019
Voters Approve Bike Funding Nationally at the Ballot Box
By: Ashley Seaward, deputy director of state + local policy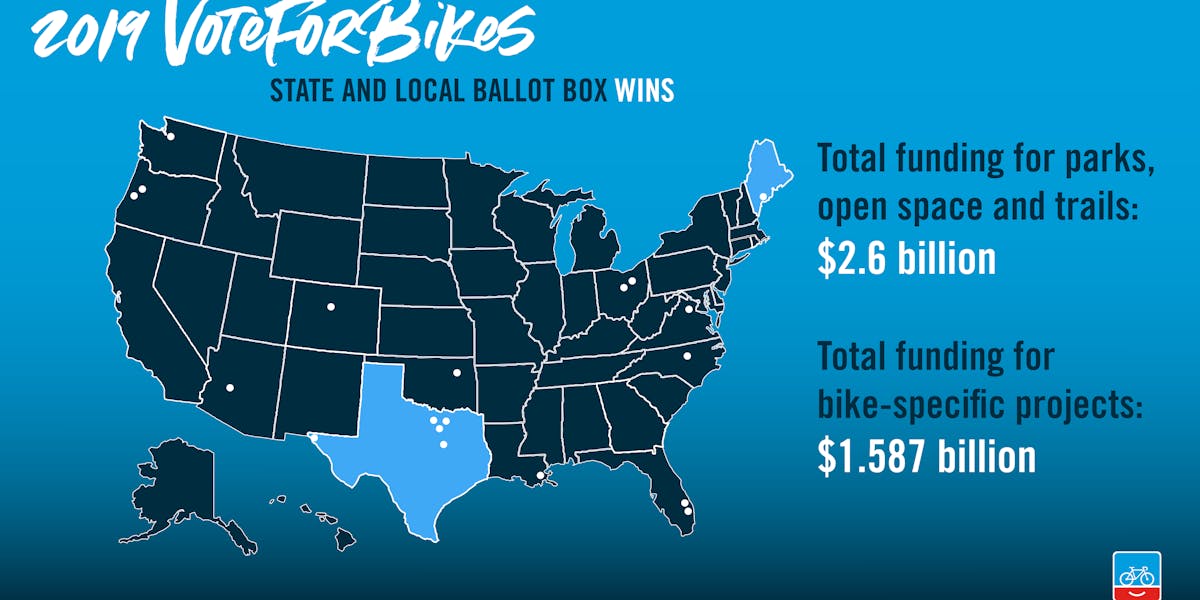 2019 VoteForBikes Results Map
In 2019, voters across the country supported bikes at the ballot box. From funding for bike lanes to new trails, it's clear that Americans want to improve places to ride bikes.
PeopleForBikes tracked issues in 11 states this year. Twenty one out of the 24 local and state measures we identified passed in favor of bikes. These initiatives will now support funding for bike infrastructure and land acquisition and preservation — totaling $2.6 billion in funding for parks, trails and open space and, of that, $1.587 billion in funding for bike-specific projects.
Two of the largest initiatives included a statewide sporting goods sales tax in Texas and a transportation bond in Portland Metro. Find details of each measure on our VoteForBikes webpage.
$1.587 billion is a big win for bikes and wouldn't have been possible without the voting power of the people. Thank you for taking action on these watershed measures and for working to improve bike riding in your communities. Please contact ashley@peopleforbikes.org if you have questions.