April 2, 2018
Texas Just Blew the Lid Off Campus Bike Share Launches: Three Reasons Why
By: Michael Andersen, PlacesForBikes staff writer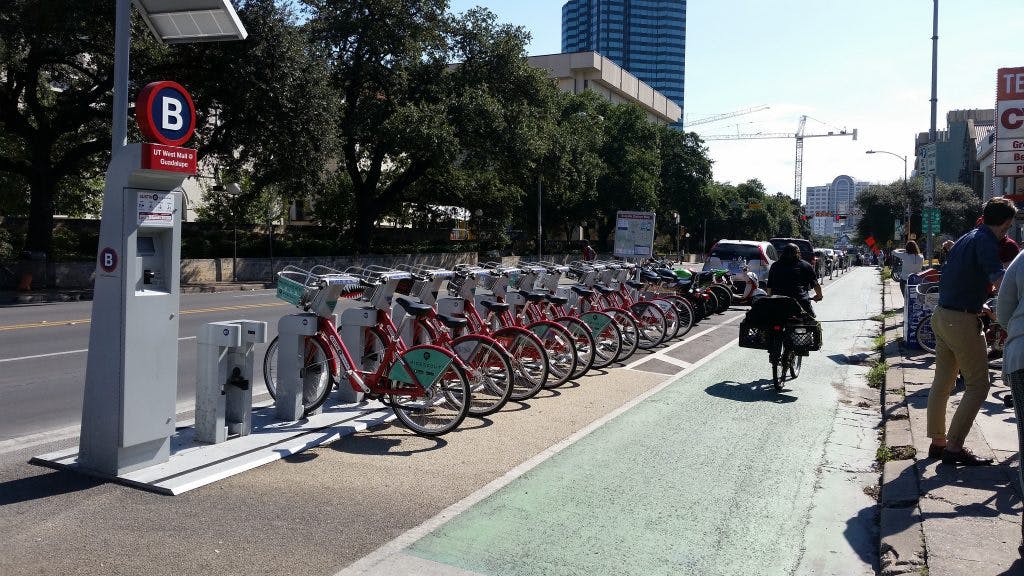 Bike sharing in Austin.
Campus bike sharing in the United States seems to have hit a new high water mark on the flagship campus of the University of Texas.
Forty days after launching a free pilot program for UT students with 85 new bikes to serve them, Austin B-Cycle says it's on track to more than double the ridership of its entire 530-bike system.
Austin Active Transportation Program Manager Laura Dierenfield said 7,800 students have registered for the program so far — 15 percent of the UT campus's entire student body.
"We were hoping for, like, 3,000 for the life of the pilot in the first 18 months," Dierenfield said. "We had twice that in the first week."
Students aren't just signing up for the free program, either. They're biking. In the program's first 40 days, the campus bike docks averaged 12 checkouts per bike per day.
For comparison's sake, the average New York Citi Bike is ridden five to six times per day during the spring.
"It's been increasing in general because the weather's getting even nicer," Austin B-Cycle Director Elliott McFadden said. "We have 11 campus-area stations, and they are the top 11 stations in our system now."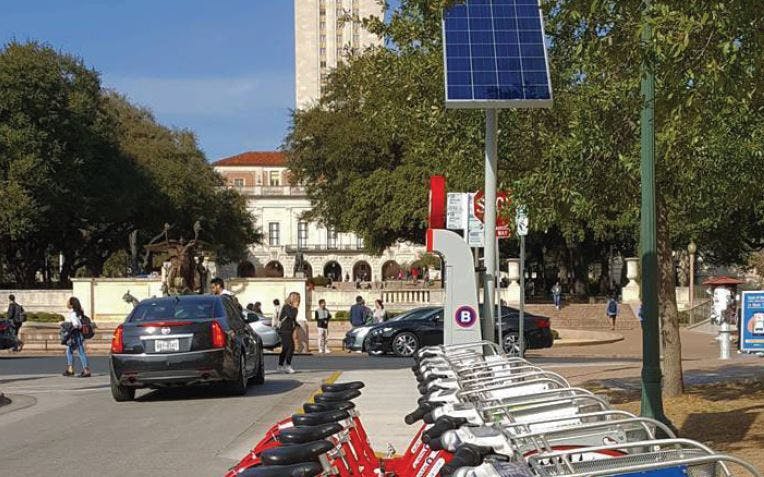 UT's rapid embrace of bike sharing already puts the campus in striking distance of ridership at maybe the nation's most successful university-linked bike share system, at North Dakota State University in Fargo, N.D. During that system's season, its 100 bikes average 13 checkouts per day.
"We're close to their kind of usage, and that took them about six months to get there," McFadden said. (NDSU's program is also free for students to join, paid for out of student services fees.)
Thanks to Austin B-Cycle's new campus-related bike trips, McFadden said, the system's annual ridership is on track to rise from 190,000 trips to 400,000.
"We've anecdotally heard students are doing Uber and Lyft less, because they can hop on a bike instead," McFadden said.
It's all very good news for Austin's quest to at least double central-city bike trips in three years — and it's a lesson for schools and cities elsewhere that want shared bikes to be useful tools in local transportation.
But why exactly did it work? Here's what Dierenfield and McFadden think.
1. A low-stress bike network was waiting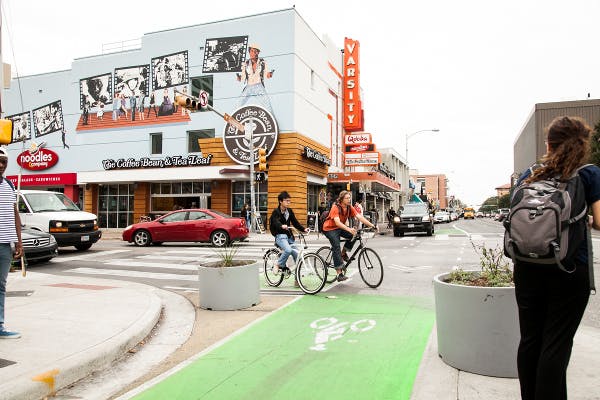 As they try to create an escape from central-city congestion, Austinites have been working to link their scattered protected bike lanes into a connected network. The city has been building these slowly for years: one of its first was on Guadalupe Street, just across from the UT campus. Austin street designer Nathan Wilkes has worked for years to develop a durable, modular, affordable bike-lane separator that can be bought and installed in bulk.
Then in 2016, voters approved a big transportation bond that made a connected low-stress biking network financially possible. The city has brought on a squad of specialists to double the rate it fills in the bike network.
"The major investment in the protected bike lane on Rio Grande and then the work we've done on Guadalupe several years ago all work to create high-comfort facilities that people see every day, whether they're walking by them or driving by them," Dierenfield said.
More connections keep coming. This year, a protected bike lane is planned through the UT campus, along Clyde Littlefield Drive, crossing Interstate 35 onto Manor Road and through an off-campus area where many students live.
2. If we built our cities the way we build our campuses, more Americans would bike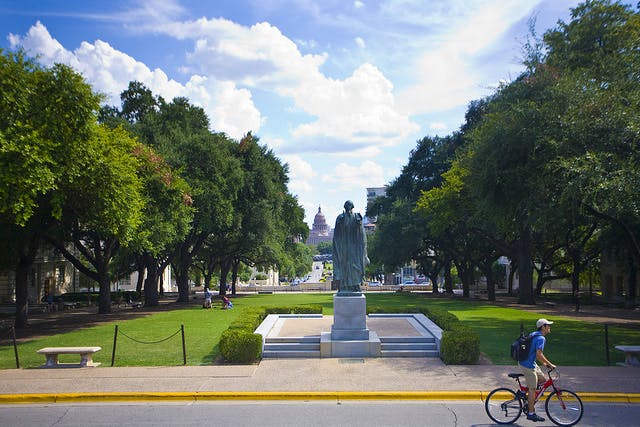 Multi-story homes and workplaces, relatively close to one another, with lots of nearby sidewalk-facing retail, lots of public space and not much room for parking: that's a description for a Dutch city or an American university.
In both places, it turns out that bikes make it easier to get around.
Thanks to a decade of major real estate development just east of campus, Dierenfield said, "we have housing very close to the university."
That's created thousands of students who have an annoyingly short distance to drive but an annoyingly long distance to walk.
"You have a demographic that has tons and tons of short trips and very little time for fussing with parking and other sorts of things," Dierenfield said. "They're building their lives, and for that reason they're constantly on the move."
"There's a phrase in Hawaiian, where I'm from: e holo paikikala pono," she added. "That means 'biking for the right reasons at the right time.' … We've made it easier to use bikes for that trip type that's suited to bikes."
3. Students could sign up for free on a mobile app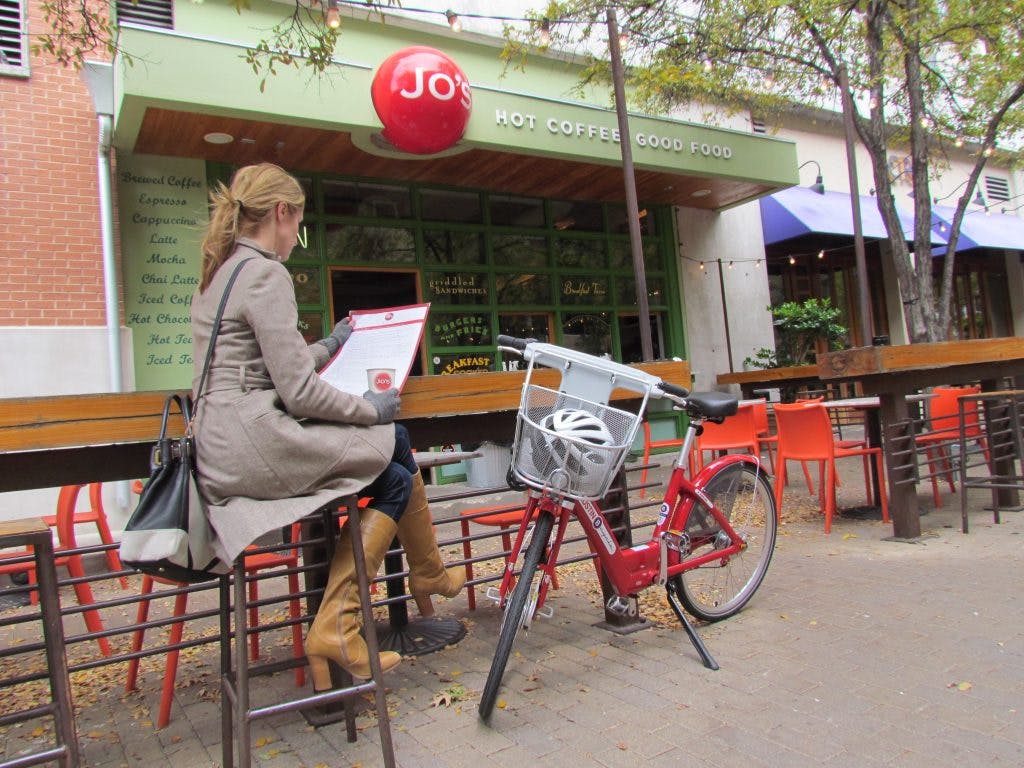 Unlike their counterparts in Fargo, UT-Austin students couldn't simply use their student IDs to check out bikes. McFadden said his team was worried that creating a B-Cycle account — which required putting a credit card on file — would feel like too big of a hassle, even if it was free.
"I think our highest hopes were that we would be where we are right now in the first 6-12 months," McFadden said.
Apparently signups weren't a big problem. McFadden and Dierenfield both credit B-Cycle's mobile app, which lets students sign up right on the street.
"That was one of the game changers," Dierenfield said.
A campuswide email generated the first 1,000 memberships, McFadden said.
"Since then it's really been organic," he said. "The students are talking to each other and figuring it out."
The rapid growth has come at a cost to B-Cycle: thanks to longer shifts for its operations team, the company now figures its cost for the 18-month pilot will be $50,000 more than expected.
But McFadden said that with so much usage, he saw a strong case for a $10 annual fee on all students that would cover Austin B-Cycle's campus-related expenses and let the free bike share sign-ups continue indefinitely.
"Some people were looking at Fargo as if is this an outlier, a one-off," he said. "I think what we're showing is, no, if you integrate a campus system with a larger city system — if you remove some of those barriers, this can really work."