December 4, 2020
Using the Land and Water Conservation Fund for Local Bike Projects
By: PeopleForBikes Staff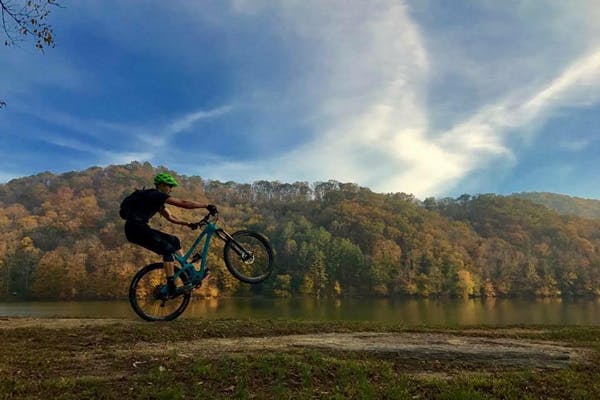 Riding the Sugarcamp Mountain Trails in Prestonsburg, Kentucky
There's an opportunity to increase funding for cities and states to build new bike projects across the U.S. thanks to the Land and Water Conservation Fund (LWCF). The federal government fully and permanently funded the LWCF at $900 million annually when the Great American Outdoors Act became law in August 2020. This is one of the government's primary investments to ensure that Americans nationwide have close-to-home recreation. 
Every year, federal funding will flow into states to protect important lands and waters for all Americans through conservation and recreation projects. Launched by Congress in 1964, the LWCF was designed to direct revenue from federal off-shore oil and gas leases (not taxpayer dollars) to acquire land and conservation easements to protect our national parks, wildlife refuges, forests and trails. The LWCF also grants funds to states for local and state park needs, protects critical wildlife habitat, watersheds and recreational access and conserves working farms, ranches and forestlands that enhance local economies.
What does that mean for bikes? More and improved bike lanes, trails and bike parks.
The National Park Service administers the State and Local Grants Program within the LWCF, which provides funding for state and local planning and facility development in cities, counties and rural towns. We want to encourage our local partners nationwide to think about bike projects in the pipeline that could be eligible for LWCF funding. One item of note is that LWCF state and local grants only cover 50% of project costs, and state and local grants generally receive 26% of LWCF funding (subject to appropriations). 
PeopleForBikes is a member of the Outdoor Recreation Roundtable (ORR), the leading coalition of trade associations supporting the outdoor recreation industry. ORR recently put together a survey to create a list of LWCF-eligible recreation projects for FY22-FY25 from businesses and partners around the U.S. 
The survey will help ORR showcase the outstanding potential for new projects. From our point of view, that means new bike lanes, new bike parks, trails that connect communities, bike projects that support rural development and better access to recreation in diverse communities nationwide. This list will also be used to inform future priorities for the outdoor recreation economy and to educate Congress and the new administration. 
We encourage bike businesses, city and state resource agencies and stakeholders involved in bike advocacy to fill out the survey. Any information provided will help inform future efforts beyond 2022. 
For more information, visit the Outdoor Alliance's interactive guide to the LWCF, which provides information and historical context about the program, as well as interactive maps that highlight how the LWCF has secured access and conserved lands for outdoor recreation opportunities.