June 12th, 2019
Unlock Your Community's Potential Using the Bicycle Network Analysis
By: PeopleForBikes Staff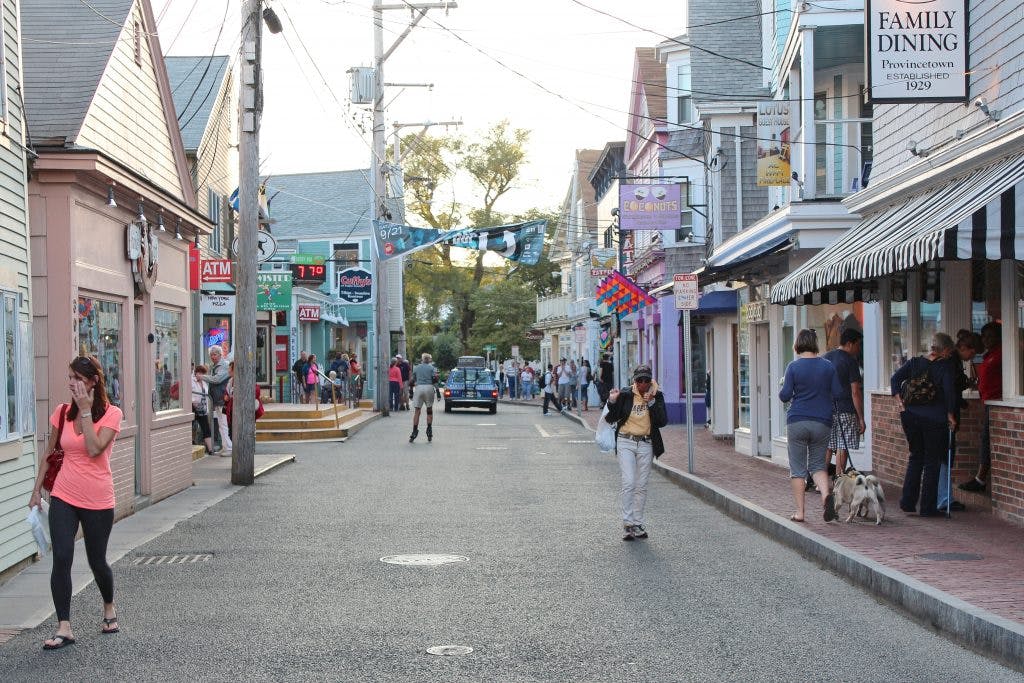 Provincetown, Massachusetts.
How can you get a more detailed picture of the bike network in your town or city? Help us help you by improving the accuracy of the The Bicycle Network Analysis. Your input aids us in making sure that the constantly evolving and improving BNA project is a useful tool that provides actionable insights. Whether you're an advocate, the host of a community event, a mapping enthusiast, or a city planner, there are a number of ways you can help improve accuracy.
Connect people with the places they want to go
The BNA is a data analysis tool that measures how well bicycle networks connect people to  places. Scores range from 0 to 100 with 100 is a perfect score. Because most people are interested in biking when it's a comfortable experience, our maps recognize only low-stress biking connections. We compute the BNA score over four steps:
Data collection
Traffic stress analysis
Destination access analysis
Score aggregation.
The BNA helps us determine Network and Reach scores in our City Ratings.
Resources to increase accuracy
The BNA is dependent on the information about roads, bicycle facilities and key destinations in OpenStreetMap, so accuracy of is important. You can help ensure your city's BNA is accurate by contributing to OpenStreetMap. The following resources will help you get started.
For users new to OSM (beginner – advanced): Editing Guide
For users who prefer to use ArcGIS (advanced): ArcGIS Editor Guide
Methodology changes
We're constantly looking for ways to improve the integrity of the maps we use. This year, we focused on accurately evaluating speed limits, which made a big difference in certain cities' BNA scores. Because there's such clear evidence that lower speed limits create safer spaces, we use them as an important measure when determining whether a street is low-stress or not. As our data accuracy has improved and continues to improve, we get a clearer sense of where the most complete networks really are.
While important, speed limits are only one piece of information used to get a picture of traffic stress. OpenStreetMap provides background information about the transportation systems in communities that helps complete our network analysis. A recent analysis looked at various ways of measuring the Level of Traffic Stress, and found that OSM is both low-cost and quite accurate. This analysis also allows us to improve the tool even more as OSM continues to be updated.  
OSM data gives us a great foundation to build on, but it can vary in terms of the availability of detailed roadway characteristics. To account for situations where OSM data is not sufficient, we developed default assumptions based on OSM's hierarchy of roads. Defaults are used only when OSM data is missing. Our hope is that more and more people will help fill in the holes and make more accurate depictions of their places.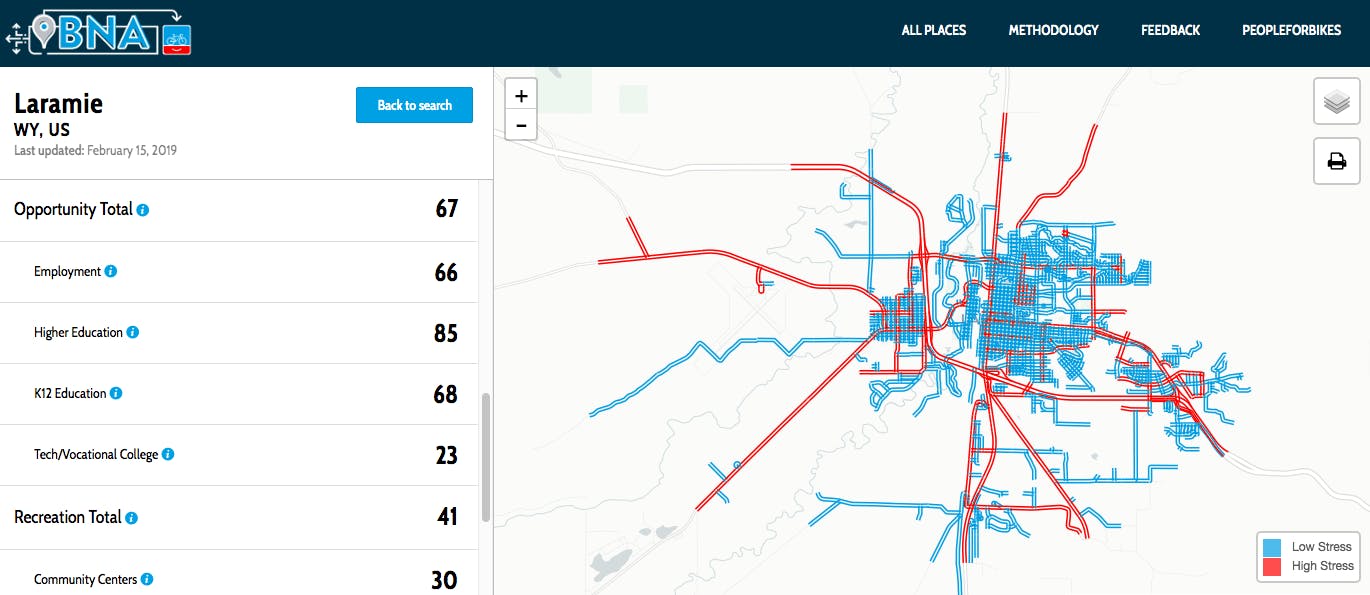 Grassroots and local efforts
Laramie, Wyoming had a BNA score of 40 in 2018, and 49 in 2019. A jump of 9-points usually signals significant improvements in data accuracy — just having the information is a step in the right direction. In the case of Laramie, it really was a matter of getting a more complete view of how the town works. While it's important to note that better data doesn't necessarily equal a better BNA score, sometimes a more accurate view of a place does result in improved numbers.
Provincetown, Massachusetts has a BNA score of 87, the highest in the U.S. Although there haven't been any organized mapping efforts, quite a few people contribute to OSM updates. Provincetown Bicycle Committee member, Rik Ahlberg, says that because it's such a small town (17 square miles), it doesn't take a lot of effort to keep the maps up to date. "The Bicycle Committee uses OSM as its base map for print brochures, so we've added things like bike facilities, bike racks, and repair stations. Since the town is so small it's relatively easy to ground-truth the details," Ahlberg says. 
In addition to noting bicycle infrastructure and roadways, it's just as vital to add key destinations. We want a complete pictures of how well-connected a network is, and how easy it is to access places where people need and want to go. Adding grocery stores, retail destinations, schools, doctor's offices, and parks to OSM helps us get a clear view of a network.
Join us at a workshop
If you're interested in updating OSM but want more tips and training, we can help. Over the next several months, the PlacesForBikes team will be traveling the country putting on workshops and map-a-thons. These events will provide attendees with focused time to update certain areas or kinds of infrastructure, which will in turn aid in the process of improving BNA accuracy.