June 2, 2022
Top Up-and-Coming Cities for Biking
By: Sasha Miller, contributing writer
Looking for a new city to put down roots that's also great for cycling? We selected some of our favorite performers from this year's City Ratings.
As big cities across the U.S. continue to grow in size with inner-city congestion, many folks are looking to ditch the increasing crowds in favor of more up-and-coming locales. The following cities are great places to look to settle down because they are not only hubs of population growth, new employment and great culture, they also encourage an active and healthy lifestyle and back it up with investments in active transportation infrastructure!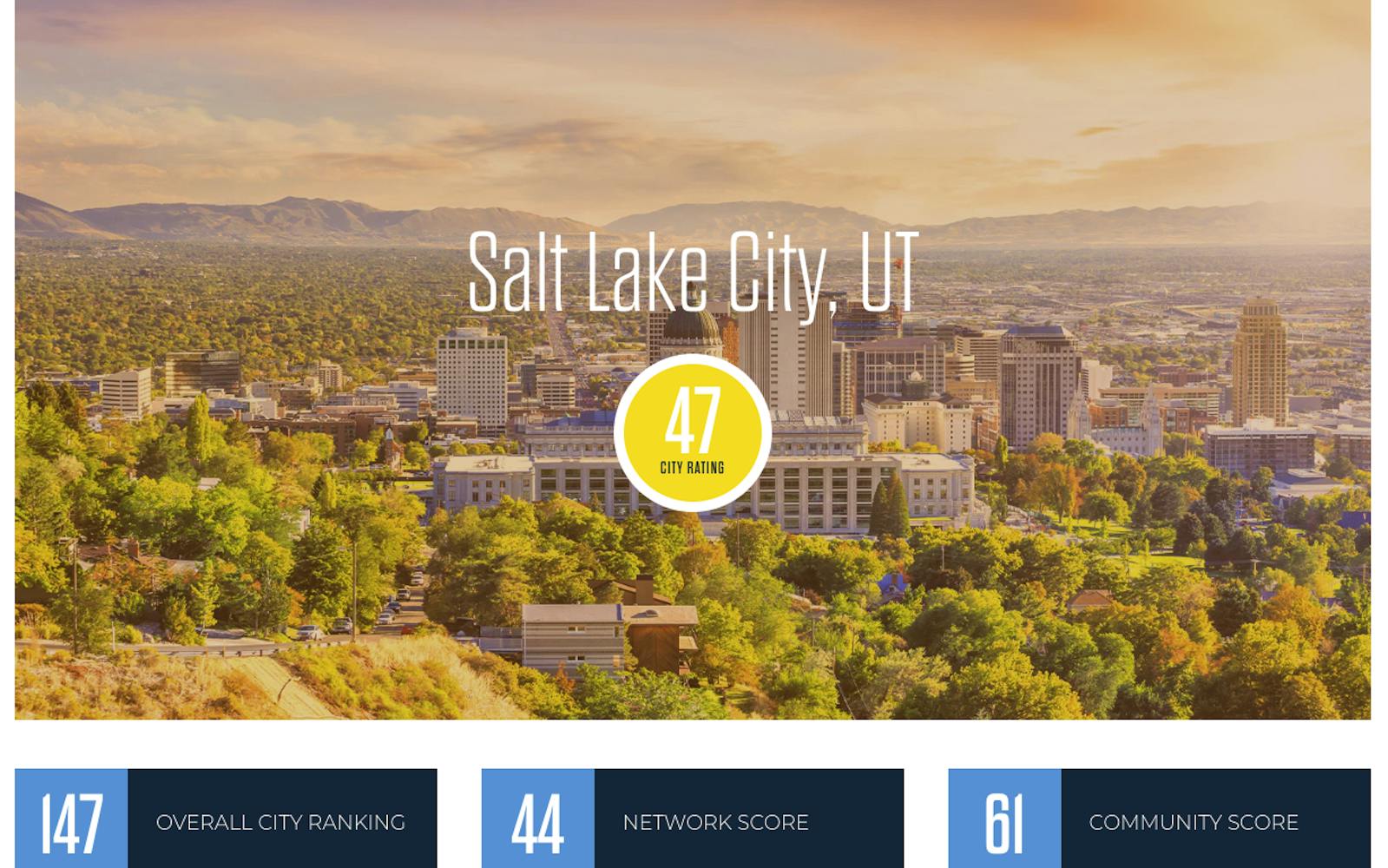 Salt Lake City, Utah, has pretty much anything a millennial looking to settle down could want. It is affordable and quite LGBTQ+ friendly, it's surrounded by one of the best natural playgrounds you could ask for, parks are abundant, home values are looking to grow in coming years and the city has started work on a 220-mile bike network. Known as the "Crossroads of the West," Salt Lake City was founded in 1847 and is now home to nearly 190,000 people.
Currently, 50% of arterial streets and 56% of collector streets in town have some type of bike lane or bikeway. Since the city's Pedestrian and Bicycle Master Plan passed in 2015, SLC has begun work on expanding this infrastructure to include 220 miles of bikeway and numerous facilities throughout the city.
Veering off paved paradise and into the sandy, desert dunes, there are mountain bike trails and bike parks galore! Visit the Bonneville Shoreline Trail for some fast and fun descents or hop on the Wasatch Crest trail for some 360-degree high alpine views. Salt Lake City is a growing gem of the Intermountain West. Unparalleled access to nature, expanding infrastructure, an active downtown and great culture make this mid-size town a great place to live and ride!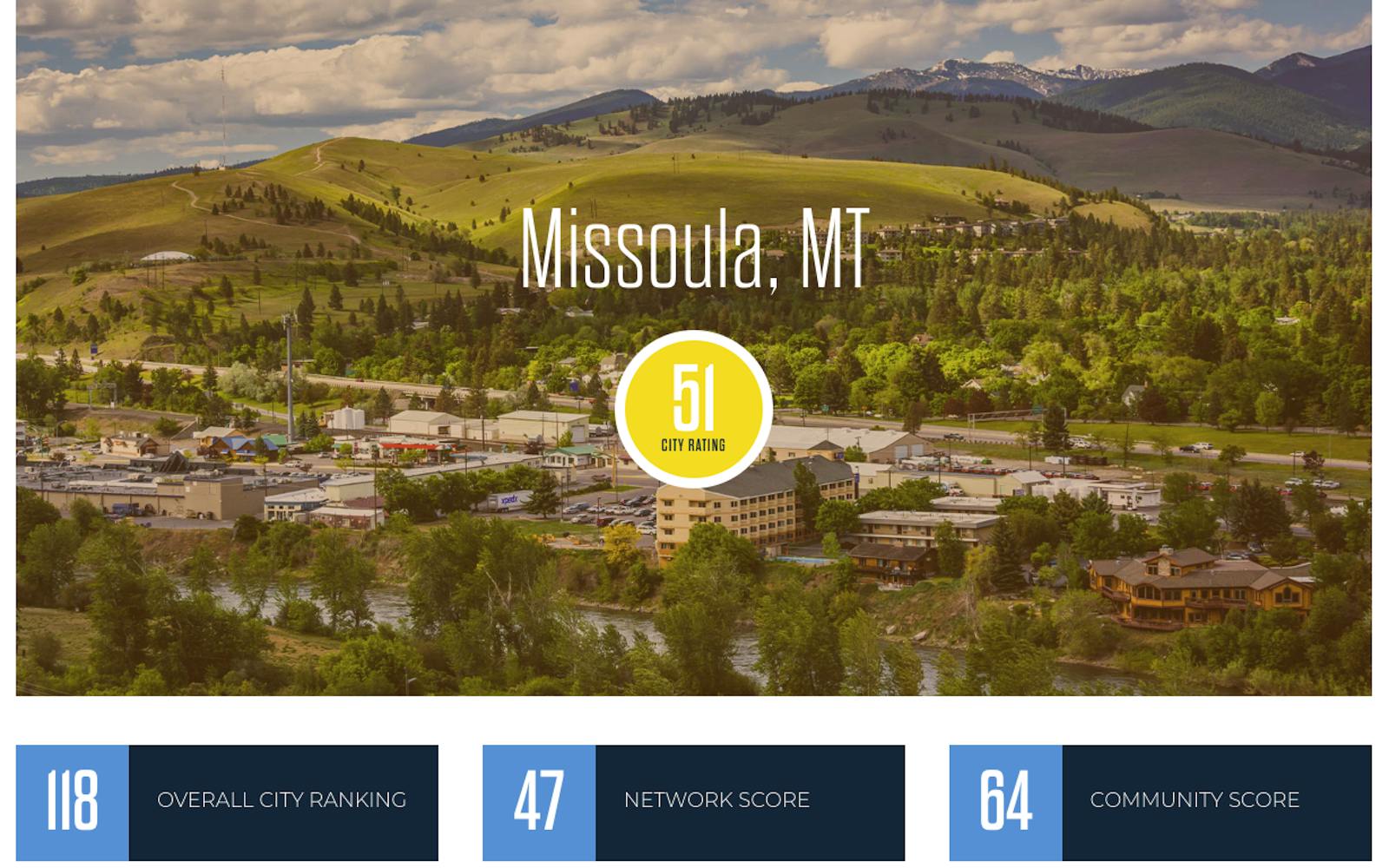 Missoula, Montana, also known as "The Garden City," was founded in 1864 and is home to 74,822 people, making it the second-largest city in Montana. Missoula is located in the Northern Rockies of Montana, surrounded by seven wilderness areas and at the confluence of three rivers, making backyard views exceptional to say the least. Missoula is currently growing at a rate of 0.83% annually and to handle the growing need for transportation, the Missoula Bicycle Facilities Master Plan was adopted in 2017. Currently, there are more than 50 miles of shared-use paths and 37 miles of on-street bike lanes in town, with the new master plan aiming to expand infrastructure to 101 miles of shared-use paths, nearly 90 miles of on-street bike lanes and 31 miles of neighborhood greenways.
Transportation isn't the only growing need, but thankfully Missoula is in the perfect place for a growing culture of recreation! MTB Missoula is a local organization that envisions a Missoula "where mountain bikers are the most thoughtful, informed and engaged group of users on the trail." The organization helped build Missoula's first public, bike-specific trails and manages more than 100 miles of local and backcountry singletrack. The most well-known are the Rattlesnake National Recreation Area and Marshall Mountain. The Rattlesnake National Recreation Area is what most people think of when mountain biking in Missoula comes to mind. It is a wild, smooth singletrack area directly north of downtown, offering great rides for all skill levels. Marshall Mountain caters to the more extreme riders, boasting a bunch of fast descents on an old ski hill — bumpy rides that are sure to get your adrenaline pumping. Missoula is the place to go if you are seeking your next mountain biking mecca!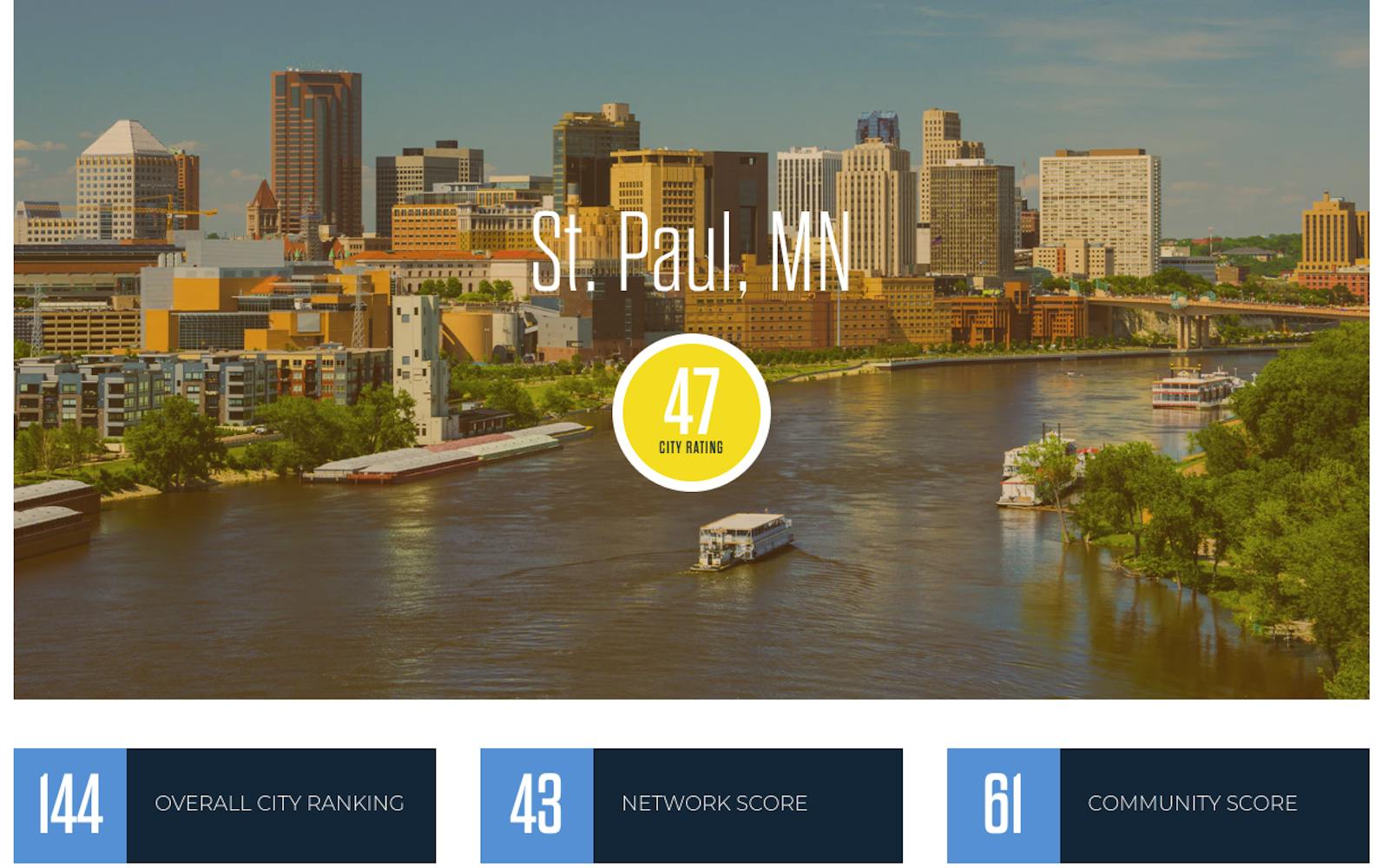 Although it doesn't quite make the "small-town" list with a population of 300,000, Saint Paul, Minnesota, certainly has the small-town feel. The city's energetic community, historic interest, cultural landmarks and time-honored traditions make Saint Paul the historical and cultural heart of Minnesota. The beauty of this city isn't just downtown — Saint Paul is home to more shoreline on the Mississippi River than any other city, offering up beautiful waterfront views wherever you go.
There are 207 miles of bicycle-friendly paths and roadways that connect the twin city. In 2015, the most recent Bicycle Plan of Saint Paul was adopted, which recommended an additional 140 miles throughout the current network to create more cohesive routes. If the accessibility wasn't enough to get you excited, the Saint Paul Classic will! A community-driven race that offers routes for all skill levels, the Saint Paul Classic also includes extremely scenic rest stops to highlight the charm of the city along the way. The event attracts nearly 2,500 riders and hundreds of fans every year. For those seeking more adventure, there are opportunities to race down fun descents at Battlecreek Park, Lebanon Hills Mountain Bike Park or Salem Hills Park. Saint Paul has something for everyone, so as the town says, "Grab a helmet and get spinning!"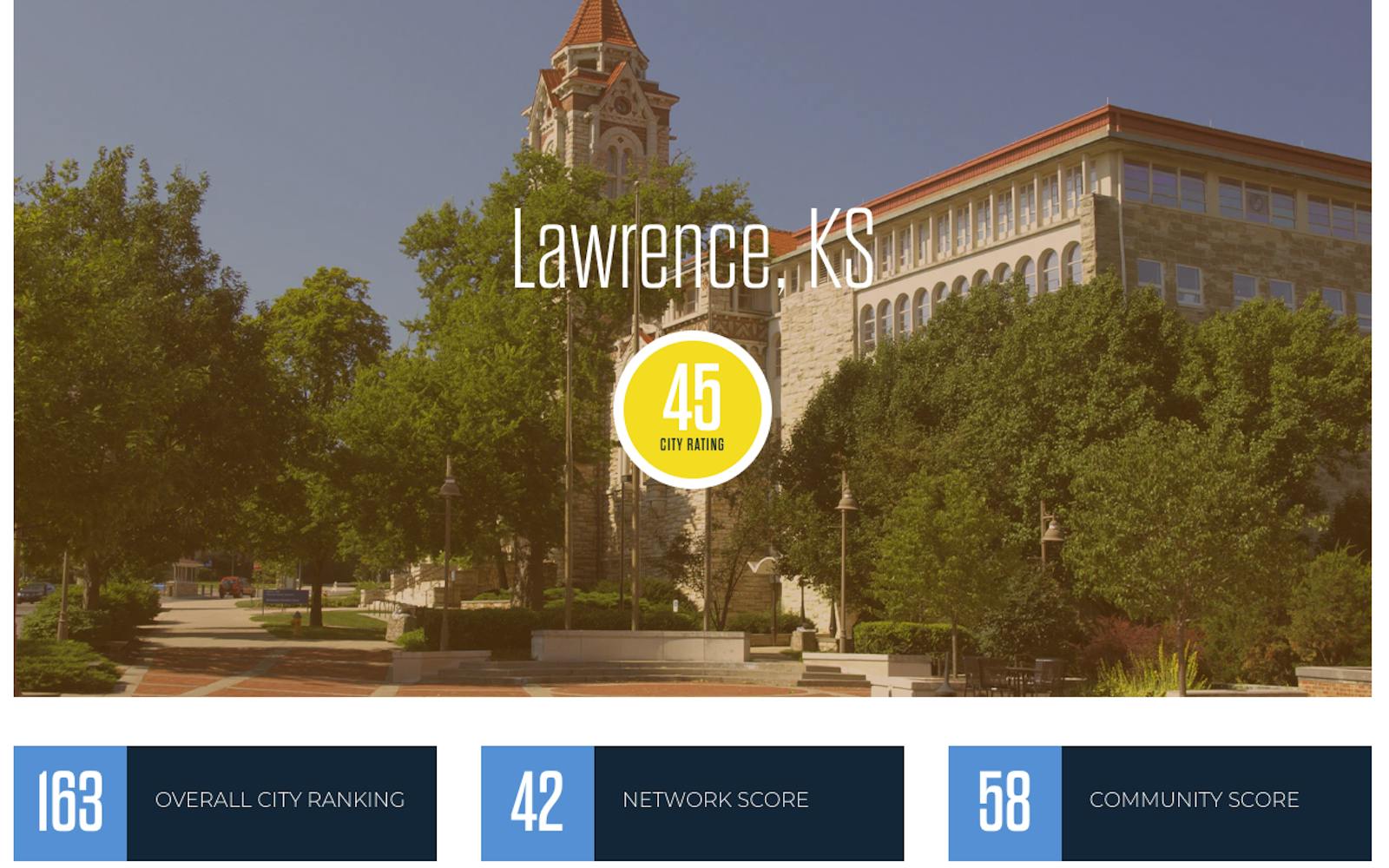 Lawrence, Kansas, is known for having one of the most beautiful downtowns in America with a vibrant art and live music scene. But this quirky little town has more to be excited about… Bikes and waffles! Kansas has a very rich cycling history and is the home state of many notable riders — Lawrence is home to the Kansas Cycling Association. While lots of people see Kansas as a perpetually flat state, many of them will think "we're not in Kansas anymore," when confronted with the rolling hills that surround Lawrence.
Lawrence plays host to one of the most unique cycling races in the United States, the Belgian Waffle Ride. This 111.11 kilometer race crosses undulating gravel, trails, grass, mud, dirt and a couple patches of asphalt, also including a much-needed Belgian snack available at kilometer 58. 4,000 cyclists flock to Lawrence every year to compete in this unique race! Cruising on the pavement is a favorite pastime of Lawrence locals — coming into town you are sure to see smiling cyclists enjoying the 66 miles of bike paths this quirky town has to offer!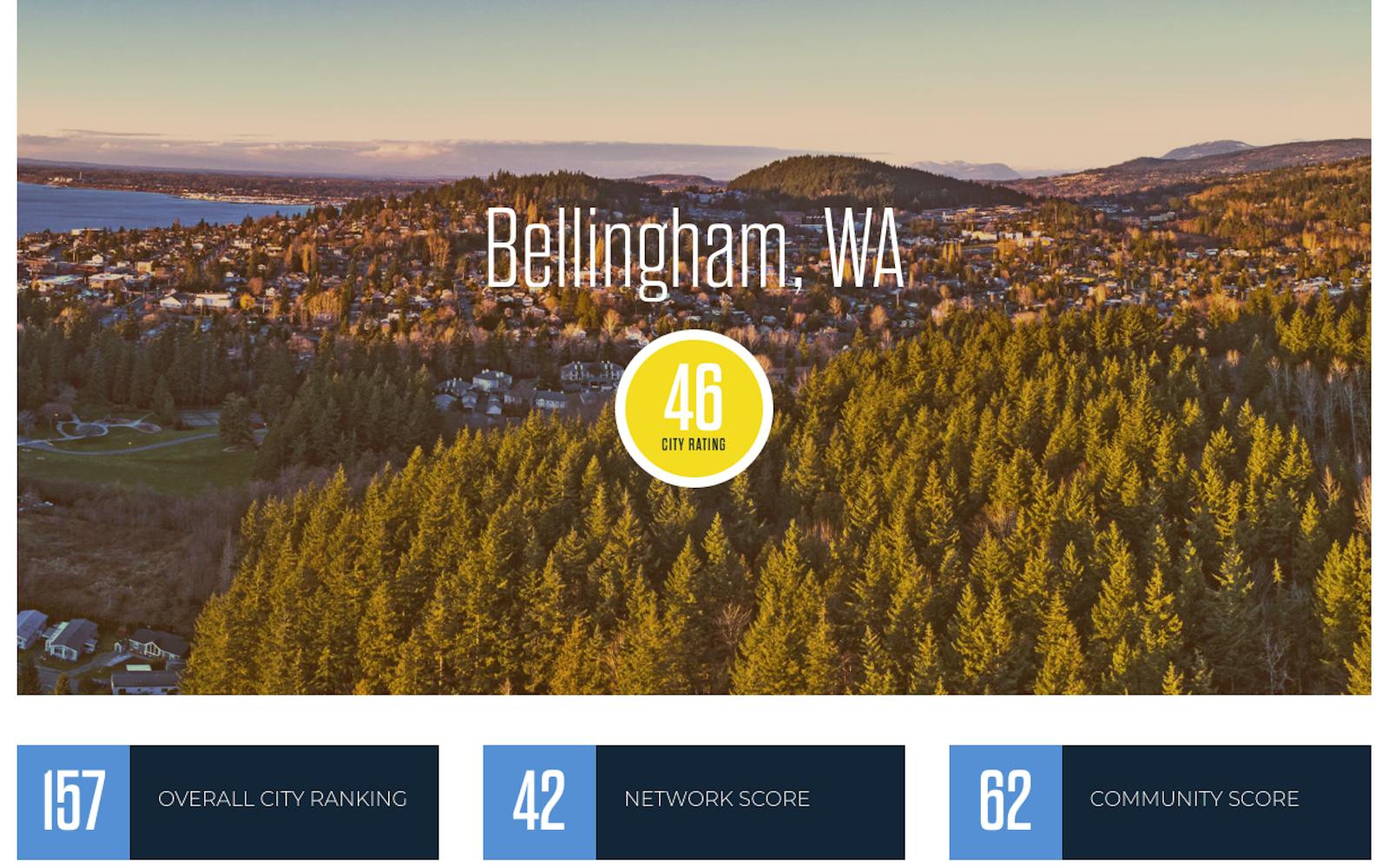 Bellingham, Washington, home to 90,821 residents, is known as the "City of Subdued Excitement" because the appeal of the city lies in its quieter attractions that do not attract hordes of tourists. In-town attractions include mountain and waterfront views, gigantic murals and a vibrant downtown. Slightly out of town, in the surrounding Whatcom County, lies abundant nature and accessible outdoor adventure from the Salish Sea to Mt. Baker and the North Cascades National Park.
Bellingham is growing at a staggering rate of 1.93% annually and has felt the effects of a growing population on this previously small town. In an effort to alleviate transportation concerns, the City of Bellingham passed a Bike and Pedestrian Master plan in 2014 to bring 130 miles of bikeway to the city, bringing the total amount of bikeways in Bellingham to 170 miles connecting downtown and high-traffic areas. This project has been supported by the Tour De Whatcom race, which offers three race categories — 22, 44 or 105 miles — and draws nearly 1,000 bike enthusiasts to Bellingham annually. This town is not only drawing road race fans, it is known as the best place to mountain bike in Washington. Its prize park is Galbraith Mountain, a world-class destination within riding distance of the city. The expansion of Bellingham leaves the city and cyclists racing to keep up with the growing number of attractions, literally and figuratively!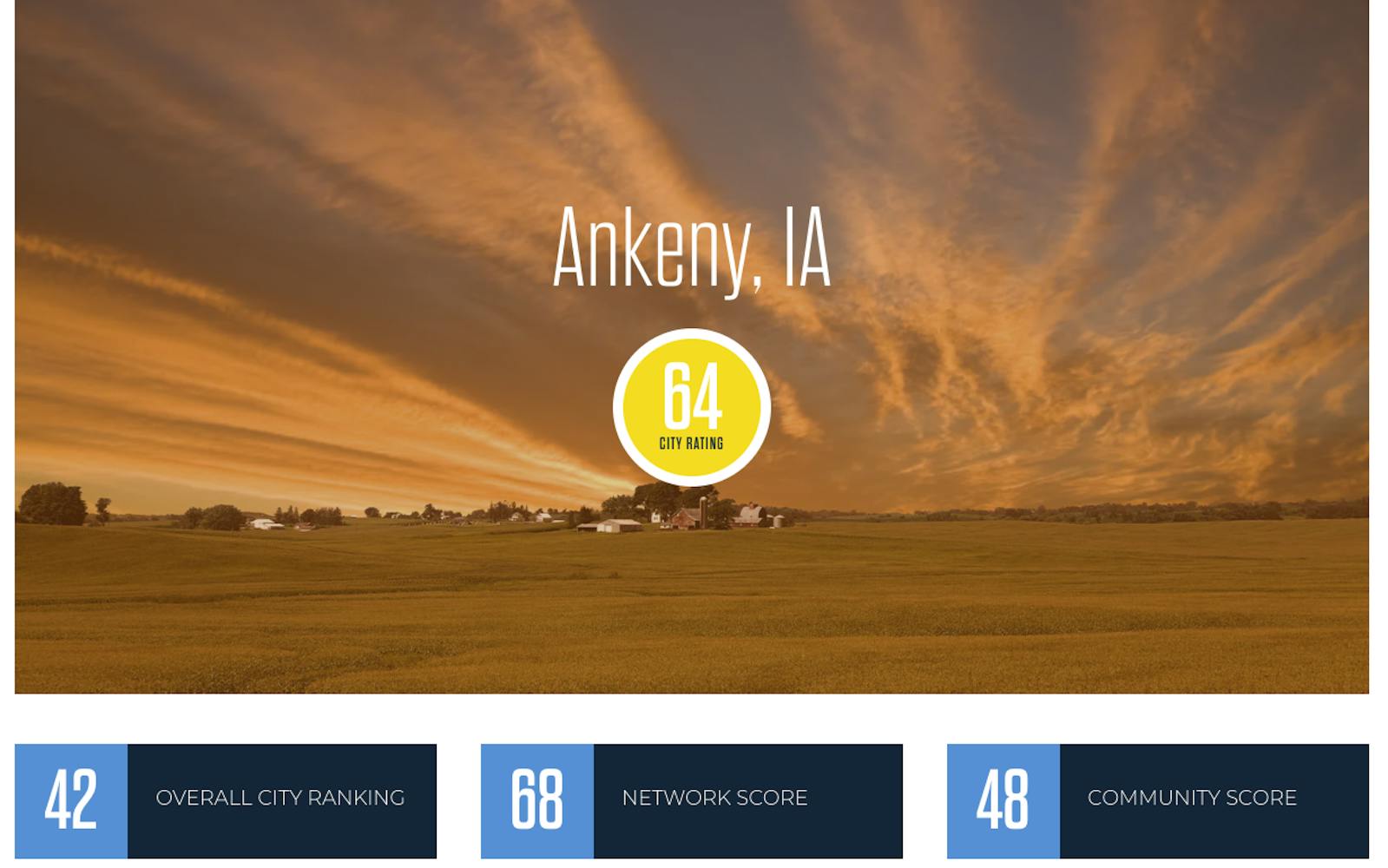 Located just outside of the Iowa state capital of Des Moines, Ankey is a mid-size suburb that is currently growing at a staggering annual rate of 2.94% because it is considered one of the best places to live in Iowa. Ankeny offers a hometown feel with first-class amenities. The nearly 80 miles of bikeways connect the city's 40 parks, water sports opportunities and downtown. Part of the network is the High Trestle Trail which is 25 miles long and offers great views of the valley. This trail in particular attracts more than 250,000 visitors each year and spurred the City of Ankeny's 2019 Bicycle Tourism Plan, which plans to expand bicycle facilities and paths across town. Outside of the city, you can bike your way over to Des Moines to explore the State Capitol Building, explore the events at the Iowa State Fairgrounds or support the local farmers at the Downtown Farmers Market. Ankeny is not the most mainstream destination for biking, just one more reason we ranked it as one of the best!