November 7, 2023
This Bike Program Is Empowering Indigenous and Latino Youth
By: Kiran Herbert, content manager
Story Riders, an initiative from The Center of Southwest Culture, combines practical bike training with lessons on New Mexican culture and the natural environment.
Bikes are magical, not only because they efficiently get us where we need to go but because they also allow us to better interact with our surroundings. While a car quickly transports people from one place to another, traveling by bike allows the rider to take in the world around them, helping to ground them as part of a larger community. In fact, according to new research, compared to drivers, people who ride a bike are more oriented towards the common good, which benefits society.  
If your mission is to help connect people to places, then a bike can be a particularly powerful tool. The Center of Southwest Culture (CSC), a nonprofit based in Albuquerque, New Mexico, works to support Indigenous and Latino communities through economic development, cultural, and educational programs — and its programming is firmly place-based. Since 2017, the organization has used bikes to empower youth and reconnect them with their natural and cultural heritage through its Story Riders program. 
"Bicycling is a mode of transportation that allows you to move a bit farther than walking, but it also still has you fully involved in your surrounding community," says Leila Sonora Murrieta, who coordinates the Story Riders program. "So you see people, you see animals, you see the neighborhood streets — you get to learn your surrounding area while fully being able to move through a space."
Story Riders was initially launched as an after-school program in Albuquerque's Barelas neighborhood, a settlement that's been around since the 1600s and predates the city itself by at least a few decades. The initial goal of the program was to connect the local youth to the stories of the neighborhoods' Indigenous and Latino elders, and it was decided they would conduct those interviews by bike. By 2020, the program had expanded to three different schools, all in historic neighborhoods that were rapidly changing.
"We wanted to be able to just hear these stories about places that you wouldn't get from the traditional school system," says Marco Sandoval, who directs the Story Riders program. "There was also an urgency to it because all these historic, beautiful neighborhoods, which had been built by brown peoples, were undergoing gentrification. We felt like we really needed to get our youth in touch with these elders."
In addition to a two-week after-school program, CSC runs Story Riders as a summer initiative for youth aged 9-18. The program, which serves 10 kids at a time and operates for three hours each weekday morning, begins with practical training in bicycle safety and hands-on maintenance. Each child works on a donated bicycle, which they then ride for the duration of the program and are allowed to keep upon completion (participants also receive complimentary gear, including a helmet). For youth who don't know how to ride, Sandoval and Murrieta teach them using the balance method.
"The first couple of days are just about the bicycle," says Sandoval, noting that in addition to learning basic maintenance and bike skills, kids also learn how to put sealant in their tires and fix flats. "In New Mexico, cactus makes that an essential part of bicycling."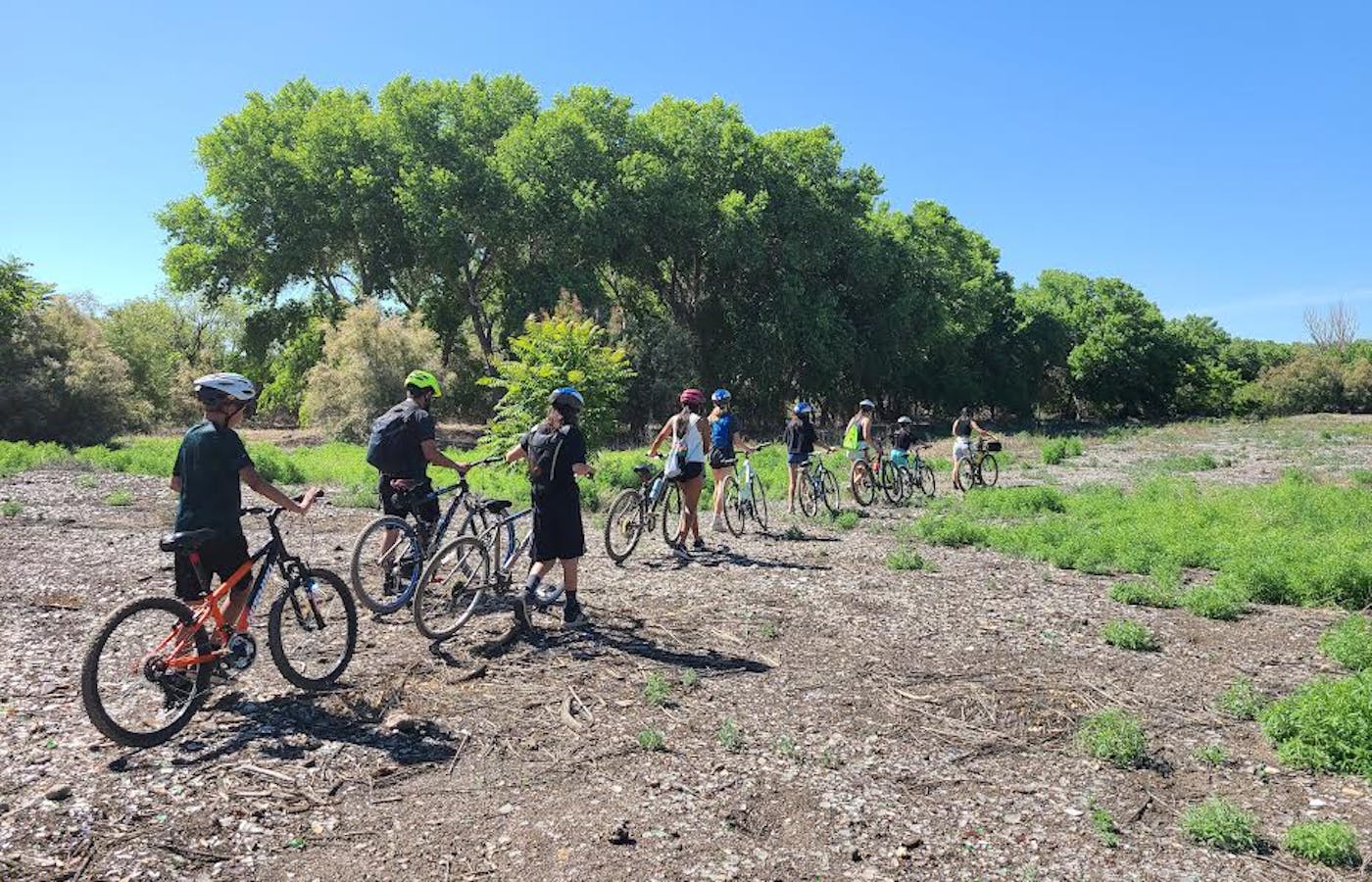 After a few days of bicycle instruction, the cohort eventually takes to Albuqureque's streets, tackling some urban riding but primarily journeying to the Bosque, where 16 miles of paved multi-use trails meander through a cottonwood forest alongside the Rio Grande. Not only does the river play an important role in the lives of New Mexicans but the Bosque, which means "woods" or "forest" in Spanish, provides an oasis of valuable resources in an otherwise arid habitat.
"The Bosque and the river form the spiritual center of Albuquerque," says Sandoval, adding that the area offers a way to get into nature and away from cars without actually leaving the city. "It's a public space and we encourage the kids to think of it as their space. We also introduce the idea that public spaces shouldn't be developed, that they should stay public."
During the course of the Story Riders program, CSC brings in different leaders in the community, such as artists, herbalists, organic farmers, and elders. Through interactive plant walks along the Bosque, herbalism lessons, garden tours, art projects, visits to historical sites, and storytelling, the youth learn more about their culture and heritage.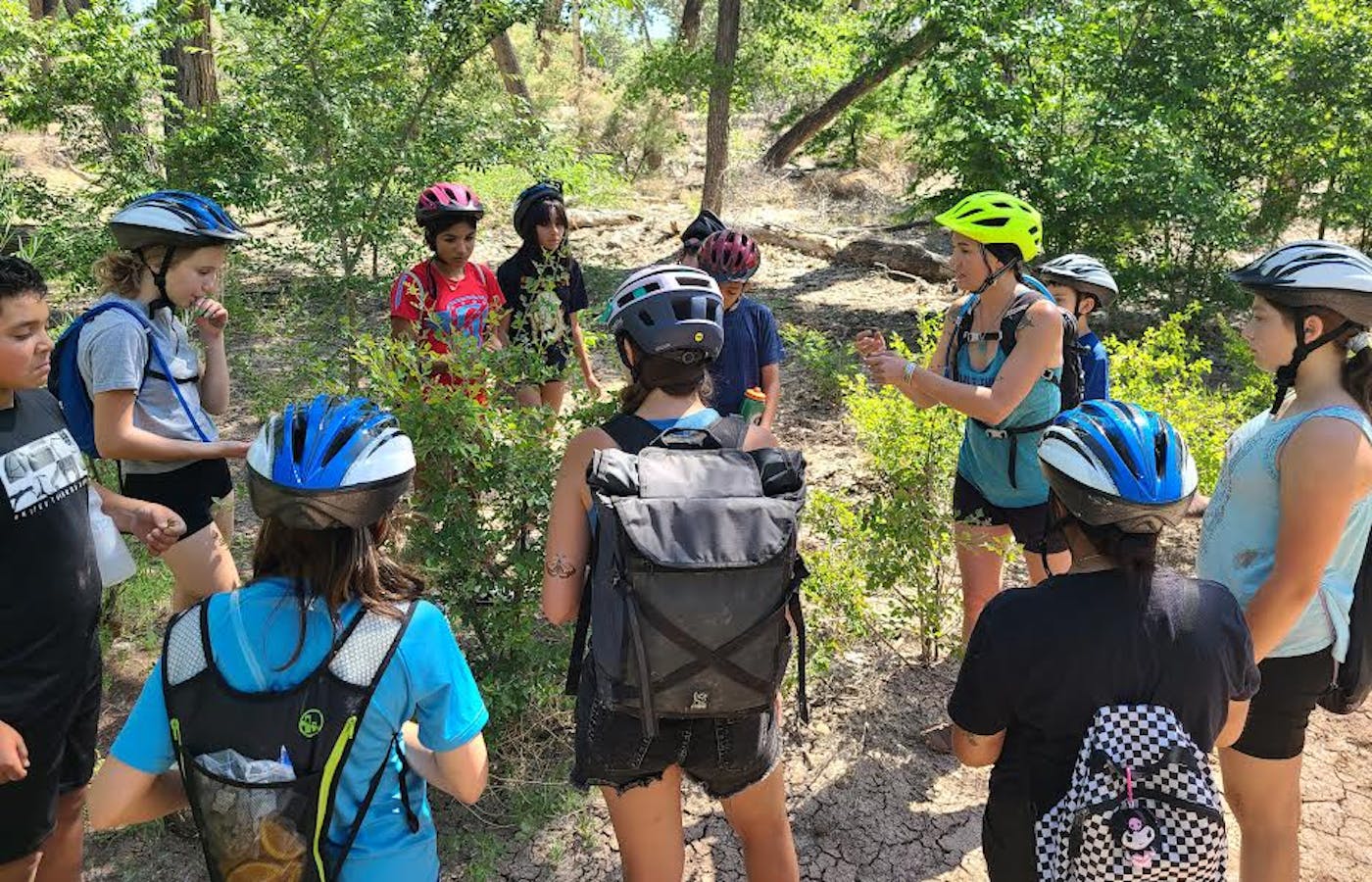 "The Story Riders program focuses on the three Bs: Bicis (or bicycles), Bosque, and Belonging," says Murrieta, explaining that the aspect of belonging comes into play as children begin to understand more about where they come from and the place they call home. 
Reflecting on the impact of the program, the word that comes up most among past participants and their parents is "confidence." In line with the research the nonprofit Outride has shared, bicycling can help build confidence among youth, allowing them to get in touch with their body and realize what they're capable of. It can also help them regulate their emotions — participants are calmer and happier when they're picked up — as well as perform better academically.
"Kids' overall health is improved just by being outside," says Sandoval, who was inspired to start the Story Riders program after working in a school. "I was frustrated with our institutions and what they think children need."
Story Riders makes learning to bike and getting outside easy by eliminating barriers to entry. For historically underserved Indigenous and Latino communities, CSC's target demographic, providing the gear that's often inaccessible — the bike, helmet, water bottle, and tools — makes a huge difference. Even more important is the fact that all of the Story Riders leaders are from the community they aim to serve, helping to drive home the message of belonging. 
"When I started cycling, there were no brown people on the trails who looked like me, it was all white people and I felt like an outsider," says Sandoval. "We want the youth to see leaders that look like them."
This past summer, Story Riders began introducing trips outside of the city to Forest Service land, and this past October, they launched a course on the Isleta Pueblo with Pueblo Resurgents, a community-governed organization committed to promoting anti-colonial Indigenous agroecology. During a three-week program, youth learned from local artists and elders and explored archeological sites, all on bikes. 
This month, Story Riders is launching an Adelitas class, named in honor of the señoras who fought in the Mexican Revolution. Open to women and taught in Spanish, it will be CSC's first adult class.
PeopleForBikes is proud to have supported The Center of Southwest Culture's Story Riders program with a 2022 grant. For more information on our Industry Community Grants, visit peopleforbikes.org/grants.