October 6, 2020
The Power of a Neighborhood Ride
By: PeopleForBikes Staff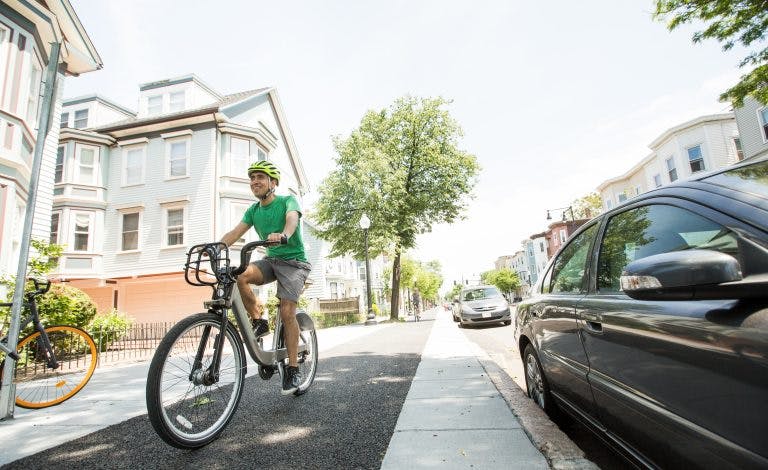 Due to the constantly changing dimensions of the COVID-19 crisis, we encourage you to follow all current CDC guidelines as well as local travel advisories and recommendations. Take care of yourselves and loved ones. We're all in this together.
This year, life has been different. Putting on a mask has become almost second nature and we've all been spending a lot more time close to home. Thankfully, when it comes to getting out on two wheels, a world of adventure is waiting right out your front door.
No matter if it's your first time around the block or you know it like the back of your hand, there's never been a better time to enjoy the simple pleasures of a neighborhood bike ride. Skip the crowded trailheads and bike paths and don't worry about planning your route: you can keep riding this fall without ever leaving your neighborhood.
Every block opens a door to new exploration. Even in the few square miles surrounding your home, the opportunities are nearly endless. What you may have driven countless times becomes entirely different when slowed down and viewed from two wheels. Literally and figuratively speaking, you can stop and smell the roses.
Riding around your neighborhood, even just around the block, can provide what a lot of us need right now — a break. Simultaneously keeping our bodies and minds healthy and active, you might be surprised at how much even a short ride can improve your day.
Just because you're riding alone doesn't mean you can't share your ride with others, either. Thanks to Ride Spot, an app PeopleForBikes developed to reduce the barriers to riding, you can share all of your neighborhood adventures with family and friends. 
Here at PeopleForBikes, we've been sharing our local solo rides with our coworkers to inspire each other to keep riding. We've seen a fascinating array of wildlife, vintage cars, eclectic architecture, lush green parks and dogs of all shapes and sizes. Keep riding from your front door and share your own experiences on Ride Spot! Your friends and family (and the PeopleForBikes staff) will love seeing where your two wheels can take you.
One day, your neighborhood ride may be nothing more than a breath of fresh air between work-from-home video meetings. The next, you might spend two hours weaving block-by-block admiring your neighbors' outdoor fall decor. That's the magic of the neighborhood ride — there's no wrong or right way to enjoy them, and the opportunities for trying something new can be limitless.
While other public interactions these days might seem stressful, riding your bike is a great way to get some stress-free, socially distanced enjoyment. Families on a walk to get the kids out of the house, couples enjoying the sunset on their porch, even fellow riders out on their own pedal around the block — while we might feel more apart than ever, a simple ride around your neighborhood paired with a smile and wave at passers by is a pleasant reminder that we're all still here, and we can continue to get through this together.
This blog was originally published in May 2020 and was updated in October 2020.