January 23, 2020
Tariff relief for kids' bikes – a big win for young riders, family budgets and the bike industry
By: PeopleForBikes Staff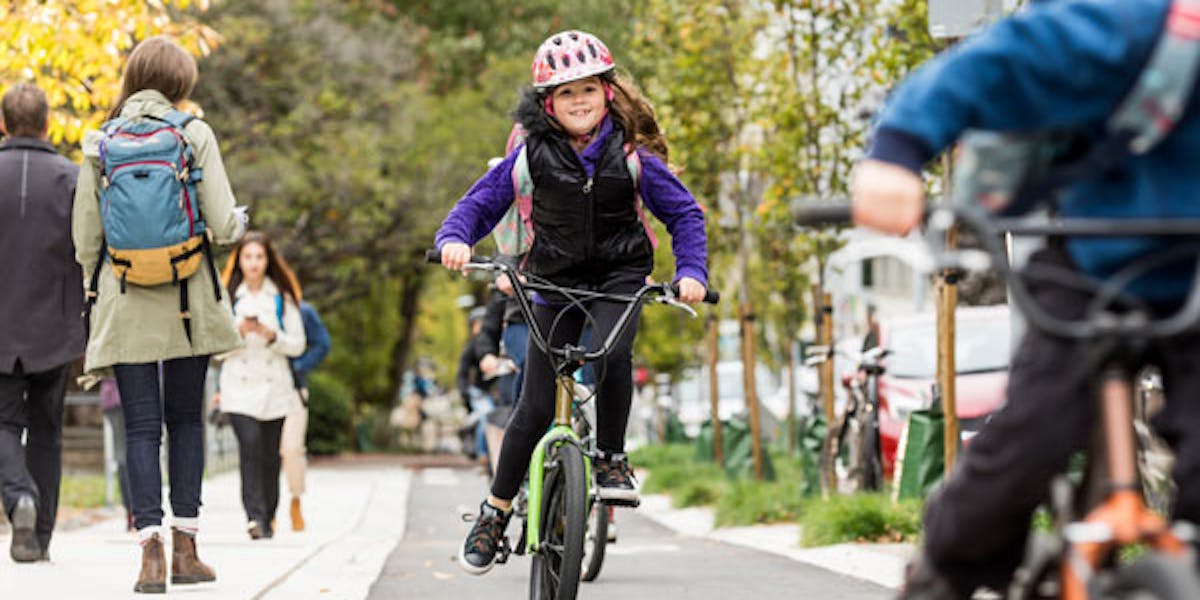 Child biking to school with backpack
Our goal at PeopleForBikes is to get more people riding bikes more often. Usually, this means working with communities, states, or the federal government to provide safer, more accessible places to ride so that every American has the opportunity and ability to bike where they live.
During the last five years, we've expanded our work in a variety of ways, including tackling international trade and tariff policy. In August 2017, the U.S. government launched an investigation into the trade practices of China — focusing primarily on the theft of intellectual property and forced technology transfers. This investigation and subsequent report became the basis for imposing heightened tariffs on imported goods from China, leaving many products and industries that have no connection to the underlying intellectual property or technology concerns, including bicycles, caught in the crossfire.
To maximize leverage in this trade conflict, the U.S. raised tariffs on products imported from China considerably— 25% above the normal rates for many goods, bicycles included. Unfortunately, most complete bicycles are already subject to a significant base tariff of 11% (well above the average weighted tariff for a U.S. import of 2%) and this increase brought the total tariff rate on most complete bikes to 36%. We knew there would be no way for bike companies to manage a cost increase of this magnitude without one of two consequences: 1) raising prices for consumers; 2) internalizing the cost and placing their businesses in jeopardy.
The vast majority of bicycle products sold in the U.S. are imported from China, including nearly 95% of all complete bicycles. As the U.S. Trade Representative began imposing the higher tariffs in 2018, we recognized the results would be harmful to all of our constituencies at PeopleForBikes:
Manufacturers and suppliers: Higher costs of importation and challenging searches to identify new potential suppliers outside of China.
Dealers: Eroded margins as brands and shops struggle to maintain sales in the face of more expensive imported goods.
Bike riders: Higher costs as the tariffs are incorporated into the retail price of goods.
None of these outcomes are good for American bike companies or people who bike. Even companies that manufacture frames domestically and build complete bikes in the U.S. rely heavily on imported components to create their finished products. By 2019, every bicycle product from China was slapped with a higher tariff— no business was immune to the effects of these policies.
The PeopleForBikes policy team has aggressively engaged at each stage of the tariff process. We objected to the higher tariffs at every hearing and public comment opportunity provided by the U.S. Trade Representative and explained the harm that new tariffs could cause. For nearly two years, these efforts provided nothing but frustration. Minimal tariff relief was provided. However, we stuck to our strategy and continued to seek tariff exclusions for bicycle products.
We knew from the beginning that the effects of the tariffs on certain product categories would be particularly dramatic from both an industry and customer perspective. Kids' bikes were an area that became a primary focus of our trade advocacy.
97% of kid's bikes sold in the U.S. come from China, so we were acutely concerned about the effect that higher prices could have on sales, and in turn, youth participation. Prices and margins on these products are relatively low, so the tariffs were likely to be passed on to the purchasers of bicycles quickly in the form of higher prices making them less accessible to many Americans. Bicycles also compete with an ever-expanding universe of electronic toys, gadgets, and screens to attract the interest and attention of our youth. Therefore, the cost of a bike is under constant comparison to an increasingly wide range of alternative forms of activity and amusement.
As this last point highlights, concerns regarding youth engagement in bike riding expand far beyond trade policy. Only 53% of kids ages 3-17 reported riding a bike in the last year, meaning we already lack a connection with nearly half of young Americans. PeopleForBikes has invested heavily to ensure that kids find safe, fun, and accessible places to ride. We have steadily supported the National Interscholastic Cycling Association, an organization focused on putting more kids on bikes through school-based mountain-biking leagues. We are partnering with USA Cycling, the national governing body for bicycling, to create a Youth Cycling Initiative specifically aimed at increasing youth participation and helping young Americans sustain bike riding throughout their lives. We know this is good for the long-term health of our industry and we believe it's the right thing to do. More kids on bikes means more kids being active, engaging in healthy activities, and experiencing the outdoors. We saw the threat of higher tariffs posing new and unnecessary obstacles to achieving this vision.
Given these factors, we invested significant resources in filing exclusion requests for each category of kids' bikes which fall under one of three different headings of the U.S. tariff schedule depending on their wheel size: less than 20", 20", and more than 20" but less than 26". We filed an exclusion request for each of these categories and coordinated with bicycle brands to facilitate or assist in helping them file exclusion requests as well.
In December, those efforts were finally rewarded when all three of our exclusions for kids' bikes were granted. The exclusions are retroactive to the date on which the tariffs were first imposed, Sept. 24, 2018, and will remain in effect until August 7, 2020. While this reprieve is not permanent, we estimate it will save the U.S. bike industry $120 million in extra duty payments that can either be reimbursed or completely avoided in the future. Bike purchasers will save even more.
While trade issues may seem outside the traditional work of PeopleForBikes, ensuring that Americans can affordably and easily access bicycles is critical to the future of bike riding in our nation. Currently, only half of Americans have access to a functional bike. This is one of the largest obstacles to people riding bikes more often, and it is a particularly significant barrier for women, older people, and lower income populations. If we want bike riding to thrive, we must maintain easy and unrestricted access to bicycles.
This battle does not end with kids' bikes. We've made several other exclusion requests that remain pending, including those for adult bicycles. While each circumstance is unique, the reasons for providing relief to these products is equally as compelling as kids' bikes in many ways. We'll keep working to achieve similar positive results on these requests to further our mission of ensuring all people in the U.S. can bike easily and conveniently.