May 26, 2021
Senate Transportation Bill Shows Promise for Bikes at the Federal Level
By: Noa Banayan, director of federal affairs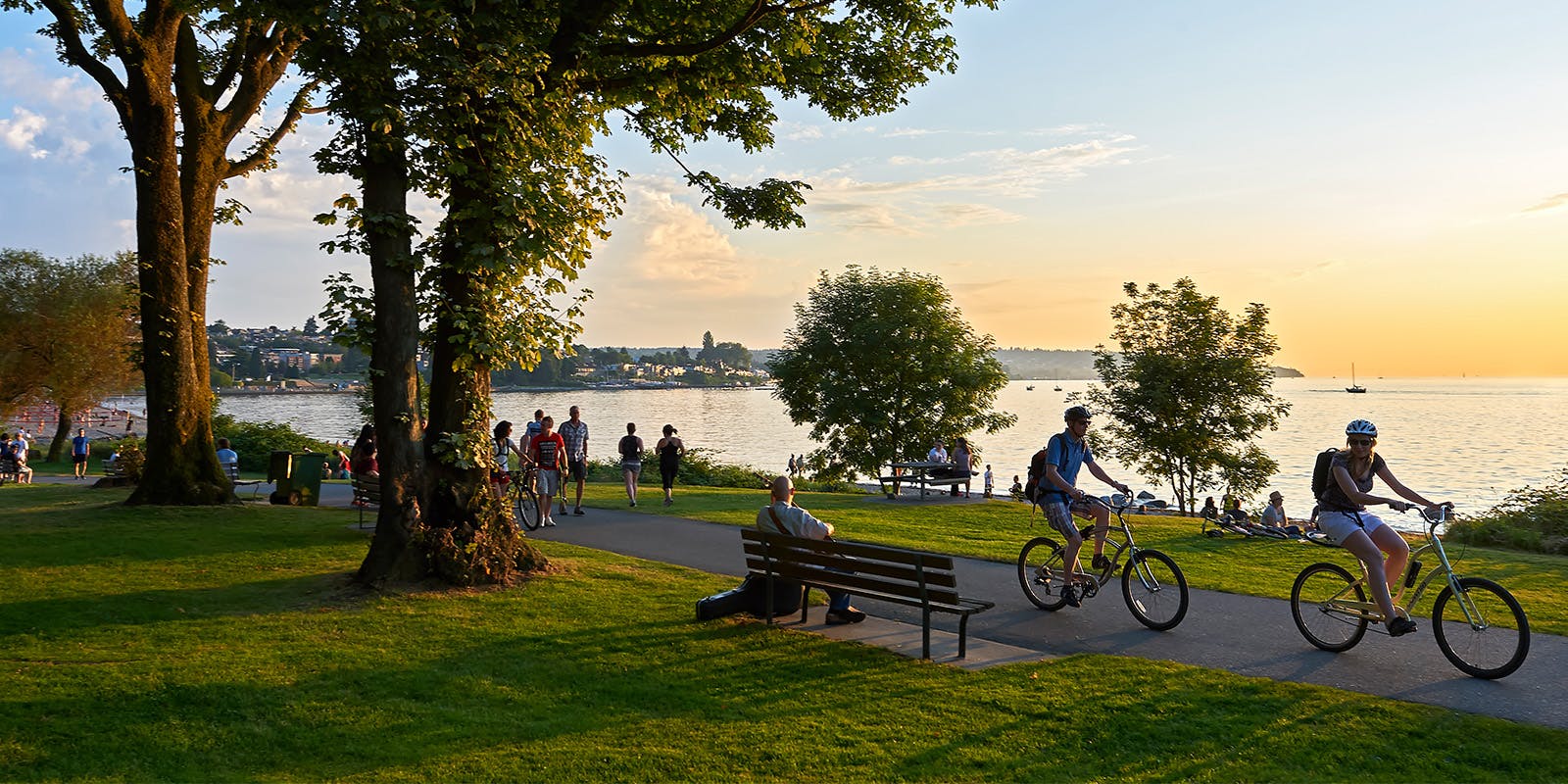 New legislation is promising, but still falls short of answering the demand for safe and connected infrastructure.
UPDATE: Thanks to the fast mobilization of grassroots voices in key states, the Senate Environment and Public Works (EPW) Committee passed an amendment on May 26 to include the bipartisan Connecting America's Active Transportation System Act (S. 684) with $200 million/year in funding in their reauthorization bill. That's one billion dollars throughout the five years of the bill and a huge win for the future of connected bicycle and active transportation networks. We're grateful to the sponsors of S. 684, Senators Ed Markey (D-MA) and Dan Sullivan (R-AK), for leading this amendment effort as well.
Leaders in the U.S. Senate introduced a bipartisan transportation bill this week that would significantly increase funding for bikes, but the proposed legislation falls short of offering the kind of transformative investment needed to meet the growing demand for safe and connected bike infrastructure. 
First, let's put this bill into the larger political context — Congress is supposed to authorize policy and funding for surface transportation (generally roads, bridges and railways) every five years. The last authorization, the FAST Act, was set to expire in 2020, but Congress agreed to extend it through 2021. This bought more time to work on a reauthorization bill and figure out how to fund everything. The Senate's legislation is intended for 2022-2026, and this is just the first step. The House of Representatives will produce their own version soon, and eventually, both chambers and the Biden administration will have to agree on policy, funding and how to pay for it. 
Today, with a demand for better infrastructure coming from both the White House and communities across the nation, we might actually see a reauthorization of transportation policy turned into law. 
Let's dive into the details — unfortunately, what we would like to see as a central focus of the future of active transportation policy is missing from the Senate's bill. The Connecting America's Active Transportation System Act (S. 684) would create a $500 million/year dedicated grant program designed to help communities build out complete networks for biking, walking, rolling, scooting, etc. The sponsors of the bill, Senators Markey (D) and Sullivan (R) are pushing for an amendment to include the act in the reauthorization bill as it moves through the legislative process, and we are 100% in support. 
This program is essential to serving the growing demand for biking and walking by funding network connectivity. You can read more in an op-ed we co-wrote in The Hill alongside our partners at the Rails-to-Trails Conservancy and America Walks. 
Now, let's talk about what did make it in the bill. Another core part of our vision for federal bike policy is doubling the funding for the Transportation Alternatives Program (TAP), and this bill gets close. TAP is the largest source of federal dollars for bike projects (like protected bike lanes, trails and multi-use paths), so increased funding is critical to supporting the growth in ridership we've seen over the past year. TAP funding is currently limited to $850 million annually, and the bill would increase the program to $1.38 billion in 2022, up to $1.48 billion in 2026. 
Other important provisions we support in the Senate bill: 
Inclusion of the model three-class electric bicycle definition.

Reforms to TAP that make it easier for states to use federal dollars for bike and pedestrian projects.

Requirement for states to develop standards for Complete Streets.

A vulnerable road user assessment (i.e. study how dangerous roads are for people outside of cars).

The Reconnecting Communities Program, supporting the removal of highways where low-income and minority communities were disconnected by their construction and rebuilding to enhance equity.

A study on the use of bicycles in disaster relief mobilization.
Stay tuned for more updates as this bill moves through the Senate's legislative process and as the House introduces their own version of reauthorization legislation. We're hopeful that Congress and the Biden administration will be able to agree on a bill that offers a transformative vision for active transportation policy this year.