June 10, 2019
Protected Bike Lanes Make Northeast Portland Safer and More Inviting
By: PeopleForBikes Staff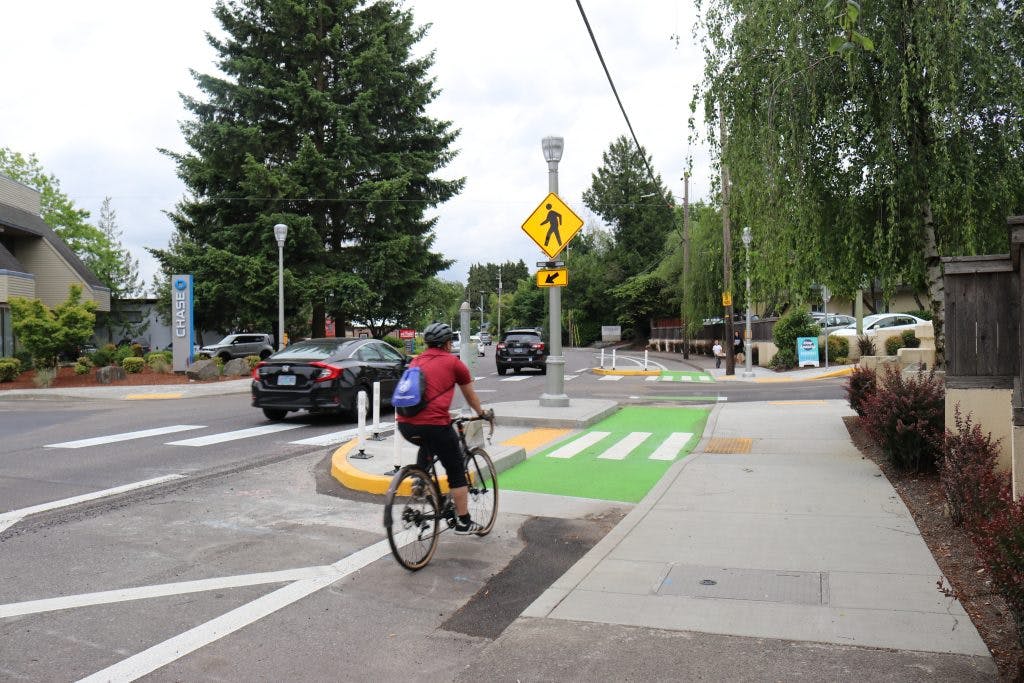 Halsey-Weidler Streetscape Project.
How can a city stimulate the local economy and create a safer neighborhood? Northeast Portland is proving that protected bike lanes do both.
With a goal of improving safety and access for people walking, biking, driving and taking transit, the Halsey-Weidler Streetscape Project is a joint effort between Prosper Portland and the Portland Bureau of Transportation.
The project aims to help support the economic development of the Halsey-Weidler business area within the Gateway District and surrounding neighborhood.
According to Timur Ender, Project Manager at PBOT, this overhaul of the neighborhood involves protected bike lanes throughout. "It's the only sidewalk-facing retail in the area, and the protected bike lanes are going to make it even easier to be a bike-friendly district," he says.
Liz Tillstorm, also a Project Manager, says the key move in the redesign was to give everyone on the road a clear place to be. Where the Halsey and Weidler streets previously had 5-foot bike lanes adjacent to traffic, the project has moved the bike lanes to the curb, widened them, and added either on-street parking as protection, or tubular markers. 
Other infrastructure improvements include:
Reduced road crossing distances with refuge islands
Improvements to each intersection
Upgraded ADA ramps
Pedestrian-scale street lights
Key crossing with rapid-flash beacons
Rebuilt traffic signals to avoid bike lane overlap with right-turning cars
Transit islands to avoid buses crossing bike lanes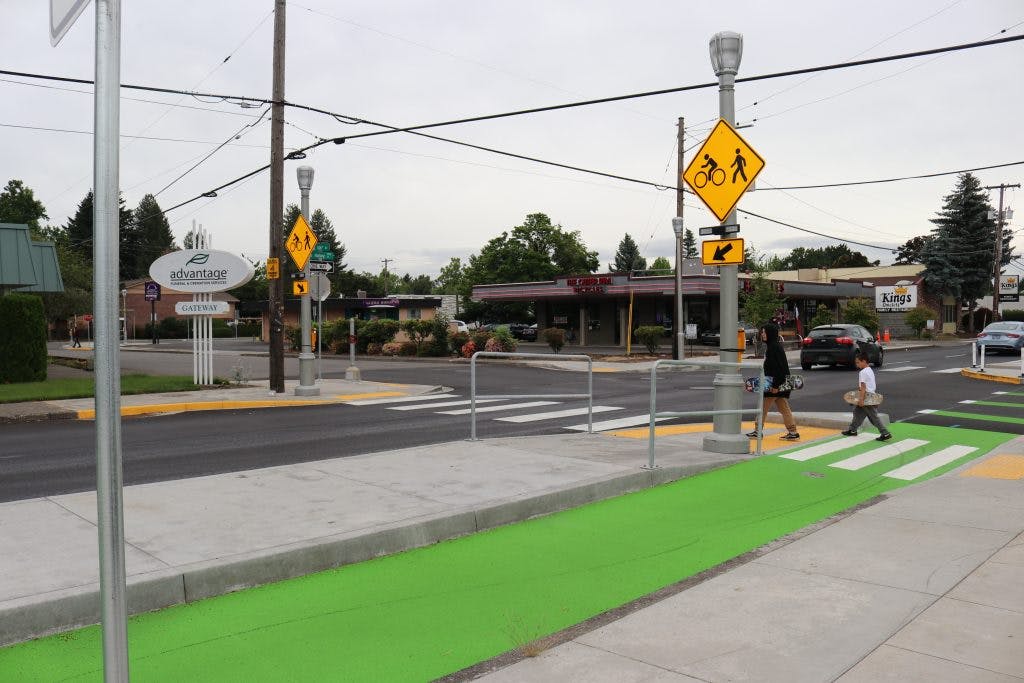 Let the community lead and harness their energy
According to Ender, a recent land transfer has allowed the city to build Gateway Green Park. "The payoff came after years of effort from local advocates." The PBOT built on the effort and helped with wayfinding signage, bike classes and programming for area community members. According to Ender, it's a collective effort. In order to grow and get important projects completed, community groups need to support each other.
Christopher Masciocchi, a local resident who serves on the board of the Gateway Area Business Association, says what were once dangerous, uninviting streets for people walking or on bikes, are becoming some of the city's most welcoming for multiple modes of transportation. The numerous improvements will not only make the area much safer, but also more inviting. Masciocchi says, "Biking and walking are healthy, affordable modes of transportation and these improvements will help make those viable choices."
Masciocchi is excited about how the infrastructure changes will improve the area's sense of community. "Combined with the streetscape improvements, these are the kinds of physical spaces that create a sense of place and encourage positive social interaction. In the end it is those positive interactions that build community."
As Northeast Portland moves ahead with more projects this summer and fall, PBOT is focused on connecting people to even more recreation, transportation options, and existing greenways.