June 28th, 2018
Proposed Tariff Increases Mean Bad News for E-bikes
By: PeopleForBikes Staff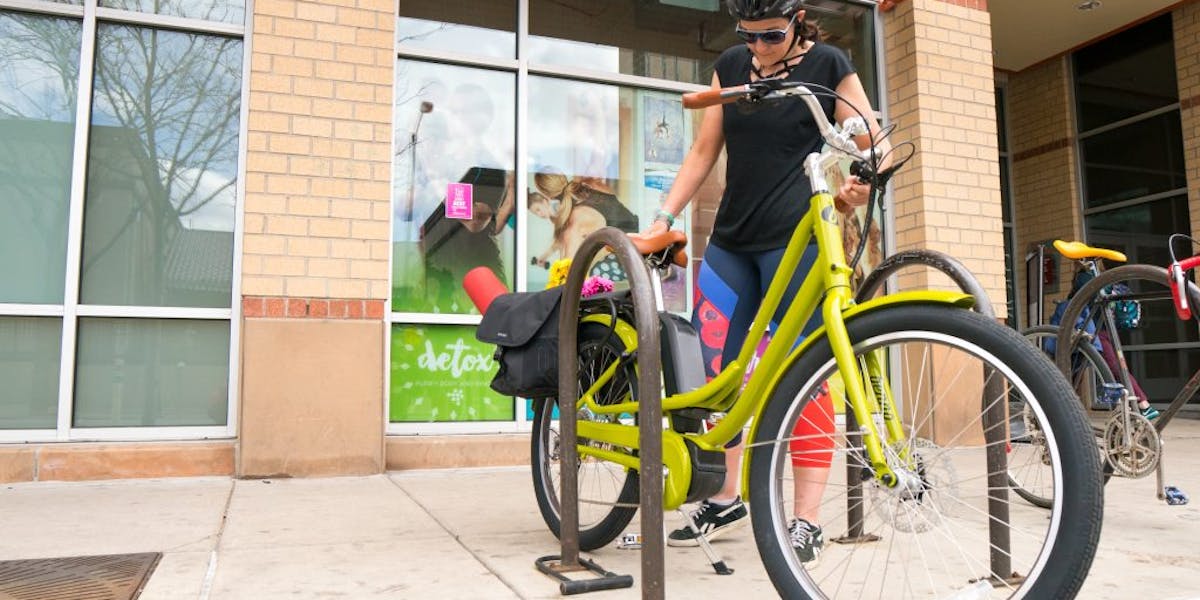 Woman adjusting her bike in front of a retail shop
E-bikes are the fastest-growing segment of bicycle sales in the United States. During the last 12 months, e-bike unit sales jumped 112 percent.* Ridership and engagement is increasing, and people across most demographics are using e-bikes to replace motor vehicle trips or augment existing bicycle trips.
But growth in e-bike sales and usage is under threat. On June 15, the Trump administration released a list of products imported from China that they're considering for a 25 percent tariff increase. E-bikes are included on this list, as most e-bikes sold in the U.S. are manufactured in China.
What does this mean for people who bike and the bicycle industry?
If imposed, a 25 percent tariff increase would likely lead to higher retail prices for e-bike purchasers. For example, an entry-level e-bike retails for $1,500. A 25 percent tariff could produce a $375 price increase, which may push many potential purchasers out of the market. The burden is even heavier for high-end e-bikes, which could face up to a $2,000 price jump as a result of the increased tariff.
What can be done to prevent this 25 percent tariff?
The administration and Congress need to hear from everyone affected by these tariffs—e-bike manufacturers, retailers and riders. PeopleForBikes and its allies in the bike industry will voice opposition to the increased tariffs; we ask you to join us in taking action by using the links below.
Bike retailers, click here.
Other bike businesses, click here.
Bike riders and bike supporters, click here.
Updated 7/11: This week, the administration released a new proposal that would increase the tariff on nearly every other bicycle, component and accessory imported from China by 10 percent. If approved, these significant tax increases will affect every level of our industry's supply chain, from manufacturers to dealers and, ultimately, customers. Stay tuned for additional information on these tariffs and instructions on how you can take action.
Updated 8/2: On Tuesday, the administration announced that they are considering increasing the proposed tariff on bicycles, components and accessories to 25 percent. The proposal includes items like chains, rims, spokes, pedal, breaks — even helmets. If implemented, this tariff could increase duties on the bike industry by an estimated $250 million, resulting in higher costs for retailers, suppliers and customers.