March 28, 2018
Omnibus Package a Big Boost for Bikes
By: PeopleForBikes Staff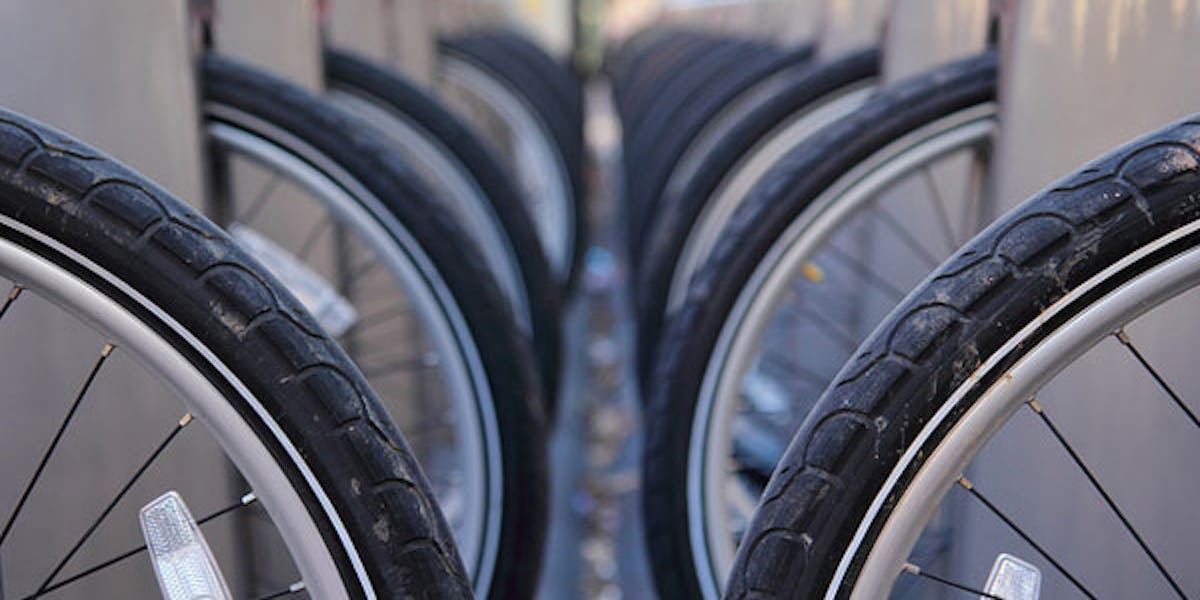 Bikes parked in a bikeshare stand
Congress passed a spending bill on March 23 that includes significant support for funding bike infrastructure projects across the nation.
Most notably, the omnibus includes $1.5 billion in funding for the TIGER program at U.S. Department of Transportation over the next three years. TIGER has consistently funded a broad range of multimodal transportation projects, ranging from integrating bicycling into a community's transportation system to breaking down bottlenecks in the movement of freight across the country. From Michigan to Idaho, TIGER funding has been a part of many the most innovative bike infrastructure projects in the country over the last ten years.
"PeopleForBikes has been advocating for TIGER funding for years, and we are thrilled to see these funds in the omnibus," said Jenn Dice, PeopleForBikes, vice president of business network. "TIGER funding has been a key focus of our industry fly-ins for the entirety of the program. After concerted effort, more members of Congress see the positive benefits TIGER has for all types of transportation, including bikes, back in their districts."
PeopleForBikes and its bike industry partners have sent action alerts, attended numerous meetings on Capitol Hill, and brought more than 100 bike industry leaders to Congress to discuss the benefits of TIGER, and other bike infrastructure investments, as part of PeopleForBikes Executive Fly-Ins.
The omnibus also had several other significant victories for the bike community including $425 million for the Land Water and Conservation Fund which is $25 million above the current level of funding and $3.2 billion, for the National Park Service which is $255 million above the current level.
"We are thrilled more members of Congress are supporting these important tools for protecting public lands," said Dice. "This funding increase is crucial to park infrastructure to continue to give people access to safe and enjoyable spaces for people to recreate outside and to drive the tourism and recreation economies."
The omnibus was signed by President Trump on March 23.