November 20, 2018
A New Racing Class
By: Betsy Welch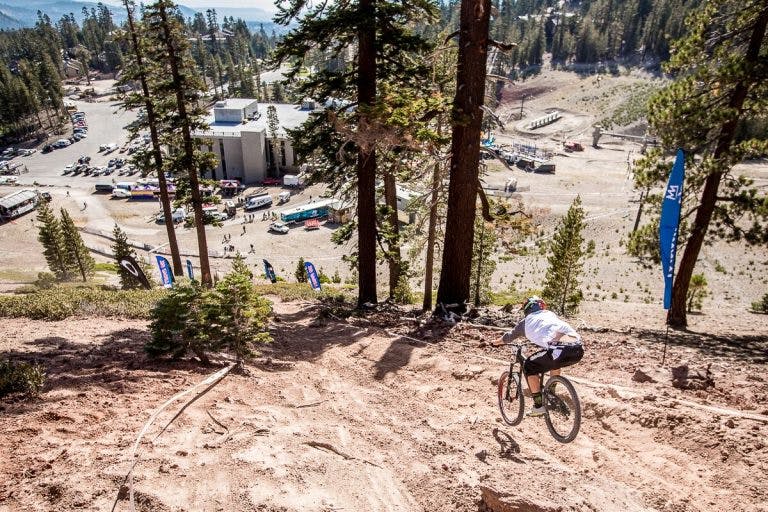 Electric mountain bike racing is growing in popularity. (Source: Bosch eBike Systems.)
For mountain bikers who want to compete, half the challenge is choosing which races to do. From the local XC series to multi-day stage races abroad, there are disciplines and a destinations for every rider. Electric mountain bike (eMTB) options are also beginning to appear on the race calendar: a series of inaugural events were held this year.
In April, the Sea Otter Classic hosted its third eMTB race with a pro and six amateur age categories on a redesigned course. One of the principal sponsors of the Sea Otter race, Bosch eBike Systems, presented the third annual Boogaloo eMTB race at Mammoth Mountain's Kamikaze Bike Games in September. Troy Lee, the co-presenter of the Boogaloo and founder of the namesake company, credits the Sea Otter race as inspiration for his Mammoth event.
"After Sea Otter in 2016 we put together a little invite race," he said. "It was eMTB racing in a heat format, on a fun short circuit, with some obstacles to make sure we weeded out the pure horsepower fitness guys, all within an area that spectators could watch the action. It was amazing."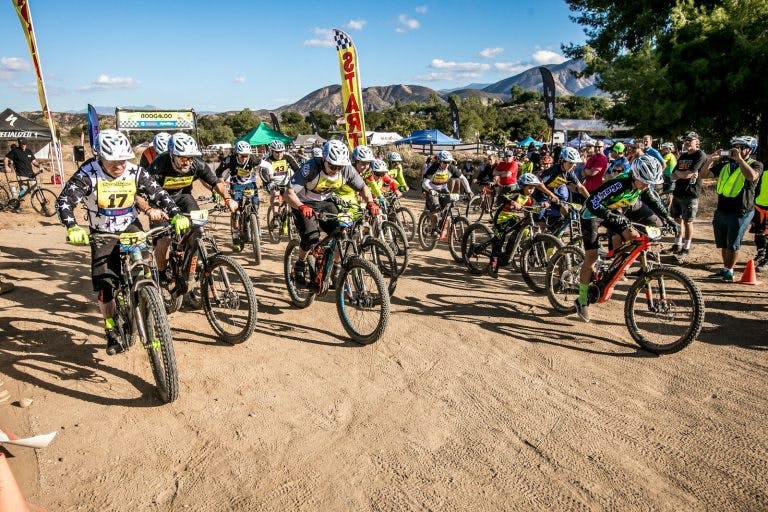 Now, the Boogaloo Class 1 eMTB race series offers three categories — pro, amateur and youth — and is a main spectator event at the Kamikaze Bike Games. According to Lauren Burke, Mammoth's communications manager, the Boogaloo was instrumental in the resort's decision to allow eMTBs at their 80-mile bike park starting this summer.
"The permitting for that race was the first time we talked with the U.S. Forest Service about e-bike access in the park," said Burke. "And from there the conversation continued. Those races were important tests and all parties came away comfortable that our trail system was suitable for e-bike use."
Over the summer, the American Motorcyclist Association (AMA) featured eMTB races at some of their sanctioned events. Four of the six rounds of the 2018 AMA EnduroCross series featured the EnduroCross eMTB Challenge Series, which was held in the same indoor arena as the EnduroCross races, but on separate courses. eMTBs from various manufacturers were also available for demo.
"We're excited to bring this rare opportunity to fans where they can test ride the same machines that will be used in competition," said Ron Askins, senior vice president of international trade show organizer E.J. Krause & Associates. "Fans can ride a pedal-assist mountain bike for themselves, and then see what the same bikes are capable of in the hands of racers during Sunday's eMTB Challenge."
The AMSOIL Grand National Cross Country Series, an AMA National Championship, also added Class 1 eMTB bicycle races to four rounds of its 13 round series this summer. After eMTBs were used in the pre-race course inspection last year, interest in the bikes exploded and organizers decided to add them to this year's festivities.
As the popularity of eMTBs continues to grow, we can expect the race calendar to keep filling up as well.