April 3rd, 2019
New Orleans' Connect the Crescent: Final Report
By: PeopleForBikes Staff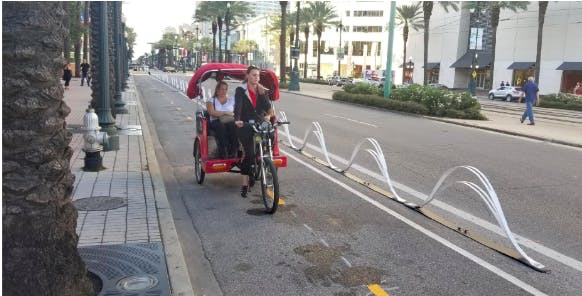 New Orleans.
Last year, local advocacy organization Bike Easy, the City of New Orleans, and other community partners installed Connect the Crescent, a three-month demonstration project that added 3.5 miles of protected bikeways, improvements for people walking and taking transit, art installations, and open street events in New Orleans' central city. Funded in part by our Big Jump Project, Connect the Crescent kicked off last September, and incorporated intensive public input via door-to-door outreach and surveys. Volunteers provided most of the labor to install the pop-up project, and now that it's complete, a full report has been released with several important takeaways.
Connect the Crescent was designed as a temporary pop-up installation to give residents a real opportunity to experience changes on the street and provide feedback before any street alterations were made permanent. That's especially important among low-income communities and communities of color, which have often been negatively affected by transportation projects where they had little say in what happened.
According to the report, Connect the Crescent had the following results:
85% of bicyclists rated their experience as improved
87% (719 of 826 respondents) were supportive of the project overall.
A majority said they would like to see changes made permanent or slightly tweaked in order to make them even better.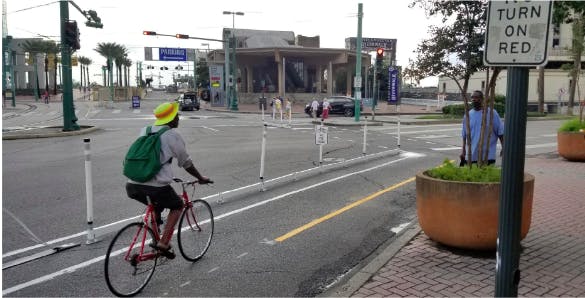 Connect the Crescent saw an increase in safety, an increase in people riding bikes, and an overall decrease in traffic speeds. The community came together with this project, and many people began to see mobility in a whole new light. One community member surveyed said, "I feel safer now than ever before cycling on these new, protected bike lanes. When driving my car, I also feel safer because it shows cyclists the appropriate place to ride on the street as well as the proper direction." It's difficult to know the impact of a project before it's on the ground — before it's tangible — but Connect the Crescent has proven that proper infrastructure gives everyone a safer, easier way to get to where they need to go.
Looking ahead, Bike Easy seeks to promote a permanent, connected, comfortable system of bike lanes. They especially want to focus on easily getting people to job centers. Bike Easy also came up with a revised set of guidelines for future demonstrations, including how to plan for different sized projects, and what organizational tools are necessary.
With a score of 4.6 out of 5, New Orleans won the top Acceleration spot in our City Ratings report for 2018. Acceleration measures growth in bike facilities and events, as well as people's perception of progress. And the work in New Orleans to grow safer biking has only continued. Stay tuned for our 2019 updates!