July 23, 2018
Becoming a Bike Town: Modesto's Cruising Culture Redefined
By: Emily Furia, business network writer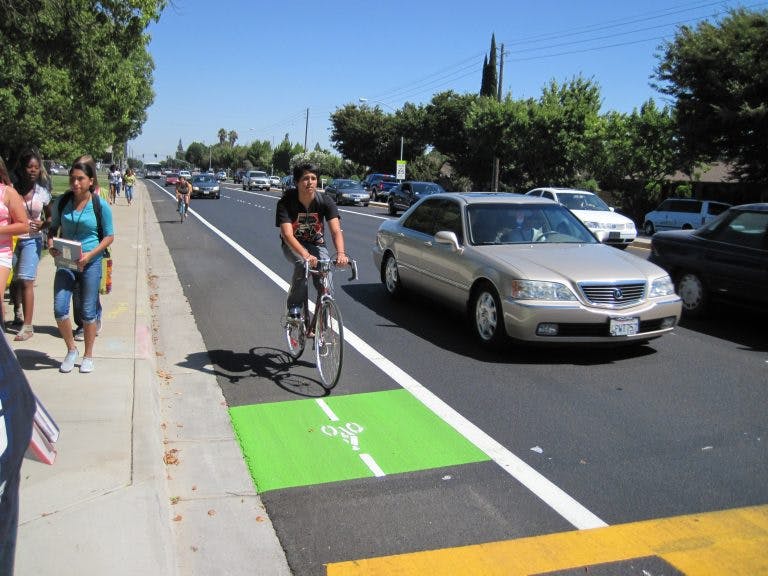 Biking in Modesto, California.
In 2015, Streetsblog asked if Modesto, California — the inspiration for "American Graffiti," George Lucas' celebration of cruising culture — could become a model for a bicycle-friendly city.
Three years later, the answer is clear: yes.
In 2012, with the encouragement of then-mayor Garrad Marsh, Modesto began planning and constructing a variety of bike-friendly improvements, which included everything from striped and protected bike lanes to bicycle parking corrals. The biggest project, completed in the summer of 2015, aimed to improve bicycle access to Modesto Junior College (MJC) campuses, located on the east and west sides of town. The MJC project included a lane reduction on College Avenue, the addition of buffered and protected bike lanes and a 2.2-mile bike path between the two campuses, called the Campus Connection.
Since then, the pace of construction has accelerated, says Michael Sacuskie, associate engineer and bicycle program coordinator for the city's Department of Transportation, Engineering and Design (TED). "Modesto is becoming a bike town," he says. "We're not Davis-level yet, but the culture is changing very fast."
The city recently completed Phase II of the Campus Connection, linking it to the 4.2-mile Virginia Corridor Trailway, and recently received funding from California's Urban Greening Grant Program to extend the Virginia Corridor to the three-mile Hetch Hetchy Trail.
A boost for businesses
Sacuskie says the new path and surrounding areas are proving attractive to residents as well as businesses. Realtors tell him that many homebuyers, especially those in the 30-to-45 age range, don't necessarily want to reside downtown but want to live within biking distance of local restaurants. Meanwhile, those restaurants are coming to the bikeways. Local brewery St. Stan's recently purchased a shuttered silo complex near East Campus to expand its operations, and build a new location along the expanded path.
"They got wind of the bike path and liked that it would basically lead to their front door," Sacuskie says.
About 300 feet off the path, an "Opening Soon" sign is affixed to the window of another brewing company, Contentment. Sacuskie says this part of town isn't the first spot that would come to mind for prospective developers, but restaurant owners can envision the traffic the new paths will generate " They're seeing the future," he says.
That future includes more bike lanes and paths, thanks in part to winning several federal grants administered by California's Active Transportation Program. In 2017, Modesto secured approximately $4 million for a road diet on Paradise Road that will include buffered bike lanes and traffic-calming curb extensions. Construction is slated to take place in 2021. The city also started construction on Claus Road, where a new bike path with two bicycle signals will connect to an existing path and extend north to link a residential area. The City of Modesto will apply for funds to build the proposed Encina-Lincoln Bike Path, which will run past two elementary schools and one junior high.
Setting an example
Residents looking to explore the new bicycle facilities can visit one of the city's two bike shops, Fun Sport Bikes and World of Wheels, for gear, service and organized rides; the Stanislaus County Bicycle Club puts on numerous rides as well. The city holds a family bicycling festival each May, and Marsh's successor, Ted Brandvold, hosts an annual "Ride With the Mayor" from the Village Baking Company to City Hall.
Neighboring municipalities are taking notice. Officials from Stanislaus County have approached Modesto's TED department for guidance on making bicycle-related improvements, such as green painted bike lanes. (Modesto follows National Association of City Transportation Officials design guidelines when building any new piece of bike infrastructure.)
In the six years since Modesto began its bike-friendly transformation, project approval has become much easier, Sacuskie says. He learned early on that when you start talking about changing roadways for bicycles, public meetings "can get pretty spicy," but now, with nearly 50 miles of bike lanes and paths on the ground, the public's response to new construction is generally positive.
"It's just become normal here."