August 10, 2021
In Northwest Arkansas, You Can Go to College for Bikes
By: Kiran Herbert, local programs writer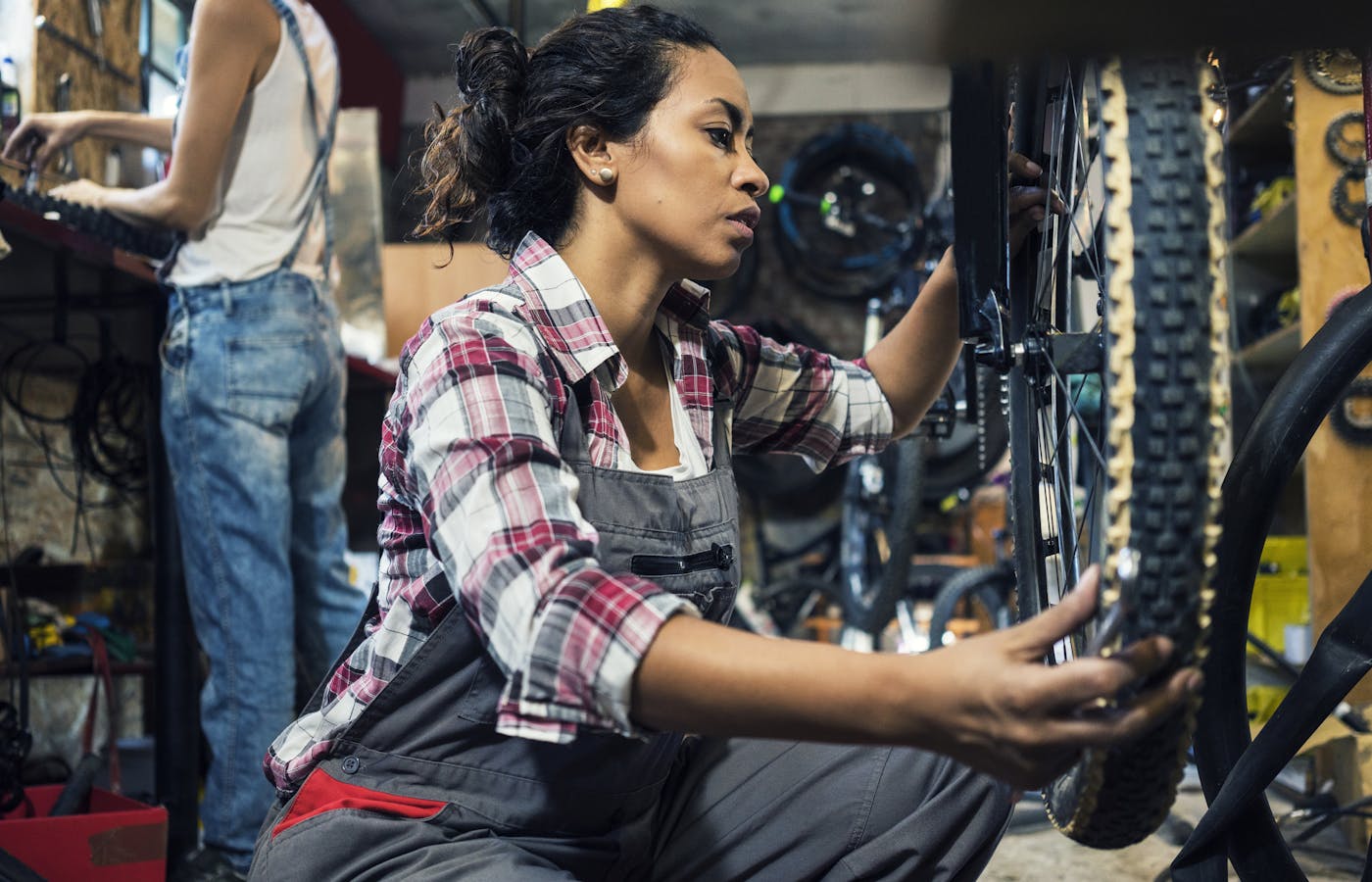 A first-of-its-kind program is launching in Bentonville with scholarships available for BIPOC and LGBTQ students.
This fall, students at Northwest Arkansas Community College (NWACC) and Minneapolis Community & Technical College can study bikes. The Bicycle Assembly and Repair Technician Certificate program — being offered at both schools for the first time — is an accelerated, two-semester program designed to prepare students for employment in the bicycle retail industry. Over the course of a year, students will learn a wealth of new skills, including extensive bicycle repair and service work, bicycle assembly, service department management and business.
"The world increasingly needs more qualified bicycle technicians, in our area but in many others as well," said Ty Beringer, marketing and outreach support specialist for the new NWACC program. "A lot of times there's been a disconnect between one bike shop and another about what way something should be done — we're going to have a curriculum that helps standardize processes."
NWACC is based in Bentonville, Arkansas, a mecca for mountain biking, and the hope is the new program will help create a talent pipeline for the region. In an industry that's predominantly white and male, the college is also trying to encourage diversity from the get-go by offering scholarships for accepted students who identify as Black, Indigenous and/or a person of color (BIPOC) and/or lesbian, gay, bisexual, transgender and/or queer (LGBTQ). The hope is that the scholarships, which are funded by the Walton Personal Philanthropy Group, will break down some of the barriers associated with the program and encourage students from historically marginalized groups to consider the bicycle industry as a career path. 
The program itself will be half lecture-based and half hands-on, with students taking classes on everything from "Business Organization and Management" to "Public Speaking" to "Electric Bikes." In charge of Bentonville's program is Sean Owen, an industry veteran who's been a service trainer with Trek for more than three years (Casey Coughlin will head the program in Minneapolis). By offering classes that tackle basic business acumen alongside mechanics, both technician programs hope to ingrain students with a degree of professionalism in what's often perceived as a more casual industry.  
Due to the full-time, relatively intensive nature of the program, Beringer sees those leaving high school with a passion for bikes as the best fit, although he's quick to add that folks of all ages and from all backgrounds should apply. In addition to the option to transition the certificate into a two-year associate's degree, graduates will gain access to a password-protected job board with gigs from bike shops, companies and manufacturers alike. No matter the job, the minimum salary will be set at $32,000 a year, a reasonable jump over typical bicycle technician pay, which often starts at minimum wage.
"The idea is that [this job board] will have a ripple effect across the bicycle industry, which a lot of times under pays their technicians," said Beringer. "We're hoping that this can be a bit of a culture shift so that not only our graduates, but all technicians, are able to get paid better wages."
The job board will be maintained by the Bicycle Industry Employers Association (BIEA), the brainchild behind the accredited bicycle technician program. BIEA is a volunteer-run nonprofit that launched in 2019 with the goal of creating a diverse pipeline of talented students and professionals to help the bicycle industry thrive. Composed of longtime industry professionals, BIEA has spent the last year raising funds and partnering with organizations to develop the accredited programs in Arkansas and Minnesota this fall (PeopleForBikes supported BIEA with a grant in 2020). 
"It was clear that there was an opportunity for a much more robust educational experience for the bike industry, as well as a diversity strategy that could create success," said David Olson, chair of the BIEA board.
For the nonprofit, partnering with community colleges offers the best fit: Not only does it allow for a more diverse reach — according to nonprofit the College Board, 51% of community college students identify as non-white — but tuition is also much more affordable than at traditional four-year institutions. In contrast to private bicycle technician schools, such as the U of Q Institute or the United Bicycle Institute, community college students are eligible for financial aid and federally backed student loans. By fall 2024, BIEA plans on having the same program up and running in five additional states, representing all of its seven U.S. regions. 
"We're looking at areas that can pull students in from a broader geographic range," said Olson. "We've had different places reach out to us representing schools, so there's a lot of excitement."
The BIPOC and LGBTQ scholarship opportunity for students at NWACC is just one aspect of BIEA's plan to help bring people of all backgrounds and identities into the industry's fold. The organization is also partnering with the National Interscholastic Cycling Association (NICA) to eventually offer a diversity scholarship for young women and people of color. 
"The traditional entry point in the bike industry — whether it's on the professional, vendor, distribution or manufacturing side — is bike shops," said Olson. "I think that's led to an exclusiveness of the bike industry, and that's why we see such a lack of diversity. Close your eyes and picture the person working in the bike shop. Who is that?"
For women, minorities and other groups not typically represented in bike shops across the country, education offers a neutral entry point. Olson emphasized that BIEA seeks to empower these groups with confidence and a hard skill set, shaping the future of the bike industry and creating long term change. Since all of BIEA's technician programs will be brand new, they have the unique opportunity to diversify from the outset — the flip side is that targeted outreach is essential. 
In Bentonville, Beringer has been reaching out to both bicycling and non-bicycling community organizations that serve historically underrepresented demographics. For example, he recently took a cohort from Arkansas Latinas En Bici, a local group that's all about empowering Latinx women through bikes, on a tour of the new program facility. Even if the outreach doesn't solicit more applicants, the goal is to extend an open invitation and signal to groups that their presence and input is welcome. 
"In a lot of places cycling looks just one way and we want our program to reflect the community that it's in," says Beringer. "We're really interested in making cycling and the bike industry a bit more accessible and approachable."