April 25, 2019
How to Grow the Bike Community: 3 Ideas from Tamika Butler
By: PeopleForBikes Staff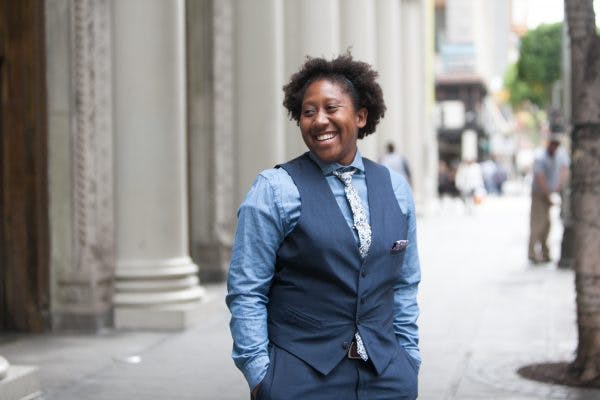 Tamika Butler
At PeopleForBikes, we believe we can all do more to grow the cycling community. We've been doing the work for nearly 20 years and we want to keep the momentum going. We're committed to improving inclusiveness in our messaging, broadening the audiences we reach, and increasing our staff diversity. Join us as we learn from various voices in the cycling community. Together, we can turn what we learn into action. Follow our series on inclusiveness.
Tamika L. Butler Esq., a civil rights attorney and former executive director of the Los Angeles County Bicycle Coalition, recently joined Toole Design to serve as the Director of Planning in California and as the company's Director of Equity and Inclusion. With a background in nonprofit leadership and transportation equity, Butler believes better listening, thoughtful language, and ongoing courage are vital for improving city infrastructure.
1. Listening
Butler says it's important to meet people where they are when it comes to inclusiveness. "When I came on [at Toole Design], I spent a lot of quality one-on-one time with the folks…to get their sense of where things were." This sentiment holds true for both the people she works with in the office, and the people she works with in the field. "I would never go into a community and say, 'you should do this, you should do this,' without first spending time there and getting to know the people, and trying to understand where they are and where they want to be." Coming into a situation and pointing out everything that's wrong is counterproductive. "I'm really [about] trying to listen and assess."
2. Thoughtful language
Much of Butler's work with equity starts with language. Low-income communities and communities of color may have different definitions of stress. When building a low-stress bicycle network, traffic, lane size and crosswalks are only part of the issue. "For me to be a queer black woman riding a bike that some people think is too expensive to be my bike, with a hoodie on — what kind of stress does that bring?" Butler asks questions about different causes of stress. "Where one area might be calmer when it comes to traffic, it might not be calmer when it comes to gang territory and street harassment. The stress of being a young person or a woman in that area is the reality of knowing why you don't go down certain streets — no matter if there's a bike lane there or not."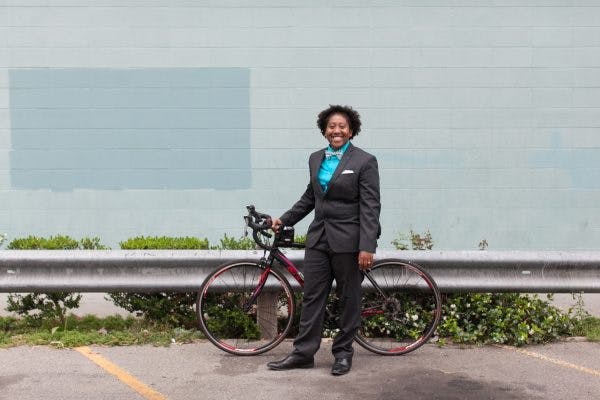 3. Courage
There's logic in borrowing best practices from European cities, but sometimes those comparisons can be overwhelming, especially when state and local programming isn't working the way some hoped it would. Thinking about Vision Zero, Butler says, "In a lot of ways it's a great name: who doesn't want to get down to zero deaths and be visionary about it. But in other ways we can already see that it hasn't worked out the way we planned." Infrastructure in another part of the world can't necessarily speak to the deep historical issues and context present in the United States when it comes to something like enforcement. That's why approaching transportation work with a justice lens is so important. More people are starting to be aware of mobility justice, but Butler says because it is relatively new, there's no single city to point to that has truly integrated mobility justice into their transportation work. What we can do is continue to work with an equity lens — be creative and thoughtful as we think about changes to laws and infrastructure moving forward. Maybe most importantly, keep inviting a variety of voices to the conversation about how a city works and how to make it fair, equitable, and safe for all.