April 19, 2019
How to Grow the Bike Community: 3 Ideas from Athlete and Advocate Ayesha McGowan
By: PeopleForBikes Staff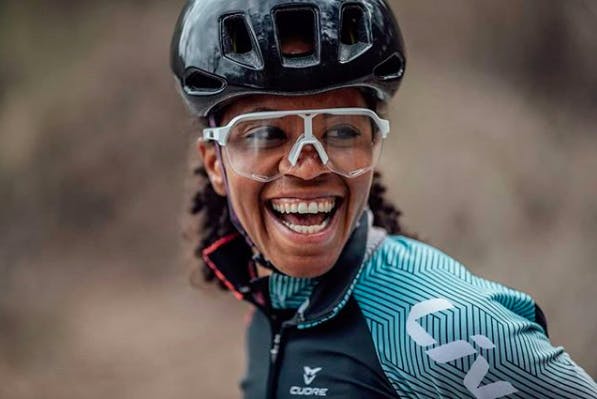 Ayesha McGowan.
At PeopleForBikes, we believe we can all do more to grow the cycling community. We've been doing the work for nearly 20 years and we want to keep the momentum going. We're committed to improving inclusiveness in our messaging, broadening the audiences we reach, and increasing our staff diversity. Join us as we learn from various voices in the cycling community. Together, we can turn what we learn into action. 
Ayesha McGowan is an elite-level bike racer on a mission to become the first African American pro female road racer. She's coached by Carmichael Training, and has a growing list of top sponsors. She's recently contributed to Bicycling Magazine and has been featured in Outside Magazine, and in ad campaigns by Jeep, Oakley and Nike.
Work together
McGowan created a virtual ride series called Do Better Together, complete with printable bib numbers and prizes. The idea is to join people from near and far to share an experience. The focus is especially on empowering women of color, but anyone is welcome to join. She does actual in-person rides for folks are in her geographic area (Atlanta, Georgia), and encourages everyone else to join in virtually.
"I've added Zwift rides so that I can ride with people all around the world in real-time." McGowan encourages people to be part of something bigger.
Representation matters
McGowan continues to put her whole self into racing and achieving her professional cycling goals, but she's also endlessly excited about her role in widening the field. "Racing is really exciting, but I'm just as excited about representation projects that I'm able to be a part of." McGowan is fueled by recent conversations around representation — positive and negative — just the fact that people are talking about it. "Things are happening, and I'm really proud of and excited for all of it."
She appreciates the ability she's had to tell her story, but admits she doesn't want to be the only one driving the progress. "I want people of color to be hired, to make decisions about how to tell the stories. What I'd love is to work with creatives — people of color — who can do the important work of representation with me."
In addition to telling her own story, McGowan has a mission to help everyone realize that there are a lot of incredible people of color constantly doing awesome and impressive feats. "It's great to get all of the exposure — I love it — but what I love even more is to spread that around. There are so many people out there doing amazing things."
Even beyond her own goals as an athlete, McGowan thinks a lot about how she can influence the whole experience for others. "I think about Althea Gibson. She was awesome at tennis — the first one to cross the color line — and that was great. But then you get the Williams sisters, who come along and just knock all of that out of the park." McGowan says that doesn't make Gibson any less awesome, it just means she helped break down the door, and now so many others get to stomp all over that door. "That's my dream and goal. I think I'm cool — I work super hard and I'm still not the best bike racer in the world — but there's somebody who's going to be a much better athlete than me, and that's what I want to see."
Help someone join the community
There are a lot of assumptions made all the time about who would want to ride a bike, or race a bike, or try something new. "If you have an opportunity or an extra bike, don't assume what people can do or what people want to do. Invite someone. Don't decide for them that they aren't going to be into it or that they'll say no." McGowan says — as most people can — that she's tried plenty of things simply because someone asked if she wanted to. "Just ask: just give someone the opportunity to say yes."