June 10, 2020
House Transportation Bill Proposes Major Increases for Federal Bike Programs
By: PeopleForBikes Staff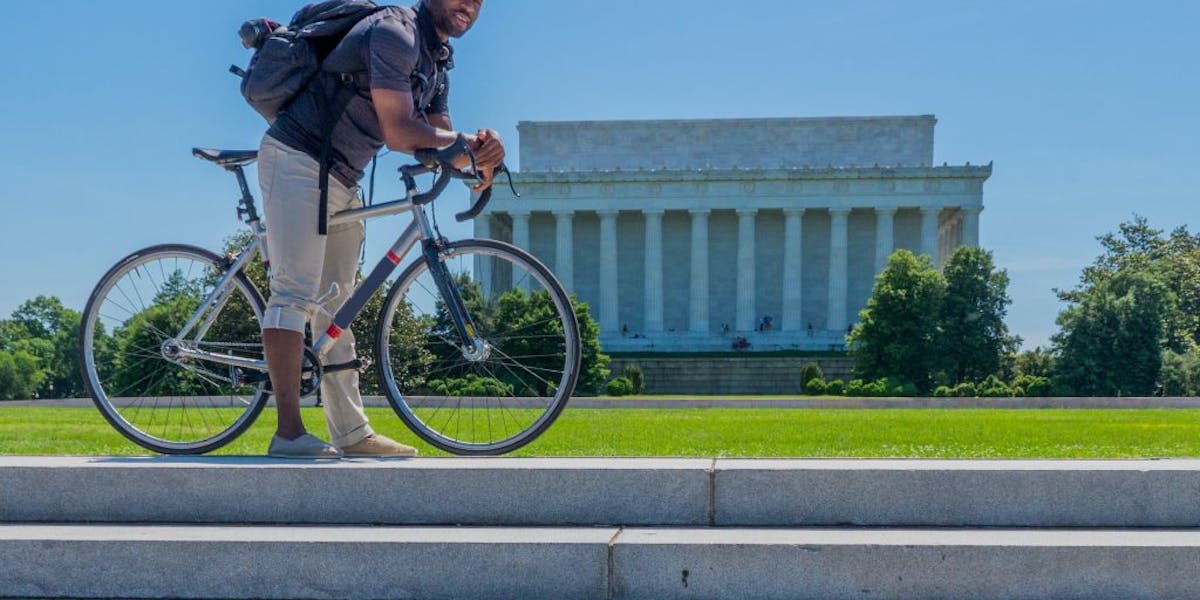 Man standing over his bicycle in front of the Lincoln Memorial
UPDATE: On July 1, the U.S. House of Representatives approved a sweeping $1.5 trillion infrastructure package. The broader package addresses American infrastructure needs ranging from energy, water resources, housing, telecommunications and the $494 billion transportation bill outlined below. Included in the package is the Bicycle Commuter Act (H.R. 1507), which would reinstate and expand commuter benefits to cover electric bicycles and bikeshare at up to $54/month. The bike industry and our grassroots network's continued advocacy for this provision was crucial to building support in the House, and with your help we can help make turn this bill into law: take action here.
The wins we've highlighted below remain the same in the infrastructure package. Now, we're advocating for these policies to be included in the Senate's version. A bipartisan transportation bill moved through a Senate committee last year and it might soon head to the Senate floor for a full vote. From there, the two chambers will negotiate on the differences, and we'll be pushing for bikes every step of the way.
We're finding hope in a new bill released by the U.S. House Transportation and Infrastructure Committee that would significantly increase federal funding for bikes. PeopleForBikes and our partner organizations worked steadily to ensure that this legislation addresses the growing need for carefully planned and constructed bike infrastructure that will help people get where they need to go safely and reliably.  
For the last five years, PeopleForBikes' member companies have traveled regularly to Capitol Hill and invited elected officials to their businesses to convey the story of bikes as a low-cost, energy-efficient and convenient transportation option for the 21st century. The bike industry can be proud of its role in convincing legislators to support bicycling and our businesses. Policies in the Investing in a New Vision for the Environment and Surface Transportation (INVEST) in America Act represent a vision for the future that will help move our nation forward by improving mobility systems through unprecedented funding for bikes. 
"We've successfully asked our federal lawmakers to dedicate robust funding levels to build expanded and connected bike networks," said PeopleForBikes COO Jenn Dice. "Cities and communities that create better bike infrastructure have realized economic gains in tourism, retail sales and new business development. The INVEST in America Act would help cities and states provide everyone with more options to get where they need to go quickly and safely by building more and better bike infrastructure." 
The bill offers meaningful investments that would enhance and expand bike and mobility networks, leverage bikes as part of a solution to climate change and focus on bicycle and road safety through dedicated funding and research. Significant provisions include: 
$83 billion in 2021 for stimulus funding that would remove traditional cost-sharing match burdens on local communities when advancing projects and preserving jobs in the wake of COVID-19. A 100% federal grant means that cities and states can quickly invest in and prioritize projects like temporary street closures and pop-up bike lanes as well as more permanent bike facility construction.
A 60% increase in the Transportation Alternatives Program, the largest federal funding source for bike infrastructure. This will help construct and maintain protected bike lanes, road safety features, trails and more. It will also reduce the red tape that stops or slows infrastructure projects created by local planning agencies.
$250 million for the new Active Transportation Connectivity Grant Program that would fund regionally connected mobility networks. The inclusion of this new program is a huge policy win and we're hopeful the final bill will include additional funding throughout the five year authorization.
Safer streets: States will be required to create a vulnerable road user safety assessment which would inform why certain areas are more dangerous for bikes, focus investment in places with higher levels of injuries and fatalities and ultimately make roads safer for bikes.
$250 million for a new Community Climate Innovation Grant Program which includes funding for bike projects as a part of climate change solutions. Safe, connected bike infrastructure offers low-cost and equitable transportation options for more people, and ultimately, a solution for communities looking to reduce greenhouse gas emissions. 
As Congress develops a final bill to fund our nation's transportation projects, we will continue to work with industry leaders, congressional allies and partners to ensure a strong, bipartisan bill that funds the development of complete bike networks and improves mobility, equity and health for all. 
PeopleForBikes appreciates the work of our partner organizations in advancing this bill. Thanks to the Rails-to-Trails Conservancy, the League of American Bicyclists, the Safe Routes Partnership, North American Bikeshare Association and others. We're equally grateful for the support of our members in the Bicycle Infrastructure Coalition, comprising companies in the bike industry and advocacy groups working to make the policies included in this bill a reality for communities across the nation.