August 11, 2020
Helping America Recover and Move Forward with Bikes
By: Jenn Dice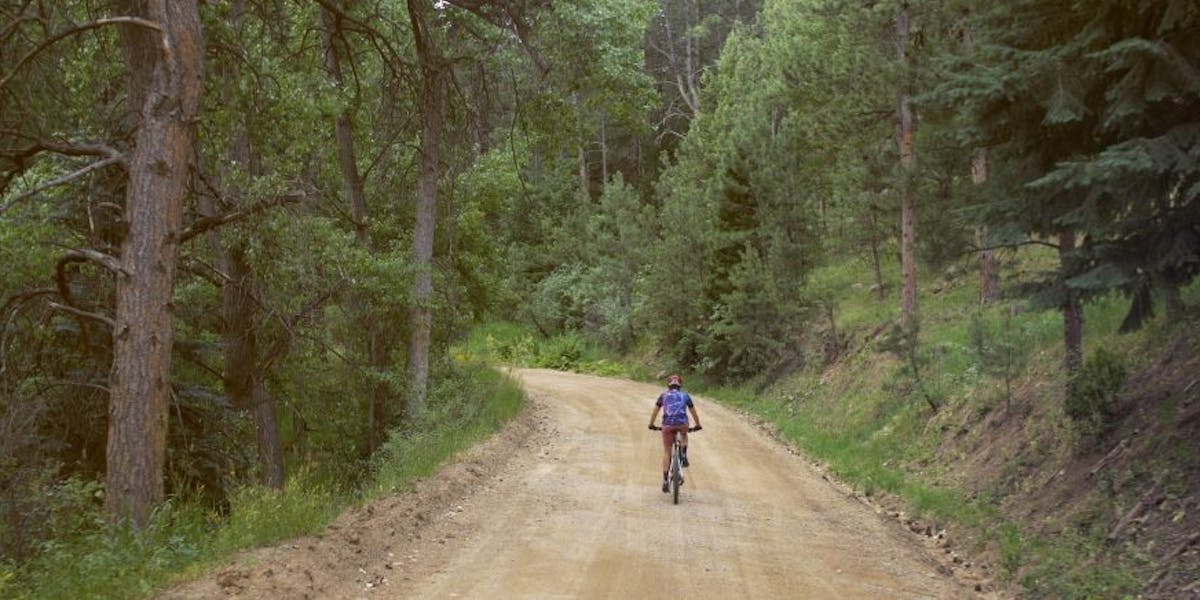 Mountain biker on logging road
COVID-19 has become a universal forcing function across all aspects of American life. Its devastating effects are making us reexamine how we work, gather, learn, shop, dine, access basic services and move around our cities and communities. We have changed our habits, are staying closer to home, reconnecting with our neighborhoods and turning to the bicycle in droves. 
You have seen the headlines and likely witnessed it firsthand — Americans are biking more. For short trips, for family recreation, to access essential services, to avoid crowded public transportation and for a safe and healthy way to simply get out of the house. Since late March, in towns big and small, we have seen an influx of new, returning and avid bicyclists take to the roads and we have officially entered a bike boom. Demand for most categories of bikes has doubled and national bike counters are averaging a 20 percent increase since March in daily riders (up 90 percent in some parts of the country).
More than just riding a bike for recreation and fun, we are witnessing a momentum for bikes as an instrument of change. Bikes can be a smart solution to help improve urban mobility, air quality, traffic congestion and mental and physical health. Bikes can also play an important role in our climate change goals, resiliency planning and mobility justice. 
As the new president and CEO of PeopleForBikes, my vision for biking in America is to emerge from COVID-19 better than before — for bikes, for our communities and for our planet. With your help, we can use this moment in time to make our communities better and safer for bikes. Let's welcome and include new riders and help keep them going. Planning for a better future also means focusing on getting more kids on bikes. It doesn't take much to help them develop bicycling as a lifelong hobby and passion. I believe that bikes can play an important role in helping America recover and we can show cities the many solutions they can provide.
There is momentum for bikes in many places: 
Momentum for Recreational Riding:
With gyms closed and camps and school activities canceled, family and recreational biking is going strong. More than 22 percent of Americans reported purchasing a bike since COVID-19 closures began with 27 percent intending to buy one this summer. Two-thirds of those who purchased a bicycle have children. Further, 85 percent of PeopleForBikes members said they introduced a new person to cycling during the COVID-19 pandemic and predict that 92 percent of these new riders will keep riding even after restrictions are lifted.
There is also momentum in Congress to fund bike-related programs at a much higher level, better connect bike paths to complete networks, cut down the red tape to access federal funding and link bikes to being part of a climate change solution. We have been working around the clock at the federal, state and local levels to increase funding and access for both recreational and transportation riding. 
To keep these new recreational and family riders going, help them discover great rides along with tips, tricks and peer support with Ride Spot. 
Momentum to Better Move Around Your City:
Not since the early 20th century have cities been able to experience life without cars. Clearer skies, quieter neighborhoods, open streets and the opportunity to safely move around a city offer residents the ability to observe their community through an entirely new lens. This renewed sense of community has accompanied a resurgent demand for safe and convenient bike networks nationwide. 
During COVID-19 closures, walking and biking have been among the most popular forms of exercise, and 40 percent of respondents indicate that they intend to walk or bike more often after COVID restrictions are lifted. Even more, there is momentum for changing the way our streets operate to support better biking now and into the future. In a survey conducted in May 2020 to evaluate public support for pop-up bike lane and street closures during the pandemic, 62 percent of respondents supported building bike lanes, 60 percent supported car-free areas and 30 percent supported reducing speed limits in residential areas. With careful, inclusive planning, cities have majority support from residents to build connected, comfortable mobility networks that allow everyone to travel throughout their communities safely.
Cities face an uncertain future: high unemployment, phased school re-openings, limited capacity on public transportation and projected budget deficits only serve to make a better case for why bicycling should become a central strategy to any community's recovery plans. Whether it's via protected bike lanes, traffic-calmed streets, bikeshare programs, bike commuting tax credits or e-bike purchase incentives, there is no faster, cheaper or cleaner way to move around a city than on a bike. We can give everyone more options to get where they need to go quickly and safely by building bike infrastructure into our transportation improvement planning. 
To help people continue to move about their communities safely and conveniently, write your mayor or local elected officials. Thank them for what they have done for bikes and ask them to construct more protected bike lanes, connect existing bike networks and incentivize cycling. Join PeopleForBikes for up-to-date alerts on local policies and legislation that affect biking in your community .
Momentum for Active Transportation, Public Health and Climate Action:
COVID-19 has forced us to look at America's climate, public health and physical activity crises in entirely new ways. Environmental degradation, poor air quality and more than $117 billion in direct and indirect physical inactivity costs were sounding alarms before the pandemic; now they are urgent cries for action.
On the positive side, stay-at-home orders have fostered a renewed interest in walking and biking for mental and physical health. 61 percent of respondents report they are walking more and 44 percent report an increase in bicycle riding. Our research demonstrates more than half of Americans have changed their commuting habits as a result of COVID, and they plan to make those changes permanent — including walking and biking more often.
This change in the behavior of Americans can build momentum towards permanently changing public health habits. With 50 percent of all trips being less than four miles in large U.S. cities, choosing to go by bike instead of car can change our public health habits for the better. Communities are now looking locally and seeking healthy and safe ways to live, work and shop that will have sustaining effects on activity levels and our planet.
To help continue this trend, support policies that prioritize investments seeking to rebuild and repair our cities with clean, green and efficient modes of transportation like bicycling. Bike infrastructure helps us move forward together by relieving traffic congestion, increasing mobility and opportunity and making our cities more livable.
Momentum for Mobility Justice:
We are committed to using PeopleForBikes' collective influence to fight for mobility and racial justice. We believe in our mission of making biking better for everyone, and understand that statement is not felt by many of our fellow citizens. BIPOC Americans who bike are more likely to get hit by cars and feel personally unsafe while on a bike, navigating racial profiling and police harassment among other hurdles.
We know that bikes can't solve racism in America, but we can use our voice, programs and partners within our reach to create positive change. Our goal is to keep the momentum going internally and with each one of our partners to listen, learn and take action. If we want to make sure that bicycling is welcoming and includes bicyclists of all races, abilities, gender and sexual identities, ages and more, we need to start with where we work.
To learn more, read our Mobility and Racial Justice Action Plan or join our PeopleForBikes Ride Spot Ambassador Program. You can help us welcome more people to bicycling and foster a truly inclusive community.
Momentum for the Bike Industry:
For the bike industry side of our work, our vision is a data and technology-driven modern trade association. Our new Business Intelligence Hub has allowed better insights into participation numbers, retail sales and consumer trends. Our COVID-19 Resource Center is full of helpful assets and materials to help bike businesses navigate the COVID business landscape. 
We have more than 70 new members joining our 280 supplier/brand members and more than 100 volunteer leaders steering our work and moving us forward. E-bikes continue to be an opportunity to get new people on bikes, reduce commute travel distances and break down barriers for unlikely cyclists. We also created a new sustainability working group and are partnering with the outdoor industry on climate action. 
To power more and better business and industry resources, and access member benefits, join the PeopleForBikes coalition today.
PeopleForBikes sees opportunity and hope for the future of America with the help of bikes. Through our work at every level of government, from local ballot measures to federal bike  infrastructure funding and stimulus packages, to working with cities on improving mobility and racial justice, we're using our wide-spread influence to prove that bikes can help move our nation forward. But it takes more than one organization, and one CEO, to truly enact lasting change. By working together, we can make that vision a reality and prove that when people ride bikes, great things happen.