May 16th, 2019
How to Grow the Bike Community: 3 Ideas from Top Triathlete Max Fennell
By: PeopleForBikes Staff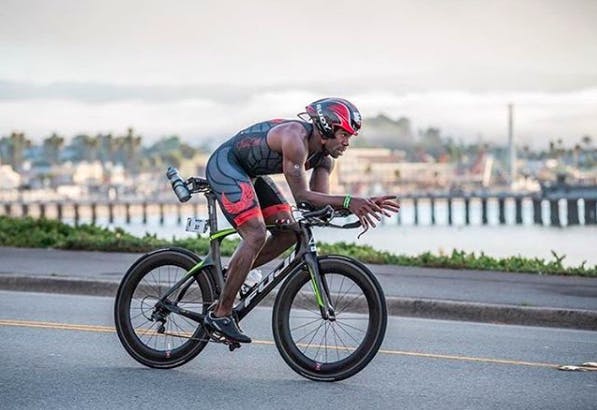 Max Fennell, Santa Cruz 70.3.
At PeopleForBikes, we believe we can all do more to grow the cycling community. We've been doing the work for nearly 20 years and we want to keep the momentum going. We're committed to improving inclusiveness in our messaging, broadening the audiences we reach, and increasing our staff diversity. Join us as we learn from various voices in the cycling community. Together, we can turn what we learn into action. Follow our series on inclusiveness.
Growing the next generation
Max Fennell is a pioneering African American professional triathlete. He's also known as "The Machine" on the CBS elite-athlete challenge show Million Dollar Mile, and in his spare time he mentors young minority athletes through Tri-Masters out of Chicago.
Encourage — don't discourage — kids
If you rode a bike as a kid, you probably remember the charge of excitement you got doing a wheelie or riding off a curb to impress your friends. And you probably remember someone telling you to stop — that it's dangerous. Instead of discouraging kids from doing tricks on bikes, Fennell thinks the industry should foster it. "If you've got kids in every neighborhood of the country ripping around the streets on BMX bikes like I used to, what better way for the industry to market to those kids then to support things like bike parks," Fennell says. If you keep kids interested in bikes from the beginning, they'll likely transition into other versions of biking. "Kids who get a thrill out of doing a trick on a BMX bike might get the same thrill out of jumping on a fixie, or racing a mountain bike. There's a progression."
Create inclusive events and find new partners
When he was getting his start in triathlon, Fennell volunteered with Tri-Masters out of Chicago, and wants to start something similar where he lives in California. The organization started in 1987, when triathletes Bernard Lyles and Alvin Hartley decided to do something to actively get more young African American and Hispanic Americans into the sport. Now that Fennell has found success in triathlon, he feels like it's even more important to support Tri-Masters. Fennell believes that investing in minority athletes is crucial in order to grow the sport, and in order to grow the community.
 Develop roll models
According to Fennell, it's not tough to appeal to a broader audience — especially when it comes to young people. "Reggie Miller rides bikes. LeBron James rides bikes to warm up for basketball. Football players are getting into bikes." Fennell says there's room to target different demographics — to get lots of kids excited about bikes. Marshawn Lynch has already supported SE Bikes with roll-out events in Oakland and beyond. There are all kinds of bikes and all kinds of people at these rideouts — it's about having a good time. Fennell believes this kind of ride, promoted by people who kids already look up to, can get cycling into the hip-hop urban community in a really positive way.