November 28th, 2022
Gravel Biking Is Transforming Small Town America
By: Charles Miller, contributing writer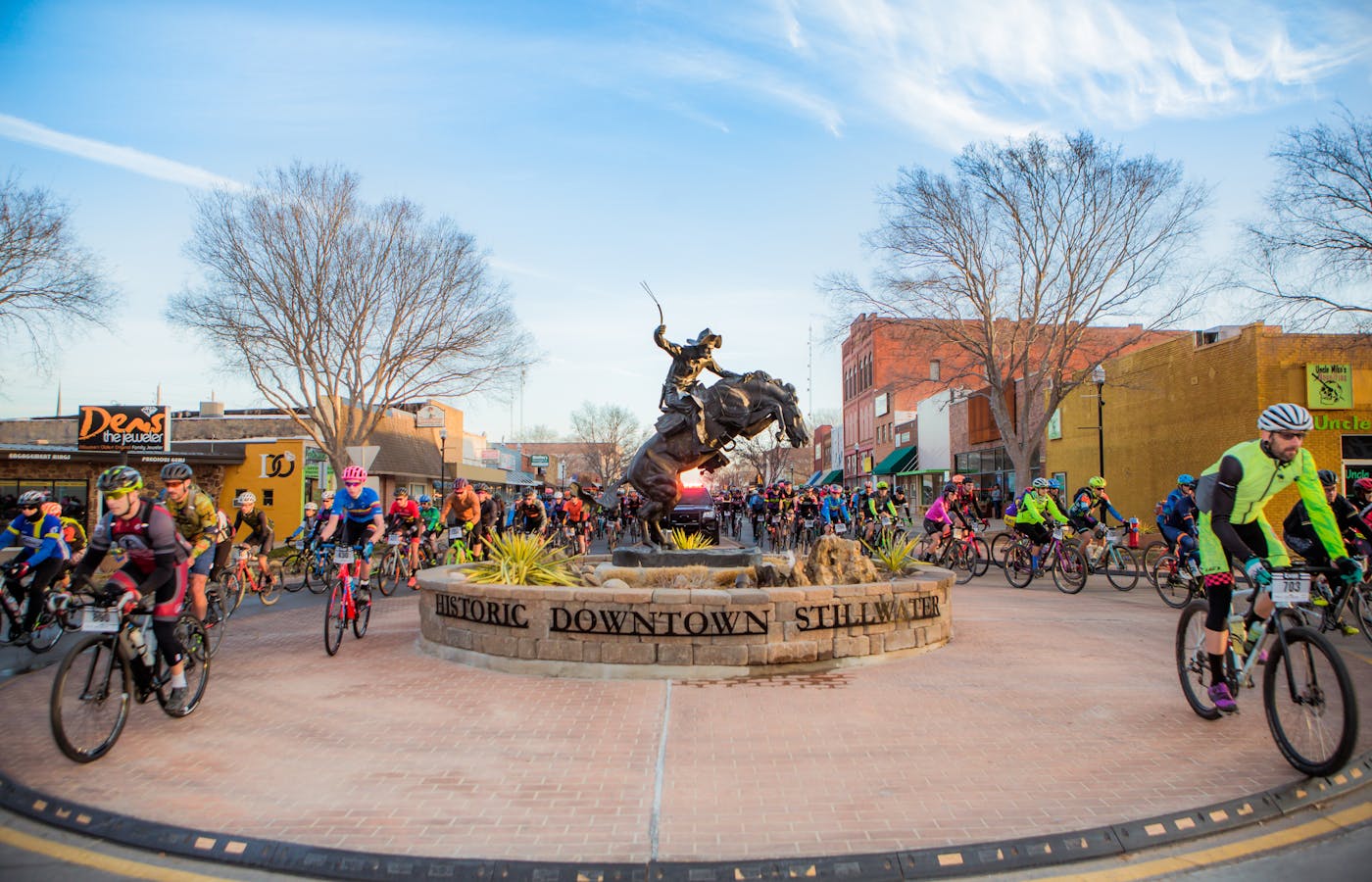 A flock of riders depart Stillwater, Oklahoma, for the Mid South gravel race.
Small towns offer many benefits for gravel biking and racing, but the fastest-growing sector of the bike world also has reciprocal positive effects on the communities.
Gravel biking has a somewhat nebulous definition. It does not mean biking solely on small rocks, but rather exploring any variety of unpaved surfaces, with conditions ranging from smooth forest service roads to rutted out double track. The bikes are multipurpose — lighter than mountain bikes but burlier than road bikes — combining road bike geometry with mountain bike capabilities. With more than two million miles of unpaved roads across the U.S., there are opportunities for gravel riding nationwide. 
Gravel racing, one of bicycling's fastest-growing sectors, features courses ranging from 30 all the way to 200 miles, many winding through smaller towns. Legendary competitions are held in places seldom heard of nationally: Emporia, Kansas; Stillwater, Oklahoma; and Cable, Wisconsin, to name a few. These small towns are uniquely situated for gravel riding because they have old farm roads, nearby public lands, and a sense of mystery that many big city riders are attracted to. Small towns offer many benefits for gravel racing, but gravel racing has reciprocal positive effects on the communities — towns that play host for a weekend can see economic, cultural, and conceptual benefits year round.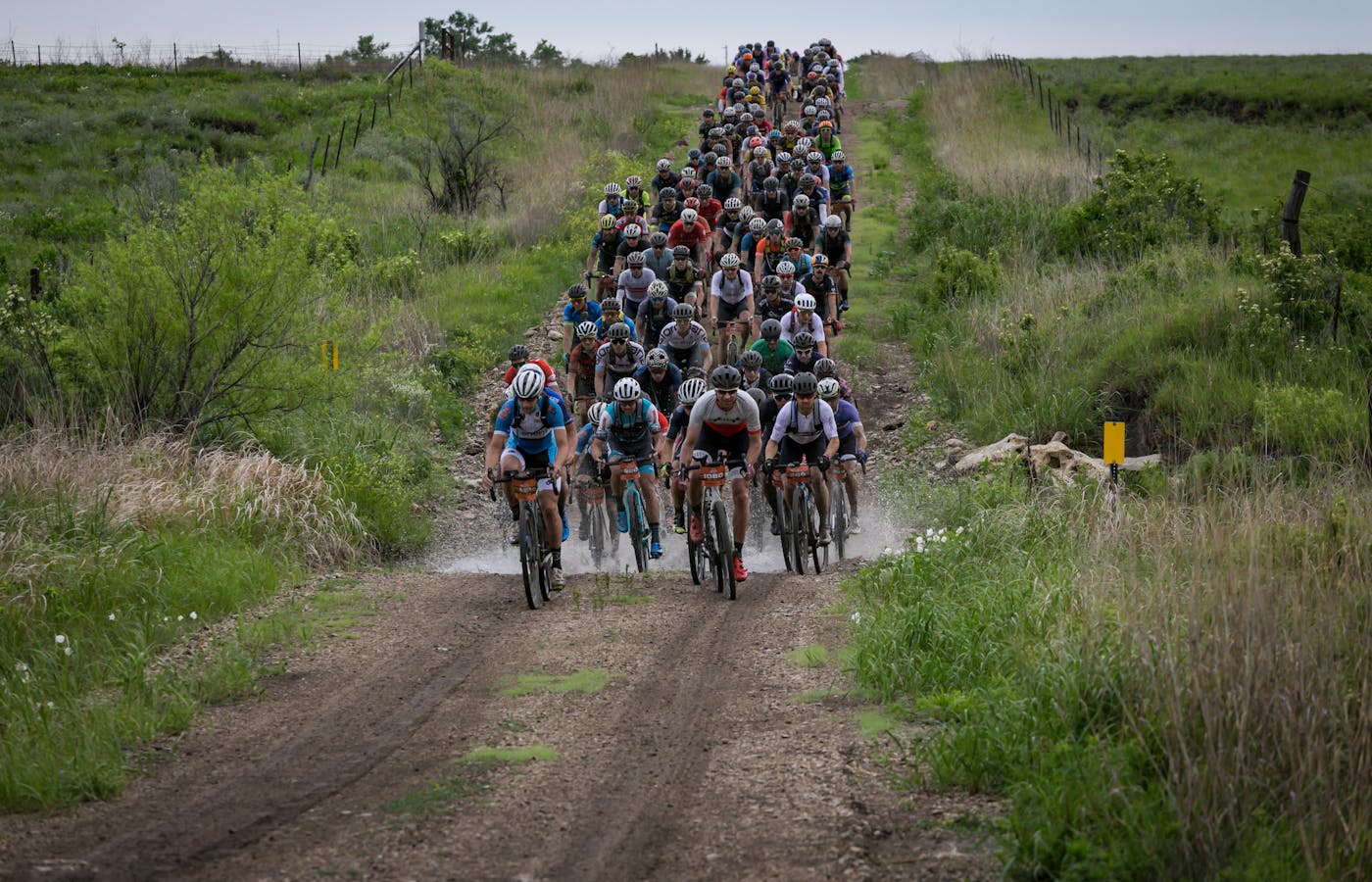 Outdoor recreation is not often associated with Kansas, even less so with the small town of Emporia, located about an hour's drive southwest of Topeka. Visitors love the community in the Flint Hills because of the stellar quality of gravel, the people, and the big annual race. Unbound, a 100-mile race, began as a small ride of 34 people. It has since blossomed into an entire week of celebration with 4,000 riders at the starting line. It is called the world's premier gravel event and attracts pros from around the globe. LeLan Dains, founder of Unbound and a bike shop owner in Emporia, said the biggest gain from this race is the sense of pride locals now feel as a "destination" instead of just a dot on the map. 
People, businesses, and nonprofits have all felt the effects of the event, Gravel City Roasters being a prime example. Operating under their current ownership since 2011, the downtown coffee shop has witnessed the changes in both Unbound and the city as a whole. The owner, Angela Baker, has developed relationships with returning riders throughout the years. As a safe space for the local LGBTQ community, the cafe seemed like a natural option for a fundraiser. The cafe partnered with pros Yuri Hauswald and Molly Cameron to raise funds for Bloom House Youth Services, an all-inclusive shelter for at-risk youth. When they held a shakeout ride on the Thursday before race weekend, the cafe expected 40 or 50 people at most. Instead, hundreds showed up and rode in support of the local shelter. The feeling that Unbound has brought to the town is unique. "Anytime a town organically builds what turns into an international event, there's a lot of community pride that comes with it. The whole town looks forward to it every year," says local Jeremy Johns. His brewery, Radius Brewing Company, in turn helps sponsor a smaller gravel race in nearby Americus, Kansas. These community-cycling partnerships are common, and can often reach farther than the small town itself.
Kansas is also home to a burgeoning NICA (National Interscholastic Cycling Association) league, currently in its second year. There are more than 200 competitors, with two dozen in Emporia alone. Cycling is becoming a sport starting at younger and younger ages in Kansas. Bikepacking routes are also being developed across the Great Plains, creating more access to the unseen natural beauty of the region. People have moved to Emporia solely for gravel biking. A prime example is what Dains called "the tale of two Bobs." Two remote business owners from opposite coasts moved for the friendly small town and the Flint Hills. The draw of small towns, for cultural and recreational reasons, has only grown since the COVID pandemic with the explosion of remote work.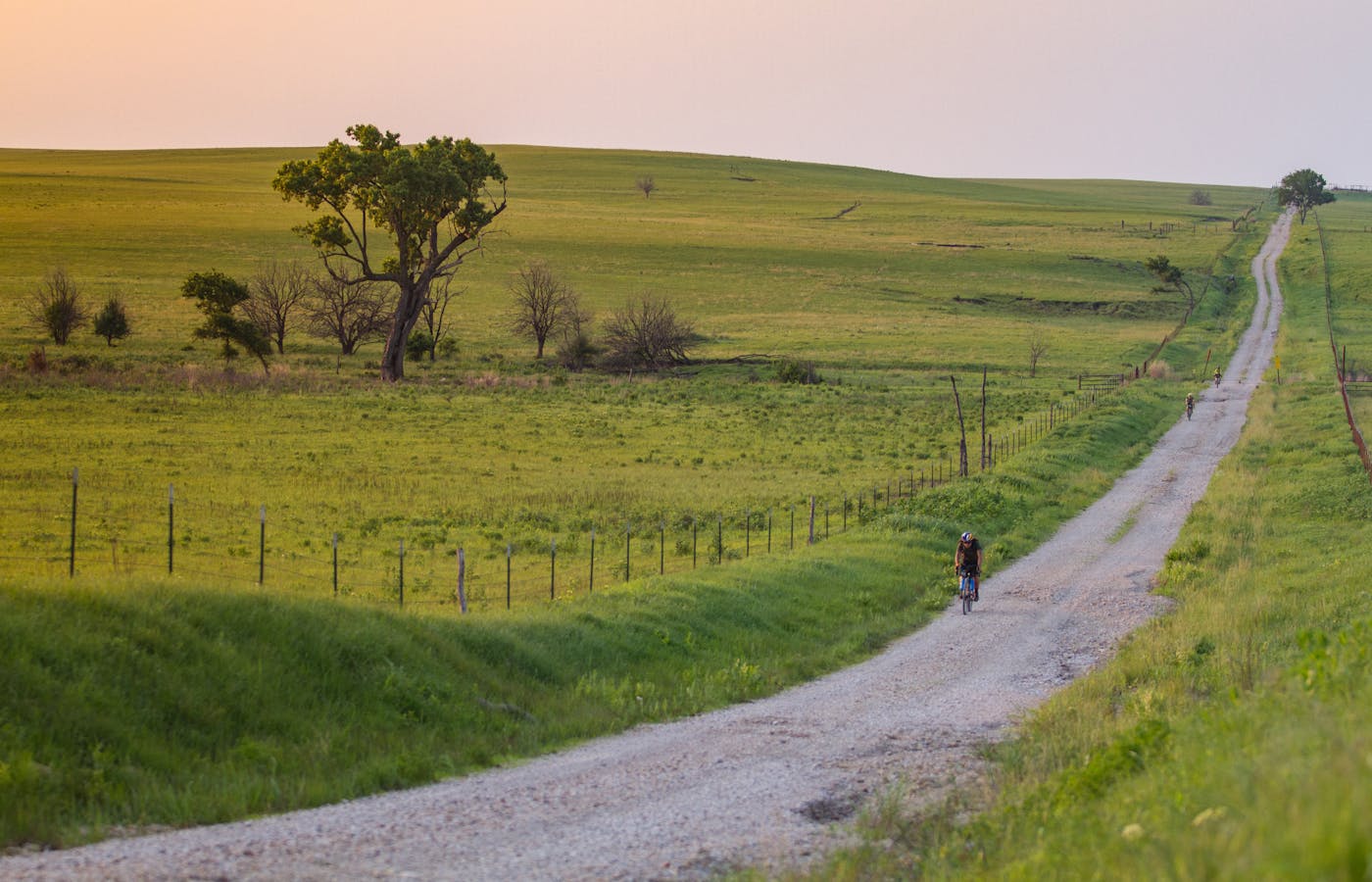 Gravel biking creates economic change, especially in small towns like Emporia. 4,000 riders race, but the actual number of people coming into town for the event is much higher. The Flint Hills of Kansas become engorged for race weekend with more than 25,000 out-. A 2018 study by Penn State put the economic impact of the weekend at $5.5 million. The sales tax, restaurants, hotels, grocery stores, and of course bike shops all share in the dollars flowing for Unbound weekend. This doesn't count the number of people who come for a week before or after, as all of the professional riders interviewed for this story did. Visitors often return as well, both annually and more frequently. 
Gravel riding can bring people to small towns for both sanctioned events as well as training rides. Training for longer rides usually involves getting off the beaten path, meaning riders get to become familiar with small towns, and see changes that most people in a city wouldn't otherwise notice. The small Texas town of Castell hosts the Castell Gravel Grind, a 550-person race that sells out within the first hour or two registration is open. The unique Hill Country topography and proximity to Austin and San Antonio make Castell a hot-bed for out-of-town visitors . Many stop at the local gas station/saloon/restaurant, the Castell General Store. This historic building is in turn supported by the race's nonprofit partner, the Castell Preservation Association. This community ethic is reflected in the races themselves.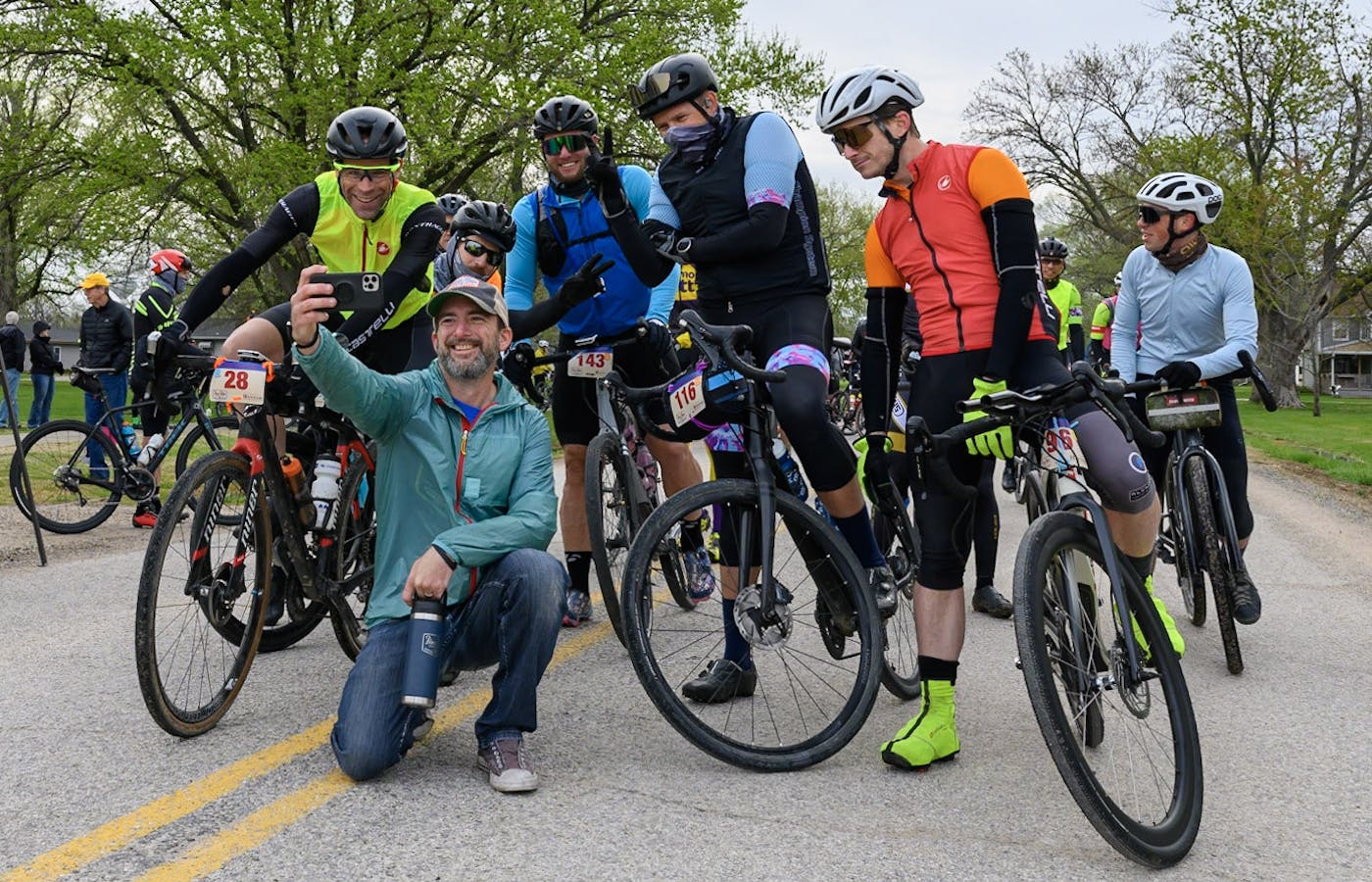 The biggest difference many professional racers note from road events is that gravel races feel egalitarian and community-driven. Everybody lines up at the same start line at many races, and people are there to complete a race with their friends instead of competing. In the words of professional racer Ryan Standish, "Gravel is much more communal. People are there for fun and to race with their buddies at the end of the day." This communal feeling means tight-knit communities provide a perfect stage.
The cultural and economic changes gravel cycling brings are abundant for these small towns. Community members can have a positive local event to hang their hat on and urbanites gain a new appreciation for small towns off the beaten path. This appreciation can be expressed in return visits for training rides, learning new history, and interacting with people they wouldn't run into in everyday life. Gravel cycling has grown 109% over the last few years, and the opportunity to ride in safer, but still wild, environments means it is more than a passing trend for those looking to get out there explore by bike.