January 7, 2019
Fort Collins' Programming Shines
By: PeopleForBikes Staff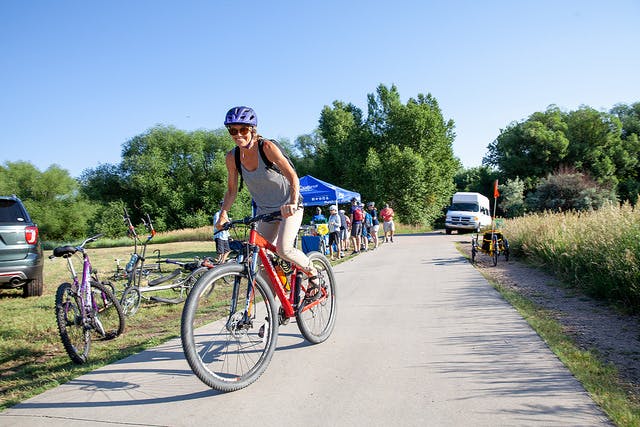 Biking to Work in Fort Collins
Fort Collins, Colorado, is working full speed ahead toward a more complete network, with even more people on bikes. In addition to new infrastructure on the ground, they've also focused on outreach and programming. Tessa Greegor, manager of FC Bikes, says that the outreach is really the activation piece — promoting the use of what's in place is as important as getting the physical projects completed. Recently, that's come in the form of a variety of events that encourage people of all ages and abilities to get on bikes.
Working in collaboration with the City of Fort Collins, FC Bikes facilitates two bike-to-work day events each year, which include dozens of free breakfast stops. In 2018 8000 people participated. They also hold Open Streets events — afternoons when streets are designated for bike and pedestrian use only. This past summer one such event took place in the Big Jump area, and highlighted the opening of a corridor that connects to numerous other paths and low-stress routes.
"We strategically select Open Streets routes that we consider walkable and bikeable on a daily basis," said Nick Heimann, Program Specialist with FC Bikes. "These events allow people of all ages to explore their neighborhoods and their amenities by bike or other non-motorized transportation modes."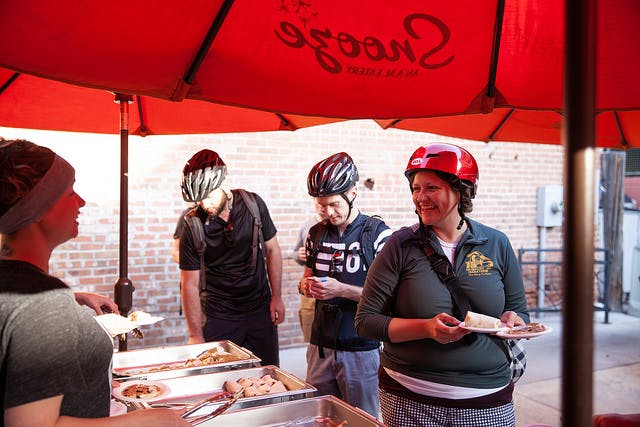 Investing in the youth
Another program tactic this past year has been working with neighborhoods and schools. Jamie Gaskill, Program Specialist at FC Bikes, said that FC Bikes conduced a variety of surveys to ask residents in the Big Jump area what would inspire them to ride more often. The surveys revealed that in addition to family-focused rides, people overwhelmingly wanted bike maintenance events.  A series of neighborhood pop-up maintenance stations was launched so that people could quickly and easily get help. "People could bring their bikes down the street and we would tune them up," Gaskill says. According to Gaskill, providing the bike maintenance helped many residents overcome a common obstacle to riding – having a bike in their garage that needed some work.
The pop-ups were typically followed by some other form of activation, such as a group ride or bike rodeo clinic to teach children about bike safety. FC Bikes partnered with Safe Route to School and offered family-oriented programming at schools in the Big Jump area and according to community member and parent E. Cody Bentley, it's made a difference. "During the warmer months, one in three kids bikes or walks to school. The after-school rodeo has been great because it gives kids a chance to practice [bike skills]," Bentley said.
In another effort to create bike safety messaging and involve young people from the Big Jump area, FC Bikes conducted an art contest for children. Kids were given a theme, and then came up with art to go with the message. At an Open Streets event, the community voted on their favorites. The top-two picks for each theme were made into signs to that are being used to educate people about street safety. This strategy really engaged the kids because they got to learn about safety through the messages and now their work is helping others in the community learn those principles.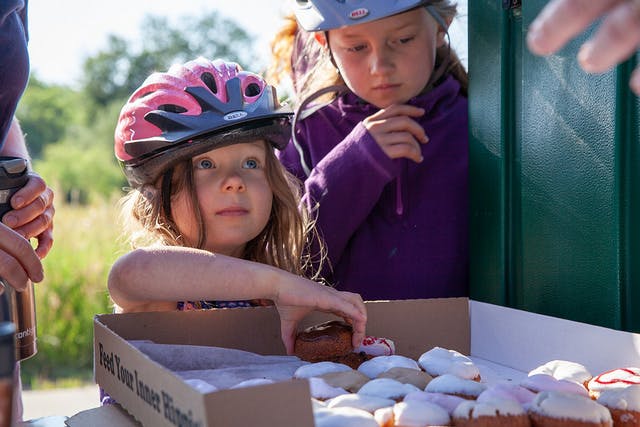 Family events
In the spring of 2018, Bike Fort Collins helped to put on several events in a variety of neighborhoods. A bike fair was held in the Village of Plum, an affordable housing development within the Big Jump area. The fair featured helmet giveaways for riders of all ages, lights, maps, bikeshare information and passes. There were also 9 bikes of various sizes given to attendees in a random drawing.
Fiesta de Movimiento Comunitario de Hickory Street had a huge turnout, and featured free instruction on safe handling skills, supervised workouts on the pump track, and hundreds of multilingual promotions.
Bike decorating paired with a group ride is another example of how to get families on bikes together. In December FC Bikes puts on an annual event called Holiday Lights by Bike. This past December nearly 100 people gathered at Intersect Brewing for an evening of refreshments, bike decorating and touring the neighborhoods by bike to see houses decked out with lights. There is a palpable camaraderie and sense of community building at these events — it feels like one big family.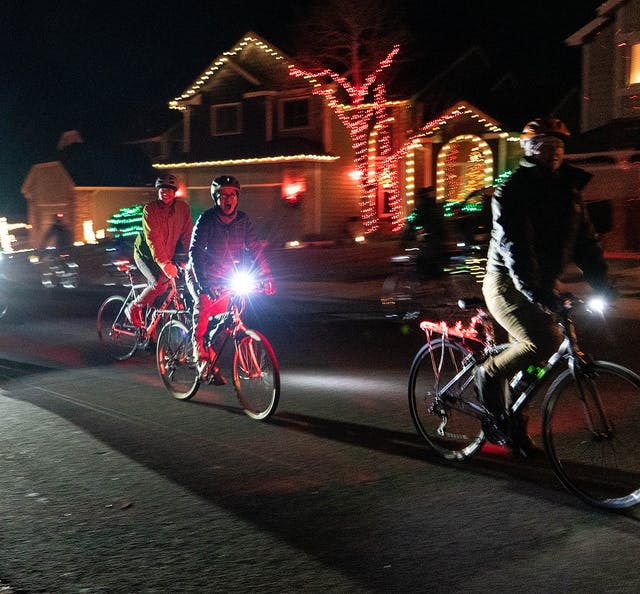 Continuing education
In addition to outreach to the Big Jump area schools, FC Bikes has also been working with other populations that are underrepresented when it comes to bikes and bike infrastructure. This past summer FC Bikes saw record attendance in their learn-to-ride classes for adults. Colorado State University is within the Big Jump area, and FC Bikes partnered with the university to reach out especially to international students. A group of 15 female international students who wanted to learn how to ride a bike for the first time met for three sessions of instruction. After these initial sessions, several female bike ambassadors continued to work with the group of women on their skills. With help from CSU's Surplus Property, FC Bikes was able to get some of the women bikes of their own. The transformation that these students went through, and the level of empowerment that they gained just in learning to ride a bike, was life-changing.
In an effort to educate about biking as part of a complete network of transportation, FC Bikes has been working with CSU to pilot an online education module about transportation options and safety targeted to incoming students. The goal is to educate about all modes of transportation and how to use them safely. The team working on the module hopes to eventually make the module a mandatory part of every student's onboarding.
Also on the continued education front, FC Bikes has worked with Transfort, the City's transit service, and the Poudre School District transportation department to educate their bus operators via the Bicycle Friendly Driver Program. In 2019, Fort Collins' patrol police officers will go through the training as well. The course covers concepts like how to navigate bicycle related infrastructure and how to avoid the most common bicycle-motor vehicle crashes. Public sessions of the course are also offered, and FC bikes has received positive feedback about the program from across the community.
Fort Collins continues to prove its commitment to creating better biking infrastructure, and in terms of activation, outreach is the name of game.