January 26, 2018
'Floating' Bus Stops Made of Plastic Panels Hit the Street in Oakland
By: Michael Andersen, PlacesForBikes staff writer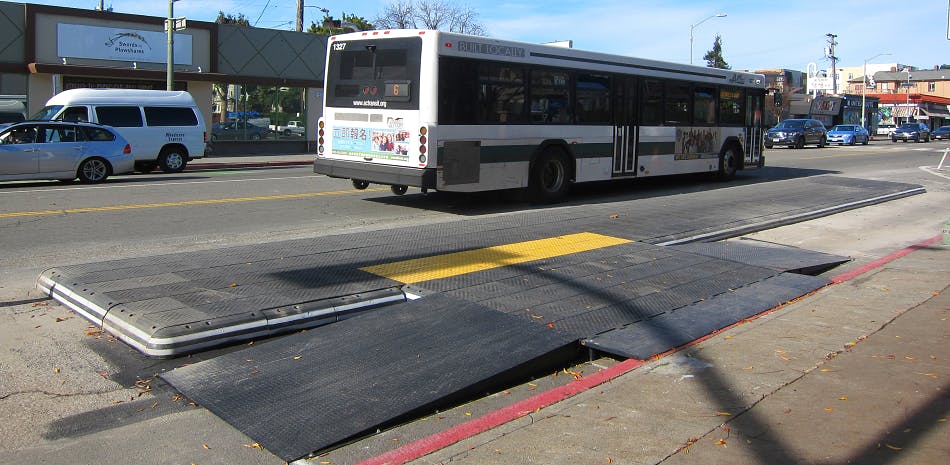 That's a protected bike lane behind the bus stop.
The "floating bus stop" has been part of streets around the world for years. This month, a new twist is helping it spread in the United States, too: mass production.
Barcelona-based firm Zicla made its name by molding recycled plastic into durable Zebra separators that can be bolted to the street to protect a bike lane. On Jan. 10, several installations of the company's newest product, the modular Vectorial platform, were installed on Oakland, California's Telegraph Avenue.
In a sense, these platforms are mass transit's answer to plastic bike lane posts–the kind used to mark off space for protected bike lanes until a city can install a permanent concrete curb.
Like the posts, modular floating bus stops make street changes quick, cheap, visible and inherently flexible.
Floating bus stops seek to make both biking and busing better by removing the need for buses to pull to the curb, often across a bike lane, to load and unload. During rush hour on a crowded street, buses can linger for a minute or more waiting for a chance to pull back into the travel lane.
A floating stop is different: it can jut into the roadway, letting buses stay in their travel lane. People biking, meanwhile, can comfortably continue along the curb. The channel between bus platform and sidewalk functions as a crosswalk, obligating people biking past to yield to people moving to or from a bus.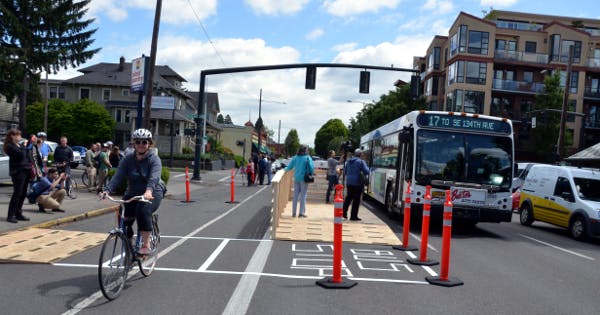 "The boarding islands give the bus—and Oaklanders on the bus—a head start on the street," said Sarah Fine, an Oakland city planner. "We're excited to be introducing these priority treatments that will help keep our bus riders moving, even in traffic."
Improving bus speeds has been one of Oakland's big goals for Telegraph Avenue, the main arterial between its downtown and central Berkeley, to its north. In 2016, the city redesigned nine blocks of the street, converting an auto passing lane to protected bike lanes and improving crosswalks. After the changes, pedestrian volumes doubled, bike counts rose 78 percent, traffic collisions fell 40 percent, retail sales rose 9 percent and the median auto speed declined to the speed limit. But the changes had one downside: bus speeds slowed, too, and bus ridership dipped.
Fine said each Zicla platform cost $50,000 to purchase and install. During the trial, the city will be able to test their effects.
Then next year, she said, they're due to be upgraded into nicer concrete platforms, along the lines of this design in Barcelona: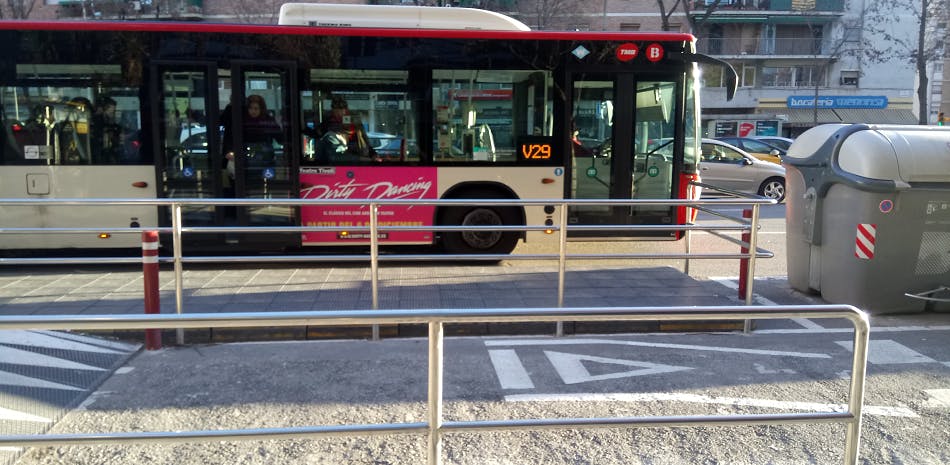 Zicla's Vectorial design, like those of many permanent floating islands, raises the crosswalk between sidewalk and platform. That creates a sort of speed bump for people biking and cues them to yield for people walking.
"Concrete islands are actually funded and in design but a year or so out," Fine said. "When we implement the concrete islands, we'd love to be able to reuse the interim islands in other locations."