July 2, 2020
Find Your Next eMTB Adventure – Florida
By: Ashley Seaward, deputy director of state + local policy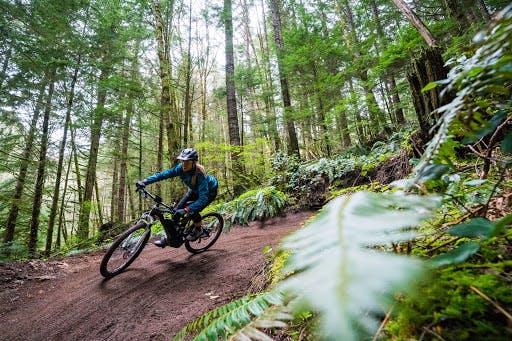 New policies are allowing electric mountain bikes more access to trail networks.
Electric mountain bikes (eMTBs) allow for all members of the family to join in on the fun of mountain biking. Trail policies around the country are slowly being updated to allow some e-bikes in areas where traditional bikes are permitted, increasing access for eMTB riders looking for a great trail experience. 
As these policies continue to evolve, we want to make it as easy as possible for you to understand where you can ride your eMTB. That's why we're tracking eMTB access nationally and publishing the data on our online map. This map is your one-stop shop to learn where eMTBs are allowed and what e-bike friendly trails are closest to you. 
To help plan for your next big adventure, PeopleForBikes will be taking you from coast to coast, highlighting some of our favorite eMTB trails. To kick off this series, we'll be starting in Ocala, Florida at the Santos Trail System.
Florida has recently become a powerhouse state for e-bikes, as it has clearly defined e-bike policies for both on the road and on the trail. In addition to Florida being the 28th state to adopt PeopleForBikes' three-class e-bike classification, Florida State Parks also allow Class 1 eMTBs wherever bikes are allowed — including the Santos Trail System. The trail system includes more than 80 miles of beginner to expert singletrack trails suitable for everyone's ability and skill level.
Check out Santos and other great places to ride your eMTB by exploring our eMTB map. Want to learn about other great rides outside of Florida? Be on the lookout for our next eMTB adventure blog. Lastly, don't forget to share your adventures on two wheels with your friends on Ride Spot.