March 13, 2018
eMTB Demo Program Part Three: Todd Seliga, Grand Canyon National Park
By: PeopleForBikes Staff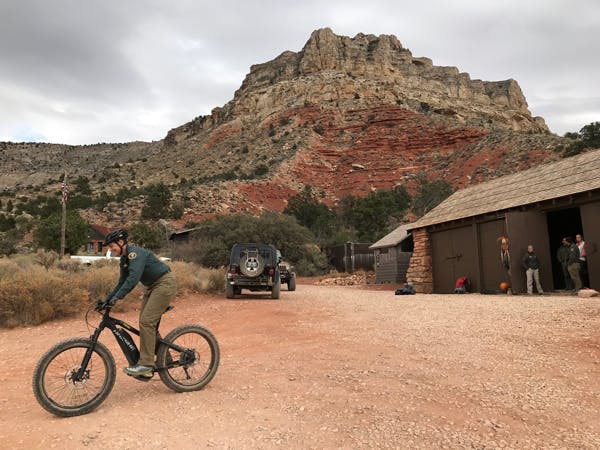 Todd Seliga, backcountry ranger for the Tuweep area of Grand Canyon National Park, tries out a eMTB.
Tucked into a far western corner of Grand Canyon National Park lies the Tuweep area, a place for remote experiences and uncrowded landscapes. Similar to the rest of the park, it offers a combination of magnificent scenery and rich history, something well worth the effort to get there.
If you ever get the chance to visit, you might meet Todd Seliga, backcountry ranger for the Tuweep area. He patrols and manages 500,000 acres, over 140 square miles of land. While you might picture him driving around in a 4-wheel drive vehicle equipped for the rugged terrain, Todd has recently been doing his work largely under his own power, pedaling a mountain bike to reduce carbon emissions that he might otherwise incur with a motorized vehicle.
Last fall, after learning about PeopleForBikes' Land Manager Demo Bike Program, the Grand Canyon Association, partner agency with the National Park, arranged for Todd to utilize an e-bike at Tuweep. Knowing that an eMTB was similar to a mountain bike, they had a hunch that an eMTB would be equally environmentally friendly. In addition, they envisioned the bike could be an efficient tool to cover the large area that Todd was tasked with patrolling.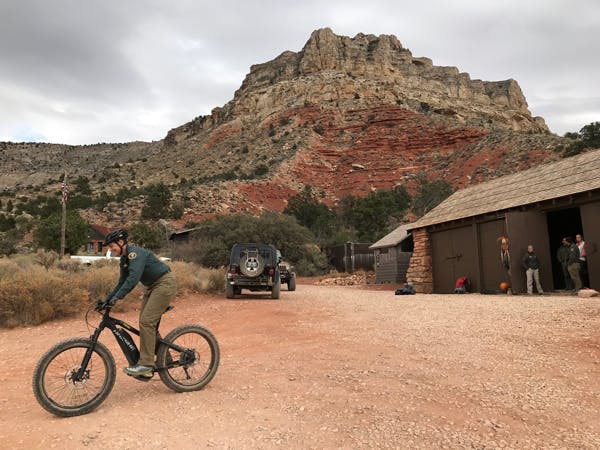 Todd's very first impressions were mixed. He was excited to see fat tires but skeptical about the range and the weight. After the first test ride, Todd gave the eMTB a real try on a three-day bike-packing patrol trip in remote area, over rugged terrain. He planned to recharge the bike at a remote, solar-powered cabin. It turned out to be a successful trip and Todd was impressed with how the eMTB tacked the rough terrain and had a decent range, especially in ECO mode. "I covered patrol needs approximately 35% more efficiently than by vehicle," shared Todd.
After a month of riding the eMTB for his regular patrol duties, Todd had this to share about using the bike: "It has been a phenomenal asset often allowing swifter, quieter, and safer access to areas than a more traditional Jeep or motorcycle. The 60-80 mile range is great and covers most of the normal needs within less remote NPS areas. I charge the battery in 2-3 hours at both Tuweep and another remote ranger station, 80 miles distant; both of which are powered by solar. The opportunities are extensive for implementation in the Park Service offering great opportunities for positive engagement with the public, greater visibility in our park urban centers, and swift passage through areas of congestion or rough roads-important for Visitor and Resource Protection (emergency services)."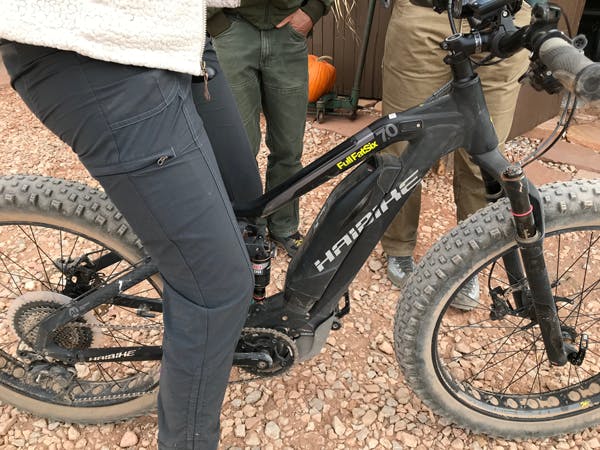 Beyond Todd patrolling vast areas of the park and checking in with visitors, a handful of other National Park and Grand Canyon Association staff had the chance to try out the eMTB demo bike. Among other things, they quickly discovered the bike to have the potential to be a useful tool and a positive way to interact with visitors. "It's great for public engagement — Todd can connect with more people, and can see and meet more people. It really leads to more positive engagement and better management in the park" reflected Mindy Riesenberg, Director of Marketing & Communications for the Grand Canyon Association.