June 6, 2018
Electric Mountain Bikes at Ski Areas
By: Betsy Welch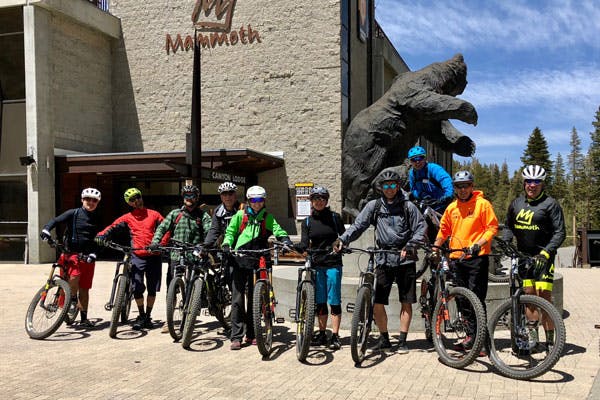 Electric mountain bikes are becoming a popular summer option at ski resorts.
After brief seasonal hiatus, many ski area chair lifts are about to start spinning again. Lift-serviced bike parks continue to grow in popularity, both with summer ski area tourists and locals who use the parks to hone their skills. While most users prefer the unique geometry and suspension of downhill bikes, a handful of bike parks are welcoming Class 1 electric mountain bikes (eMTBs) to join the mix this season. Mammoth Mountain, Purgatory Resort, Mt. Snow, and Highland Mountain Bike Park will all join Steamboat Springs – who first allowed eMTBs last summer – to accommodate this burgeoning sector of the e-bike market.  
Mammoth's foray into the eMTB conversation began almost five years, and more recently when they started talking with several partners about an e-bike race as part of the Kamikaze Bike Games. Specifically, they had to meet with the U.S. Forest Service to clarify whether their operating permit for the ski area allowed eMTBs. The Mammoth Bike Park (MBP), like most ski area bike parks, operates on Forest Service public lands on a special use permit. "The Kamikaze Bikes Games," said Mammoth's Communications Manager Lauren Burke, "were important tests and all parties came away comfortable that our trail system was suitable for e-bike use." The Inyo National Forest officially approved the use of Class 1 eMTBs (pedal assist only, with a top motor-assisted speed of 20 mph) for Mammoth Mountain's roads and trails inside the special use permit boundary in April 2018. This means that more than 80 miles of trails are now open to Class 1 eMTBs at Mammoth.
In Colorado, the bike park team at Purgatory Resort outside of Durango approached the eMTB conversation in a similarly incidental way: adjacent to the resort are miles of both motorized and non-motorized trails in the newly formed Hermosa Creek Special Management Area. "These happen to connect to trails within our Forest Service special use permit," on the ski area property, said Hogan Koesis, the director of mountain biking for Mountain Capital Partners. Last winter, the San Juan National Forest finalized the Hermosa Creek Watershed Management Plan which mentioned e-bike use on certain trails.
"The Forest Service was working on redoing the Travel Management Plan, and our special use permit was investigated at the same time. It was a perfect storm," said Koesis. What this means is that all trails at Purgatory proper that are open to bicycles are open to Class 1 eMTBs. The decision also opened up a 13 mile non-motorized connector (the Cutthroat Trail) to Class 1 eMTBs, so riders can enjoy the trails at Purgatory and connect to Forest Service motorized system trails via the Cutthroat Trail.  
After getting the green light from the Forest Service, the bike parks were able to shift the focus from getting access to increasing access. Park managers generally feel that allowing eMTBs will help get people to the park who might not have had the interest or ability to before. At the Steamboat Bike Park (SBP), Class 1 eMTBs are allowed on any service road, as well as the downhill trails. They are not, however, allowed on the cross country trails, and any eMTB user must also be accompanied by a SBP guide. According to Nicole Miller, Steamboat's Digital Communications Manager, the push to allow eMTBs at SBP came from Bike Park Manager Trevyn Newpher.
"Trevyn wants to progress the sport and make it more accessible," she said. "That's why we're focusing on the education process by having guides."
During last summer's inaugural introduction of eMTBs, SBP saw enough interest to continue the guided access, but eMTBs aren't likely to contribute to a significant proportion of overall bike parks users – at least not yet. At Mammoth, Burke anticipates a similarly small, yet engaged, audience.
"They're not for everybody," she said, "but we do anticipate that they'll fill a need for a certain segment of our audience. A number of our trails, although generally downhill, contain extended stretches of slightly inclined climbs or flats. At 10,000 feet, those become much more difficult for some of our guests, and eMTBs will help make their experience more enjoyable."
The National Ski Areas Association (NSAA), the US trade association for ski area owners and operators, supports the bike parks' decision to allow eMTBs. According to Earl Saline, NSAA's Director of Education Programming, many of the association's member areas have expressed increased interest and investment in year round activities. The organization has responded accordingly; in 2015, they began producing the Downhill Bike Park Summit, "an event that brings together bike park operators, managers, risk managers, and other bike industry stakeholders to share best practices, discuss trends and issues facing bike parks, and to develop a connected network of people around the industry." eMTBs, said Saline, represent yet another great opportunity for recreation at ski areas on both public and private land.
"We believe it will be a 'win-win' for guests and the areas," he said. "Because guests are coming to ski areas for an outdoor recreation experience, eMTBs will only increase their opportunities and areas will benefit by being able to offer new and different products that take advantage of the eMTB technology."