March 2, 2022
Electric Mountain Bikes Reconnect Riders With Disabilities With the Outdoors
By: Kimberly Kinchen, contributing writer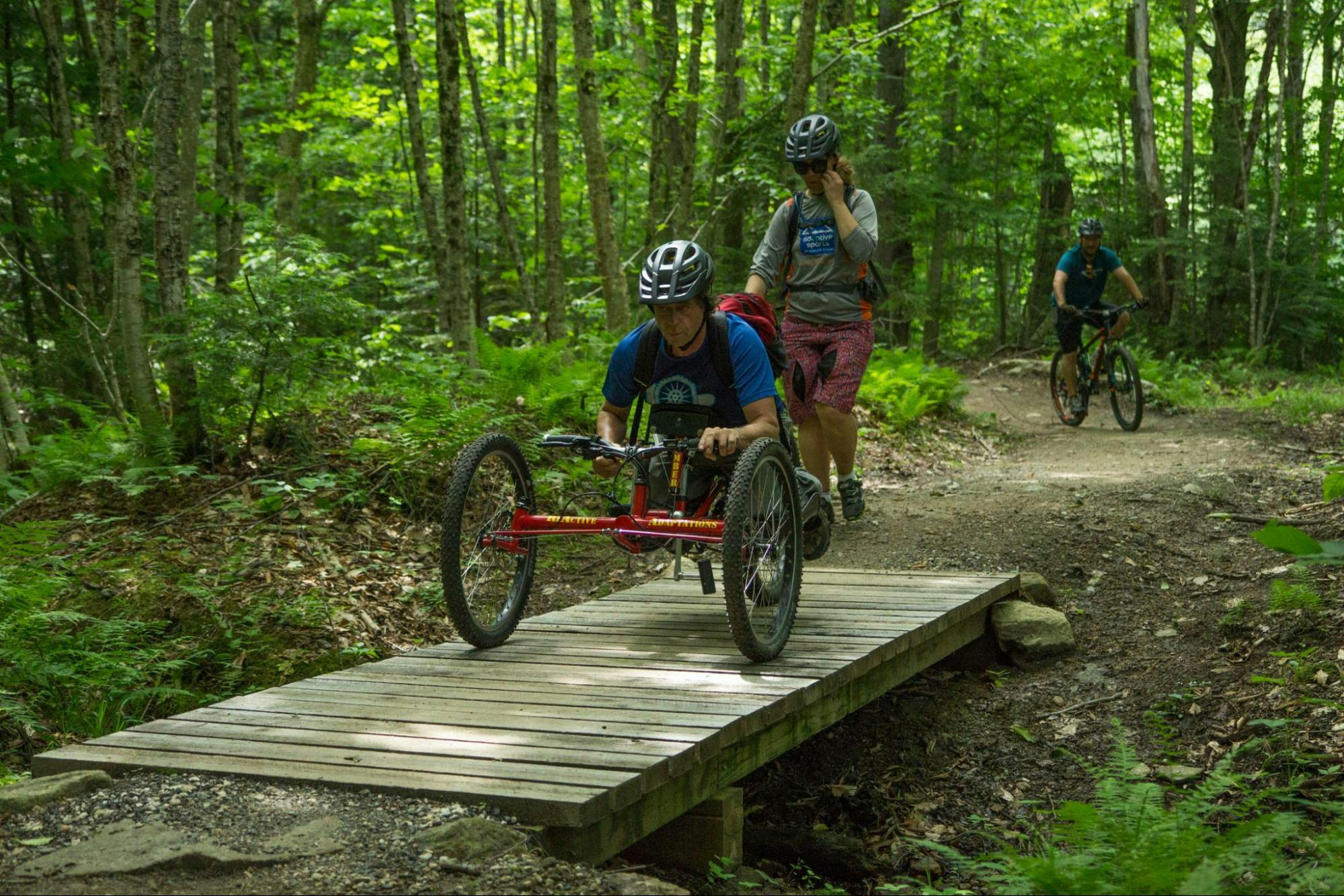 Nonprofit Move United is dedicated to improving the off-road experience for riders with disabilities, both with a library of adaptive bikes and improved trail resources.
As if there weren't enough reasons to be impressed with the access-expanding power of electric bicycles, have you seen an adaptive electric mountain bike? Thanks to Move United, a national nonprofit promoting adaptive sports, you could soon see more adaptive eMTB riders on a trail near you.
"The evolution of equipment is what's really exciting," said Julianne Mills, program manager for education at Move United. "A lot of the equipment emerged from garage projects, with people having an issue and going for it, because it's not readily manufactured. I love that we can tap into that creativity, and there's collaboration in the community that's really strong about sharing those findings."
While handcycles and recumbent bikes have been around for years, the growth of e-assist options is pushing the evolution of both design and riding. "People with disabilities that are out on adaptive mountain bikes aren't just looking for the smoothest, best trail," said Joe Stone, a Move United athlete. "We still want technical rise and lots of other things to maneuver around."
After a speed flying crash left Stone a quadriplegic — with full function in his arms and some in his hands — the life-long outdoor adventurer first assumed that lifestyle was a thing of his past. Once he started the challenging work of rehabilitation, however, Stone's outlook changed. He set and achieved his ambitious goal of handcycling Glacier National Park's Going to the Sun Road the day before the one-year anniversary of his accident. The demands of training for that ride helped him recognize how similar they were to the training he did preparing for endurance and adventure sports before his crash. 
But a few years after this reintroduction to riding, his mountain bike started gathering dust. "At my level of injury, mountain biking, almost no matter the distance, was always a suffer fest. Even though I'm all about the suffer fest sometimes, every time I went out it beat me down," said Stone, attributing his initial resistance to e-assist to his own stubbornness. But, when he finally tried an e-assist bike about four years ago, things changed. "I instantly got it. I got to places that my other bike would never have taken me. I was biking with friends at similar speeds and needed very little help. I was able to ride with my community and really feel like I was back in the woods mountain biking again."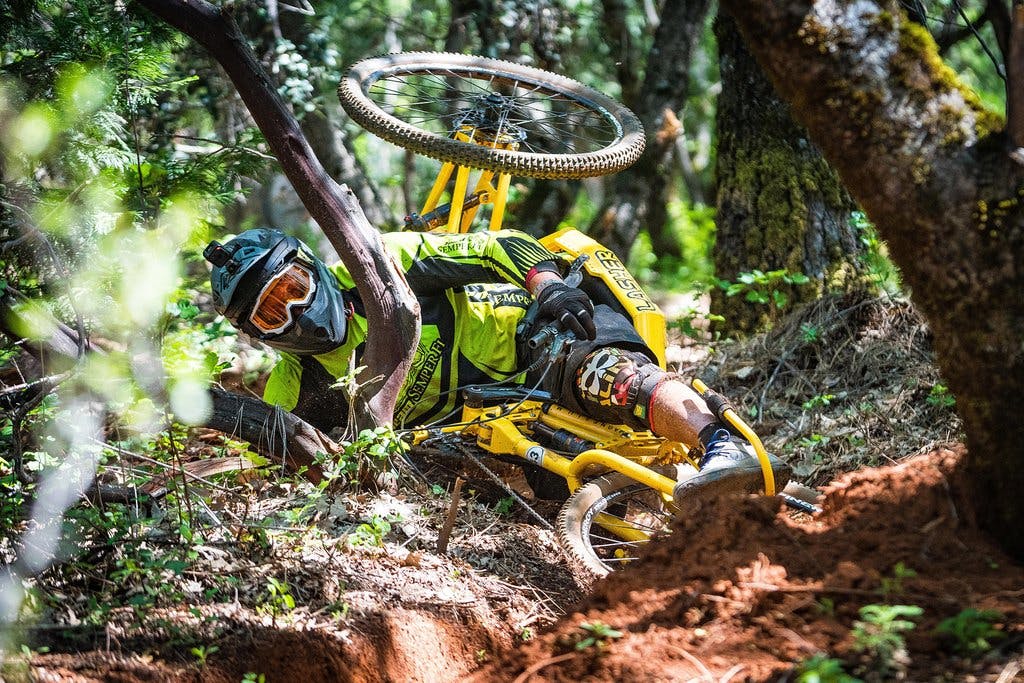 Peter Way's first bike was a hand-me-down from his cousin — a "girl's" bike that his parents painted and gave to him on his fifth birthday. After losing a leg while serving in the military, Way, like Stone, thought his cycling days were over, but through the Veterans Administration (VA) and some nonprofits, an introduction to handcycling got him excited about being on a bike again. "I figured all I could do was ride roads and really wide open trails," said Way, but a subsequent visit to the National Ability Center in Park City, UT, changed his mind, again. "They put me on an off-road handcycle and within a week, I was coming down some of the gnarly stuff out on Deer Valley. I just felt like a kid again." 
Then came a prosthetic leg, lent to him at the TD Enduro by Paralympian Mike Schultz, allowing Way to once again ride a two-wheeled bike. "Ten minutes later, we were coming down the mountain together, which was epic," said Way. "Now I'm back on two wheels, which gets me even more access than the handcycles [which] need about three or four feet of space on the trail."  
While Way was initially resistant to e-assist, he recognized the difference it made in the pure fun of going downhill. Without e-assist, he might get two runs in on a typical day. Now, he can keep up with his 22-year-old son. 
Just like they did for Stone and Way, electric mountain bikes have the ability to reconnect riders with the outdoors, challenge them and allow them to spend time with their families and communities. By partnering with the U.S. Department of Veterans, Move United helped its member organizations purchase equipment to loan out to riders with disabilities. Building out more of these loan hubs is a priority as price points for adaptive bikes remain high and people with disabilities tend to have economic disadvantages and a higher unemployment rate. 
One of Move United's long-term goals is to produce a resource that streamlines the current fragmented state of trail resources. The resource will include data like the narrowest point, average width and average and max cross slope of trails so riders can make an educated guess on whether or not it's a good trail for them. 
Stone and Way both expressed the need for more trail users and builders to gain a better baseline knowledge about the needs and experiences of adaptive riders. The Wilderness Act includes an amendment allowing people with disabilities to use mobility devices to access trails and wilderness areas. So, generally, Stone points out, signs in National Parks or wilderness areas prohibiting e-assist motors don't apply to people with disabilities. 
Way sees a surprising lack of awareness about the triangle of yields he learned as a kid — wheels yield to heels — and the number of downhill riders who don't yield to uphill riders. An uphill stall creates a much bigger inconvenience for disabled riders trying to regain momentum, even with e-assist.
They both suggest avoiding the assumption that the presence of basic accessibility features — like trailheads wide enough to accommodate wider-framed bikes, parking and accessible restrooms — serves the needs of adaptive and eMTB riders, who often seek challenging routes just like any other rider, not just wide, flat trails. 
"There's a way to [build trails] where they work for everybody and are still very fun and very challenging," said Stone, noting the best way to design those trails is by getting the people who use them involved. "Get adaptive mountain bike athletes and people with disabilities involved. Check out the gear, get on the gear and you'll see exactly what riders are up against."