July 16, 2020
E-Bikes an Asset for Recreational Trail Programs
By: Ashley Seaward, deputy director of state + local policy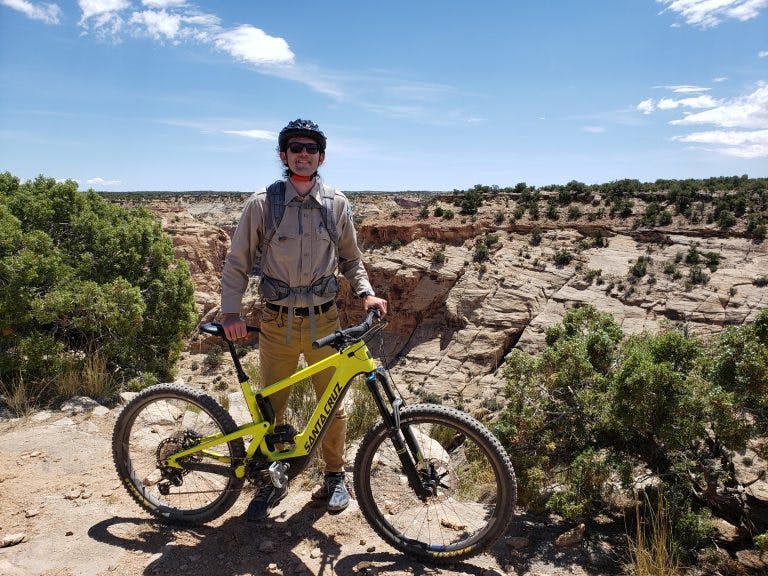 Blake Baker, an Outdoor Recreation Planner at the Bureau of Land Management's Price Field Office in Utah, with an electric mountain bike.
David (Blake) Baker, an Outdoor Recreation Planner at the Bureau of Land Management's Price Field Office in Utah, recently received e-bike loans, coordinated by PeopleForBikes, for him and his colleagues to see how their day to day jobs may be different with the use of e-bikes as a tool for daily transportation needs.
Blake and his team found that the e-bikes provided greater ease and efficiency in completing their daily duties around the Price Field Office. Read on for Blake's experience using the e-bike loan program. 
If you're a land manager interested in participating in the e-bike loan program, contact ashley@peopleforbikes.org for more information.
The e-bikes provided by PeopleForBikes allowed us to monitor more trail miles per day than we have been able to accomplish with traditional bikes. Typically, our most popular point to point trail is only monitored west to east as a shuttled run. With the assistance of the e-bikes, we were able to ride the trail bi-directionally, which allowed us to identify issues that were overlooked when traveling only west to east. Traditionally, monitoring on this trail has primarily consisted of data collection because of energy and time constraints. However, with the assistance of the e-bikes we were able to achieve a slightly faster average speed while climbing and conserved the energy needed to spend more time performing trail maintenance duties.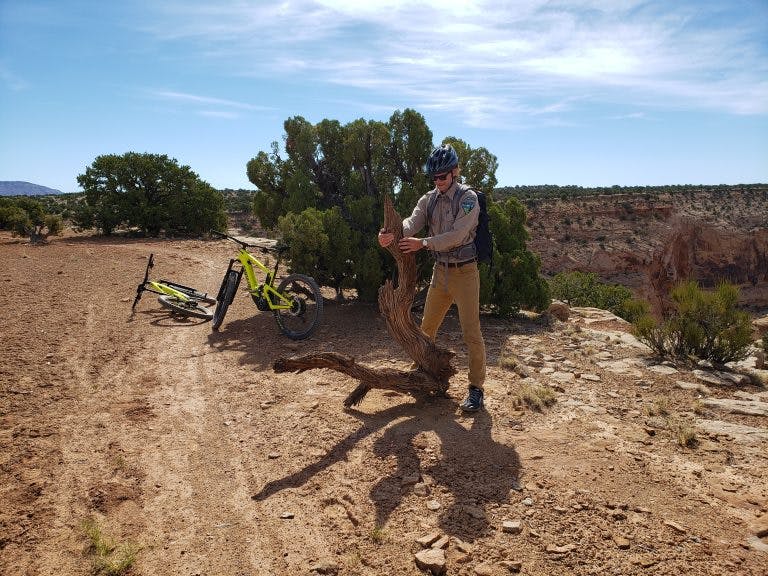 The e-bikes allowed us to travel routes on the farthest reaches of our Wood Hill trail system. It was the first time I had personally ridden some of the trails because they contain several technical climbing sections. Knowing I would end up pushing my bike up most of the way, I avoided them entirely. These trails are some of the most lightly used in the network and It was great to have the opportunity to ride them and determine maintenance and signage needs.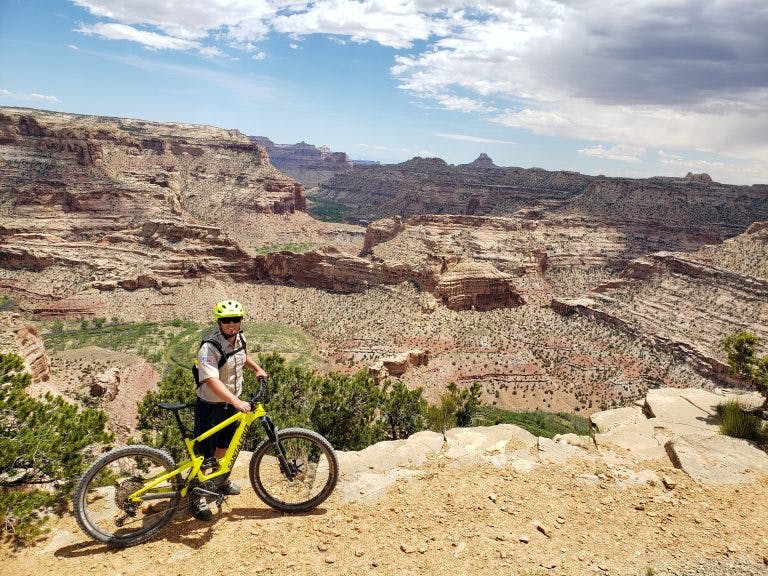 We also took the bikes on a field trip to allow all staff an opportunity to get familiar with their operation and see for themselves the purpose e-bikes can serve.
Overall, it was a great experience. I am grateful for the opportunity PeopleForBikes provided the Price Field Office to use the bikes and discover how they can be an asset to our recreation program.