January 16, 2018
A Dozen Bucket List Bike Rides for 2018
By: Sarah Braker, Senior Communications Manager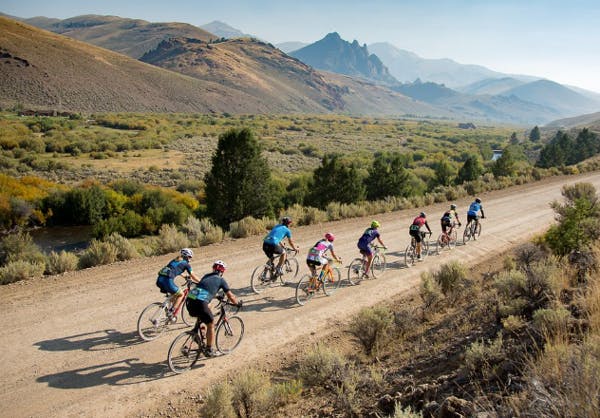 Rebecca's Private Idaho
We know that sometimes the best bike ride of your life can take place right outside your front door, on your local neighborhood streets and trails. Then there are those other times—when the wanderlust kicks in and the need to travel with your bike just overwhelms you. For those moments, here are a dozen bike riding events that we think are worth the trip.
Started by endurance champion Rebecca Rusch, RPI is not for the faint of heart. To conquer this event you'll have to ride 100 miles, "on grueling gravel roads, through canyons, over summits, and across high mountain basins." Still, if you've ever wanted to explore riding in the Gem State, this is the ride for you. Plus, a portion of the proceeds are donated to PeopleForBikes, to help us toward our goal of making every bike ride better across the U.S.
Founded in 2011, Slow Roll Detroit is a weekly bike ride (every Monday from May through October) dedicated to promoting cycling in the City of Detroit. Thousands of riders show up for a leisurely ride that builds community at a pace that welcomes riders of all types. You may not think of Detroit as a top bike riding destination—this event will surely change your mind.
Climate Ride is an organization that produces charitable multi-day rides, allowing participants to explore different regions of the world while raising money for non-profit beneficiaries. Some of the event locations include Bhutan, Glacier National Park and Nova Scotia, but you can do an independent challenge any time, anywhere. Participants can choose from more than 100 beneficiary organizations, including PeopleForBikes. That means you can enjoy a great ride and also contribute to making bike riding better across the U.S.
If you think there's nothing exciting about riding in Iowa in the middle of summer, you'd be wrong. RAGBRAI is the largest bike touring event in the world and there's a reason why people come from all over to participate. Yes, the riding is fun, but the atmosphere can't be beat. Rest stops along the multi-day route feature local food vendors and you're guaranteed to get a laugh from the hilariously-named teams.
On the higher end of bike trips are the all-inclusive tours put on by Trek Travel. With destinations all over the world, Trek Travel makes it easy by providing guides, bikes, gear, accommodations and support. From Italy to the Rocky Mountains, from road riding to mountain biking, the only hard part is choosing which trip to take.
Don't try getting around New York City on the first Sunday in May because you'll probably get rerouted. The Five Boro Bike Tour is the nation's biggest cycling event, with about 32,000 cyclists participating. Proceeds fund Bike New York's free bike education programs, which means you're doing a good deed while riding on roads and over bridged across the five boroughs of NYC.
The second oldest 100-mile mountain bike race in the United States, the Leadville Trail 100 MTB was first run in 1994 and takes place in Leadville, Colorado on the second Saturday in August. With a total elevation gain of 11,000 feet, this mountain bike race is definitely not an entry-level event. You'll be totally wiped if you finish, but you'll get a special belt buckle for your effort.
What better way to navigate the hills of San Francisco than on a kid's big wheel bike? The race takes place at 20th and Vermont Streets in San Francisco, California on Easter Sunday and features funny bikes and costumed riders. The event is held rain or shine and only plastic wheels are allowed.
Riders of all ages and levels can explore some of the best rail trails in the U.S. on the annual Rails-to-Trails Sojourn. The 2018 event will take place in Pennsylvania on the beautiful D&L Trail. The event is a fully supported bicycle tour that includes hot showers, great food, fun evening activities, and awesome optional trips.
With 70 cities participating, there's bound to be a World Naked Bike Ride near you, or in a place you've always wanted to visit. Participants ride bikes naked to "celebrate cycling and the human body," during the event which has been taking place for more than a dozen years. Participants see the event as a creative way to draw attention to the presence of bike riders and our worldwide dependence on non-renewable energy.
Bike MS is the largest fundraising bike series in the world. There are rides throughout the nation and route distances vary from 15 to 150 miles, including one day and multi-day events. You can ride as an individual or as a part of a team and each ride has a fundraising minimum and features cycling routes, support, volunteers and experiences. To date, Bike MS cyclists, volunteers, and donors have raised more than $1 billion for MS research.
A combo bike ride and music festival, the Pedaler's Jamboree will celebrate its 10th year in 2018. Riders can enjoy the Katy Trail in Missouri by bike and then celebrate their accomplishment by jamming to a solid lineup of bands. The 2018 performers will be announced soon, but you can click here to see previous bands who have rocked the stage.