May 15, 2019
Building for Tomorrow
By: PeopleForBikes Staff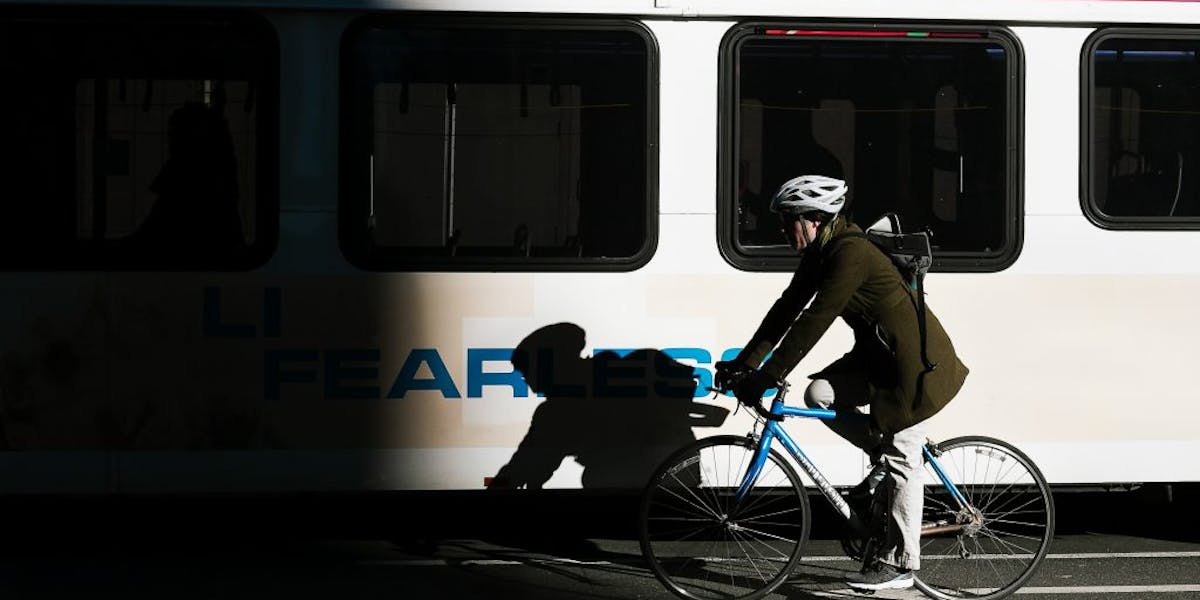 Woman biking in front of a bus, Credit: Colin Czerwinski/Unsplash
"Infrastructure Week" may not be the most alluring phrase you'll ever read, but it certainly is one of the most important. Infrastructure is the framework on which our nation operates — the networks of highways, streets and roads that connect us to jobs, businesses and our homes; the trails and pathways dedicated to bikes and pedestrians; the airports that serve as a gateway to destinations across the world; the water treatment facilities that operate behind the scenes to provide access to clean water … you get the picture.
Across the board, America's transportation infrastructure has become antiquated and continues to pose risks to our safety, to our economy and to our ability to remain globally competitive. In Washington, D.C., many voices are aligning to develop a roadmap for an infrastructure bill that includes cost-efficient solutions, economic growth, adjacent health and environmental benefits, and modernization. Any effort to achieve these goals and truly remain globally competitive, must include bicycle infrastructure.
Below, we've highlighted opportunities to improve our nation's bike infrastructure, including data showing how our economy can benefit from better places to bike.
Transportation
The popularity of bikeshare, electric bikes, and bike commuting in general has increased the urgency throughout the country for safe and efficient bicycle infrastructure, which would include protected bike lanes, connecting existing infrastructure to other modes of transportation, and providing well-planned networks.
Without question, bikes also help other modes of transportation. They reduce traffic congestion, connect more people to public transportation, and provide a low-cost mode of transportation that requires minimal federal investment.
47% of Americans say they would be more likely to ride a bike if pathways were physically separated from motor vehicles.
53% of Americans worry about being hit by a motor vehicle when riding a bicycle.
Only 0.6% percent of American employees include biking in their commute to work, compared to 41% of the workforce in Copenhagen, Denmark.
Cities and towns investing in bike infrastructure improvements are seeing double-digit increases in biking participation:
25.6% increase in Davis, California
17.7% increase in Cambridge, Massachusetts
16.0% increase in Corvallis, Oregon
15.2% increase in Boulder, Colorado
Sources: PeopleForBikes Participation Study (2016), American Community Survey Five-Year Estimate (2018), PeopleForBikes Community Survey (2017)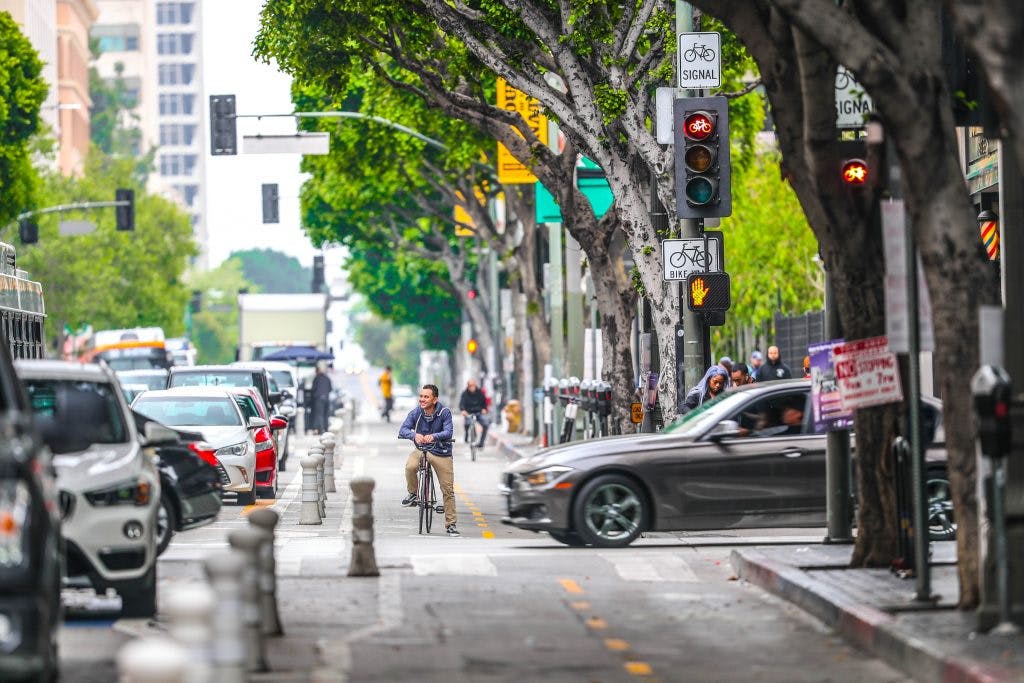 Economic impact
Across the U.S., studies examining the economic boost from bike infrastructure improvement consistently show that bicycling reduces health care costs, promotes retail sales, boost property values and attract tourists (who spend money).
Check out these resources that explore the benefits of better places to bike:
Public lands
The U.S. outdoor industry is an economic powerhouse. Bicycling (including mountain biking and road biking) nets $88 billion in direct consumer spending, support 768,663 jobs and $12 billion in federal, state and local taxes. Yet in our national parks alone, there is a $572 million maintenance backlog just for trails, trail tunnels and trail bridges. Anyone who chooses to visit, recreate, and bike across our roads and public lands deserves modern and updated infrastructure for better biking.
Sources: Outdoor Industry Association 2017 National Recreation Economy Report, Outdoor Recreation Roundtable
Congress and the White House should be applauded for their commitment to modernizing America's infrastructure. A robust infrastructure package will help strengthen all communities and provide better and more efficient transportation networks. In doing so, all aspects of surface transportation should be prioritized, including bikes.