February 18, 2020
America Is Becoming an Indoor Nation: What Can We Do About It?
By: PeopleForBikes Staff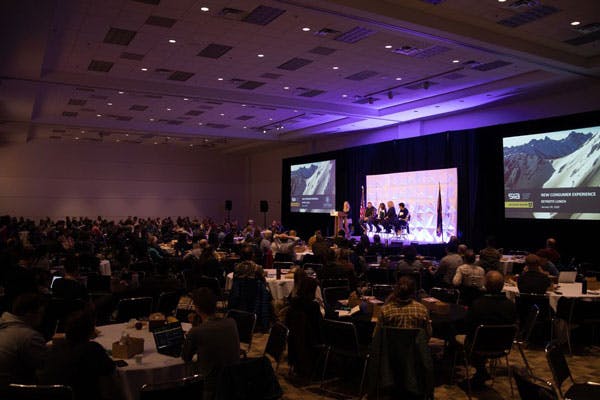 Outdoor Retailer isn't just a place to see next year's drool-worthy outdoor gear. It's also a space for outdoor industry leaders to meet and talk about many of the major issues facing the industry.
Over the last week of January, a number of PeopleForBikes staff attended the Outdoor Retailer Snow Show in Denver. In addition to being a convention center packed full of next year's drool-worthy outdoor gear, it's also one of the largest national gatherings of outdoor industry professionals, providing a chance to open a dialogue around the many pressing issues facing our industry today.
Wednesday's industry lunch panel, titled Is America Becoming an Indoor Nation? The Need for a Movement to Get Americans Outside, covered the alarming trend of less and less Americans recreating outdoors each year. A study released recently by Outdoor Foundation, the philanthropic arm of the Outdoor Industry Association, showed that just under half of the U.S. population did not recreate outdoors even once in 2018. In addition, fewer than 20% of Americans recreated outside at least once a week and Americans went on one billion less outdoor outings in 2018 than they did in 2008 (even though there are now 20 million more of us). 
While these statistics may seem shocking (as they rightfully should be) the talk was led by an engaging team of panelists, which included the Executive Vice President of REI, the Vice President of Corporate Citizenship and Public Affairs of Blue Cross Blue Shield of Massachusetts and the Ohio State Director for the Trust for Public Lands. Each speaker provided very compelling insights, all supporting the overarching message of "We all thrive outside."
How to best tackle the challenge of getting people outside? Change the way we talk about it, said the panelists. We need to stop prescribing solutions before we ask key questions. Instead of saying  "You should ride your bike more," we should ask "Would you like to ride your bike more?" In short, we need to stop saying "You're doing it wrong," and instead ask "What can we do to help?"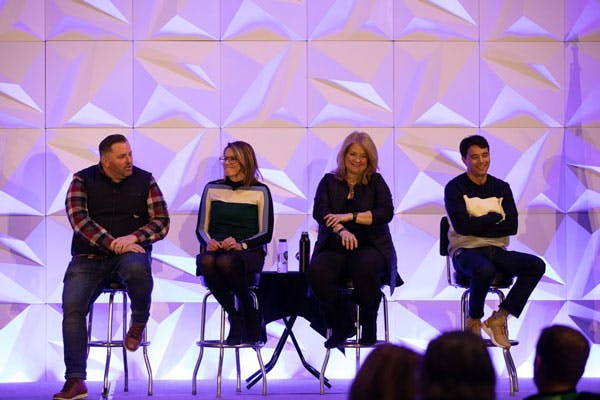 This sentiment was supported by the previous day's keynote lunch discussion, of which PeopleForBikes COO Jenn Dice was a panelist, that covered different approaches that various outdoor industries utilize to engage new participants. For our work in the bike industry, Ride Spot, our navigation tool and community building platform is at the forefront of PeopleForBikes' push to get more people outside — on bikes — more often, especially those who are infrequent riders or may not be confident in navigating their city by bike.
"We designed Ride Spot to be inviting and inclusive to all riders, no matter what bike they ride or what skill level they are," says Dice. "It's all about the experience. We want to promote fun trips, short trips and most of all, safe trips. Every ride counts. Ride Spot was built to show people how easy it is to have a fun ride. We want to invite people to the party instead of guilting them into thinking they're not good enough."
A major message from the panelists in both discussions: short outings matter. Not every outdoor trip has to be a grand adventure. Not every hike has to summit a ragged mountain peak just as every bike ride doesn't need to be a grueling 100-mile leg crusher. A walk around the block or bike ride around the neighborhood is a solid start. Social media may make it seem like true adventure requires a far-off destination, a beautiful locale and an online post. Redefining and simplifying the concept of getting outside and riding your bike will encourage more people to recreate, comfortably and safely. For our team here at PeopleForBikes, this means a continued commitment to making biking better for everyone through our work with Ride Spot as well as pursuing countless other avenues of finding more ways to allow people to ride their bikes safely, confidently and more often.