October 16th, 2014
Atlanta plans big for bikes, and Atlantans turn out big time
By: Michael Andersen, Green Lane Project staff writer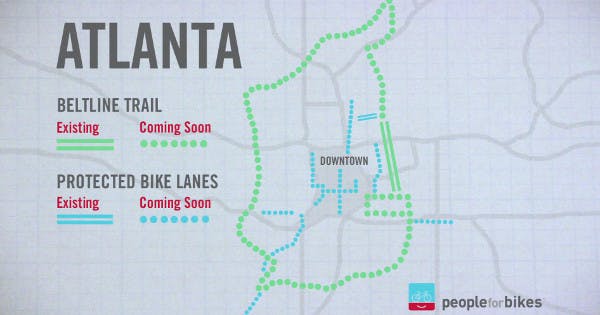 Atlanta beltline
The capital of the New South is working on its latest highway network.
This one is going to smell a lot nicer.
The massive Beltline and an impressive grid of protected lanes that will connect the trail system to key urban destinations are poised to remake transportation in the city that anchors the country's ninth-largest metro area. Following Mayor Kasim Reed's target of making Atlanta one of the country's top ten cities for biking, Atlantans have shown their enthusiasm with their feet: an estimated 95,000 to 106,000 people attended the open-streets event Atlanta Streets Alive on Sept. 28 — shattering the previous record by at least 12,000 people.
For comparison's sake, Portland's similar Sunday Parkways festivals also set an attendance record in 2014 … by drawing 109,000 attendees to all five events combined.
As the video above shows, Atlanta's embrace of active space is part of a psychic shift in a city that's shaking off its old Sprawlville USA image with a combination of bike, transit and affordable housing infrastructure.
"It's really shifting the way people think about living in the City of Atlanta," says Rebecca Serna, executive director of the Atlanta Bicycle Coalition. "The focus is on the core of the city."