August 15, 2022
The Urban Wilderness Transforming Knoxville
By: Charles Miller, contributing writer
The home of the University of Tennessee is becoming one of the best cities in the Southeast for biking thanks to its redefinition of "wilderness."
The Wilderness Act of 1964 immediately protected 9.1 million acres of land in the U.S., including the Bob Marshall Wilderness in Montana, Linville Gorge in North Carolina and Mount Hood in Oregon, among many others. The act is most known for its definition of wilderness:

"A wilderness, in contrast with those areas where man and his own works dominate the landscape, is hereby recognized as an area where the earth and its community of life are untrammeled by man, where man himself is a visitor who does not remain."
While this may be a romantic and murky definition, what it does make clear is that "wilderness" does not include people. The protection of these places is wonderful and necessary, but it narrows access to wilderness away from those who can't venture far enough to reach it. It creates a binary where there can't be wild things where there are people. But does it have to be this way? Can wilderness be simple and nearby rather than vast and far away? The Urban Wilderness in Knoxville, Tennessee, challenges this dated definition by playing home to more than 50 miles of trails, all in the middle of a city.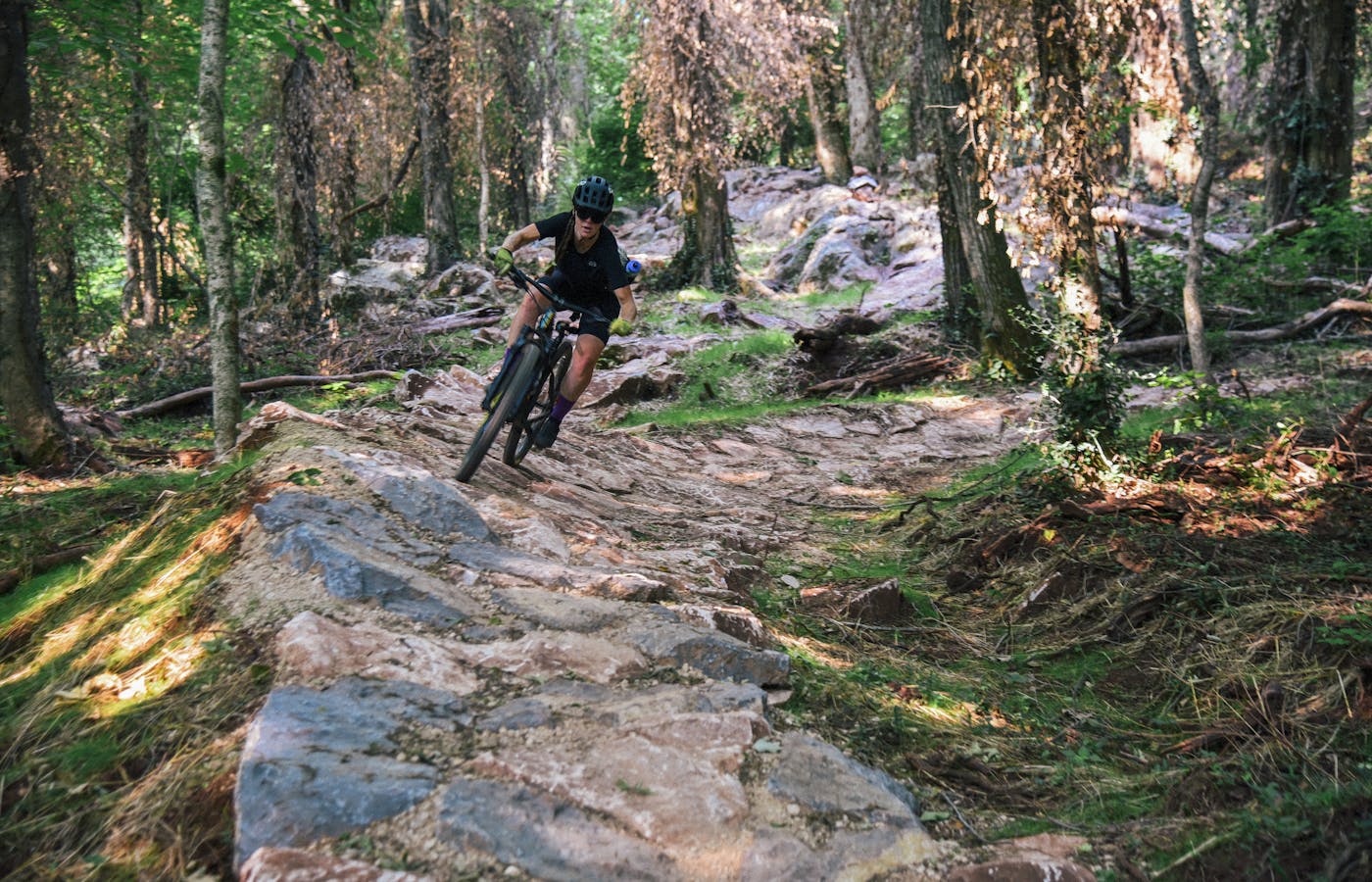 Knoxville's Urban Wilderness spans multiple parks, historical sites and other public lands, all in the southern part of the city, where the creators saw potential in an area spanning more than 1,000 acres from the Alcoa Highway up to the Tennessee River. The Wilderness connects 10 city parks, three Civil War forts, a large nature center, a climbing crag, a 500-acre wildlife management center, a world class mountain bike park, multiple roads, greenways and private land easements, many connected by the 12-mile South Loop System. The area has revitalized South Knoxville, which now includes nine breweries, multiple restaurants and will soon include a campground specifically made for mountain biking — the Drop Inn. The idea for the Urban Wilderness all began with two organizations and a vision.
Legacy Parks Foundation and the Appalachian Mountain Bike Club (AMBC) began the Urban Wilderness with a map. In 2008, Brian Hand, then president of AMBC, looked at the city from his South Knoxville farmhouse and saw potential. Mountain bikers had already been building trails and riding in the Appalachian foothills of Knoxville. While the legality was often dubious, it gave them an understanding of what local mountain biking could be. The rugged karst geology of the region made it difficult to develop, leaving undeveloped green space across South Knox. Hand started talks with Carol Evans, head of Legacy Parks Foundation, who helped formulate a plan to secure funding and public support. They began with a fundraising goal of more than $1.5 million for the first round of land buying and were surprised to come up with the money in just eight months during a recession. The continued success led to the city putting $10 million towards a gateway park and entrance to the trail system.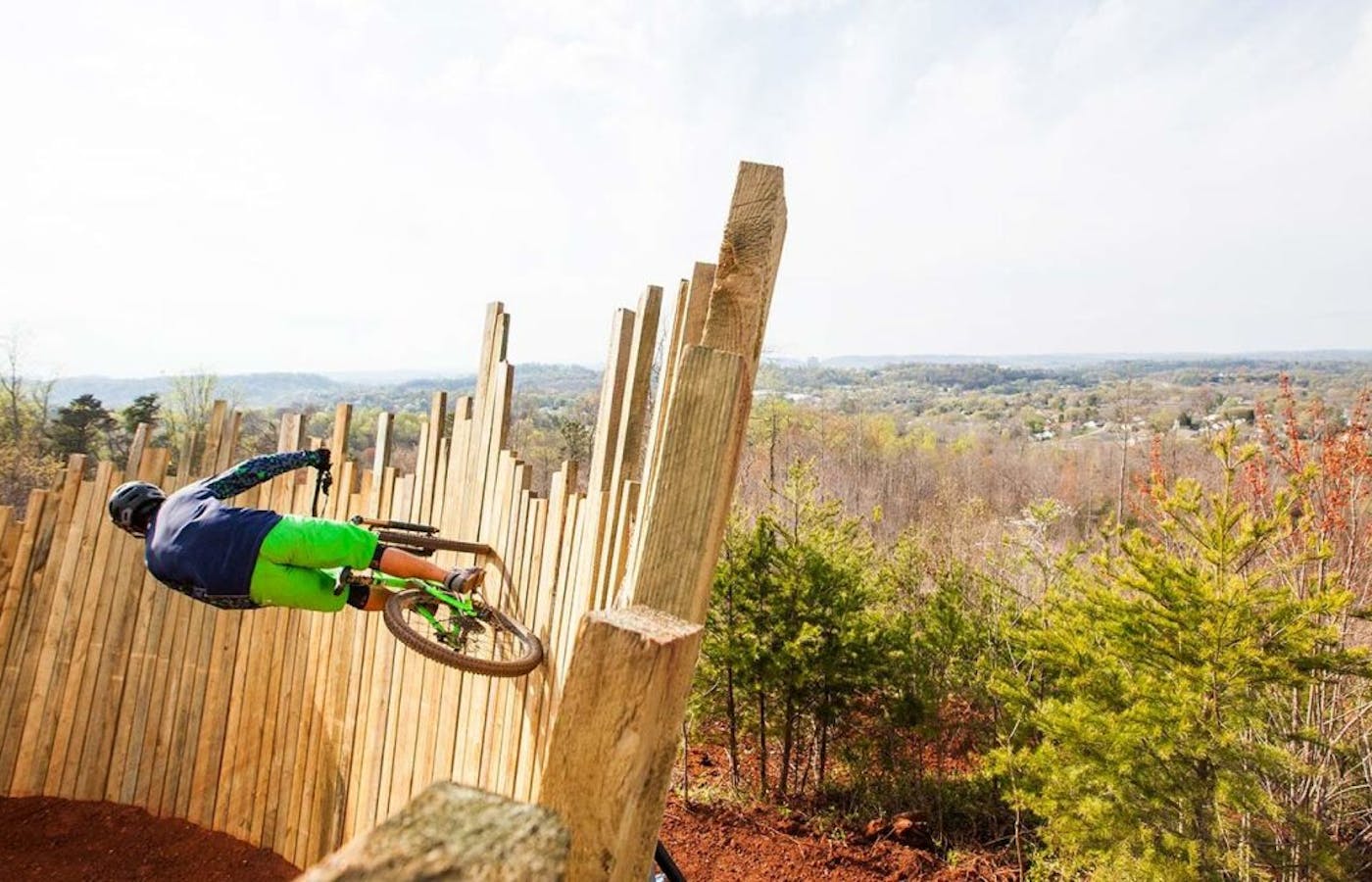 Evans credited this success to creating support across different user groups in Knoxville. She believes Legacy Parks' ability to be flexible, communicate often and create the trails incrementally are the biggest factors in the success of the Urban Wilderness. The AMBC created the trails, most being moderate, multi-use trails good for riders of all skill levels. Neighborhoods surrounding the trails have embraced them for everything from birdwatching to hiking to dog walking and, of course, biking. The ability to get out and play before work, during lunch or in the evenings has changed people's perceptions of the city. Knoxville can now identify and take pride in being an outdoor town, rather than just a college town on the way to the Smoky Mountains. This sense of community is particularly strong among AMBC members.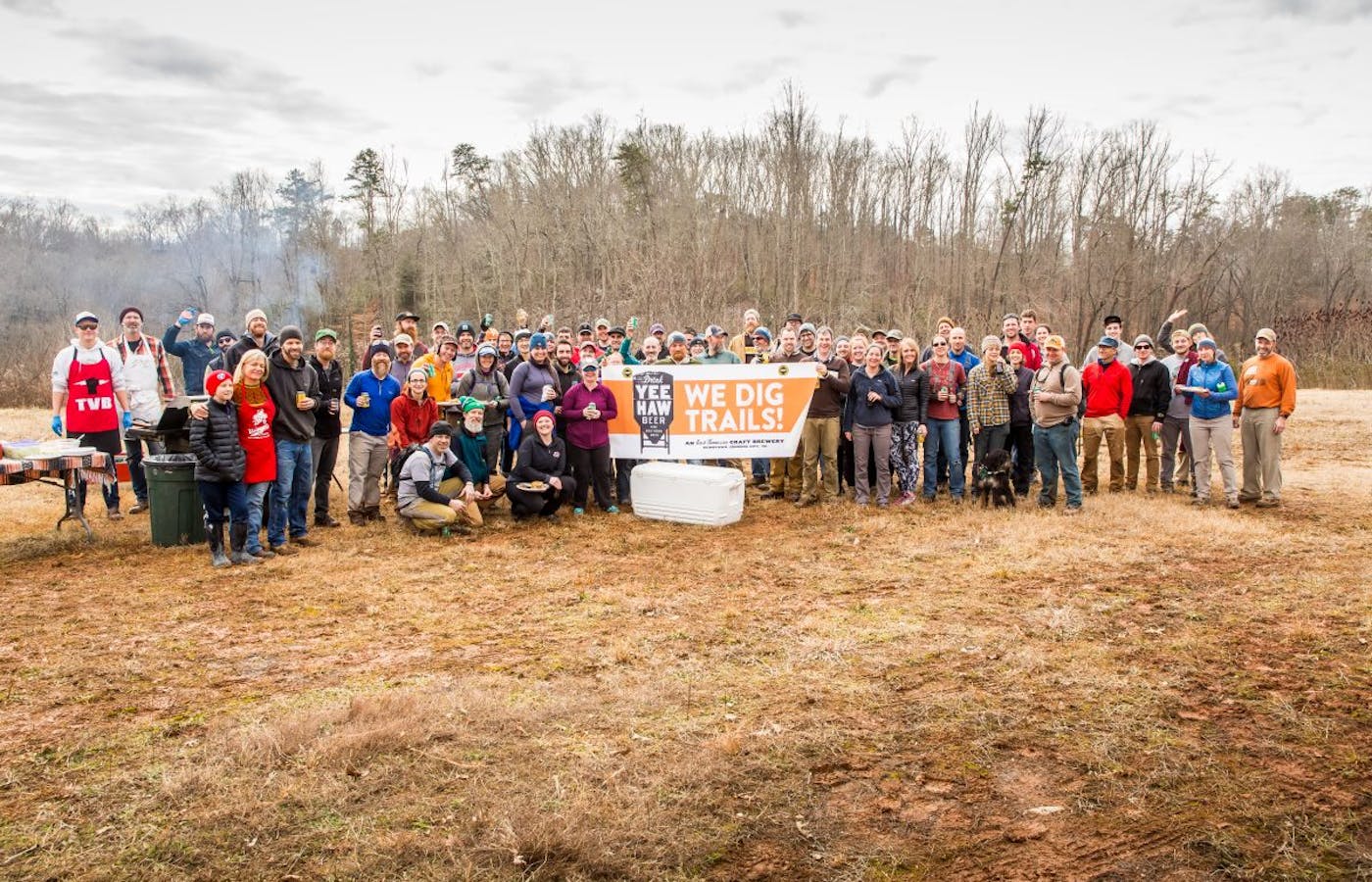 The AMBC has since grown to three full-time staff and one part-time staff member who maintains the Urban Wilderness. When a fallen log or washed-out berm is called in, it is usually fixed within the week if not the day. AMBC has a humility and blue collar attitude towards the trail system. Executive Director Matthew Kellog said their goal is to be "quietly really good" and they are constantly looking for improvements through their memberships in the Southern Off-Road Bicycling Association (SOBRA) and the International Mountain Biking Association (IMBA). The organization supports a free youth development program where kids can race in NICA and USAC races at all levels. A grant from Bell Cycling helped create a women's cycling group, and a grant from Santa Cruz's PayDirt program recently went towards multiple new all-weather trails.
The city has seen cycling grow in popularity and become an integral part of Knoxville's culture. Downtown was closed for a few days in late June 2022 when the USA Road Cycling National Championships zoomed across its historic streets. NICA has held multiple interscholastic races in the Urban Wilderness, and ROAM Fest, a womxn-only mountain bike festival, held one of its stops in Knoxville. The other locations? Mountain bike meccas Fruita, Colorado, and Sedona, Arizona.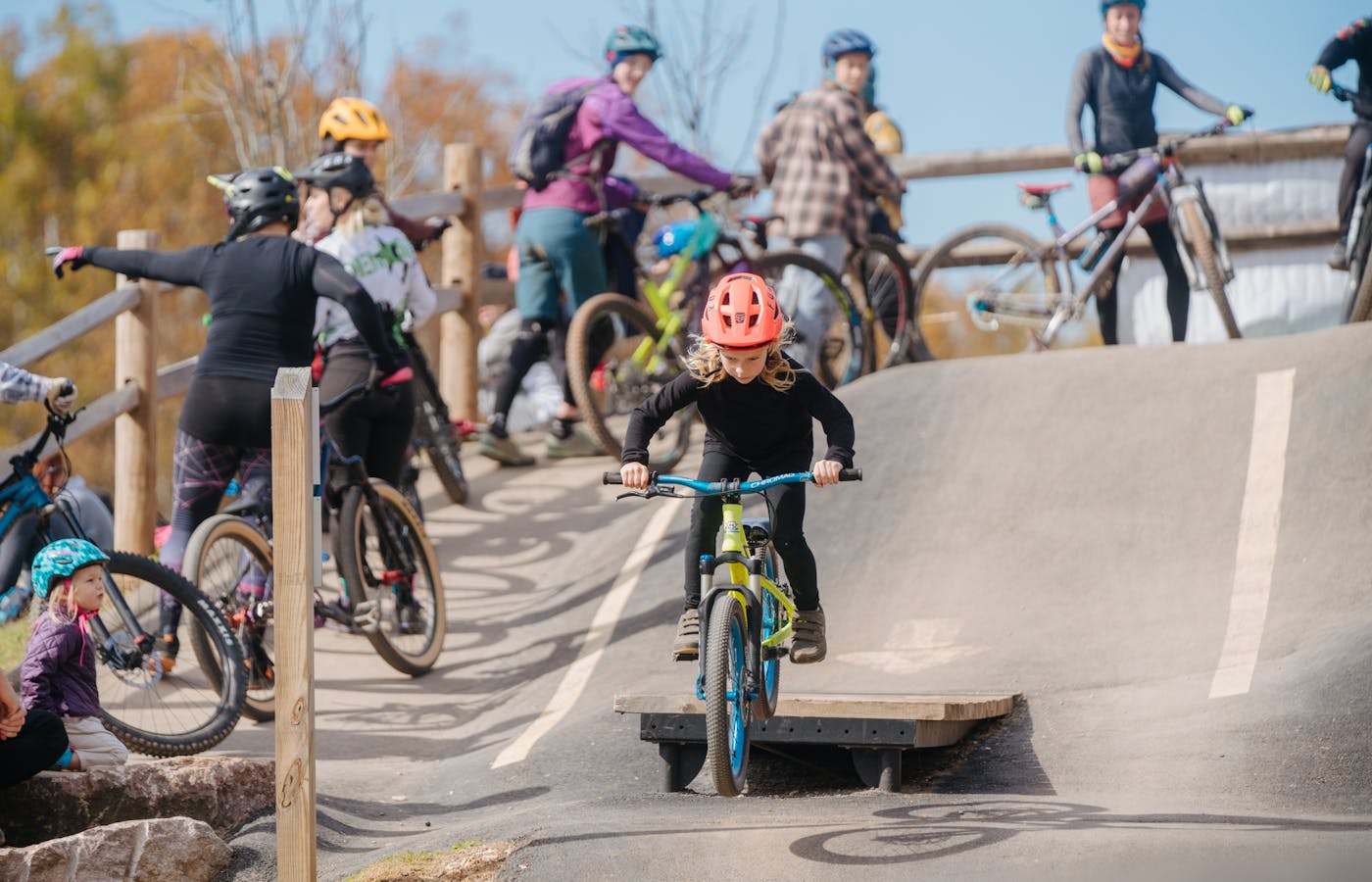 The Wilderness has also helped shape the identity of the University of Tennessee. University of Tennessee Outdoor Pursuits (UTOP) Director Josh Elder is an avid mountain biker and whitewater paddler who helps decide where to program university-sponsored trips. He says that UTOP uses the Urban Wilderness for 2-4 hour activities about 12 times per school year. More than guided trips, the ability to give a low-entry introduction to biking through rental mountain bikes has led many students to discover and fall in love with the sport. It's easy to rent a bike in the morning, ride 15 minutes to the trails, explore the Wilderness and be back in time for afternoon classes. "The Urban Wilderness is a glue that holds things together through accessibility for everyone," said Elder.
The Urban Wilderness challenges the notion that an experience in nature has to be hard to reach, or has to be devoid of people. Legacy Parks Foundation and AMBC have made a trail system for all. Visitors, who bring in up to $52 million in tourism revenue, or locals, who have a daily opportunity to be outside, can equally enjoy the Urban Wilderness. It has helped create a city where more than half of residents can walk to a city park. Wilderness can co-exist in cities and can enrich them through community, recreation and adaptability. The opportunity to find meaning outside has been ensured in an unlikely place, for whoever wants to come experience it.